YOUR INTRANET RESOURCE
Employee engagement: the intranet takes care of it
Employee engagement may seem like a difficult goal to achieve, especially if done remotely due to a pandemic.
Fortunately in the digital age, physical barriers are no longer an issue, and you can engage your employees profitably and with results.
Through the intranet, your digital workplace is the gateway to your company. From anywhere, anytime, users can access the latest news, important information and the tools for work that make it more productive.
You can only imagine how many engagement opportunities this type of digital environment offers.
In this article, we can see six company engagement solutions that the intranet offers.
What you will find in this article 
The opportunities for involvement offered by the intranet
6 concrete solutions to get employee engagement
How to keep people involved even at a distance
Which are the right tools for collaboration
Employee engagement: use surveys
Surveys are an engaging tool to raise people's interest in your company.
For two reasons.
1. On the one hand, you give people the chance to be heard, to participate in company decisions or give feedback on specific initiatives.
2. On the other hand, by sharing the results, you allow everyone to see how the rest of your colleagues think about certain topics that may not always be the subject of discussion, heightening awareness within company.
To keep engagement high, always do closed-question surveys to make filling them out easier and publish the results quickly.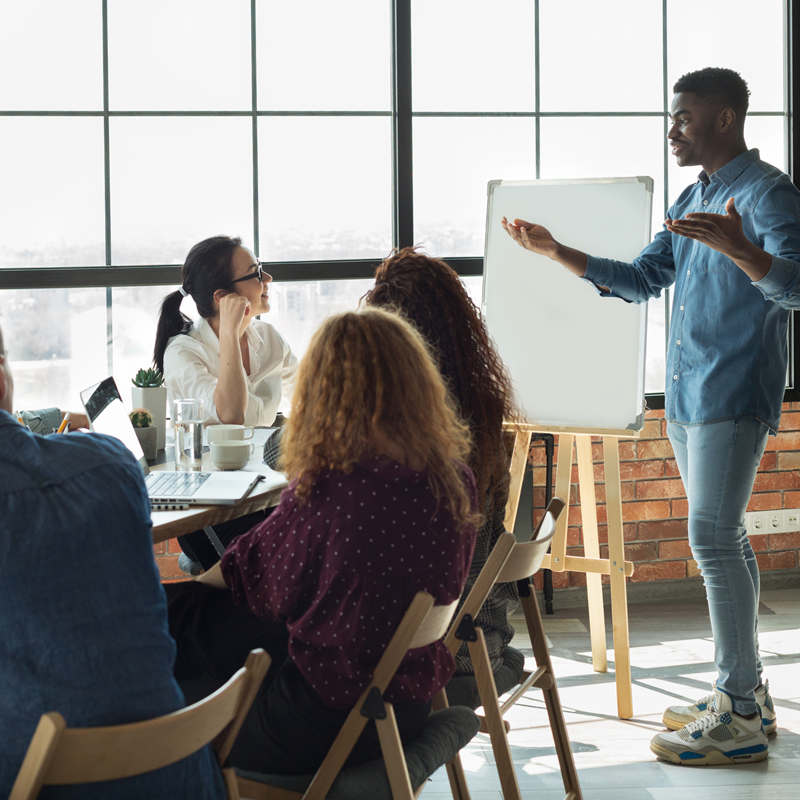 Offer tools for fair and engaging leadership
Every company leader must be able to interact easily with the people they manage.
Having a direct channel to your staff is a fundamental requirement to allow you to establish a cohesive relationship your work group and increase productivity.
If just a "good morning to everyone" or sharing news and important content for their work, a leader in the company can easily engage people with regularity.
You can use Microsoft Teams for this, creating a group for each department, to be updated automatically based on the properties of each user within the corporate directory.
To lighten the task of adding or removing people from the group by the various managers and to automatically manage the entry of new people into the company.
See here how intranet.ai smart groups work.
Keep the creation of discussion groups open
What are the strengths of an involved, cohesive and productive work group?
The sharing of ideas, exchange of knowledge and discussion.
Do not limit colleagues' need for collaboration and sharing, let everyone create discussion groups.
Leverage your digital workplace as the point where the generation and exchange of ideas must be fostered, not limited.
Discussing intra-company areas allows employees to listen to the opinions of others, reinforce or change their own, thereby promoting their sense of engagement with the company.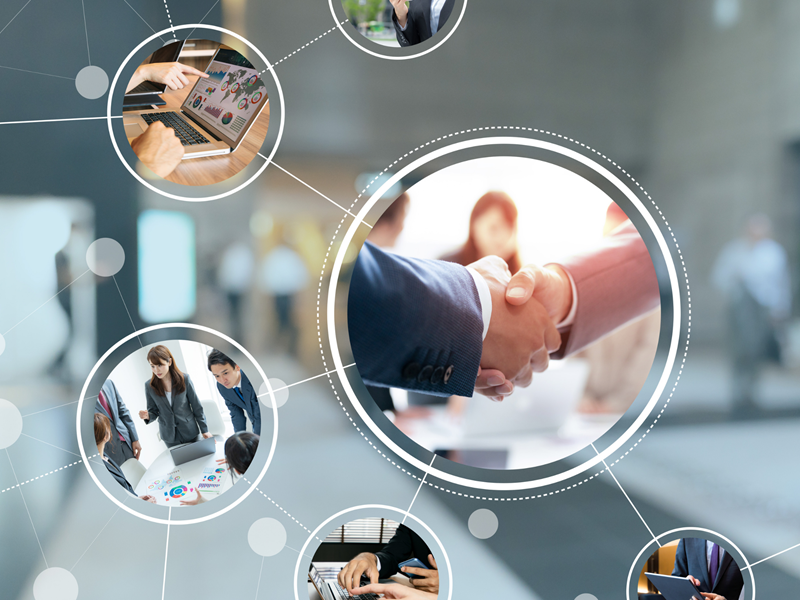 Do enterprise social networking
Feedback on the content that is posted by employees is crucial for smooth communication that engages the entire company.
Therefore, for each communication published on the intranet you can set up ways to receive feedback.
Knock yourself out with likes and comments to fuel a real discussion on the company social network, Yammer, in order to encourage engagement and listen to employees. You can share company news or service news within the company community to echo your internal communications.
Enterprise social networking is now a consolidated practice and we invite you to explore it as a tool for communication, comparison and knowledge-sharing within the company.
New to Yammer or do you want to know more about cutting-edge corporate social networks? Read about it here.
What is intranet.ai?
It's a ready-to-use corporate intranet,
designed to reduce costs and implementation time by providing a highly modern and collaborative digital workplace.

Starting price is 2450€, for a fully-featured intranet

More than 20 App including intelligent search, document management, news, push notifications, and my workplace


100% integrated with SharePoint Online and Microsoft 365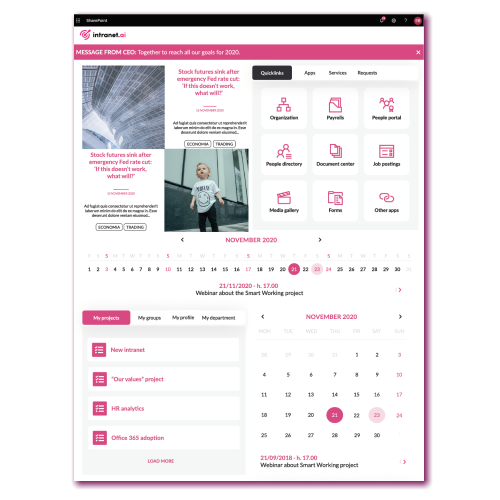 Idea generation: employee engagement contest
As we have already said, the intranet is the right way to spread new ideas in the company. So it is necessary to look for effective ways to encourage the circulation of ideas and stimulate engagement.
One method, we have used in the intranets that we have managed, have been contests to generate new ideas both to identify new services or products for business, and to improve well-being within the company.
How are these contests held?
People had to get together in groups, increasing interaction and collaboration between colleagues and they were able to think about how to achieve the objectives that the company had set for an initiative of this type. Both internal objectives, for corporate well-being, and business.
Once ready, the ideas were published, subject to approval, directly within the portal and everyone was given the opportunity to vote for them through likes, thus increasing visits and general engagement on the intranet.
People were fully engaged when they could see their ideas win the ranking and be implemented by the company.
Who better than those who work every day in the company to improve things?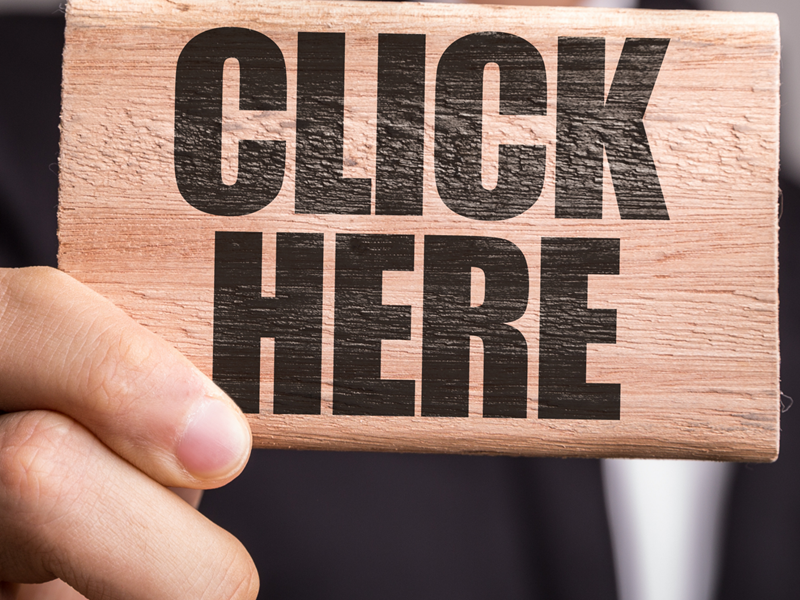 The killer app
Now let's talk pure strategy for the generation of employee engagement.
Let's talk about the killer app.
A "killer app" is the application that helps generate visits within the intranet since it is the most used. Each intranet must have its own killer app, so as to bring as many colleagues as possible into the portal.
It ensures that, together with the use of the specific application, people can also receive company news, be informed about specific initiatives or possibilities that the intranet is offering or, more simply, learn more about the contents of the company portal.
Examples of killer apps are all employee services that the intranet can offer such as payroll access that brings in visits from all colleagues at least once a month.
A bit like in the best marketing techniques, now is the time to convert an "operational" visit into an "exploratory" visit to the intranet.
Employee Engagement and Employee experience
As employee engagement grows, so does the employee experience.
Conclusion: how to get employee engagement
Employee engagement as you have seen is a need that can have many different solutions.
Involvement arises from interest and interest follows productivity.
Employees hired and involved in the company project become employees motivated to carry out an efficient job.
It is therefore important to work on this front in order to promote business growth.
Consider the intranet your portal of solutions to get these performance results.
Our consolidated experience over the years can help you build an intelligent and tailor-made intranet.
Employee experience
A digital workplace that works manages to involve the people who are part of its ecosystem.
In our digital landscape, there are several tools that help to do so, but only Microsoft 365 has managed so far to ensure a complete and integrated communication and collaboration network in navigation.
The solution it offers is in fact a mix of applications with responsive and flexible tools that extend around the intranet Sharepoint Online.
So let's see how as well as increasing employee engagement evolves employee experience.
Engagement and remote working
One of the most common questions among HR is how to ensure employee engagement and employee experience at a distance. It could in fact be thought that the job from remote can deprive of all the business moments that have favored the increase of the employee in the organization.
This does not happen, on the contrary, if the correct instruments are used, it evolves exponentially.
The employee's experience within the organization changes, and he does so with means born specifically to achieve performing results.
The experience of employees through the use of an intranet makes a qualitative leap with an increase of:
ability to circulate and receive company information

internal communication

collaboration between groups to strengthen productivity

strengthening of business processes.
Let's see how he does it in each of these aspects.
Circulation of information
In order to obtain productive activities, it is necessary that the processing of information is functional and immediate.
The waste of time that comes from searching for content for the performance of the work results in loss of money too.
Time-saving tools such as those of the intranet are therefore crucial for the worker.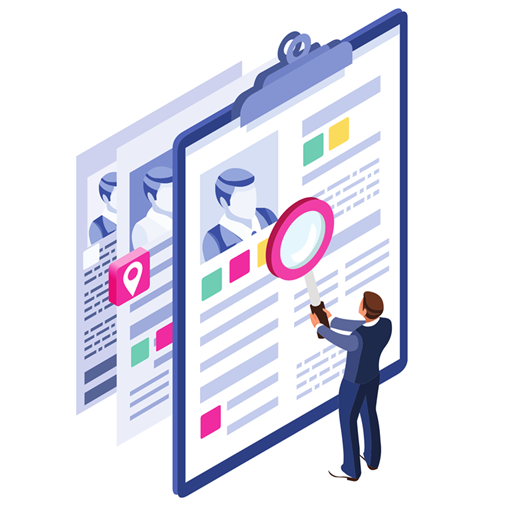 The search
Sharing such content on the intranet facilitates operations and maintains high business competitiveness.
The intranet is presented to the employee with a simple interface, made of high-performance search engines that allow fast communication and a constant global vision.
The portal creates a unique point of access to do research with the opportunity to find both information from the cloud world of collaboration Microsoft 365, both from the business side, company.
For each request, the Sharepoint search engine indexes all the sites, pages, lists, libraries, folders and files present and returns to the user what he is looking for.
In addition, employees will always find areas to view both corporate information and the services they have such as pay slips, vacation or sick leave requests and reservations of all kinds.
Interactive communication
An intranet is the virtual meeting place between all the departments of the company. It's a vector that connects the employee to his work environment.
Employee engagement grows at the pace of a wider reality in which to find every form of communication of the organization such as initiatives, alerts, company news, content sharing with relative spaces in which everyone can give voice to their ideas.
Choosing the desired interlocutor and contacting him is immediate, as is the mutual collaboration that is generated.
The exchange of knowledge and the questioning are continuous stimuli that signal the employee engagement and experience. For this reason the intranet opens the door to the dissemination of knowledge.
Discussing intra-company topics allows employees to listen to the opinions of others, strengthen or change their own thus promoting their sense of involvement with the company.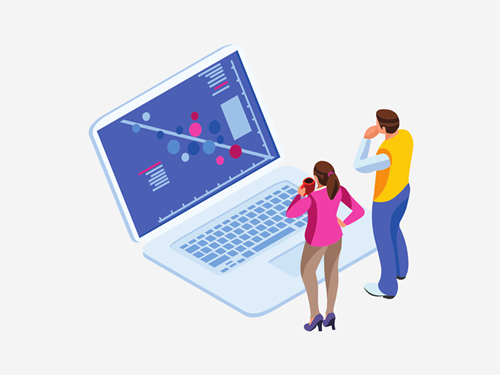 Collaboration
With the right means, collaborative strategies can be encouraged between workgroups and departments, making them more and more advanced and efficient.
The platform allows you to stay in constant contact with colleagues and with ongoing projects.
How do you do that?
With a real-time view of what's going on in the company, collaboration is easily generated and just a click away.
Sharepoint is a digital channel for teamwork that brings people, content, conversations and apps together in one place.
To stimulate every collaboration, it also provides employees with the integration of tools for the management and planning of activities.
Teams, Yammer, One Drive for Business and Planner.
You can:
share communications in the company social network Yammer

keep content safe on One Drive for Business.

shape channels, share files, hold business meetings and live events on Teams

collaborate by managing and planning project tasks with Planner.
The business processes
Processes of any kind are ready to be upgraded with the intranet.
Sharepoint is your company's portal where every workflow finds its natural space. For example, you can generate an area for finding and controlling the information needed for human resources.
In this part of the intranet you can find organizational charts and company headings.
Within them you will find up-to-date resumes, training requests, refresher courses, the status of each employee's activities, career advancements and everything that HR need to implement their performance.
As for the business processes behind each activity, you can create flows in which you control the progress of activities, any problems, sharing of content and other features to promote productivity.
Marcella Lombardini
Sharepoint Online expert and our Project Manager, she coordinates and develops intranet and digital workplaces projects for customers who choose to adopt intranet.ai.