YOUR INTRANET RESOURCE
Employee experience: enhance it with the intranet
A working environment that stimulates and involves everyone in its ecosystem.
In the current digital landscape, there are several tools that help you do this, but only the Microsoft 365 Suite has so far managed to guarantee complete communication network with perfectly integrated and fluid collaboration.
It offers a package of applications with responsive and flexible tools that revolve around the SharePoint Online intranet.
So let's see why the employee experience evolves with its use.
What you will find in this article
How the intranet helps improve the employee experience
Attention to user experience
How collaboration is stimulated thorugh the intranet
Some ideas to increase employee interest
Engagement doesn't stop in remote working
One of the most common questions in Human Resources is how to ensure employee engagement and employee experience even remotely?
In fact, one might think that working remotely can in some way deprive the company of moments that stimulate employee growth in the company, but this is not the case if the right tools are adopted, it evolves exponentially.
The employee's experience within the company changes through using tools created specifically to get results.
Through using the intranet, employee experience makes a qualitative leap thanks to an increase in:
the ability to circulate and process corporate information

internal communication

collaboration between teams to boost productivity

implementation of business processes.



Let's see how it does it in each of these areas.

Optimised circulation of information
For profitable business, receipt of information should be functional and immediate.
Time wasted searching for the material to carry out the job also translates into a loss of money.
Time-saving tools such as those offered by the intranet are therefore crucial for the employee.
Search on SharePoint Online
In fact, sharing this information on the intranet speeds up operations and keeps the company competitive.
SharePoint Online presents itself to the user with an intuitive interface, with high-performance search tools that allow rapid communication and a constant overview. In fact, the portal creates a single point in which to do research with the possibility of finding both information from the Microsoft 365 cloud collaboration world and from the business side.
For each request for information, the SharePoint search engine indexes all the sites, pages, lists, libraries, folders and files on the platform and returns what the user wants.
In addition, employees will always be able to find reference areas to view both company information and available services such as payslips, reservations of all kinds, requests for holiday or sick leave.
Interactive communication in the workplace
An intranet is the meeting place for all company departments. It is a vector that connects the employee directly with their working environment.
The employee experience steadily rows in step with a wider virtual reality where all company news, initiatives, announcements and sharing of content let everyone voice their thoughts. You can speak to who you want and collaborate as fast as you need.
The sharing of ideas and knowledge are a continuous flow that marks the employee experience.
The intranet opens the door to the generation and exchange of ideas to be fostered and welcomed.
Intra-company themed chats allow employees to listen to the opinions of others, reinforce or change their own, thereby promoting their sense of engagement with the company.
What is intranet.ai?
It's a ready-to-use corporate intranet,
designed to reduce costs and implementation time by providing a highly modern and collaborative digital workplace.

Starting price is 2450€, for a fully-featured intranet

More than 20 App including intelligent search, document management, news, push notifications, and my workplace


100% integrated with SharePoint Online and Microsoft 365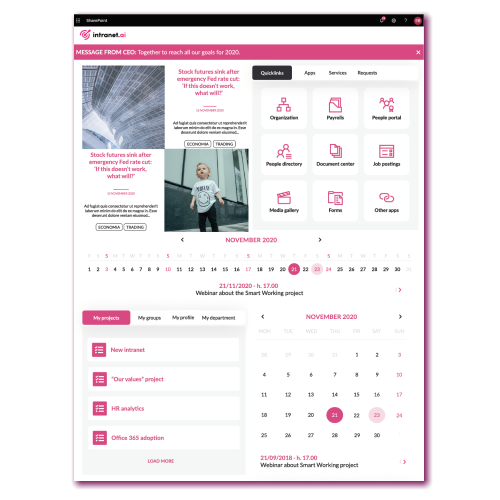 Collaboration between teams
With the right tools, collaboration strategies can be encouraged between teams and departments making them increasingly advanced and efficient.
The intranet always allows you to stay in touch with colleagues and ongoing projects.
How does it do that?
By offering a real-time view of what is happening in the company, collaboration is generated more easily and is just a click away.
SharePoint thus constitutes a digital hub for teamwork capable of bringing people, content, conversations and apps together in the one place.
To facilitate each collaboration, it also provides users with the integration of management and work planning tools.
Let's talk about tools like Teams, Planner, Yammer, One Drive for Business.
You can:
create channels, exchange files, conduct business meetings and live events on Teams

collaborate by managing and scheduling project tasks with Planner

share content on the corporate social network Yammer

keep materials safe on One Drive for Business.
Business processes
Any business process can be implemented with the intranet.
SharePoint is your company's portal where every workflow can organically find its own space. For example, you can create an area dedicated to finding and managing the information needed by Human Resources.
In this area of the intranet, there are organisational charts and company directories complete with updated curriculum vitae, the status of the activities of each employee, career progress, requests for training activities, refresher courses and everything HR needs to enhance their performance.
As for the business processes behind each project, you can create workflows to continuously monitor progress of tasks problems, information sharing and other features aimed at promoting productivity.
Employee experience and employee engagement
Employee engagement supports employee experience.
It may seem like a difficult goal to achieve if it is to be accomplished at a distance due to a pandemic. 
Luckily though, we live in the digital age and physical barriers are no longer a problem, and at a distance or not there are the right tools to engage your users with results and profitably. 
These means are offered by the intranet, your digital workplace that represents the gateway to your company. 
From any place and at any time, users can have access to the latest news, important communications, preparatory tools for work and that especially make it more productive.
As a result, we can only imagine how many possibilities of engagement a digital environment of this kind has. 
To complete the employee experience from which we started we show you 3 of some of the solutions that the intranet can offer to stimulate engagement and experience in the company.

Use surveys 
Surveys are a challenging tool to increase people's interest in your organization. 
That is for two reasons.  
1. On the one hand, you give employees the opportunity to make their voice heard, to contribute to company choices or give feedback on specific initiatives. 

2. On the other hand, you allow everyone, through the sharing of the results obtained, to see how the rest of the colleagues think on certain topics that can not always be the subject of discussion, thus spreading awareness common to the whole company. 
To keep your involvement high, however, always remember these two things: conduct surveys to closed questions, to facilitate the compilation, and share the results quickly.
Employee experience and leadership
Every leader in the company must have the possibility to connect quickly with the people they manage.
Having an open and direct channel of communication with those who are part of your staff is an essential requirement to allow you to stimulate cohesion between the people of your work team and thereby increase productivity.  
Even just for a "good morning to all" or for the sharing of communications and news important for their work, a leader in the company can thus involve their users constantly.  
To amplify this process you can use Microsoft Teams and create a team for each department, to be kept automatically synchronized according to the properties of each employee within the company directory.  
So as to relieve the task of adding or removing people from the group by the various managers and manage independently the entry of new people into the company. 
See here how intranet.ai smart groups work.
Keep open the creation of newsgroups 
What are the strengths of an involved, cohesive and efficient team? 
The exchange of knowledge and the questioning. 
So the answer that the intranet offers is self-evident: do not limit the desire for collaboration and sharing that your employees may have in the company, keep open the opportunity for everyone to create discussion groups. 
Take advantage of your digital and innovative work environment as the point where training and sharing ideas need to be favored.
Discussing intra-company topics allows colleagues to listen to the opinions of others and strengthen or change their own thus promoting their experience with the company.
Do you know we build smart intranets?
We have been a professional team in the industry for over 15 years.
Our goal is to help you build an intelligent intranet tailored to your company.
Find out how we do it.
Giuseppe Marchi
Microsoft MVP for SharePoint and Office 365 (now called Microsoft 365) since 2010, Giuseppe founded Dev4Side and intranet.ai with the aim of helping companies to have a simpler and more effective working environment thanks to Microsoft technologies. He works as a consultant for everything related to collaboration, intranet portals and Microsoft cloud platforms.