YOUR INTRANET RESOURCE
Microsoft 365: the tool for business
Remote working is no longer an issue. Tools that support and amplify communication often outperform being there in person.
Microsoft 365 is the portal that allows access to innovative and efficient tools for business performance.
Let's see what it offers.
What you will find in this article 
What the Microsoft 365 tools are for
What is SharePoint and why you should use it
The opportunities that Teams offers
OneDrive, the cloud of Microsoft 365
New opportunities with Microsoft 365
Microsoft 365 is a suite that presents integrated applications to guarantee the user seamless navigation with empowering resources and time-saving solutions.
The 365 portal enhances every aspect of corporate life, making it a tool that stands out.
From corporate culture to communication, employees feel more engaged and businesses are made more profitable.
These tools not only support work but are also a safe place to store company data, since they are centralised in a single cloud, accessible only with necessary permissions. Therefore, this mix of tools has a powerfully positive effect within the company.
SharePoint Online
Let's take a look at the core of the suite, Microsoft 365 intranet, SharePoint Online.
SharePoint allows the company to create communication sites that comply with corporate branding and show necessary company content to its employees to fully involve them in business dynamics.
The intranet is the digital reflection of the company. This digital workplace offers the user quick access to all shared company information.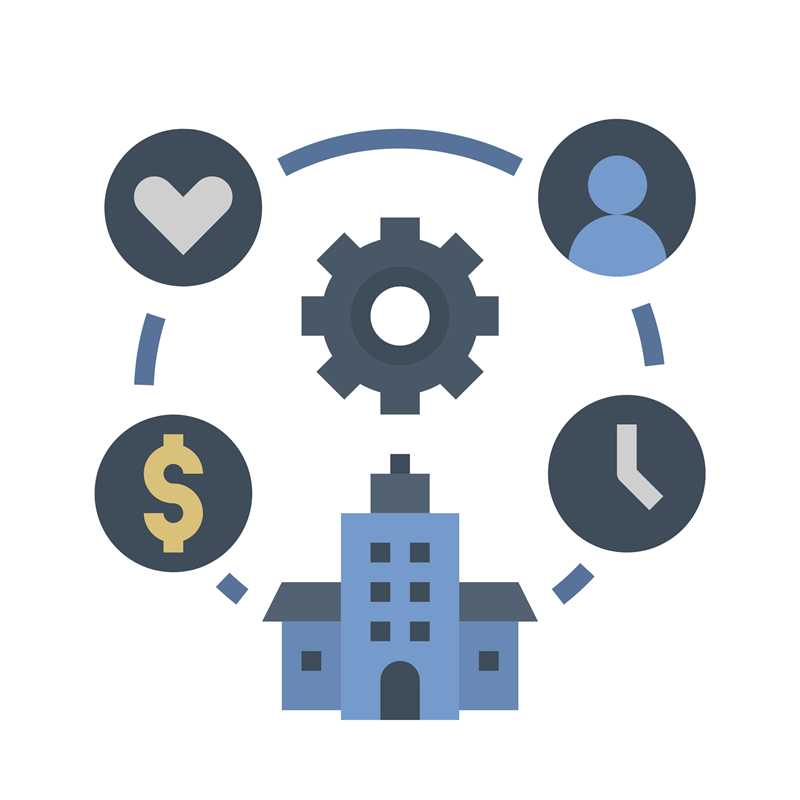 Dynamism of business processes
From the search for material to carry out tasks to employee services such as salary payment or holiday requests, this digital environment is equipped to fulfill the effective performance of business processes.
The result is an interactive platform that facilitates communication and collaboration from anywhere, at any time.
Opportunities with SharePoint
Learn more about SharePoint, here are some of the things you can do:
create, change and manage your communication portal aimed at the entire company population, departmental sites or sites of specific work teams, documents and spaces within the company offering unique and modern collaborative solutions

the user can keep up-to-date on all the company news such as planned events, alerts and digital services

the platform stimulates teamwork. You can share files, documents, information securely with the whole company and its teams not only internally within the company but also externally, and on different devices.
What is intranet.ai?
It's a ready-to-use corporate intranet,
designed to reduce costs and implementation time by providing a highly modern and collaborative digital workplace.

Starting price is 2450€, for a fully-featured intranet

More than 20 Apps including intelligent search, document management, news, push notifications, and my workplace


100% integrated with SharePoint Online and Microsoft 365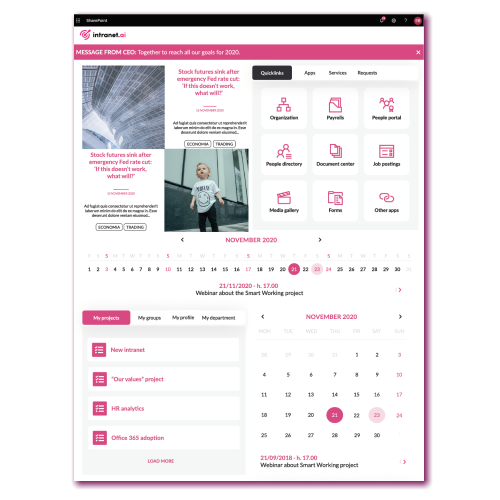 Microsoft Teams for business
Communication and collaboration take on even stronger connotations with Microsoft Teams.
The Microsoft 365 platform is a chat-based company workspace.
The tool supports team-work between teams in the same or different departments even with users outside the company if authorised.
It brings together information such as project materials, conversations and apps in the one secure place that ensures everything is synchronised. The tool is in fact perfectly integrated with all other Microsoft 365 applications such as Planner, OneNote and SharePoint Online.
You can jump seamlessly from one platform to another so you have as many resources available as possible.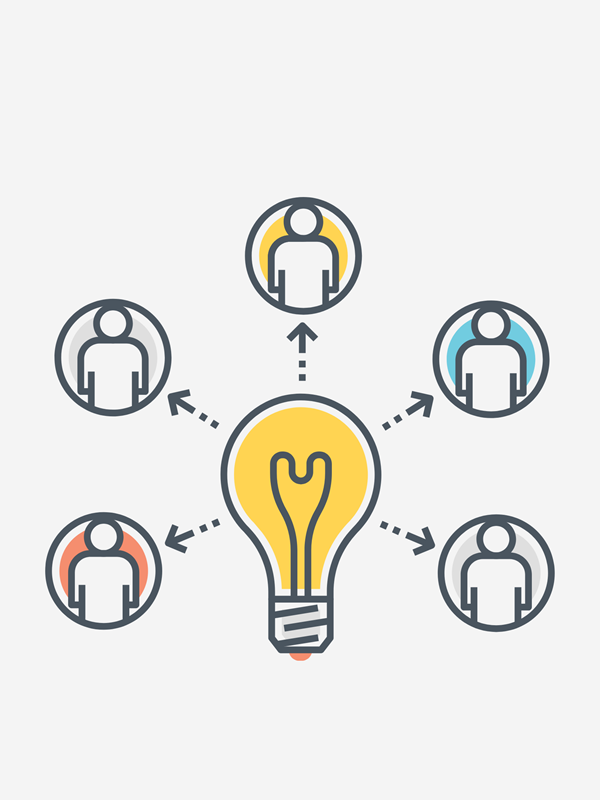 Microsoft Teams: opportunities
Let's look at some of the possibile tasks the company can carry out with Teams:
Employees can participate in group chats and be part of channels depending on the projects involved.

Files are shared with all team members so they can collaborate synchronously.

An intelligent push notification system brings company communications directly to the worker.

Teams hosts webinars, online presentations and up to 15 simultaneous live events with 10,000 attendees, lasting 4 hours.
Yammer: the corporate social network
Now, let's take a look at the natural evolution of social networks in the corporate sector, Yammer.
Designed to bring people together, especially working in different places or at different times, the platform conveys information from colleagues, helps others and shares information within the company, which is at the heart of all business.
Employees can share messages or questions, generate entire discussions, find specific content, learn more about company life and, as a result, increase employee engagement.
With Yammer, corporate culture is more intense, generating a strong sense of belonging to the organisation.
This is essential to ensure that employees are not passive spectators of corporate life but naturally contribute to its evolution.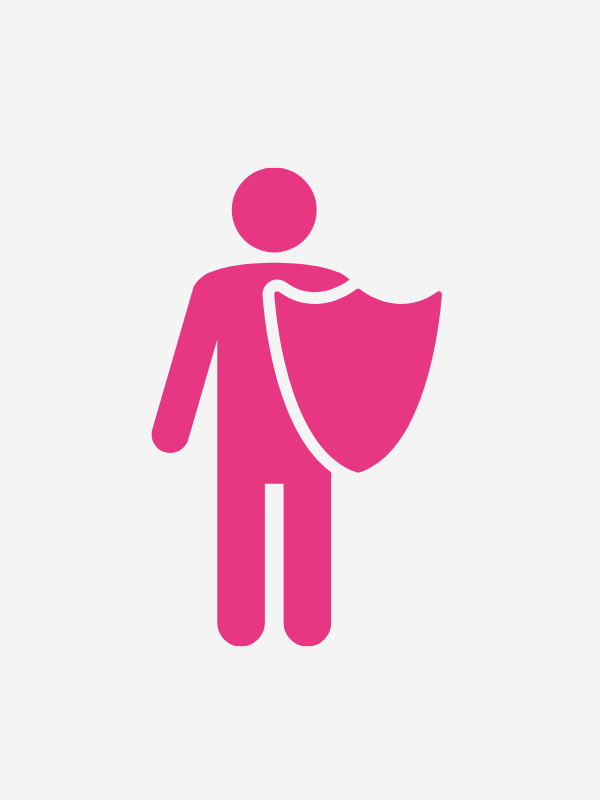 One Drive: the secure cloud for companies
Now let's move on to the Microsoft 365 cloud.
All the data circulating on the above platforms, and all the others such as Microsoft Stream and Microsoft Search, are collected in a single secure server, OneDrive specifically for companies, One Drive for Business.
OneDrive for Business is an online storage space to track the achievement of business goals.
It is managed by the company and allows you to share and collaborate on business documents with colleagues.
Strengths of OneDrive
The main strengths of OneDrive are synchronisation and compatibility between the many platforms.
It allows you to create files on your PC and edit it on a tablet or smartphone, saving all changes.
OneDrive is compatible with Windows Phone, Android, iOS, and even Xbox.
It allows the employee to access the same file from any device, without having to mail it or save it on a flash drive.
It also displays changes in real time and allows access to all previous versions of the same document.
In short, OneDrive for Business brings colleagues together to allow them to collaborate on documents using a corporate account.
With OneDrive for Business, each company team member has their own storage (from 1 TB to unlimited storage per user, depending on the type of Microsoft 365 license acquired).
Do you want to build your digital workplace?
We have been a team of professionals in the sector for more than 15 years and we build intranets with the same technology as the Microsoft 365 intranet, also adopting artificial intelligence solutions.
Giuseppe Marchi
Microsoft MVP for SharePoint and Office 365 (now called Microsoft 365) since 2010, Giuseppe founded Dev4Side and intranet.ai with the aim of helping companies to have a simpler and more effective working environment thanks to Microsoft technologies. He works as a consultant for everything related to collaboration, intranet portals and Microsoft cloud platforms.