The steps to follow for the creation of your next intranet
The intranet.ai Method in 12 Points
1. Analysis
"The analysis phase is 70% the success of a project" - as one of our customers correctly commented.
The Analysis phase is the most delicate when the intranet model and strategic objectives are defined. Usually, this phase of the corporate intranet design involves three activities: 1. Analysis of the context and company culture, 2. Analysis of the goals, and 3. Analysis of the targets and identification of "personas".
Context analysis concerns:
investigation and deepening of operational and strategic plans used to organize the company's internal work processes;

how the company defines the concepts of shared mission and corporate values;

outlines the strategies of the business, the communication tools in use;

how examines information sharing processes and future questions and expectations.
This step involves internal actors, bringing out skills and resources, collecting information and project area information, future objectives in the field of ​​corporate communication, tools to be used, etc.
If the company already has an intranet portal, it is useful to analyze which are the areas and services were good for employees and which ones were not.
This type of detailed analysis allows you to have a clear starting idea of how to design an intranet that meets your company's needs and culture, also an intranet created around the work needs of your employees.
The analysis of the objectives relates to the definition of the intranet model to be implemented, and of the strategic and operational goals, the company intends to achieve.
Once the company's needs and objectives have been analyzed, operational objectives should be outlined. In practice, the questions that should be answered are: "what tools should my company intranet have?", "How can it actually help employees carry out single or group tasks?", "What do employees need to improve communication?".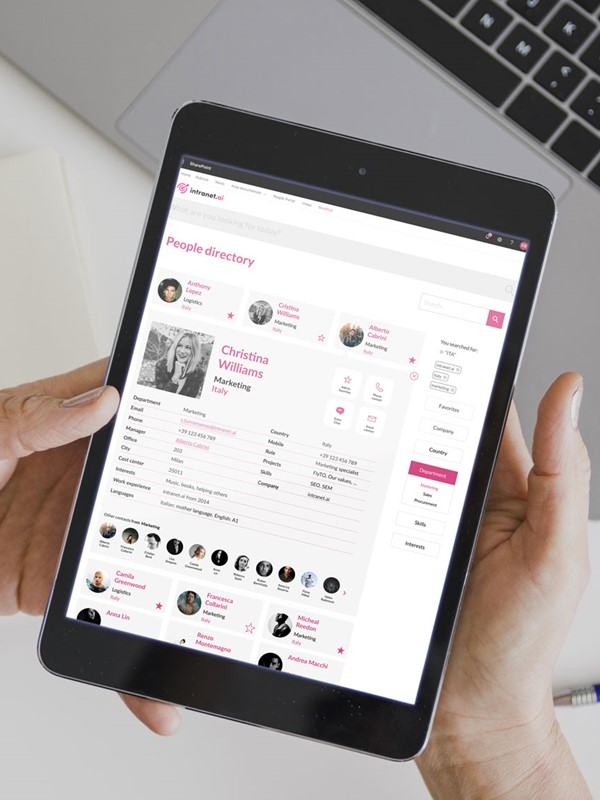 Intranet is people; these people are company employees. Knowing employees means making them able to do their job better and more effectively, providing them with all the content and tools they need to feel a productive part of the company. Employees are the "target," the "personas," for which the intranet must be created.
This phase of target analysis is often underestimated because we think we already "know" the users of the intranet.
This phase is actually crucial for various reasons: if you know the real needs of workers, you can create targeted solutions; you avoid wasting time and money on unnecessary solutions; increases employee engagement.
To carry out a careful analysis of the personas, you can operate in two different but complementary ways: focus groups and questionnaires.
Focus groups, such as interviews with employees through questionnaires, are an essential tool in the analysis and research phase with users of the intranet.
They avail of collective intelligence that is activated between colleagues from different sectors and roles when they discuss common problems.
The main success factor of the focus group is interaction between participants, with work as the common denominator. The focus group helps explore the way staff work and the information they need to do their job. Focus groups also play an essential role in validating controversial issues, which may have arisen from the use of other research tools, such as interviews.
When creating a questionnaire during the design phase of an intranet, it is good to keep in mind that you should not ask questions about the intranet, but ask about people's work. Through a survey, you should obtain information on employees regarding IT knowledge, settings, and devices used, activities carried out daily, and general needs about their work.
The interviews are intended to investigate working models, and user needs in terms of organizing information, information necessary for users to work, bottlenecks that prevent obtaining or sharing information with others, already existing tools, and their evaluation.
A useful activity for receiving functional feedback for the creation of an intranet focused on the user is to create demo versions of the intranet with navigable wireframes. In practice, you will have to create a demo of the intranet that you will want to adopt to test it and have it checked by the employees directly involved.
Developing mock-up versions of the intranet allows you to start introducing employees to the intranet and start getting them used to a new way of managing information and collaborating. Also, after a trial period, you can receive valuable feedback through surveys or focus groups that will help you understand which functions need to be further improved, which are to be added or removed.
In summary, to conduct a careful analysis to create the company intranet you will have to carry out the 3 analysis activities (of the context, of the objectives, and the targets) through 5 fundamental activities:
Technical and functional analysis to define strategies and objectives

Identification of the personas

Organize focus groups

Creation of wireframes and mock-ups

Creation of surveys to receive feedback
2. Plan the change
Today is no more feasible to start a digital project without a plan, even more is your project is going to change something in the daily routine of your company like an intranet project.
Having a plan means to choose from the starting point of your project who of your colleagues you need to interact with, the budget you need for every specific activities and how will be your communication plan for the go-live of your intranet. Everything must be decided, to avoid surprises during the project.
Create a team

Add members to your team and track the roadmap

Change management and training be realistic on the budget you allocate

Create an ambassador program

Align each initiative with strategic drivers and communicate it using each channel

Consider your corporate culture
3. Reach the User
Informing employees is the first step to success in business.
Employees who don't know what's going on within their company are typically less involved and less productive. There are many reasons to build an effective internal communication strategy to keep employees informed. First of all, creating an active communication network with all employees means improving the engagement and sharing of corporate values.
The sharing of corporate information, such as strategic plans, objectives, or problems, create a sense of belonging that improves involvement for the organization. Furthermore, taking advantage of the means and tools that technology for the exchange of messages and real-time chat offers today allows you to create increasingly effective collaboration platforms.
At the company level, employees need to know to feel informed:
the corporate mission;

corporate values;

future goals;

internal strategies;

important events and deadlines.
How to communicate these values to employees in an engaging way? intranet.ai helps you develop the communication network of your corporate intranet thanks to Microsoft Teams or using a corporate social network within Yammer. Using these tools you can allow users to message and communicate in real-time, to share files and information of any kind, by receiving push notifications.
Push notification is a message that appears on the screen of your mobile device when you are not using an application. Whenever you produce content and publish it in a section of the intranet, your employees will receive a notification that will allow them to be always updated on what is happening in their company. You can then inform them of contents, such as:
Corporate News

Service News

Specific information for specific groups of people

Corporate events

Approvals

New hires

New documents based on users' interests

And so on..
Larger companies, with departments and locations in other countries, use this technology to create an active communication channel with employees wherever they are. Push notifications are used for sharing company values ​​or for relevant information. Still, they are also an essential business tool that allows employees not to miss any important message or call from colleagues and customers.
One solution to consider is also the use of OOB notifications available through Yammer communities and Teams groups for collaboration.
4. Promote the company's knowledge
Knowledge as one of the most important corporate resource
Push notifications not only create a communication channel between employees but are also an essential tool for business leaders to make the company known.
As mentioned above, low-informed employees are also employees with less engagement and less work efficiency. Building the company knowledge trough employees is a critical activity to make them feel an integral and fundamental part of an organization.
For this reason, it is crucial to share information that can encourage in-depth knowledge of the company. The company intranet is the tool, the platform indicated for this purpose.
Intranet content editors and key users in each department must have the ability to upload information, content, and documents independently.
The tools that allow an intranet to communicate information about the company to employees and make themselves known concern:
Corporate communication (company history, corporate news, policies)

People portal (people directory, navigable company organization chart, skills)

Departments, offices, countries

Internal knowledge base
5. Freedom of expression
The intranet user is not just a purchaser; he is a participant.
The idea that an intranet is a tool managed only in a top-down manner, therefore only by top management who produce content and submit it to the rest of the employees, is an outdated idea. Today, the corporate intranet is a community platform. What we have said so far only highlights the same concept: corporate work is a work of collaboration and sharing.
Employees must collaborate, both with each other and with the creation of the corporate intranet. It is, therefore, essential that each intelligent intranet has virtual spaces in which the individual employee has the opportunity to express themselves. A bottom-up intranet of this type promotes free expression and increases employee engagement. Also, it contributes to the diffusion of the intranet through the entire corporate community and the sharing of information.
You can implement several solutions to customize company intranets so that your business can find the solution that best suits its needs and, in the meantime, create a social space in which employees can express themselves.
My profile

, for sharing skills, experiences and more by yourself

Social network and communities

Enable likes and comments in pages

Photo/video/story-telling
6. Boost collaboration
To create satisfying user experiences, you need to focus on people's needs, which means understanding how to create the best business flow for those people.
Being able to facilitate the management of work and communications for each employee means creating a digital workplace where it is easier to work, control activities, be informed, all using a single tool: the company intranet.
If the intranet is equipped with the right tools and applications, useful for employees and used for daily work, the use of the intranet will become a rewarding experience that will increase engagement and satisfaction with the results obtained.
To simplify workflow management, intranet.ai offers My workplace, a space on your intranet dedicated only to your work, your activities, your projects. At a glance, you have all the personal projects you are working on, or the group activities you are collaborating with.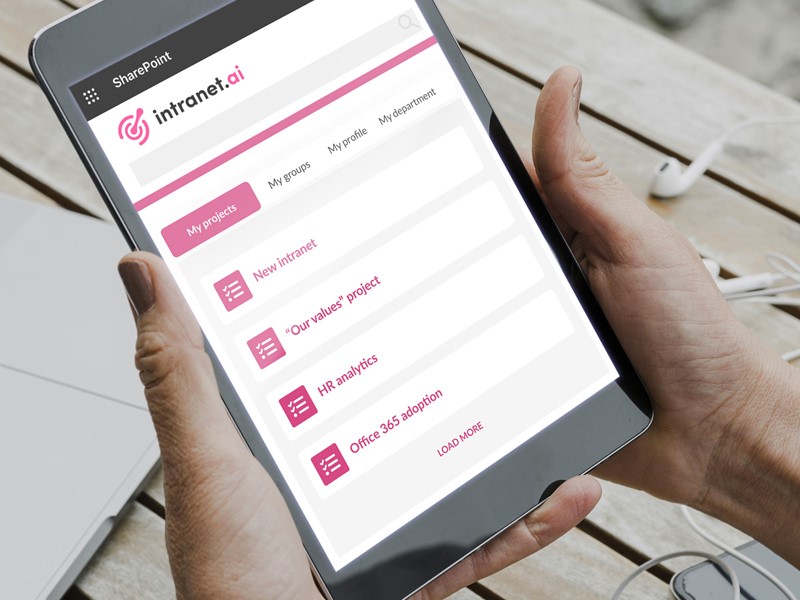 Another solution to allow people to collaborate efficiently is to exploit the potential of Microsoft Teams. Teams will enable you to communicate in real-time, share files, and have a single point where you can find all the wealth of information related to a project, a department, or a group of people.
7. Define your killer apps
We have explained why the Analysis phase, which anticipates the design of the company intranet, is fundamental (see above). During this phase, it is essential to be able to understand what the most useful applications and tools for carrying out the daily work of the employees are, or could be, and which generate continuous interest.
Defining the "killer apps" of your corporate intranet is a fundamental step to create an engaging, useful, and accessible intranet for all employees.
If you have not yet thought about which could be the most suitable killer apps for your business, you can get an idea by discovering the tools recommended by the intranet.ai:
Access to payrolls

Business conventions

Reservation of spaces

Communities
8. Facilitate the Search
1% of users of an intranet are satisfied with the search results in the portal
The above sentence appeared in a survey organized by the Intra2 website, a platform for sharing information and updates on intranets. Just 1% of users... maybe it's not enough.
Intra2 is not the first organization that highlights the disconcerting fact that corporate intranets, despite the significant advances in technology and artificial intelligence, are still lacking in terms of Research tools within the intranet portals.
It emerged that most of the employees of a company not only have problems using the search functions on the intranet portal but often the results reported by the system are not at all consistent with the search query.
The saying "time is money" has never been more faithful than today. Unfortunately, intranet search tools waste a lot of time for many employees looking for the document, file, or project they need to work.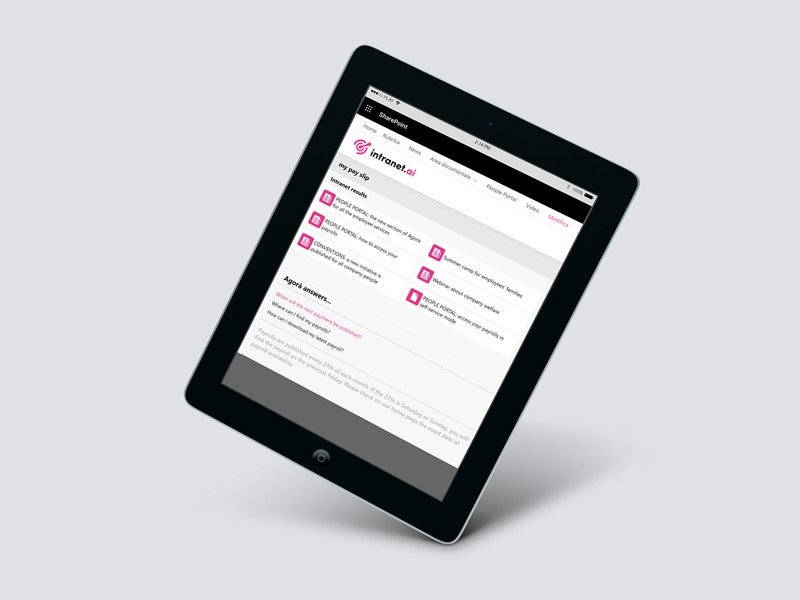 Offering people an intranet feature that helps them immediately find what they are looking for is one of the things that are becoming more and more fundamental in modern intranets.
By now, the default search tool in SharePoint is no longer enough. You need something more, an intelligent search tool that contributes to business success and work efficiency.
intranet.ai is aware of these issues. For this reason, we have enhanced the search tools of the corporate intranets using Artificial Intelligence and proposing a solution that uses AI to help users find the information they really need.
9. Monitor your intranet performances
Power is nothing without control
Each company has specific objectives for its business. But it is also necessary to have goals for your corporate intranet. The definition of objectives and KPIs is not enough; you have to continually monitor the results if you want to be aware of the progress or shortcomings of your company.
For this reason, constant monitoring of the qualitative and quantitative KPIs of the corporate intranet allows us to understand how users use the intranet and how the intranet is helping to increase the productivity of your company.

intranet.ai has the Intranet analytics tool to help you have a clear view of the progress of your company intranet and the objectives you are achieving. In addition to this, the solution has a native integration with Google Analytics, the Google service that allows you to monitor your site, or your intranet, manage data and statistics, export tables, and always have a clear view of your intranet. This is all in addition to standard SharePoint Online monitoring features.
Here are some areas of monitoring that MyAnalytics can offer you:
User searches

Most viewed pages

Most frequently searched pages

Most used documents

Most favorite documents

And many others.
10. Improve employees engagement
How can I increase the use of the intranet?
This is the question that most of those who manage a corporate intranet ask themselves. Generating and promoting employee engagement and facilitating the adoption of the intranet - especially if it is new for the company - is certainly not an easy thing.
Still, some strategies can be used to increase employee engagement and facilitate employee adoption of the intranet. One of these strategies is to introduce employees to the company intranet through a guided tour. The tour should explain the network's functionalities and how to use them.
Usually, employee training is handled by IT teams; intranet.ai, on the other hand, offers the possibility to save time and money for employee training on the company intranet thanks to an intranet tour.
Our solution is the first function that employees will use when they start using the company intranet, and it is the function that will resolve any doubts about the functioning of the different tools.
Another way to increase the use of the intranet is to offer workers training courses in e-learning mode and video-courses. If you equip the company intranet with a video channel, it will be easy for you to produce quality content to inform, engage, and train employees about specific projects, new activities, and much more.
A third way, and also the most performant, to increase engagement is gamification. In the workplace, gamification means try to share the knowledge of the intranet using a more light and playful way, using games!
Gamification techniques have been used for years in marketing to stimulate customers to complete surveys, to visit websites, or to share products. The concept can be applied and extended to almost anything you want people to do, or to the actions you want to do as a priority.
Why does gamification work in improving productivity and encouraging employees to perform even the most tedious tasks? The games contain within them the naturally positive effect of the reward, whose cycle is indicatively the following:
a collaborator acts;

receives compensation for completing the action;

the award triggers the release of dopamine, the neurotransmitter of well-being, in the brain of the worker;

the collaborator is encouraged to act again and willingly does it in the hope of obtaining the same beneficial result.
11. Promote the leadership
The intranet must offer leaders the opportunity to involve people in their departments, share work, and daily information.
«My structure»
A Teams group, whose membership is automatically managed based on company directory data, in which each leader can interact in real-time with his colleagues, thanks to our intelligent goups feature.
Live events
Using the capabilities of Microsoft Teams and Microsoft Stream, a leader can organize a live event and share it inside the company or their specific groups.
12. Plan the Governance
A day after the go-live, start your governance plan. Here a list of actions that you should already have on your plan.
Choose the external sharing options for each site

Choose the way to monitor external users

Choose the approach for the provisioning of new intranet areas

Who can create a group?

Understand roles and responsibilities

Do responsibilities find a relationship with company roles? If not, how can we identify them?

Monitor the site design application on every site, through the use of the template

Use of hub-sites to standardize branding, permits, navigation, and news

Training/adoption/governance resource center
Continue reading An intelligent intranet with SharePoint Online - Part 4. You'll discover How does Microsoft help us build an intelligent intranet.
If you missed An intelligent intranet with SharePoint Online - Part 2, then go back to discover what are The results of an intelligent intranet.