What is an intranet?
An intranet is a place, accessible only by people authorized to use it a specific company, that allows communication and collaboration within the organization.
An intranet is basically a private internal website, that acts as the single entry point for every user in the company for their daily work.
It is the page that usually you find opening your browser from your work computer.

An intranet allows members of the same organization to
find the latest news and announcements from the company
to find documents and assets available for their work
to better know the company structure and its people
to share information
to collaborate on projects
to access IT services or resource from the HR
The intranet goal is to optimize internal processes, improve communication and internal collaboration.
It provides employees with an interactive platform that helps them to do their job, save on execution times and maximize productivity.
Every company personalizes their intranet to reflect its culture and achieve their needs.

If you are starting from scratch, the core intranet features are usually the following:
Communicate with employees and create a communication channel with them for internal information
Organize the archive of shared documents and build a centralized knowledge base.
Share the company structure, the organizational chart and the list of employees with all their details
Find the tools for daily work
Keep employees up to date with main company events and deadlines.

Let

colleagues get to know each other and be visible to the company.

Improve teamwork in projects or specific initiatives.
Automate processes from paper to digital.
Stimulate creativity among employees and generate ideas.

E

nsure fast onboarding of new employees.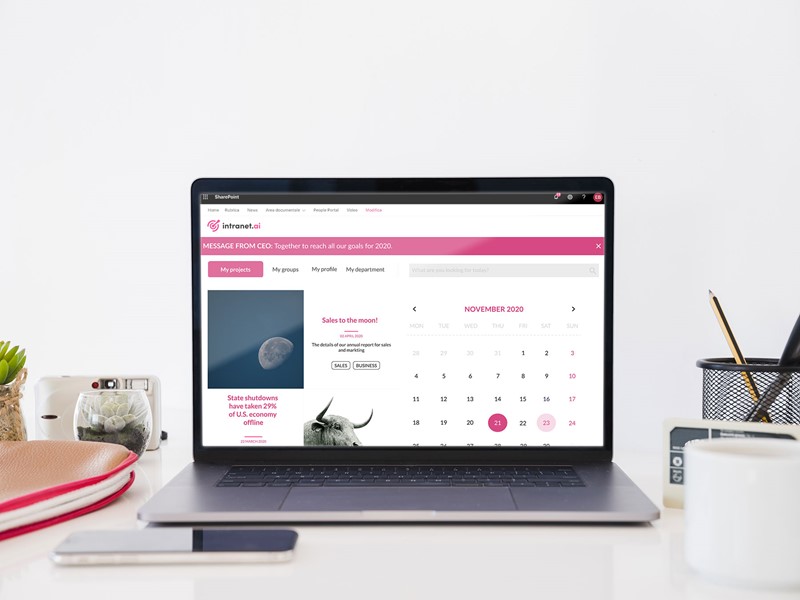 What are the advantages of an intranet?
There are several goals that you can follow when you start to create your company intranet; these are always based on the needs of company employees and the company itself.
Reaching these goals increases overall business and productivity among several other benefits.


1. Open and multi-directional communication
A company usually uses various communication channels, but only one is essential for corporate communication: the intranet. A useful intranet must facilitate all communication levels from top to bottom, bottom to top, peer-to-peer.
2. Corporate collaboration
How does your company work? E-mail and shared network drives are default collaboration tools in many organizations, but your intranet is the one tool that can help kick start the digitalization of internal processes.
Through team sites, knowledge sharing, instant messaging, and video tools, your intranet is critical for business collaboration.
3. Company processes manager
A company intranet is an essential part of business processes. Usually, an intranet includes self-service tools managed by human resources such as paychecks, pensions, benefits, free time, welfare, expenses, trip booking etc..
By moving these transactions over to the intranet you will have guaranteed traffic and this improves internal communication, efficiency, and collaboration. Employees like to have all these functions at a single entry point. It's both valuable and time-effective.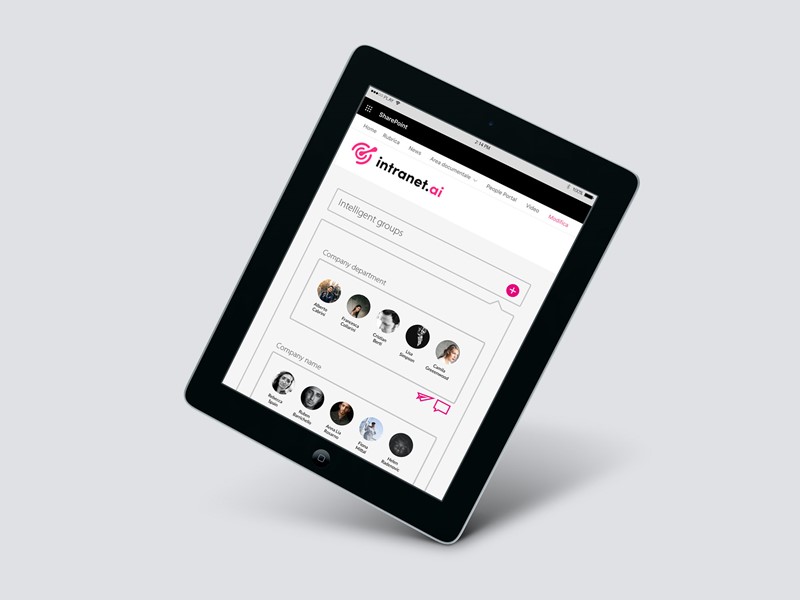 4. A gateway to business knowledge
In the past, information was filtered and not much of it flowed downwards. Now, knowledge is the key product for most companies.
In this vision, combined technology plays a key role in corporate organizational culture so knowledge becomes more accessible and usable.

An intranet improves this strategy exponentially allowing you to share all the necessary information with any employee, even in real-time, wherever they are.
5. Reflection of company values
Employees don't need their intranet with bells and whistles but a comprehensive intranet is a digital reflection of the company's values and culture.

A great intranet plays in perfect tune with the company.
Employees deserve first-class tools if we're to have first-class expectations of them
6. Builds a business community
Many companies are recognizing the value of creating an internal community in facilitating collaboration and innovation, but also in promoting employee engagement and connection with the company they work for.
Allowing people to connect by skills, interests, hobbies, and experiences is the first step; the second is to provide intranet "space" and corporate time so that the community can prosper. Communities could coexist through intranets, corporate Internet, and social media sites.
7. Transparent governance, management, and strategy
If nobody knows who governs or controls the space, or what the rules of engagement are, then there is room for improvement.
Be sure to publish the governance structure, your intranet strategy, key personnel contact information, and all intranet engagement rules on the intranet. Create an "Ideas" section so employees can contribute to the organic growth of your intranet.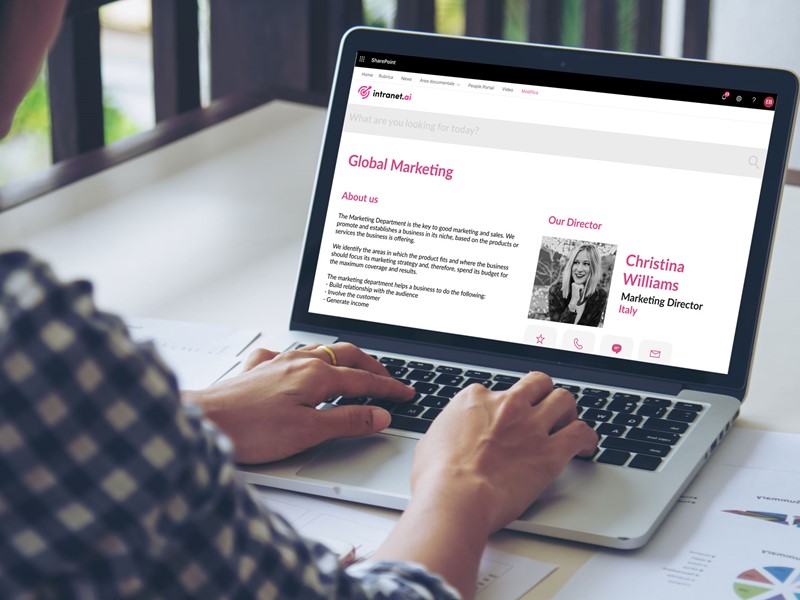 How can the intranet actually help the company business?
Due to the myriad of internal policies, guidelines, statutes, regulations, and instructions, there is often a lot of confusion for office staff.
Here we have the typical  collaboration and communication problems faced by a company, and ways to solve them by using a complete intranet system. Discover valuable tips in choosing the best and most effective intranet solution for your company.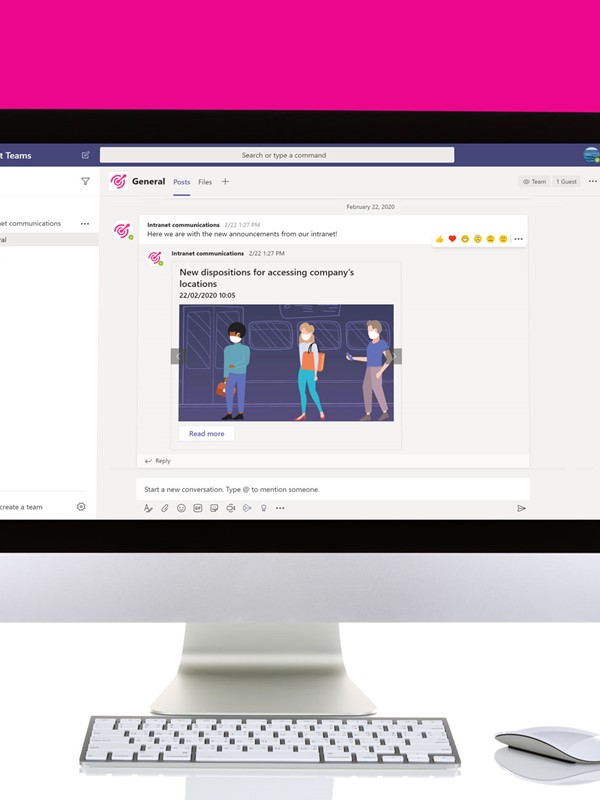 Better communication
The computer age has given rise to the development of electronic communication with the initial arrival of email then, instant messaging programs.
Intranet systems can have an integrated instant messaging (IM) system, video chat, online, and activity notifications, and various features to complete the suite of modern business communication.
To notify people when a person is in the office or not, there is an online indicator feature on the intranet, so you can expect an immediate response or wait till later.
If you don't know your contact, the intranet can be an excellent tool to virtually meet a contact for the first time, with images and links to more detailed employee contact information.
Communication is limited to internal, and a centralized message archive allows retrospective analysis of interactions.
Merge work teams
Complex and lengthy projects require everyone's valuable input as well as the project manager's organizational skills. Keeping track of all the human, material, knowledge, and financial resources involved in a significant project is not an easy task.
Tasks are further complicated when people work in different departments or even in different cities.
Different countries and time zones make communication and synchronizing teamwork difficult. With the intranet, you can unite teams regardless of time or location.
Working groups is a permanently dynamic space where discussions, documents, drafts, tasks and the project team knowledge base can be easily accessed, fast.
Objectives can be set out so that team members can monitor tasks and create reports. The people in the group can interact, exchange ideas, brainstorm, and much much more via this highly versatile virtual environment.​
Create the company social network
Tools like blogs, SharePoint, Microsoft Teams and Yammer help connect people and generate ideas. Research has shown that these features are excellent communication tools.
After completing a project or task, an employee records their event on the company social network. Messages are automatically sent to network or group subscribers, including supervisors, as needs be. There is no need to report repeatedly.
A single post documents completed tasks, provides links to the details and notifies all relevant people. All assigned or received events can be viewed in a summary chart along with progress and relevant supervisors and management.
This is very useful as a reminder or to keep up to date on the latest employee tasks after a holiday.
Management tools monitor work group and social network performance, significantly improving the clarity of communication, projects etc.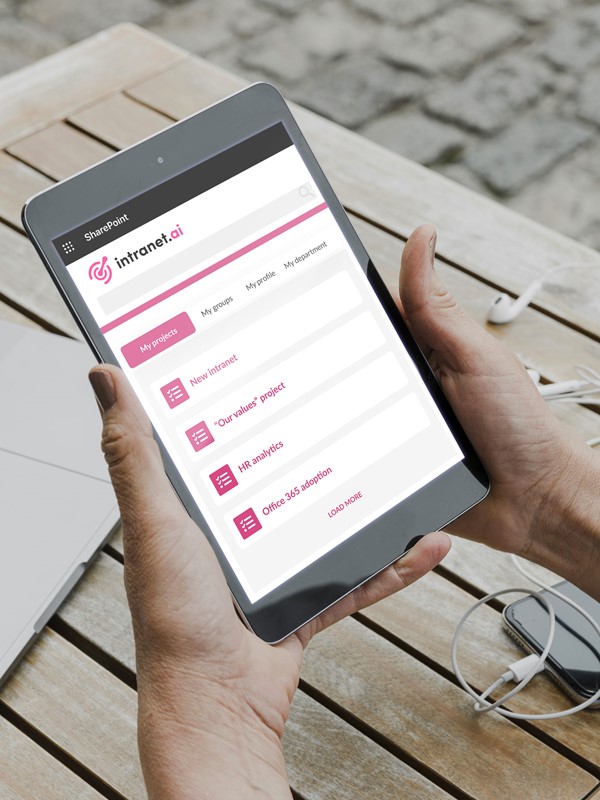 Create a digital Workplace
The intranet allows you to work straight with electronic documents or applications for the digitalization of company processes.
Editing, collaboration and version control has never been easier, not to mention fast and easy search for essential information in documents, greater security, and easy file backup; just some of the reasons to switch from outdated systems to electronic records.
In general, transitioning to electronic records is a huge job requiring a fair amount of time.
However, most companies do not need solutions with multiple digital signature generation or certification authentication. Companies generally need features that facilitate rather than prevent the use of electronic documents.
An intranet allows the implementation of a system in a single day and provides all the tools necessary to make the transition to electronic records, as well as allowing gradual or simultaneous work on materials, setting access rights, and maintaining versions of recoverable documents.
Standardization of activities and requests
Even if you have been working for a company for several years, there are always issues that need solutions that are not directly associated with your work such as calling a courier or organising repairs to your office.
Although these are not so common, these are examples of interaction between departments and service providers. These processes lend themselves well to standardization and automation.
Modern intranet portals use electronic order forms to manage interactions with service providers, both internal and external. These routines can be changed to accurately reflect the needs of the individual organization.
The user who place the order can be very specific. The people carrying out the order or activity are notified, and they are recorded and reported. The status is always displayed.
Another closely related issue is access to standard documents and information that are both frequently updated and frequently requested.
For example, where can an employee get the vacation request form, and who is is in charge of it? What are the postal addresses of the various branches? What are the most important things new employees need to know?
All this general information is stored in a simple and accessible way on an intranet, and these simple daily needs are what drive employees to use it more and more thanks to its efficiency.
An intranet is neither a company status symbol nor is it an IT toy for human resources or management; it is a useful tool in almost every area of the workplace.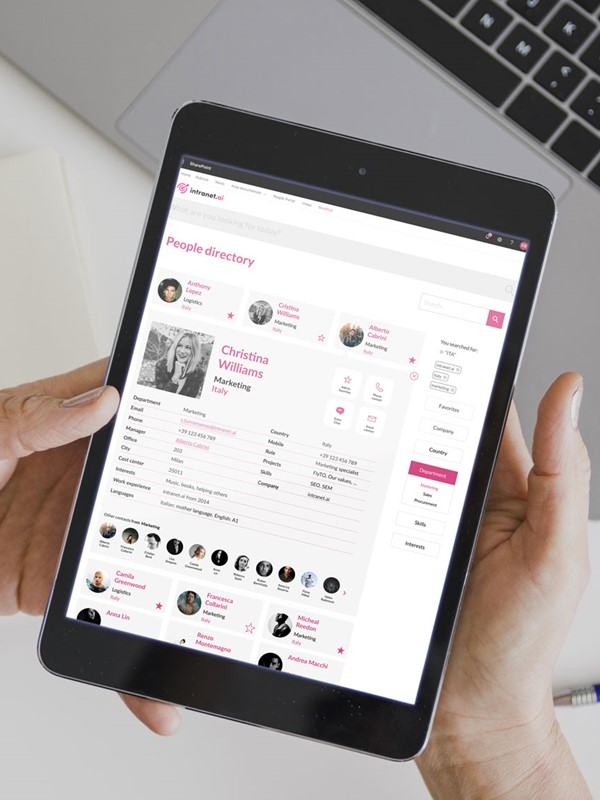 Define the organization chart
Often employees lose their sense of organizational structure, making it hard to know who is in charge of what and how to contact them. The intranet offers a dynamic solution to this common issue.
Each employee is assigned a personal profile with details of their job duties, position, and contact information. Employees can keep their blog posts, moderated forums, and publish photos and videos.
These personal profiles promptly update to reflect changes in personnel, and the integrated company search engine quickly finds the right person.
The organizational structure of the company is also automatically generated on the intranet, providing a clear and complete picture of the company scenario.
Enhance employee engagement
Every employee needs to feel part of the team so being kept in the loop of company news is essential.
Internal public relations and information officers have the mission of conveying a sense of belonging to a common cause to the employee which is extremely motivating and great for fostering loyalty. An intranet offers a wide range of tools to successfully meet these objectives.
Company milestones news lets people know that the company is on the right track. New hires reports let employees know about new colleagues and help newcomers quickly integrate into the community. Birthday reminders offer an additional opportunity to express appreciation and strengthen personal connections.
To win in the marketplace, you must first win in the workplace.

Douglas Conant
A Hall of Fame and other honors also motivate employees to go beyond their duty. An intrinsic advantage of the intranet is the move away from the traditional vertical management structure: "subordinate" to a more contemporary horizontal structure of associates.
The ability to communicate directly with leaders, propose new ideas, and take part in the development of solutions with the result that staff feel part of a 'family' and are happy to contribute.
In turn, the organization develops loyal and involved employees who generate ideas from their perspectives for the benefit of the business. All of these can improve your employees' engagement.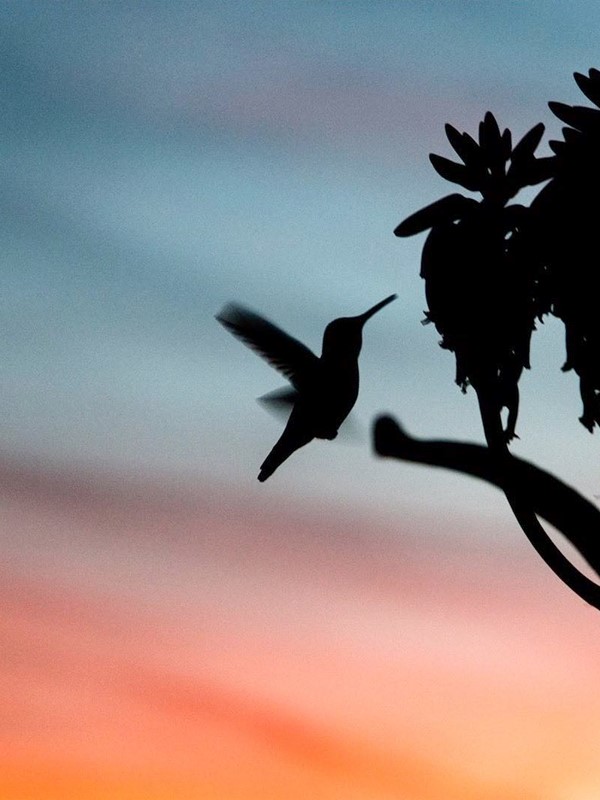 Activities Management
New intranet networks offer extensive activity management capabilities. Activities are, at the same time, a simple and effective way to view and track workflow.
An employee sets various activity options, including time dedicated to the activity and priority levels, appoints "followers" who can be supervisors or only observers, and sets up notifications via e-mail or instant messaging.
During the activity, employees can add comments and supporting documents. Reports can be sent automatically to superiors upon completion. A quick view of events allows team managers and other superiors to view all the actions of a specific workgroup.
It only takes a few moments to check what the various activities are, what activities will probably not be completed on schedule and what the distribution of events will be among employees.
What is intranet.ai?
It's a ready-to-use corporate intranet,
designed to reduce costs and implementation time by providing a highly modern and collaborative digital workplace.

Starting price is 2450€, for a fully-featured intranet

More than 20 Apps including intelligent search, document management, news, push notifications, and my workplace


100% integrated with SharePoint Online and Microsoft 365