Corporate Intranet is a general term with a multitude of different nuances. The Intranet software can function as a workplace, a communication tool and much more. But how does it all come together and what exactly does it look like?
Find out what the 10 essential features of a corporate intranet are and why they are essential!
1. A simplified user interface
If you have a confusing user interface on your intranet, employees will not be able to access the content or data stored on the site. The user interface includes detailed aspects of your corporate intranet, such as drop-down menus, layouts, buttons, pages, etc. It also needs to apply the company branding to reflect company culture.
Investing in a simplified user interface makes so much sense, as employees will spend less time creating or editing a document and completing the task. The user interface of your corporate intranet should have:
Engaging and relevant home page with personalized news feeds

Quick links on a menu or sidebar to all intranet features

Notification alerts for upcoming conversations or activities

Search engine bar

List of users currently online

Easy way to publish, share or create

Intuitive, lean and creative design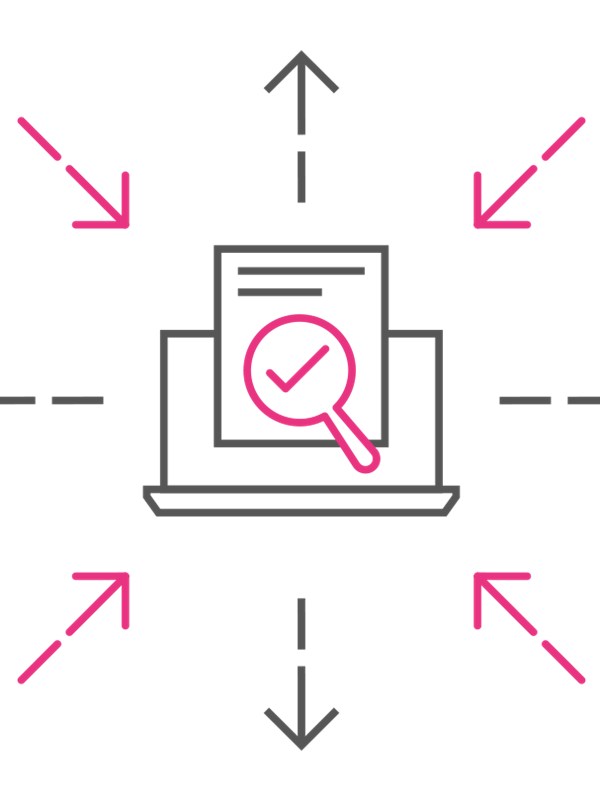 2. Smart search
One of the main advantages of a corporate intranet solution is the storage of all company and employee information on the same unified platform, but without a powerful and intuitive search engine, this wealth of information could be lost.
The incorporation of a well-designed search engine will give you the productivity results you need on a modern intranet, making searches fast and helping employees find the people they need to do the job. An intranet search engine should:
Search among the categories that have been "tagged" in the contents to give results

Search the employee directory to find people associated with keywords, categories or skills

Search the entire intranet area (documents, files, presentations, profiles, etc.)

Sort the results by first listing the most relevant information
3. Content creation and management
The driving factor of a corporate intranet is that it is user-centered and empowers employees. One of the best ways to do this is to offer them space and freedom to create content on your company intranet. Your employees can express themselves and content stays relevant.
Ask us how you can improve your company's intranet.
We'll help you with the best solutions for your business.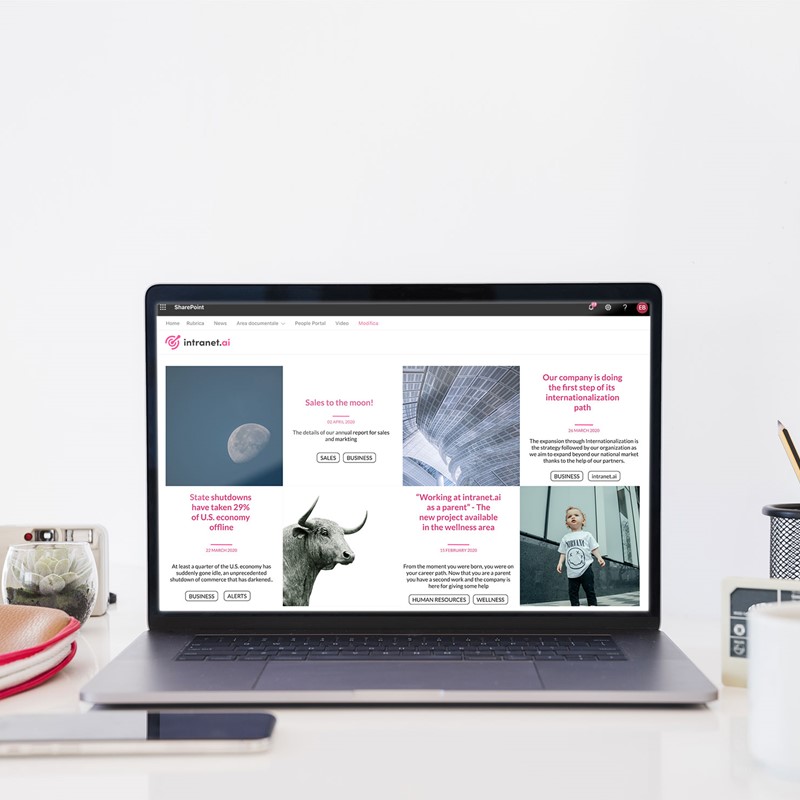 The next step is to train your employees on how to create "good" content and how you want the style of content. Give them the tools they need, appoint team members to manage content quality and let them run with it. Examples of intranet content should be:
User-centered, generated and managed

Short, concise, engaging and relevant

Interactive for the reader (comments, sympathies, sharing)

Uniform for the company and easy to create through a designated platform

Tagged with search keywords

Intuitively organized within the intranet
4. Personalization and customization
Intranet software can now learn from its users and allow its users to create the site they want to see. With so many customization options integrated such as unique profiles, tags for projects and skills, content created or linked, your corporate intranet portal gathers together what each individual user wants to see.
A customizable intranet is also necessary so that your employees can create the digital workspace that works best for them.
Your intranet should:
Allow personalization of the user's homepage, links and content organization
Feature widgets that target specific content on the homepage of a single employee from different areas of the intranet

It has a widget that allows employees to see more of what they want

Allow access only to specific users for sensitive or relevant content
5. Social skills
The transformation of internal communication is fundamental for corporate intranet software and  strong social skills are what make that transformation possible. The more your colleagues connect to each other efficiently and productively, the better your work will be.
For example, social corporate intranet features include:
Modern social features like comments, recognition, etc.

Integration with other social platforms already in use

Easy to create and share multimedia content

Inclusion of mobile apps and features for continuous connection

Forums and discussions
6. Employee experience
In the digital work area, employee satisfaction and experience are the main focus. We are witnessing a shift from measuring the success of the Intranet with the most difficult KTs to more qualitative and narrative feedback.
This means that your corporate intranet software should have integrated employee comment/feedback options wherever and whenever possible.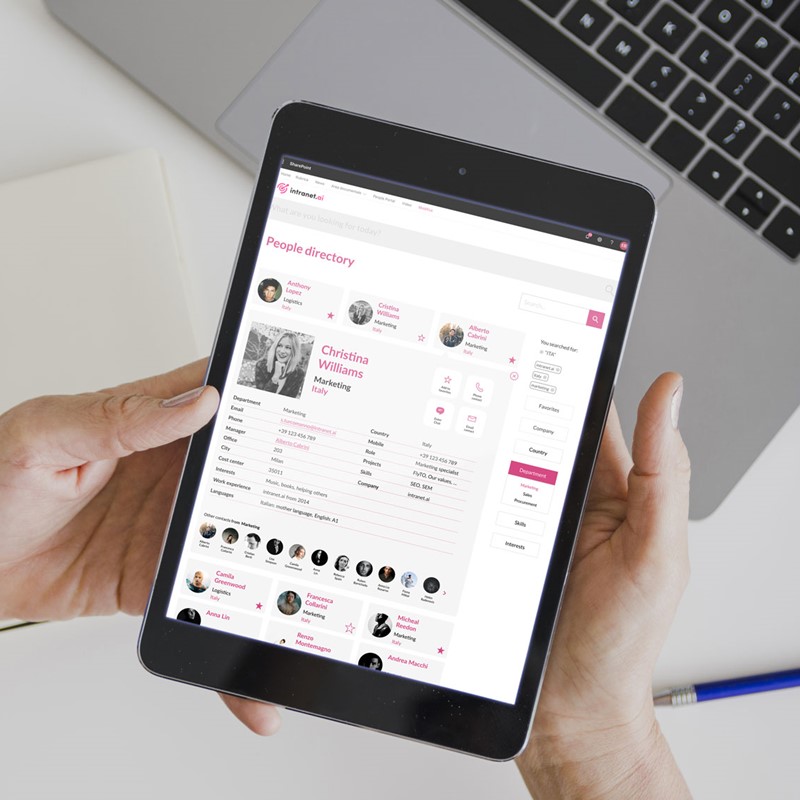 If you create an organized system to manage this continuous content, dealing with your employees' issues and creating the intranet they want to use is so much easier. Some examples of intranet for integrated feedback are:
Include feedback features in emails or company messages or refer to the complete intranet history in which employees can intervene
Create social areas for employees to express their opinions on specific topics
Conduct regular surveys to assess employee satisfaction with intranet usability
Implement a management or organization system to track feedback
7. Administration delegation
Effective corporate intranet allows employees to become intranet administrators at a basic level, which helps to alleviate the IT department's workload while sharing responsibility for a successful and successful intranet within the team.
Choosing simple administrative tasks that can be easily delegated to employees will improve the corporate intranet function and overall maintenance. Along with managing administrative tasks, employees should also have a space to manage project activities to help them organize their current projects productively.
Areas of activity should:
Provide links to the tools your employees need to do the job

Include basic "instructions" for simple and uniform business procedures

Manage your own department site contents

Include workflows or timing

Connect employees with other employees working on the same project
Ask us how you can improve your company's intranet.
We'll help you with the best solutions for your business.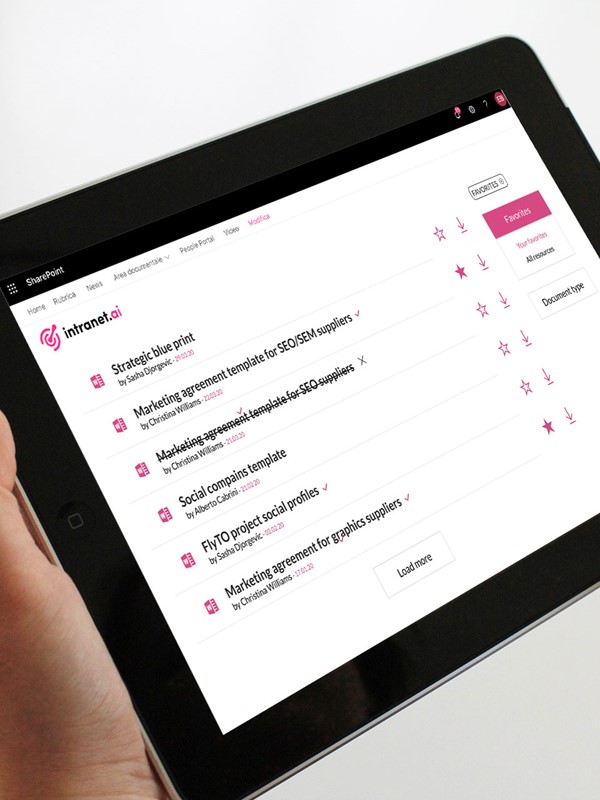 8. Content sharing
Although employee communication is widely discussed in the social tools of your corporate intranet, a designated space is essential to enable employees to share relevant content and documents with each other. This is more than just creating content in a virtual space for your employees, it will help your intranet work at its best.
If you build in an area where employees can freely create and share contents, this will encourage collaboration and easy access of useful documents throughout the workplace. Examples of intranet portals should include:
Space for employees to create and share files in every company department

Quick access to the most useful files

Tools for sharing documents within a project or a specific initiative

A way for people to let other colleagues know about new content
9. Mobile app and access anywhere
This is now a must-have for corporate intranet. An intranet is designed to get your business through the digital age by connecting employees around the world, wherever they are, whatever they are doing, anytime.
The implementation of a mobile intranet solution offers users "on-the-go" features, so they can always stay connected on work activities and conversations. This also allows you to send push notifications to make sure employees see crucial updates or information, in real-time.
Your mobile app should provide:
Full access to the intranet system from the employee's mobile device

Intuitive and responsive interface

Notifications sent to mobile devices by management to update employees 24 hours a day, 7 days a week

Integration with other mobile apps and software
10. Strengthen culture
Although this is not necessarily a production or collaboration tool, it is one of the essential roles that intranet plays in the workplace. Intranet corporate allows you to brand your company internally and educate your employees on the mission, vision, goals, and values ​​you have.
The Intranet brand unites employees and offers them the goal of working every day. It provides a sense of belonging to a larger picture and when you can create a culture based on the experience of employees, your digital workplace will flourish.
Some examples of using the intranet to reinforce the company culture are:
Using visual elements in your user interface that further promote brands or reinforce the company's vision
Creating standards or guidelines for content that support the company's values

Ensure that senior staff and management team set an example to strengthen corporate culture

Work to connect and unite staff through employee recognition, off-site activities and attention to the promotion of internal relationships
Build an Enterprise social network, to easily connect people.
Are you ready to up your workplace to a whole new level?
Request the demo now and find out how intranet.ai can help you create what you need for your company.