Microsoft Teams
Microsoft Teams is the ideal collaboration tool in your daily job. Teams offer fully customizable document storage, chat, and online meeting environment. Teams it's a hub for teamwork in Office 365.
If you have ever participated in a team project at work, you will certainly appreciate the need for Microsoft Teams. Each feature is designed for business collaboration and presents a set of different tools, some of which may be essential for improving communication efficiency at work, and therefore sharing and cooperation.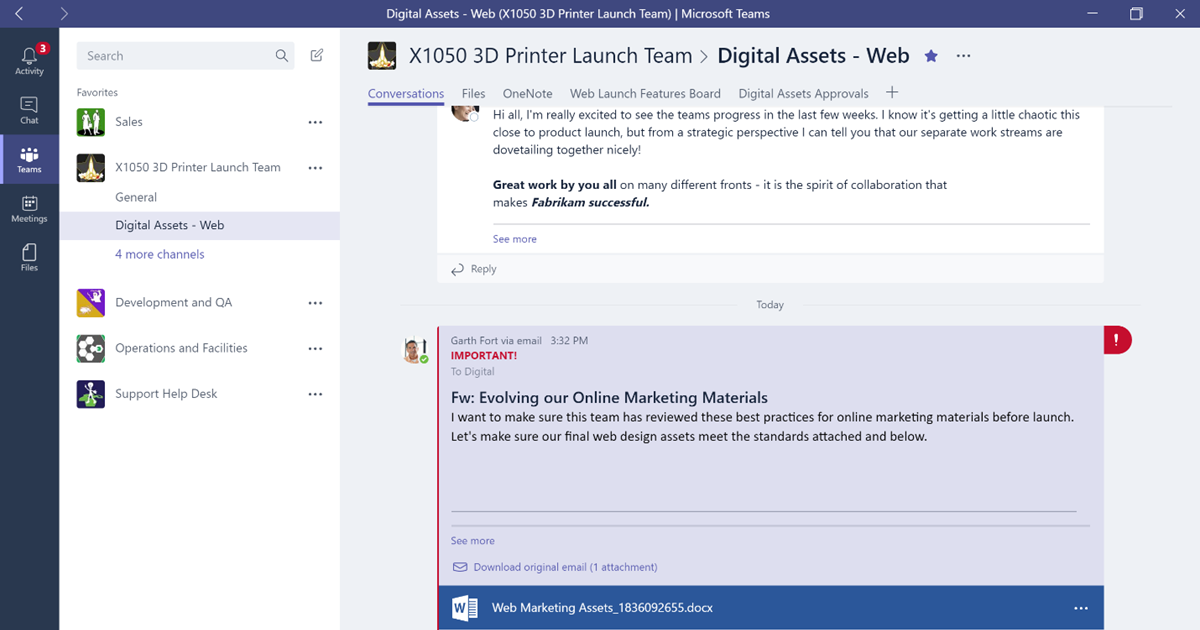 1. Fully integrated with Office 365
Like any other Microsoft product, Teams integrates seamlessly with Office 365. Office 365 applications that are used every day in the workplace, such as Word, Excel, PowerPoint, OneNote, SharePoint, and Outlook, are fully integrated with Microsoft Teams. Office 365 is the best solution for companies that want to create a collaboration-based intranet. It's also a useful tool that gathers all employees' work needs in a single hub.
You can quickly and easily create teams with your colleagues, restore deleted groups, edit the group email alias, and use tabs for the customization of your teams' contents.
2. Conversation channels
It is possible to have chat channels with certain topics or to involve only specific people. This feature makes it much easier to maintain messaging on a particular topic, or a specific project, and solve problems faster without distraction.
The Conversation tab in Microsoft Teams appears in the General channel. It also appears in all the other additional channels you create. All group members can contribute to this channel. All channel participants can view messages, but also shared files by merely accessing the File folder.
3. No more emails
Teams eliminates the tedious use of email for communications that require speed of response and interaction. You will have less confusion in your inbox as the conversation takes place via the Teams chat, rather than waiting too long for email replies.
A feature of Microsoft Teams is the ability to send an email to the team channel, with the email content displayed in the conversation as a thread visible to all team members.
4. Direct access to OneDrive and SharePoint files
Using Microsoft Teams, you can access all Office 365 applications from a single platform so that you can work more efficiently. Access files and documents in OneDrive and SharePoint, make calls or video conferences directly from Teams.
When working on a project, all documents or messages should be easily accessible in one place. Microsoft Teams offers this potential. Everything you need for a particular project can be found in one place, including messages, meetings, notes, and documents. You also can contact online collaborators in real-time, making collaboration fast and straightforward.
5. Access Teams from all devices
The Teams interface is designed to allow you to improve collaboration with your colleagues. With Teams, you can communicate with your colleagues even if you are out of the office directly from the mobile app.
Available on Android and iOS, Teams is a simple and easy-to-use app that allows you to chat with your team, converse with voice messages, or organize video conference meetings immediate or scheduled.
6. Security and compliance
Security is a top concern for anyone who runs an online network. Microsoft Teams is far ahead of its competitors when it comes to safety. By subscribing to your Office 365 subscription, you get all the online security that Microsoft technology has for both Teams and all other Office package applications.
You can customize the "teams" working on Teams so that they are available as private or public, thus allowing access or viewing only to people you deem suitable. With Microsoft Teams, you can take advantage of advanced security controls that include data loss prevention, information barriers, retention policies, legal retention, and more.
No software can prevent all phishing or malware attempts, but Microsoft Teams has stepped up cybersecurity, also offering two-factor authentication and the reliability of encrypted data.
7. Collaborate with suppliers and customers
Microsoft Teams allows you to invite users who do not belong to your company or organization to chat, by merely using and entering their email. Teams will register them and display them as "guest" members. In any case, this is an incredibly useful and necessary function when working on a project with suppliers or third parties.
Guest access allows your organization's teams to collaborate with customers, contractors, stakeholders, and anyone else you need to interact with, giving them access to your existing groups and channels. Administrators can control which features guests have access to. You'll always be sure that the information is managed only by those who have the authorization and are not put at risk. Anyone with a corporate email account or even Outlook, Gmail or others, can join Teams as a guest.
8. Quick search
Microsoft Teams has a high-speed and efficient search function. Teams' search feature allows you to find information relevant to previous conversations or files quickly. 
Content search features provide a way to find the information you need in other Office 365 tools as well, including:
Exchange

SharePoint Online

OneDrive for Business
9. Improve email management
Microsoft Teams allows you to forward emails directly to your Teams channel to share them with interested parties in a snap. Just click the ellipsis next to the channel name and select "Get e-mail address."
Teams' goal is to improve communication, activities, meetings, and ideas generation in the workplace in a single platform, integrating with the work of the people you interact with. Teams streamlines the organization of the work of different groups, not just individual team members.
10. Discussions
Microsoft Teams manages perpetual conversations between users as threads. Within a team, you can create multiple chat rooms and channels. The conversations are listed from top to bottom. Users receive notifications whenever there are updates in a discussion and, if they need to communicate with someone face to face, they can activate video calls or leave audio messages via voice chat.
11. @Mentions
The best way to make sure someone on your team sees your message is @mention! All you have to do is type @ before someone's name, and the person you want to contact will be notified. If you need to communicate with your whole team, type @teamname before your message, and all the people on your team will be notified. You can also type @channel before your message to inform all users of a channel that you have posted something.
This will prevent you to send an email to your group of colleagues and to receive all the related replies. Less email, more time to work.
12. Standard or private channels
Standard channels are available for all team members in Team. Most channels are standard channels. If you need a smaller and specific audience for a particular topic, you can use a private channel.
Standard channels: they are open to all members, and everything published is searchable by others. By default, all team members can create standard channels. Tenant owners can edit this permission and limit channel creation and permissions to specific roles.
Private channels: they are for discussions that aren't accessible to all members, so you must be asked to join one to view it within a team. Any owner or team member can create a private channel and add members. Guests cannot create them. The administrator can change this permission and limit the creation of the private channel to specific roles.
Conclusions
These numerous features give an idea of ​​how Microsoft Teams is a huge advantage for companies that use Office 365 because it's a tool that efficiently supports all collaboration needs. Microsoft Teams is the ideal tool for collaborating at work because it offers fully customizable document storage, chat, and online meeting environment.
Are you ready to improve your workplace?
Request the demo now and find out how intranet.ai can help you create what you need for your company.