What is Yammer
Yammer is based on the idea of ​​creating a digital social platform aimed at business customers.  Where to share company knowledge, ask for questions about common procedures or company life, share the projects on which an employee is working and those in planning with colleagues.
Microsoft Yammer is a company bulletin board or a virtual meeting room where you can interact with all the employees of your company, asking questions and answering questions in real-time without having to resort to an infinite sequence of emails.
Yammer was created to facilitate collaboration, communication, and the exchange of information of all kinds within the company; so to speed up communication and receive updates on the progress of the work on a given project, you won't need to send many emails and wait for an answer. You just have to check the company bulletin board or check if colleagues are connected to the chat: in a few minutes, you can get your answer.
Yammer allows you to increase productivity at work. And not only because it speeds up communication: Microsoft's social enterprise encourages employees to be more creative and proactive, driving new ideas.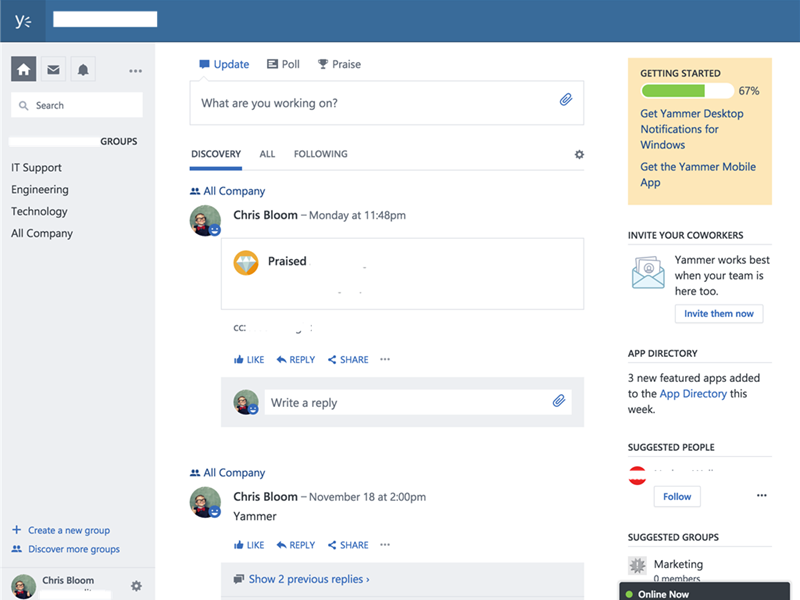 Yammer integrated into Office 365
The most crucial aspect of Yammer concerns the deep integration with Office 365 and with its tools such as Teams, SharePoint Online, and Outlook.
Yammer focuses on communication within the company in ways designed to encourage dialogue between colleagues or between managers and employees, with more socially-oriented dynamics than those of the Teams mentioned above, as can be seen in the streaming video below.
Yammer offers a beautiful and intelligent experience on all devices, introducing new integrations with Teams, SharePoint, and Outlook. It can be used to broadcast live and on-demand events with simplified options for using webcams and desktop sharing.
Unlike many competing applications, Microsoft Yammer was also created through some of the feedback received more frequently by users, implementing features designed to meet specific needs.
The chat feed is created ad hoc for each one based on the use of artificial intelligence to highlight the most critical topics, customizations for the interface according to the company brand, optimized discussion organization, and quick sharing of video messages through the mobile application.
Features to collaborate with Yammer
The typical functions of a social network are combined with the usual functions of a microblogging platform and a collaboration platform where you can share ideas and projects.
However, Yammer has an exclusive feature: you can only connect with users who have the same email address as your company's domain (or multiple domains). So you create a corporate social network hosted by Microsoft's cloud services, where you run confidential documents and new projects.
Introducing a corporate social network initiative requires, first of all, a strategy to encourage the change of paradigm, the new corporate tools must be included in an adoption plan that take the culture and objectives of the company into account.
The challenges Yammer faces to improve the collaboration in your digital workplace are:
Focus on collaboration and team growth.

Change the approach to communication.

Embrace a culture of knowledge sharing.

Work like a network.

Have a shared vision.

Work towards common goals.

Assist cultural change.
Yammer has excellent potential, and companies that introduced it have significantly improved collaboration, communication, internal relations, dynamics.
The positive effects are: fast problem-solving thanks to a cross-company communication, sharing, and growth of ideas useful for productivity and business development, the emergence of talent, higher employee satisfaction, ease of connection and communication between distant physical locations and work teams, greater sense of involvement and alignment with company objectives.
Are you ready to improve your workplace?
Request the demo now and find out how intranet.ai can help you create what you need for your company.