Investment Memo
Q2 2023
Last updated on 30/06/2023


Hi there!
This is Giuseppe writing and with this memo I would like to give you all a quick update about intranet.ai goals and key results.
All the information you can find here have been updated at the end of the second quarter of 2023 and I hope that are useful to have the best understanding of our past work and our future direction.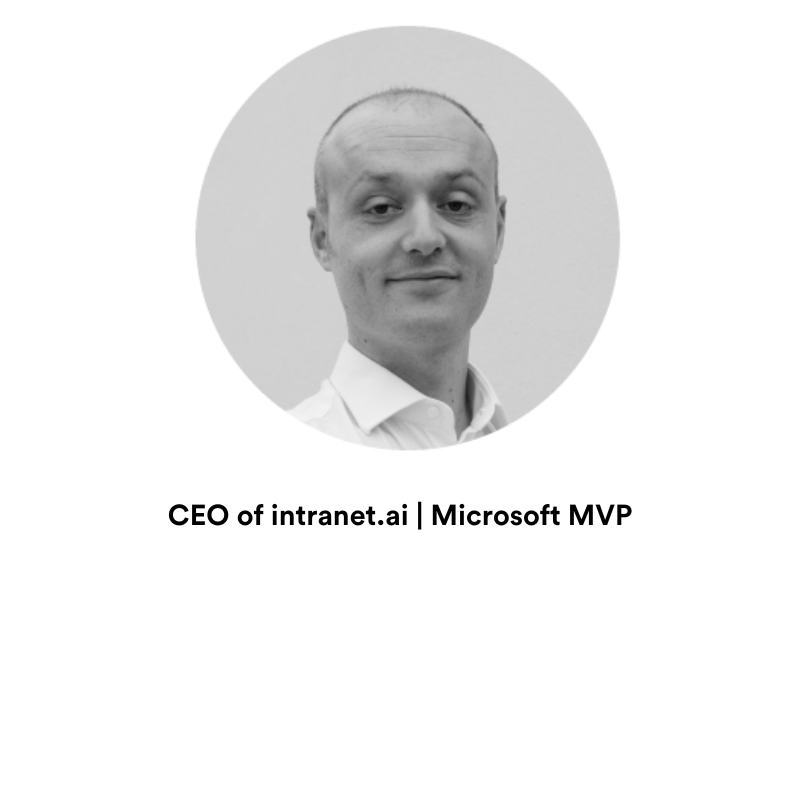 What is intranet.ai


intranet.ai is a SAAS company, based in Italy, with several ready-to-go solutions for creating a real digital workplace with Microsoft 365 technologies for Small Business companies and Enterprises.
Our purpose is giving to our customers a quick help for a better communication with employees, the utilities they need for their daily work and micro-learning contents for a continuous growth of their skills.

I little bit of history


I'm a Microsoft MVP on Microsoft collaboration technologies from 2010 (13 years in a row).
I created intranet.ai in 2020 after gaining 10 years of experience with my first company, Dev4Side Software (2 million revenue in 2022).
Dev4Side Software is a system integrator with high skills in Microsoft technologies, and I implemented intranet portals from the beginning of my career, more than 20 years ago.
Over time, I realized that every intranet portal had the same base features. That's when I decided to create intranet.ai, that was incubated directly by us with an initial investment of 300.000€.
Currently, my business partner, Miro Radenovic, is leading Dev4Side Software and we have completed the separation between the two companies in 2022.
Key problems,
and how we are solving them


The first problem we targeted was related to the creation of the company communication portal.
Every company need an intranet to centralize information and internal processes, but creating an intranet from scratch is:


slow - with an avg of 8 months of project time;


expensive - from 60k up of budget;


risky - poor adoption, frustrated employees.


intranet.ai solves these issues with an intranet in-a-box solution that enriches SharePoint Online with custom components with the goal to cover all the common needs of every customer for the internal company portal.
We started with internal communication utilities together with HR tools, and we ended with tools for managing the lifecycle of documents or monitoring the usage of every SharePoint Online site with an advanced analytics solution.
We did the product market launch in November 2020, and we already solved the problems just mentioned, to 53 happy customers. Using intranet.ai they were able to create the company portal with the 10% of time and budget compared to an intranet created from scratch.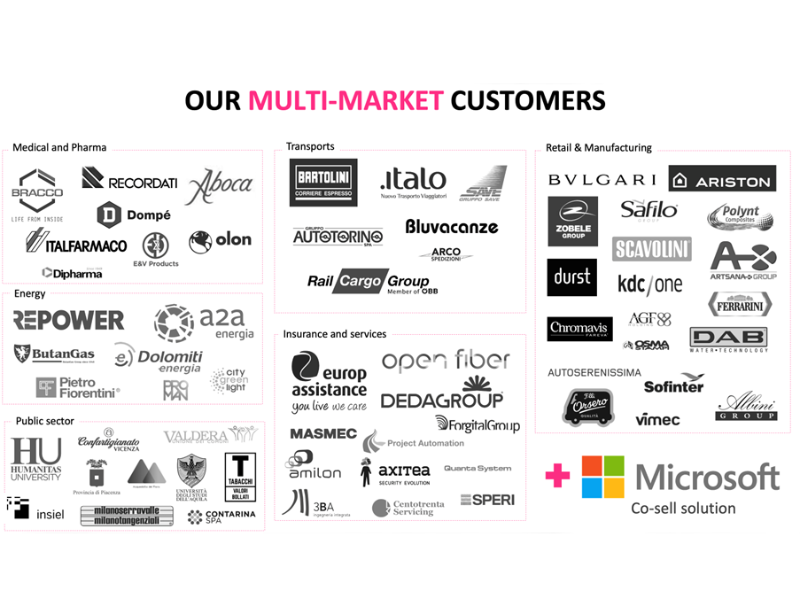 Now, we are working to cover some last issues.
Namely, the difficulty every company is facing about the effort to generate contents.
In this quarter, we started the development of a new add-on that will help our customers to generate quick, interactive, and inclusive learning contents with the use of AI.
I will give you more info on this in the next memo.
The business model


The business model of intranet.ai revolves around three key aspects, namely:


Yearly subscriptions for features – We have different plans with custom components for SharePoint Online to create intranet or extranet portals.


Yearly subscriptions for contents – We have content packs to enrich the value of the intranet portal and help the employees in the development of their skills.


Professional services – To help our customers in the creation of their company portal.


The power of intranet.ai is related to the following two main aspects:

We are certifying that we don't have the issue of high churn rates like most SaaS companies. The average life cycle of an intranet in a company is a minimum of 5 years.

Every company with 50 employees or more needs an intranet for centralizing information and internal processes, regardless of the market.

Our business is a recurring and scalable model for years.
Our customers


In this second quarter of 2023, we acquired 12 new customers and renewed 10.
In new customers we can see 4 customers from the public sector, 6 customers that are working in the services field and 1 in retail.
In this group, I would like to highlight Dedagroup, a very important player in Italy in the services field.
With more than 1400 employees Dedagroup is helping the digital transformation of the public sector mainly.
We are very proud of our portfolio, that now sees world-wide customers like Bracco, Ariston, Recordati, Repower, KDC/One, Safilo and Artsana.
Our marketing acquisition channel


Our acquisition channels are the following 4:


SEO – We have written a total of 75 articles in 5 languages, and we are currently tracking 424 keywords in the first 10 places and 105 keywords in the first 3 places of Google results.

SEM – We are actively working to refine Google Ads campaigns for Italy and Spain.

Content marketing – We have a newsletter with 11k subscribers that we engage with technical articles, tips and 1 free webinar every month about Microsoft 365 technologies updates.

Our goal is to increase my personal branding, mainly on LinkedIn and YouTube, to have people think about me when they need to update their digital workplace.

Microsoft partnership – intranet.ai is a certified co-sell solution with Microsoft, and their salespeople are helping us to bring this solution to their customers.

Why this? Because it helps Microsoft to have a long-term usage of Microsoft 365 licenses and it also generates Azure consumptions.
Our numbers


Our business has been performing well for the past two years, exceeding our expectations.
We have a total of 60 active customers, 96% from Italy, of any dimension and market, with more than 50.000 users that are using our portals daily.
From 2021 to 2022, we saw a 332% increase in revenue and a 225% increase in ARR, both of which were 20% higher than our budgeted projections.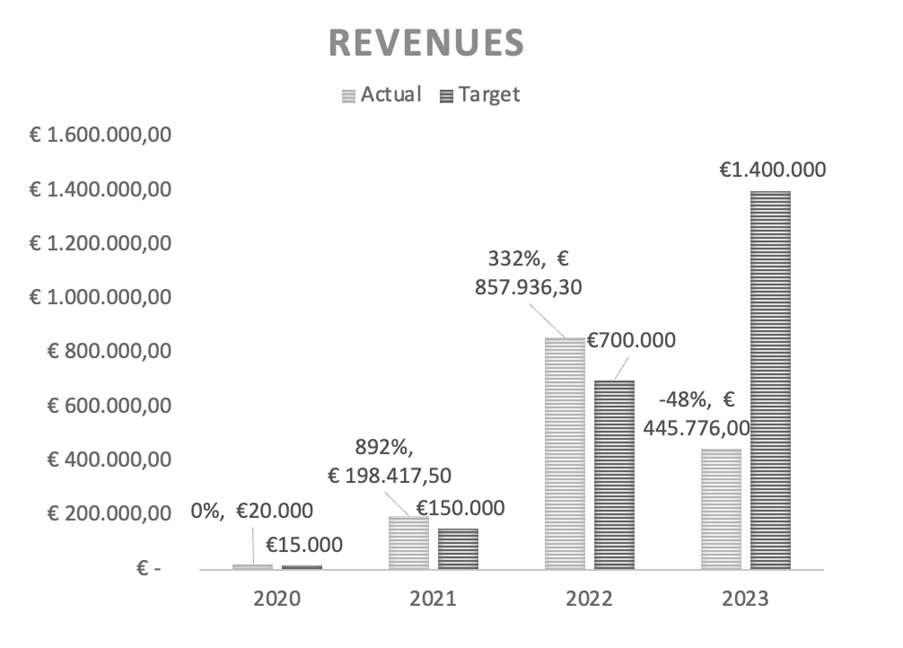 2023 revenues are increasing too: 106% of increase on this Q2 related to Q1.
We are a little bit below our target, but we are confident to reach our goals at the end of the year thanks to all the intranet project's that will be closed in the following months.
Most of our revenues (72%) come from Enterprise companies, which is great because they tend to use our solution for a longer period and increase their spending on it over time.
As I mentioned earlier, our recurring revenues are looking good.
My main OKR this year is to sell a total of 55 new licenses to achieve the target ARR of €500,000 by the end of 2023, which represents an increase of 128% compared to 2022.
Currently, we are slightly ahead of target due to the time of year: Q2 is the period during which we usually start to convert Q1 demos.
In fact, out conversion rate for 2023 just increased from 7% of Q1 to 14% of Q2.
Our OKR is to improve the conversion rate to between 30% and 40%.
As you can easily understand from these numbers, the opportunity to scale is really high.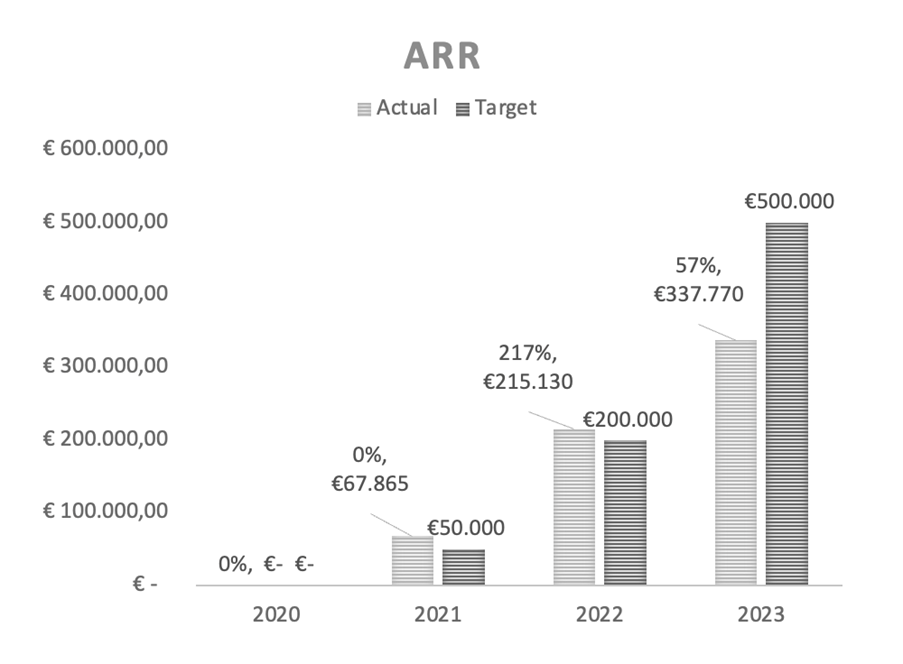 The metric we're most proud of is our churn rate, which currently stands at only 3% (-1% related to Q1), with only two customers uninstalling our solution in the past two and a half years (one of them due to unexpected company failure).
This confirms our knowledge that the minimum lifetime of an intranet is 5 years.
Thanks to that, our average customer lifetime value is at a minimum of €28,000, and we're working to increase it in the coming years with the new features and content packs we have planned.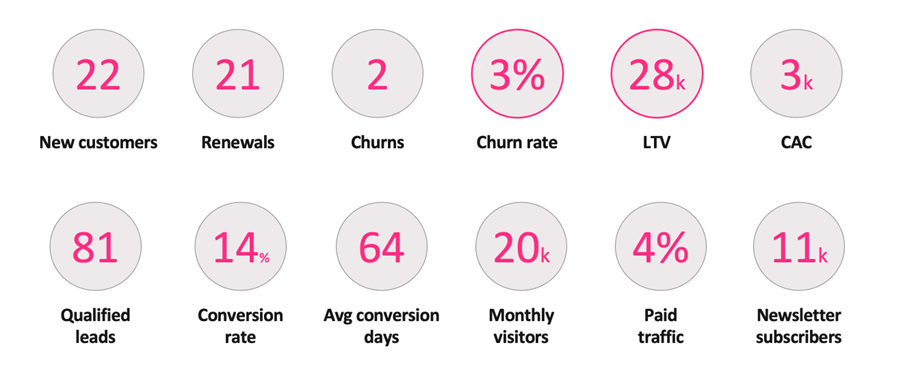 Our next innovation


In this quarter, we started working on a new product to increase our portfolio of ready-to-go solutions for the digital workplace.
This is the solution I was mentioning in the past quarter, that will use Large Language Models to revolutionize the compliance and learning areas of our customers.
Our goal is to help companies solve the following two problems:
Creating inclusive, multi-language and easy to understand training contents with few efforts in term of budget and time.
Increasing the assimilation of internal procedures, policies or manuals, with a new type of learning mode. Namely, micro-learning.
We are developing a solution that make our customers able to:
Create new micro-learning courses from scratch, with the following formats: short texts, interactive quizzes and audio. With the possibility to generate course version in any language.

Create a micro-learning training starting from an internal procedure, guideline or manual, with the use of AI (this is really amazing)

The produce can be easily assimilated by all people in the company, thanks to a more easy to understand learning content, the possibility to learn the procedure content with audio (we are basically turning a company document to a podcast) and the possibility to translate it in any language.
The solution will be integrated with Microsoft Viva Learning and I'm actively working with Microsoft to start selling together on customers in which they would like to place Viva Learning.
Our solution will be a tangible help to the sales of Viva Learning, and this is very attractive to Microsoft salespeople.
The implementation is at 40% now and I've already started to demo it with Microsoft colleagues.
I will do an updated on this new solution in the next quarter.
Challenges to growth


With the goal of accelerating our business growth, we worked in 2022 to start selling our solution not only in Italy, where we are the leading player in this niche, but also in other countries across Europe.
The solution was already developed with localization features, and in 2022, we translated the website into French, Spanish, German, and English.
We also conducted SEO activities to ensure the best search engine rankings for people in France, Spain, Germany, Switzerland, England, and the US.
The main challenges we face in this expansion are:

• the cost of acquiring new customers;

• language barriers.

To address the first challenge, we plan to invest more in SEO and SEM activities.
For the second challenge, we have already hired people who are native speakers of French and Spanish.
Of course, the internationalization of this business will require the help of a partner to invest in the project and connect us with key actors.
Investments will be used to marketing (60%), new hires (20%) and R&D (20%).
Our competitors


In Italy, we started as first in 2020.
After 2 years, a new competitor came in the market.
We have a solid position and currently we are seeing that this is not an impact to our business, also because they are pretty new on Microsoft 365 technologies. Their main solution is using open source technologies (Liferay) that are not in the mind of our customers.
World-wide competitors are in a group of 30 companies, with several of them that are in the market from a very long time and with already closed fundings.
The main factors to choose intranet.ai instead of one of our competitors are the following two:


Price – Our yearly subscriptions are aggressive.


Features – We are creating a big list of components and tools ready-to-go to give our customers multiple choices for their brand-new digital workplace, enriching them with the use of AI.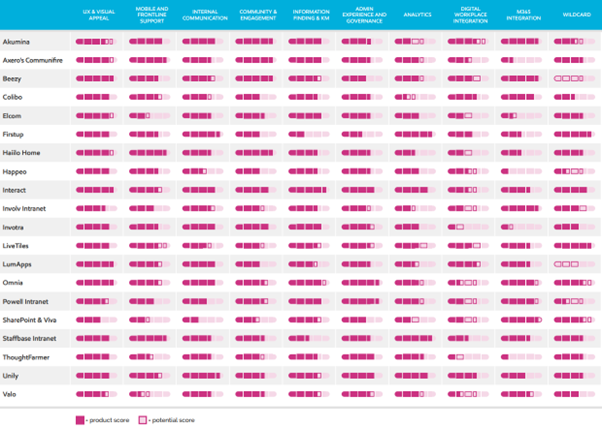 Our team


I organized my team in the following 4 main units:


1) Intranet specialists
Known as "Intranet Angels", they are the girls that help our customers create their digital workplace.
They have project management and internal communication skills, and also provide the service for creating contents for our customer's intranets.
This team is led by Marcella Lombardini, a PM with 16 years of experience in Enterprise projects.
They support me in carrying out product demonstrations.


2) R&D
This is the core of our company: the team that is working hard to keep the product robust and updated.
They implement all the new components, do installations and upgrades, and try to research new ways to help our customers with the use of Microsoft 365 and Azure technologies.
This team is led by Giorgio Nobili, a senior developer with 14 years of experience. Giorgio was working with me in Dev4Side Software before the creation of intranet.ai.


3) Modern work
A small team that helps the intranet specialists with development skills to implement custom components to cover customers' needs.
This team is led by Gianluca Narzi, a Microsoft 365 and Azure Senior Architect, with 12 years of experience in the field. Gianluca was working with me in Dev4Side Software too.


4) Marketing
A small team, that I led personally.
It covers all our digital marketing funnel.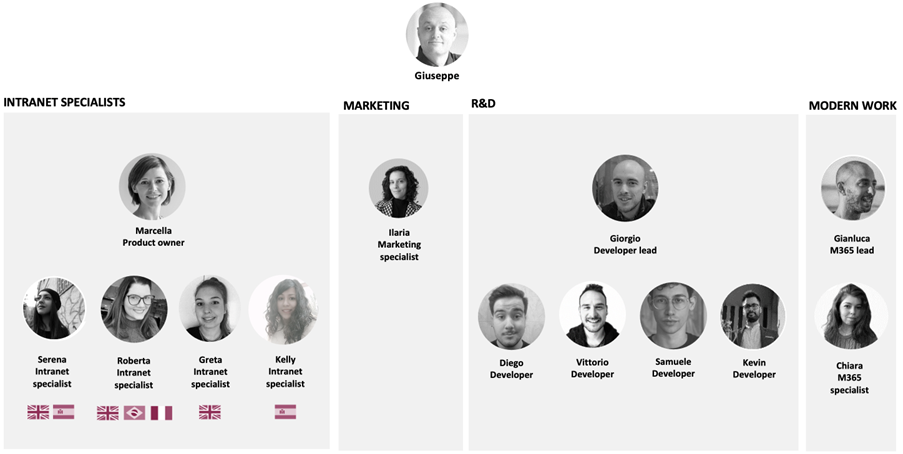 Our OKRs


I have been managing the company using OKRs from the beginning.
We set annual objectives that are company-wide, and every quarter, all of our team members write down their own OKRs that align with their business unit and with the company's strategy.
Writing down OKRs every three months is the best way for us to focus on what is most important for our business and take decisions with real-time data.
Here are our OKRs for 2023:


Increase ARR to 500.000€, measured by:



The sale of 55 new licenses of intranet.ai or one of its add-ons, to Italian and world-wide customers.

Renew the 100% of yearly subscriptions.

The upgrade of licenses on 20 customers and of professional services on 30 customers.

The increase of conversion rate from 30% to 40%.

Find 10 new partners, with at least 1 license sold.



Increment the solidity and the features of our solution, measured by:



The addition of 20 new components and 1 new add-on.

The addition of 2 content packs.

The decrease of the number of bugs of the 70%.

The implementation of the version 2 of intranet.ai analytics.

The addition of 1 new add-on with the use of Large Langue Models.



Improve internal processes, measured by:



The completion of 100% of the projects started before October 2023, before the end of December 2023.

The decrease of the average of project duration by 30%.

The increase of billable hours from 80% to 90%.

The setup of the process of support by the Modern Work team.



Increase the company brand awareness, measured by:



The tracking of 150 demo requests from our website.

The production of 3 videos every week.

The reach of 50k monthly active users on our website.

The creation of 250 multi-language articles for increasing SEO.

The increase of 30% of the engagement about newsletter contents.
FAQs


Here below, I'm sharing a list of common questions I receive during my pitch.
I hope this can be helpful for you too.
Who are your main points of contact in a company?
We work mostly with IT, Internal Communication, and HR.
What are the needs your customers have before acquiring your product?
Mainly, customers have the following three needs:
To migrate an intranet to Microsoft 365 from a legacy or open-source solution.

To enrich an already created intranet.

To create a new company portal from scratch.
Where are you using AI in your product?
Currently, we are using natural language comprehension mechanisms to help employees find what they are looking for during searches.
We are also working on a new add-on to help companies generate learning content using large language models.
We are turning documents to micro-learning contents, thanks to AI.
What is your connection with Dev4Side Software right now?
I founded Dev4Side Software in 2010 and worked there until 2020.
Now, I am fully focused on the growth of intranet.ai. My business partner, Miro Radenovic, is currently leading Dev4Side Software.
Why did you have a high EBITDA in 2022?
We are currently the only company in the market, with no investments taken by anyone for the development and launch of our product.
We wanted to ensure we have a solid backup to grow our solution in this uncertain period.
Of course, having such numbers is a confirmation that our business is scalable and profitable.