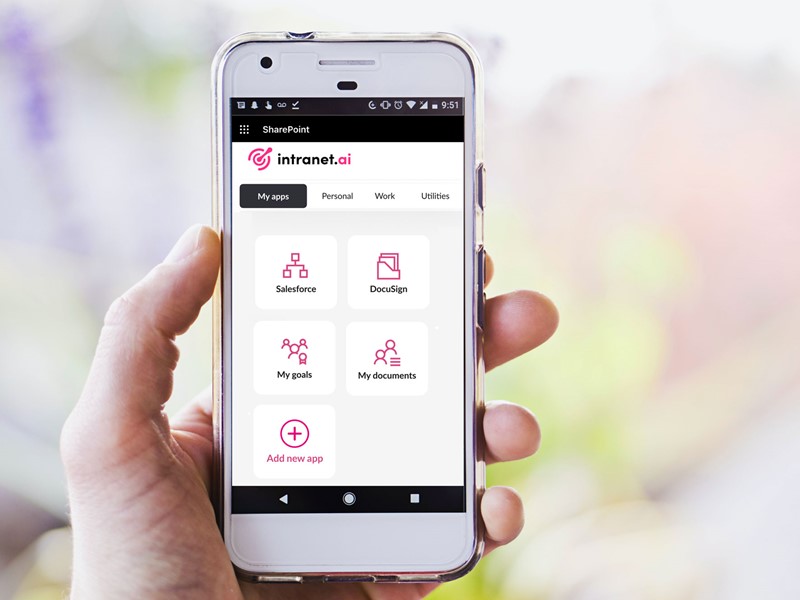 My Apps: Your personal set of business apps within the SharePoint intranet

Company Apps turns into My Apps: the customizable area in the SharePoint intranet where you can group together all your favorite business apps.
Turn your SharePoint into the most useful tool for your daily work.


SharePoint Personal Apps: How do they help your company?
Your intranet should be your daily landing page, fully customizable for your needs and for making your work easier.
This philosophy underpins the design of My Apps, to let you create the ideal digital workplace.

Easy access

Access your business apps from any device, browser, or mobile. Once you're signed in to your apps, you can customize them to suit your tastes.

My Apps integrates with our Intelligent Search to let you find your personal set of business apps without wasting time and effort. You can divide your apps in custom categories and access them safely wherever and whenever you want.

Manage tags and categories to your links

Create and easily categorize your links to find them easier on your SharePoint intranet and spend less time in searching your business apps.
Highly customizable look and feel

With My Apps, you can customize your set of business apps in every detail. Including the icons to identify each app.
Our feature provides you with a vast archive of images. Let yourself be guided by your tastes to pick the best icons.



Group together the most useful links and business apps.
Choose from 100+ icons to customize our feature.
What is intranet.ai?

It's the ready-to-use SharePoint intranet,
designed to reduce costs and implementation time.


Starting price is 2.450€ for a fully-featured intranet.

More than 25 features, including Intelligent Search, Document Management, Company News, and Teams Push Notifications.

100% integrated with Microsoft 365, Viva, and Power Platform.