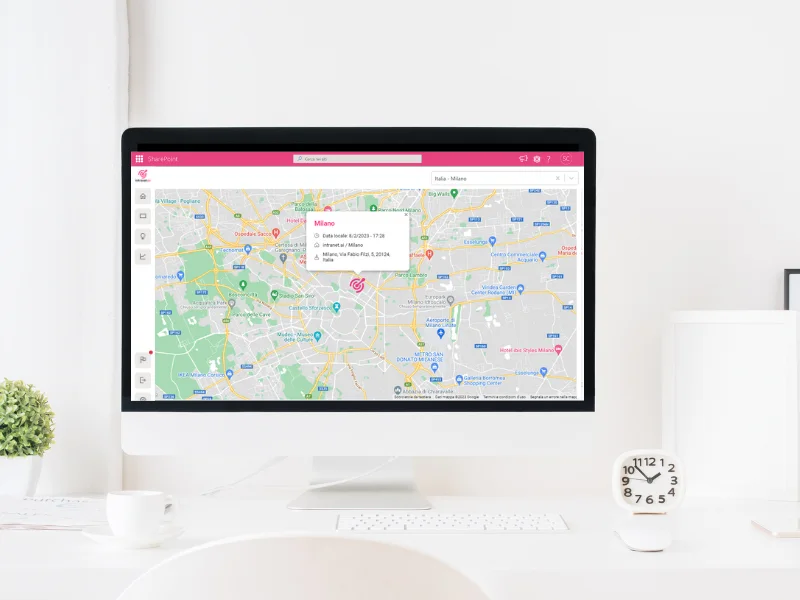 SharePoint Company Locations: the map of your company offices
Create an interactive map to locate your company's facilities.
Use fact sheets to organize your international meetings.
Customize titles, descriptions and placeholder icons.
Explore your work space.
SharePoint Company Locations:
Why does your company need it?
It is not always easy to remember where the offices, locations,
warehouses and facilities of your company are.
It is even more difficult to know what activities are
carried out in each of these facilities.
Our component helps you locate them and know them in detail:
from type to local time.

Supported by Google Maps

Our map is based on Google Maps, the most widely used geographic app ever.
Because of this, it offers the same location service used by millions of users to orient themselves and learn about the world every day.
Use it to learn about your company's whereabouts.

Track the personality of your brand

Our map helps you spread your company's identity.
Customize office and location icons with the corporate logo or create an intuitive legend with your brand colors.
Make your intranet an unmistakable space.
SharePoint Company Locations:
What are the benefits?
Stop questioning the Internet.
Stop asking your colleagues
how your company is organized.
Our map
will be the only guide you'll need.

Coordinates across borders

Consult the corporate map.
Locate your team members, suppliers, and customers.
Mark their address and time zone.
Organize your international meetings and trips.

Go beyond the standards

We have perfected SharePoint Company Locations to satisfy one of our customers.
We will do the same for you.
We will adapt its features to your company and create new ones to cross all boundaries together.
What is intranet.ai?
It's a ready-to-use corporate intranet,
designed to reduce costs and implementation time by providing a highly modern and collaborative digital workplace.

Starting price is 2450€ for a fully-featured intranet

More than 20 Apps, including intelligent search, document management, news, push notifications, and my workplace


100% integrated with SharePoint Online and Microsoft 365