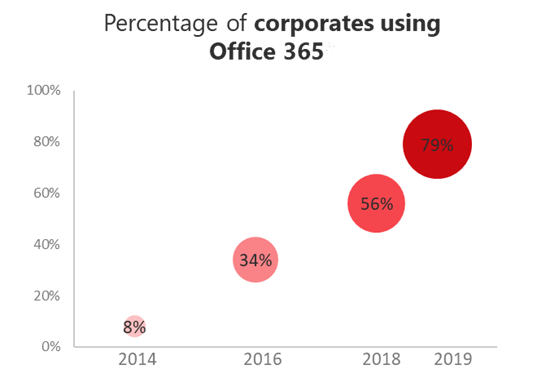 Sources:
intranet.ai is seeking for an investment
We are evaluating investments to accelerate accordingly to the market requests and the correct timing.

Did you know Microsoft Office 365 is completely overtaking the market of the collaboration tools in the b2b sector?
Currently, more than 1 million companies are using Office 365 with 200 million concurrent users every month. This trend is growing with +20% every year. Office 365 is already de facto the standard for mid-big sized companies.
What most of the companies are missing, is a fully functional intranet/digital workplace that centralize efficiently their information, processes and that is immediately ready to be used.

With intranet.ai we solve this problem and we make sure companies make the most of their Office 365 subscription.
With intranet.ai we solve this problem and we make sure companies make the most of their Office 365 subscription with the right tools

Fill the form to download the pitch deck