YOUR INTRANET RESOURCE
SharePoint templates: what's new
Microsoft 365 suite design has always included every detail.
Working with a smart and aesthetically appealing design makes tasks easier. This is why something new is coming for SharePoint and the world of intranets.
Soon, there will be more settings in the header of our communication sites with updated graphics.
What you will find in this article 
What are communication sites
3 new layout options for SharePoint Online
Communication sites
If you don't know what they are, let's take a step back.
Communication sites are internal intranet sites orientated toward company communication.
You can modify each web part by publishing news, communication campaigns, events, calendars and everything you need to ease the circulation of information in your company.
What is intranet.ai?

It's the ready-to-use SharePoint intranet,
designed to reduce costs and implementation time.


Starting price is 2.450€ for a fully-featured intranet.

More than 25 features, including Intelligent Search, Document Management, Company News, and Teams Push Notifications.

100% integrated with Microsoft 365, Viva, and Power Platform.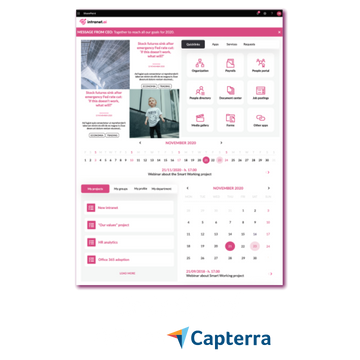 New Layout options
There will be three more available options.
The details have not been announced yet but let's have a look at what we can expect.
The first novelty is the addition of two new layout types for the header.


In addition to the compact and standard layout, there will be minimal and extended layouts.

The second type of novelty is that you will be able to hide communication site's title and icon.

This feature is very useful because the title and logo are always visible at the top left which limits the look of our intranet.

The third possibility, last but not least, is to be able to put a background image in the logo so we can insert any image making the graphics side of our intranet more flexible. This functionality is in rollout and as soon as it arrives in our tenant we'll have a look at the details.
Do you know we build smart intranets?
We have been a professional team in the industry for over 15 years.
Our goal is to help you build an intelligent intranet tailored to your company.
Find out how we do it.
Giuseppe Marchi
Microsoft MVP per SharePoint e Office 365 ( adesso chiamato Microsoft 365) dal 2010, Giuseppe ha fondato Dev4Side e intranet.ai con l'obiettivo di aiutare le aziende ad avere un ambiente di lavoro più semplice ed efficace grazie alle tecnologie Microsoft. Lavora come consulente per tutto ciò che riguarda la collaborazione, i portali intranet e le piattaforme cloud di Microsoft.