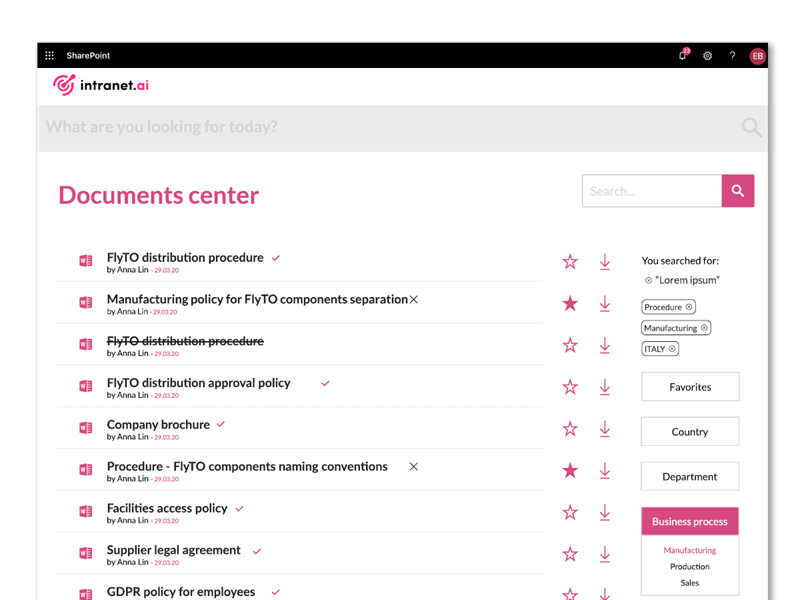 Our Document Management improves the document system for your Microsoft 365
The essential intranet tool for quick access to all documents shared on your company intranet.
Employees waste a lot of time daily searching for documents they need to do their jobs. With the intranet.ai Document management feature you can collect and classify each document, procedure, module or template to make it more easily accessible to each employee.
Choose the document category, find content using free-text search, see the latest changes -  
this is your workplace's digital library.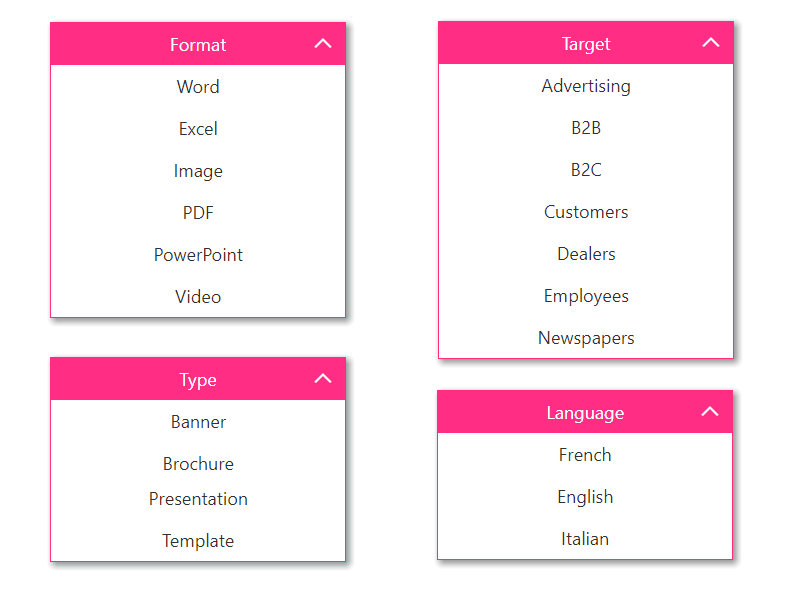 Easy document search
intranet.ai organizes your company documents into a well-categorized digital archive which is really easy to view.
You can choose whatever structure you like for your files: the feature can merge data from different SharePoint document libraries.
You can make the search easier by classifying documents with categories and tags that allow people to quickly find what they are looking for.
Integrated with Microsoft 365 taxonomies and term sets.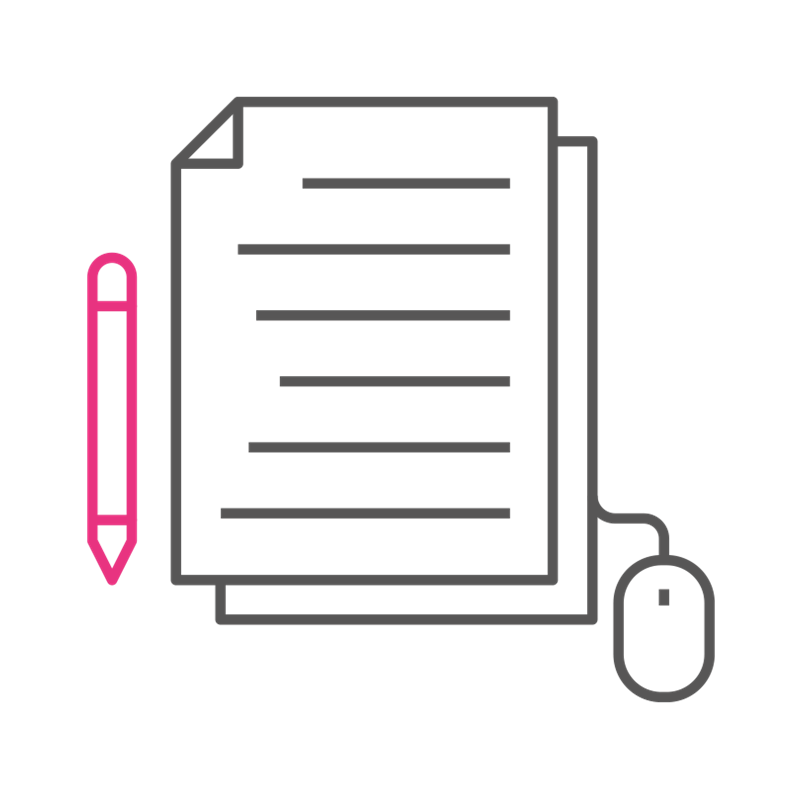 Custom documents' categories and tags
Choose how to classify your documents. Every company has different needs; with this tool, you can customize the categories and tags used to classify company documents based on the real needs of your business.

Save your favorites files
Do you often view the same document? Do you always need to have modules or procedures to hand? With intranet.ai you can create your Favorites space and add the material you need most often, just a click away.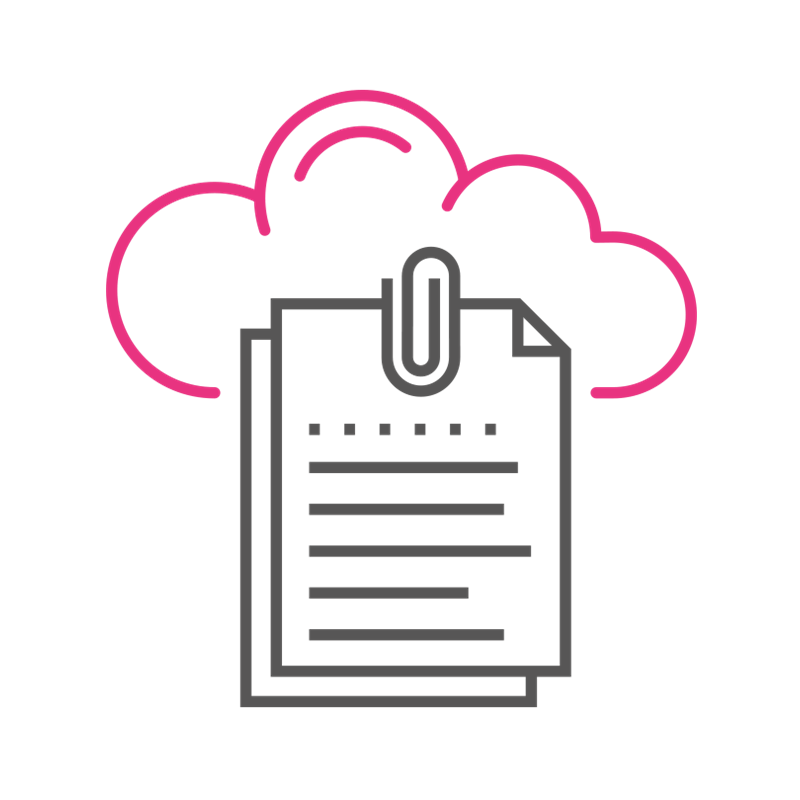 Latest documents in evidence
It always shows the last documents shared on your company intranet as the default setting. In an instant, you can access the latest information shared by your company and always stay updated for maximum efficiency.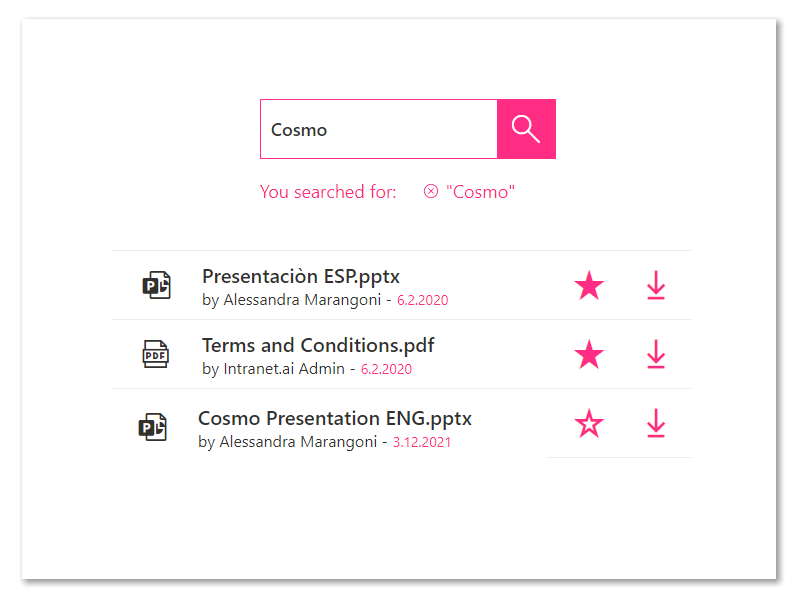 Indexing of document content
Company documents is a tool specially created to simplify the viewing of company material.
We use SharePoint Online features that analyze words in the content of a document or file and index them for your search.
Just enter a keyword in the search bar, and the feature will show you all results with that word even in the document body. It even works in PDFs!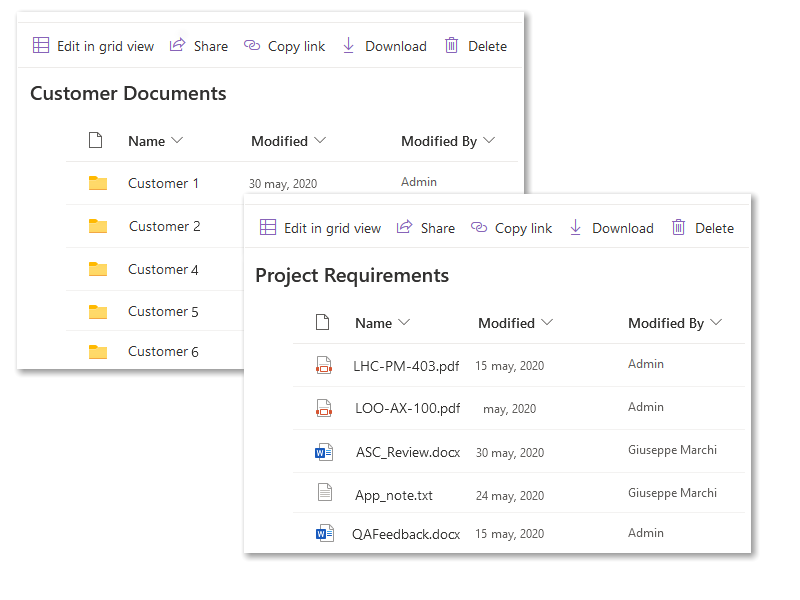 Merge documents from different sources and departments
Our web part can display documents from different SharePoint document libraries, using the same set of taxonomies for tagging files.
This is a great way to engage people from different departments in publishing their content on the intranet which is very helpful for employees.
This is a handy company intranet feature and saves a lot of time. With intranet.ai company documents, each document will be categorized, easily accessible by anyone, and under control using permissions.
Publish and make documents available to the entire community of your digital workplace. This tool helps your employees share the essential company information they create. 
What is intranet.ai?
It's a ready-to-use corporate intranet,
designed to reduce costs and implementation time by providing a highly modern and collaborative digital workplace.

Starting price is 2450€, for a fully-featured intranet

More than 20 App including intelligent search, document management, news, push notifications, and my workplace


100% integrated with SharePoint Online and Microsoft 365