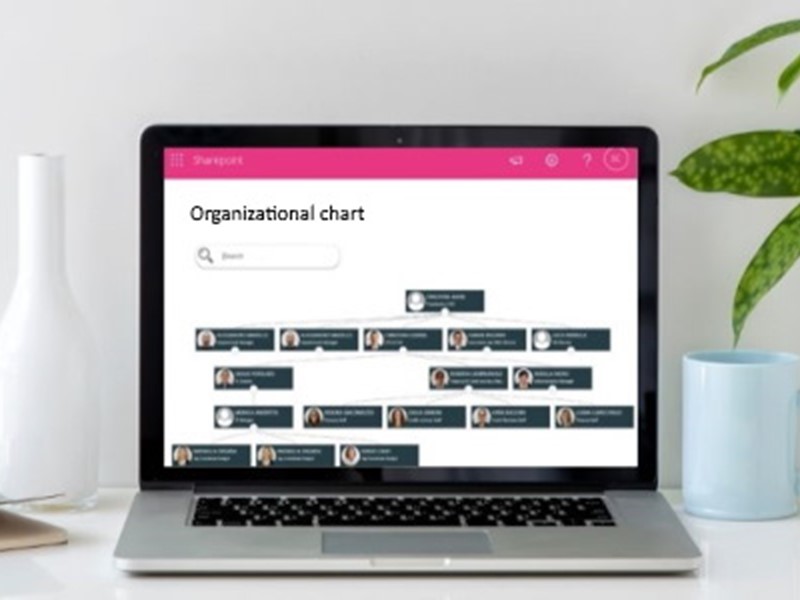 SharePoint Org Chart: The intelligent org chart for your intranet

Do you want to know who's your boss' boss?
Do you want to know who's in your department? 
We offer you a fast, detailed discovery of your company people.
To reach this goal, our SharePoint Org Chart is integrated with Intelligent Search and Intranet Contacts.


SharePoint Org Chart:
The org chart tailored for your company
Our Org Chart lets you create and publish intelligent organizational charts within your SharePoint intranet.
No matter your company's size, the organizational chart is a crucial part of your intranet to let employees
browse the company structure and understand who holds which roles.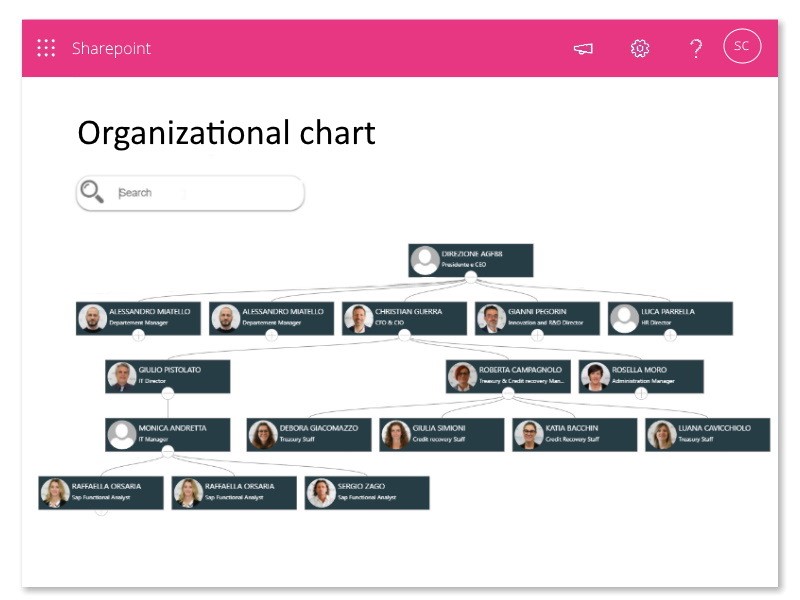 Visualize the company's structure.
With Org Chart, you have access to the entire company's structure on your SharePoint intranet.
In few clicks, you can figure out who plays what role in the company thanks to the head-subordinate structure (a popular design in the last period).
Browse the structure dynamically.
We can help you configure Org Chart to create a smooth navigation experience with Drag&Drop and Zoom functions.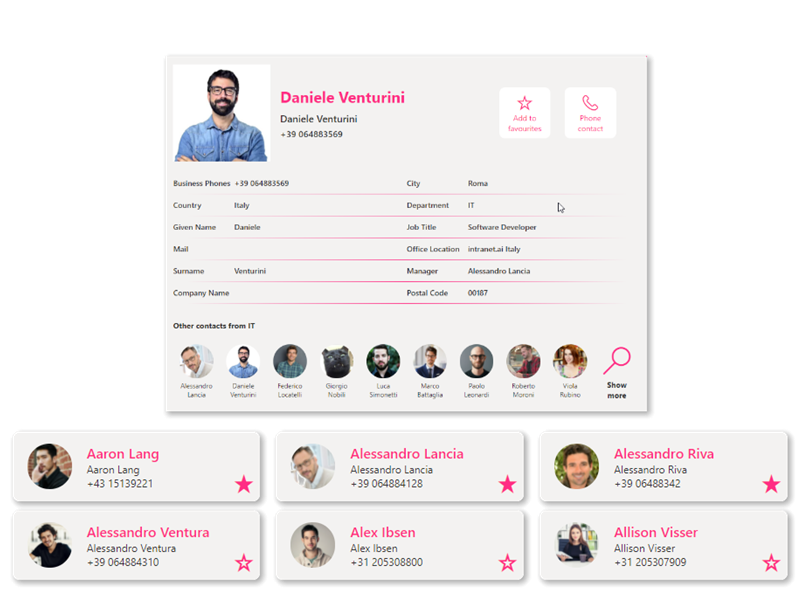 Find company people in a snap.
Our Intelligent Search assists you in locating the person you're looking for. In seconds, you will be able to determine in which department they work and what is their role.
Visit your colleagues' profile.
Org Chart is integrated with Intranet Contacts to provide you quick access to your colleagues' profile pages. In this way, you can learn more about all the people that work in your company, including their soft skills and personal interests.
Update your org chart with ease.
Org Chart can be modified or updated smoothly: Add the new entry to the people directory, then designate the boss who will be responsible for them. Following that, the new employee will appear in the company's organizational chart.
SharePoint Org Chart:
How does it help your company?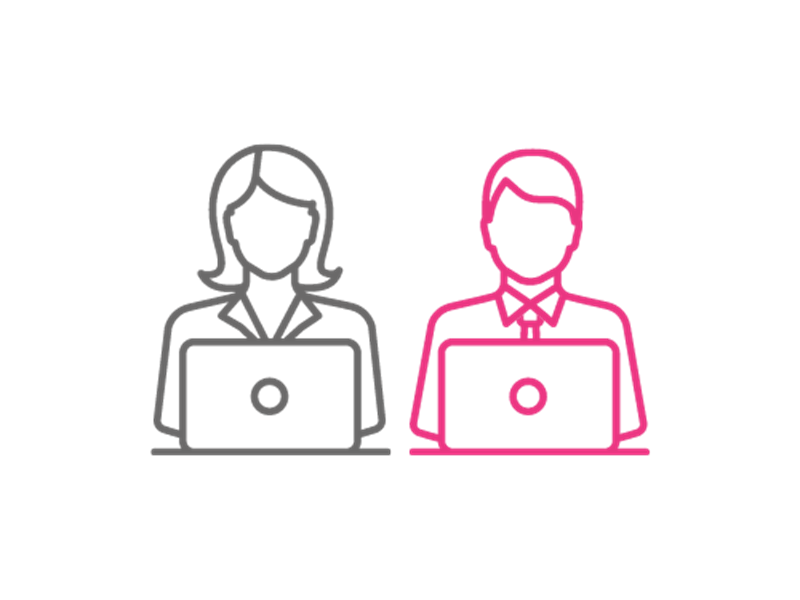 Get to know your coworkers better.
Org Chart not only allows you to learn more about the company's structure, but it also helps you get to know your colleagues better thanks to brief yet detailed profile cards. In this way, it will be easier to find the perfect company for your next coffee break!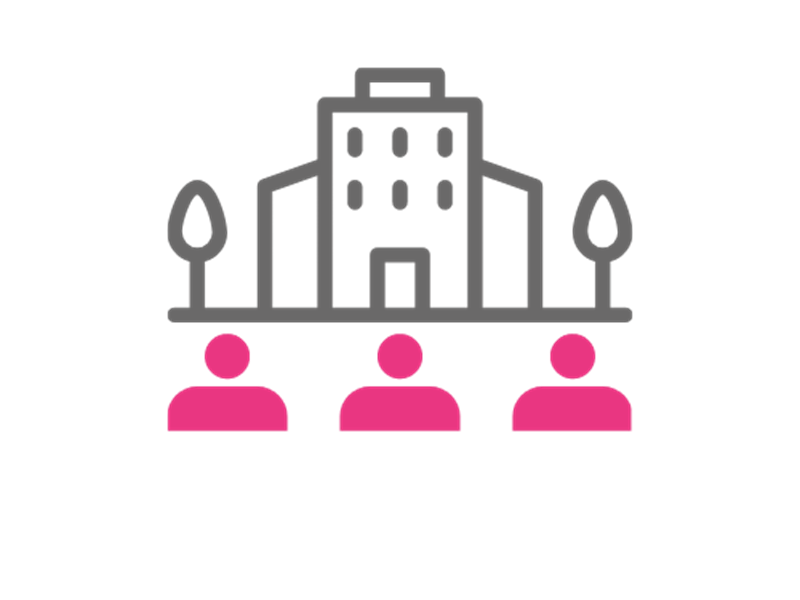 Benefits for small and medium-sized businesses.
Org Chart is the real ideal for small and medium-sized businesses because it can be quickly added to your SharePoint intranet with minimal investments. It is also 100% customizable: You can specify the person who will begin the navigation of the structure and the levels at which the display will be allowed.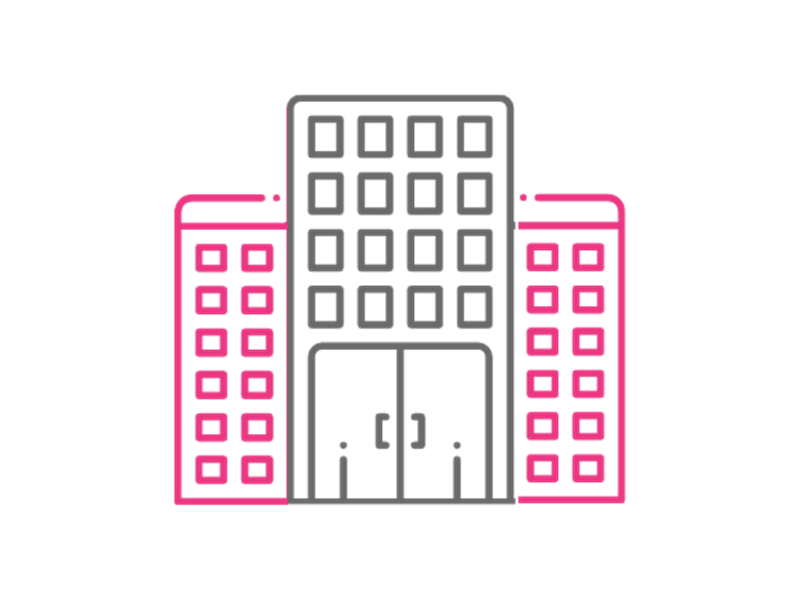 Benefits for large companies.
Org Chart is extremely useful for large companies too. In few clicks, employees can learn how business units and branches are organized. You can also configure our web part to introduce intermediate figures that does not usually exist in smaller organizations.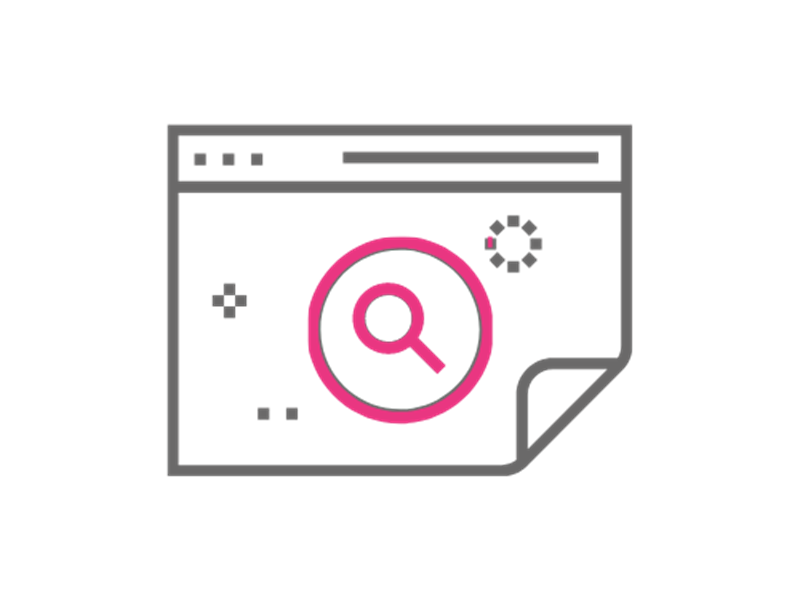 Optimize users' search times.
In seconds, you can find all the information you need to do your job better and faster. Do you need an IT expert? Use Org Chart to find people and their contact details without wasting time sending emails and waiting for an answer.
What is intranet.ai?
It's a ready-to-use corporate intranet,
designed to reduce costs and implementation time by providing a highly modern and collaborative digital workplace.

Starting price is 2450€ for a fully-featured intranet

More than 20 Apps, including intelligent search, document management, news, push notifications, and my workplace


100% integrated with SharePoint Online and Microsoft 365