SharePoint blog: How to set it up for the intranet
A corporate blog combines journalistic objectivity with the emotions of a personal diary. 
Here, a company can build a community around its values or offer its departments a space where they can communicate with the public without background noise.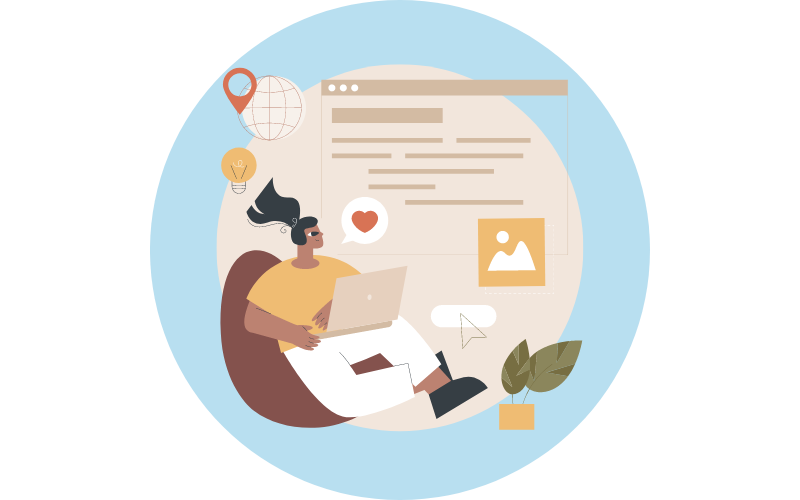 What you will find i
n this article
Why start a corporate blog on your intranet


Have you ever been walking down the streets of a city and suddenly been drawn to a glittering storefront full of goodies and little treats?
Your eyes are browsing shapes and colors, and you are already thinking about how that pastry will melt in your mouth or how comfortable those shoes will be for going to the office.
Perhaps, in the end, you will enter and leave with extra weight to carry around.
A blog is a lot like a storefront.
Except in place of clothes, sweets, perfumes, and various items it offers information.
But why would it matter to a company that already has an intranet to communicate with its people?
We could write a whole article just of reasons, but these are the main ones:


It brings order to clutter

. 
A corporate blog is a meticulous newsagent.
It collects news and articles, divides them by category, and displays them to the public with the clear intention of catching their eyes and interest.


It selects the topics to be displayed

. 
Unlike a common news space, a corporate blog does not allow all recent information to be found within it. It selects.
That way, the HR department can present new welfare conventions without being interrupted by the latest IT tutorials.


It is a powerful narrative tool

.
A blog lays bare the latest updates, but it also tells stories and happenings in the corporate universe.
Think articles-interviews or even more original texts such as colleague's recipes or tips on how to take care of one's physical and mental health in the office and remotely.
This content connects to the values on which the organization is founded, showing how they can interweave with the lives of its people.


If we've convinced you so far about the varied usefulness of an internal blog, let's see what steps you need to follow to achieve it with SharePoint Online.
What is intranet.ai?

It's the ready-to-use SharePoint intranet,
designed to reduce costs and implementation time.


Starting price is 2.450€ for a fully-featured intranet.

More than 25 features, including Intelligent Search, Document Management, Company News, and Teams Push Notifications.

100% integrated with Microsoft 365, Viva, and Power Platform.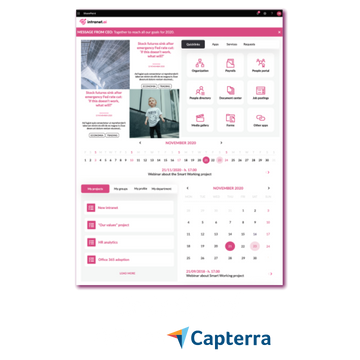 The 4 steps to create a corporate blog with SharePoint Online


Let's make a due introduction: to build a corporate blog with SharePoint there is the Microsoft method. Then there is ours.
Recognizing the genius behind tools like Word, Teams, Excel and countless others, however, our experience has led us to come up with an alternative way to approach the matter.
Why?
Because we breathe SharePoint. We put our hands and heads into it every day to design, implement, manage intranets and more.
Hence, our developers noticed a significant flaw in creating a blog using the Microsoft method (which you can learn more about in this official article).
The problem is the difficulty the platform has in handling the exponential growth of publications that converge in web parts used for blogs.
Without a proper setup of the platform's roll-up mechanism, it is indeed very likely that some content will be lost along the way.
So, below we propose the steps we have devised to solve this problem.
Our method is alternative, but no more complicated than the traditional one.
Let's see it step by step.
Step 1: Create metadata to tag news items




First, you must go to the Term store, or admin site, by clicking on:
Settings (top-right scroll wheel)

.

Site Information

.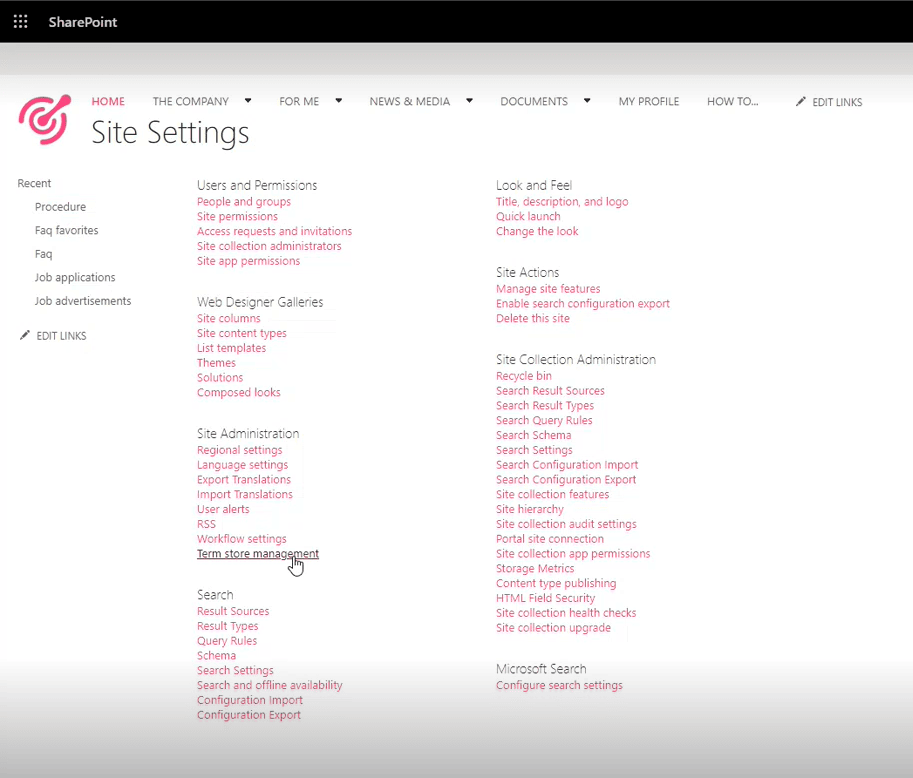 Remember that to create new metadata in this area, you must have high-level permissions and log in as admin*.
*In general, these permissions are held by IT or project managers.

Once you are logged in as admin or administrator, you can move on to creating metadata.
SharePoint metadata can be organized on multiple levels.
However, the advice is not to go beyond the third one to avoid putting a strain on the platform.
And also because you never need a fourth.
The first level of metadata refers to the type of content, such as news or documents.
To create a first-level metadata, just click on the side of "Taxonomy" and select "Add term group".

The second level refers to the type of tags to be assigned to content pages.
An example for news would be the type called "topic" (news topic).
To create it, click on the side of the first-level metadata and select "Add term set".


Finally, the third level refers to each category tag, as it might be in the case of "press release" or "corporate" news.
To create these tags, click on the side of the second-level metadata we have called "topic" and select "Add term".



There you have created the metadata layers needed to allow the blog sections to filter your articles.

Step 2: Create the column for news category tags




Creating a column for your new tags is useful in order to be able to categorize already published news posts without having to edit them individually.
To do this: 
Click on "Add column". 
Select "More", which will take you to the column configuration screen.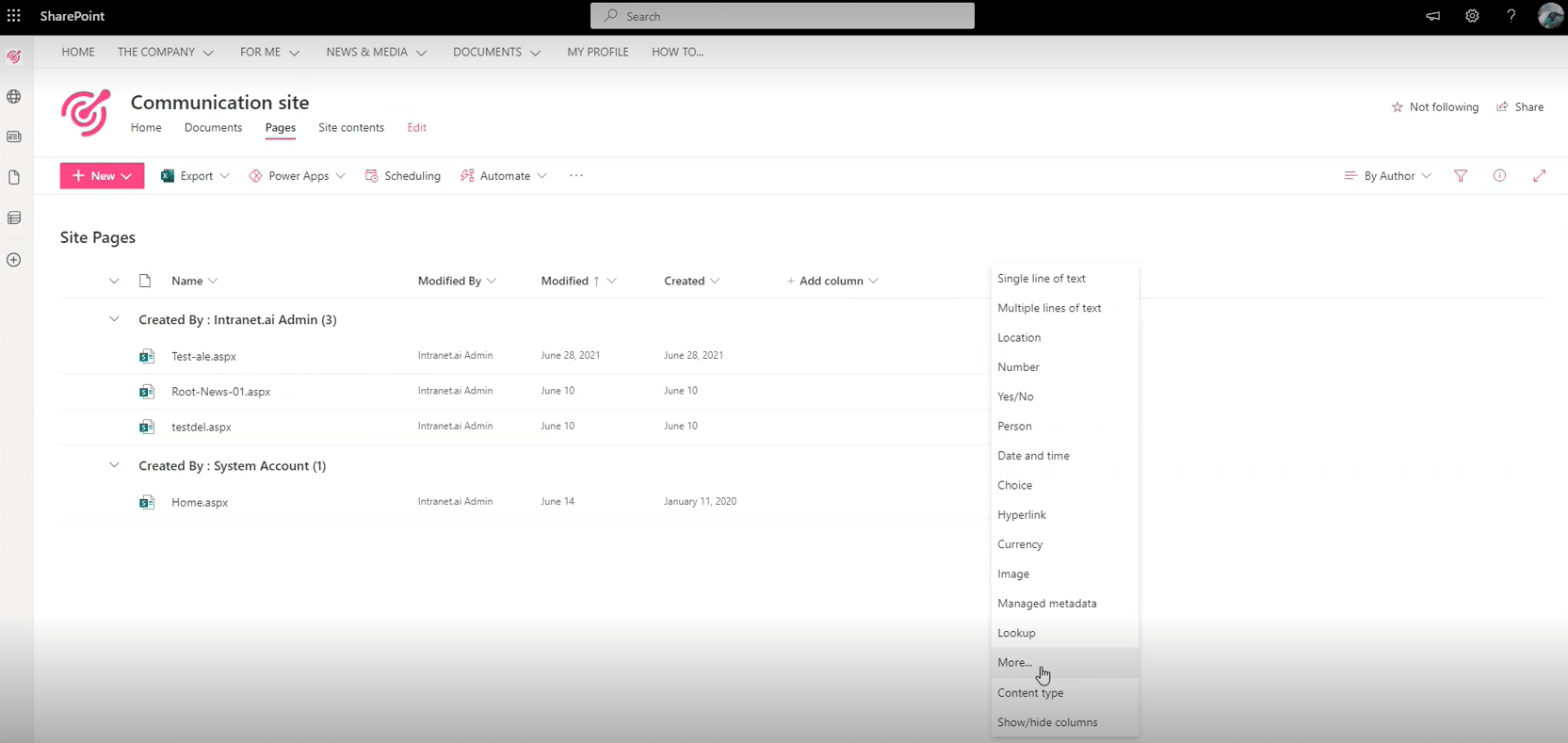 Assign a name to the column

.
Click on "Managed metadata" as the type of information to be displayed.

Decide whether to make tagging the column mandatory or not, and whether to allow one or more tags to be added per news post (useful if the news is both corporate and event-related)

.
Configure the column's Term set by selecting the second "topic" metadata level.


Subscribe to our newsletter!

You will find:


Short training and update videos on Microsoft 365 news.
Our guides for business digitisation.
In-depth articles on how to improve your intranet by making the most of your Microsoft 365 subscription.

You can always unsubscribe at any time.
Step 3: Categorize old and new news




The column is ready.
You will be able to see it in the article management area, which you can quickly reach by typing "sitepages" at the end of the URL of the site in which you post the news.
Here, you will be able to bulk categorize all the news pages you have already published or transferred to SharePoint from external sites.

To categorize a news article you have already published, select the headline and click on "Info" in the upper right-hand corner.
Now, add one of the new topic tags under "Topic".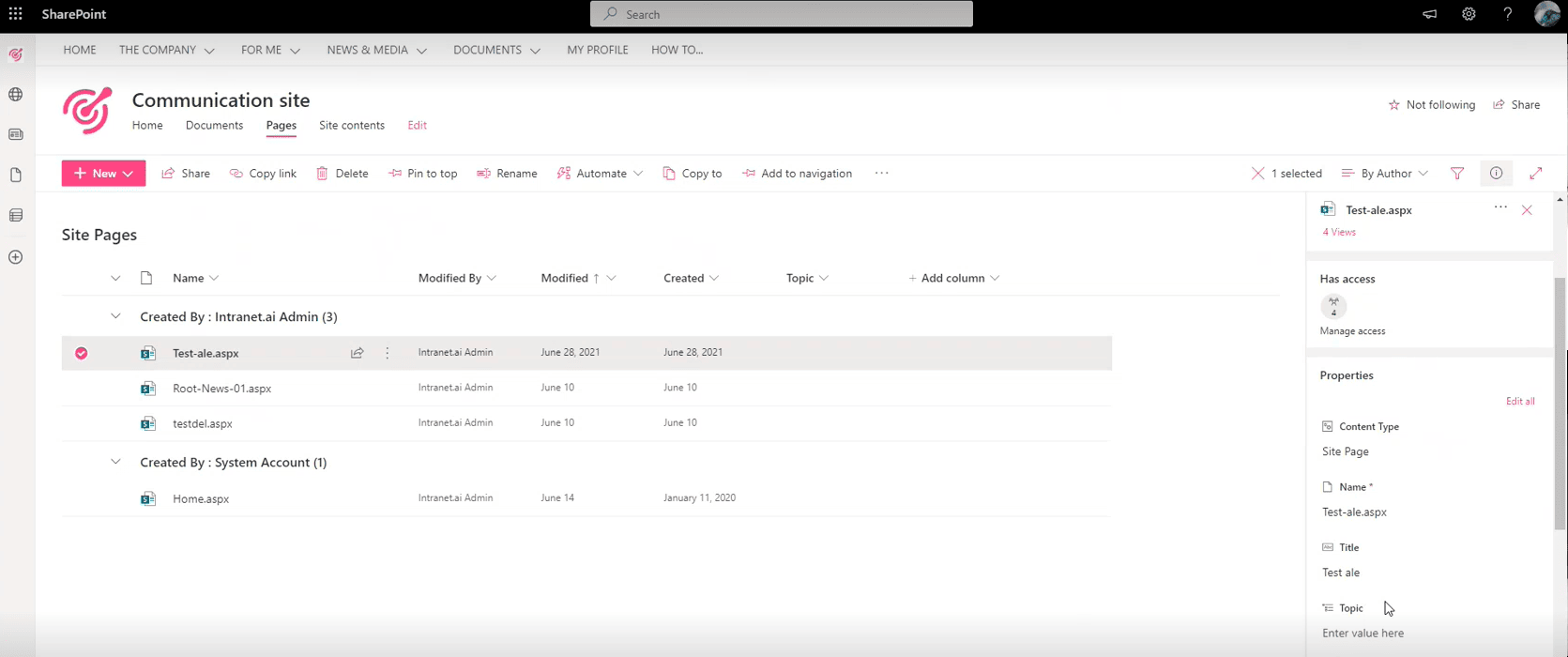 Little parenthesis: if you assign a tag to an already published news piece, you will have to republish it to make the change effective.
But don't worry: SharePoint keeps track of the original publication date.
Consequently, it will not send notifications to users or add these headlines to their blog section.
Column tags will also appear in the "Page Details" section within each post, so you can categorize the article directly as you write it.
Step 4: Configure a news web part




Here is the last step in our journey.
Assuming you have already decided on which page of the site to place the new news showcase, let's focus at how the latter:
Add a news web part to an area of the site page.

Click on the little pencil in the top left to open the edit screen

. 

Choose the layout you like best (and that you think your audience will like)

.
Select "Page properties" in the filter section.
Choose "Topic" as the name of the property.
Select the news category tag as the equivalent value.


Once the web part thus configured is published, all the news items with the chosen category tag will appear within it.
Your storefront is finally set up.
Need help with your company newsletter?
We are ready!
We create the blog for your intranet

.

We handle news and article writing following your corporate branding

.

We manage the migration of your content to SharePoint Online

.

We connect the intranet to your external publishing sites

.
Giuseppe Marchi

Microsoft MVP for SharePoint and Microsoft 365 since 2010, Giuseppe founded Dev4Side and intranet.ai with the aim of helping companies to have a simpler and more effective working environment.
He works as a consultant for everything related to digital collaboration, intranet portals and Microsoft cloud platforms.