What is SharePoint, and how it helps

businesses


SharePoint is the Microsoft 365 tool that prompts digital communication and collaboration.
It allows you to create cutting-edge corporate sites and publish branded content, as well as being the hub from which to manage file lists and user permissions.
Let's take a look together at what its key features are for 2023 businesses: we found 7 of them.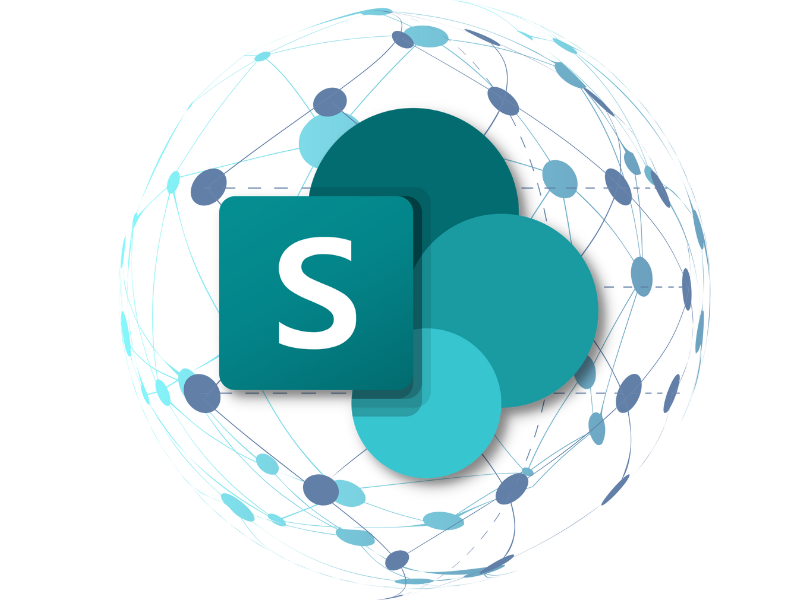 What is SharePoint and why you should use it for your business


SharePoint is one of the key tools in the Microsoft 365 suite.
Introduced in 2003, its first goal was to rewire traditional personal and business document management systems by storing them in the Microsoft cloud.
This enabled users to store, organize, share and access useful documents and information from all devices and from wherever they were. The only requirement: an Internet connection.
However, Microsoft has continued to update its flagship tool and has not only been able to improve the file storage system (a topic we will look at in detail later in this article) but has also managed to expand the purpose of SharePoint, turning it into a content management platform.
In other words, SharePoint has become one of the best tools in today's market for building private sites.
In fact, one does not have to compare it with platforms such as WordPress or Umbraco since the portals that SharePoint allows one to create are aimed at an audience that is yes large but not without barriers to control.
The goal is to help organizations and companies build websites and extranets to gather their heterogeneous audiences into one space that is easy to maintain and manage.
So, SharePoint is a flexible tool capable of helping companies digitize their processes and communication.
But don't limit yourself to this brief, albeit already significant, introduction. Below, we wanted to delve into the 7 features that make SharePoint an indispensable asset for an enterprise that wishes to launch into the new year with energy and a desire to innovate.

What is intranet.ai?

It's the ready-to-use SharePoint intranet,
designed to reduce costs and implementation time.


Starting price is 2.450€ for a fully-featured intranet.

More than 25 features, including Intelligent Search, Document Management, Company News, and Teams Push Notifications.

100% integrated with Microsoft 365, Viva, and Power Platform.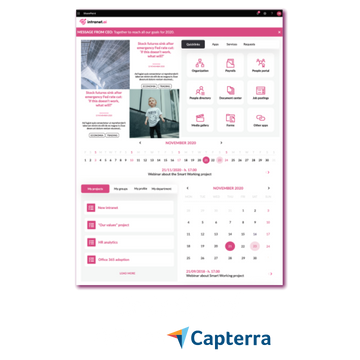 First, let's start with the first strength with which SharePoint was designed, which is its ability to manage business documents.
The platform not only stores an almost boundless number of files in the Microsoft cloud but also includes a change history, multiple permission levels, and metadata structures, the latter capable of replacing classic folders.
Let's look at these features in detail.
SharePoint stores files from its team sites, communication sites, or OneDrive in special lists called, trivially, "document collections".
A collection is a secure location within the platform where files are stored and shared with other organization members through different permission levels.
We summarize the main types of permissions in the table below, accompanied by a quick description:


| | |
| --- | --- |
| Comprehensive control | The user has all the permissions available in SharePoint. |
| Design | The user can create document collections, as well as edit layouts and content of SharePoint pages and sites. |
| Modification | The user can update or delete document collections or individual elements of collections, as well as help update pages and sites. |
| Collaboration | The user can view, update or delete elements of document collections, as well as schedule content distribution processes. |
| Restricted access | The user can access one or more specific files within a document collection. |
| Approve | The user can edit and approve documents in a collection. |
| Reading | The user can view items in a document collection and download them. |
| Restricted reading | The user can view documents, but not their versions in the edit history. |
| View only | The user can view documents, but not download them (except for files that cannot be opened in the browser). |
To make it easier to assign permissions, SharePoint allows you to create groups to which you assign certain permissions. Thus, it allows you to act beyond the level of the individual user.
For example, you can create a group within a SharePoint site to give all members, present and future, "Full Control" access.
With this system, members of a team or an entire organization can work collaboratively in real-time on all shared documents or focus only on specific files within their expertise.
This can come in extremely handy for managing files that need external input, but without the owners losing control.
Moving past the permissions, another key feature of SharePoint concerns the change history.
In fact, whenever a file is modified, the platform automatically saves the version prior to the modification in the history. What is the importance of this feature?
In short, SharePoint allows users with the right permissions to review all document versions not only to make comparisons but also to restore a previous version directly.
In addition, the history shows the section of the file, the user, and the date and time subject to a specific change.
You can thus track every detail of shared document management. There is even the ability to set an alert for every update made within all your collections.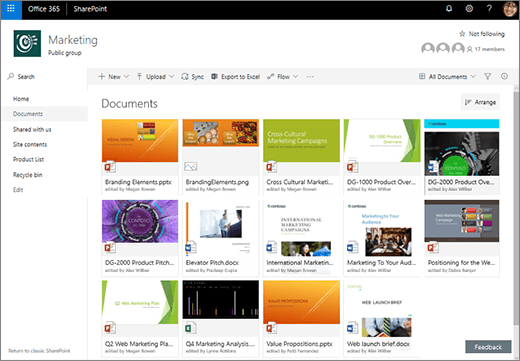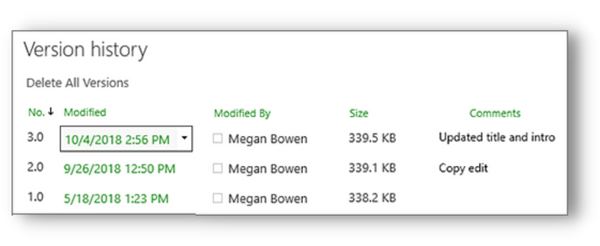 At this point, it is time to talk about another aspect that makes SharePoint the ideal document management system, which is metadata.
Metadata is information about content that is used to categorize it and that can be filtered to organize and search for files faster and easier than with traditional folders.
They are similar to social media tags, to wit, since they give clues about the type of content to which they link.
But where is metadata found in document collections, and how is it used?
Very simple: metadata are the sets of values that characterize the columns in a collection.
For each file placed in a document collection, SharePoint provides default columns and metadata, such as file version, author/author, creation and last modification date, and numeric ID.
In addition, columns with custom value sets can be added, although these are simply an extension of the standard sets. For example, in the column tagged "date", you might enter the expiration date of one of your project documents.
To use another example, you could enter in the column with value "user" the name of the people in charge of approving the file or who are involved in its creation and updating.
In short, the limit is your imagination, and this system will allow you to organize all your documents by specific information, then find them quickly by filtering the collections.
2) Lists


After looking at Microsoft SharePoint's capabilities as a document management system together, let's expand the topic with lists.
Document collections, in fact, are special examples of SharePoint lists, which deserve their own separate space because of the crucial role they play in business processes.
The only difference that really separates document collections from lists is the fact that the former serve to organize files, while the latter contain text values such as the names of contacts useful for a project.
In this way, simple lists make it possible to create any master file, from contracts for suppliers to devices given to staff.
Metadata also serve an organizational function here, classifying each piece of information. For example, they can be used to organize and filter lists by the amount of a contract, signatories, employees possessing a company phone or pc, and much more.
Another important function of lists is to be able to accommodate the information contained in Excel master files, making it accessible to users with the same levels of authorization as we have seen for document collections.
In this way, they can work in real-time and simultaneously on the same file, going beyond the collaboration limitations of Excel.
Another advantage of importing Excel tables to SharePoint is that you can edit multiple items simultaneously with the Quick Edit feature (which you find by clicking on "Quick Edit" in the command bar of each list).
In addition, you will be able to have access to the edit history to compare different versions of the file or restore one that predates an update.
Again as in the case of document collections, you will also be able to view the box, user, date, and time subject of the change in the master lists.
Finally, documents and files return, but this time in the form of attachments to make your lists containing contacts, announcements, tasks, surveys, and procedures even more detailed.
3)

Content creation (with high communicative impact)




Let us now proceed to one of SharePoint's most beloved features for businesses: content management, or rather, all the products of internal communication activities.
In fact, SharePoint is not only a powerful tool for storing documents, but it is also an excellent platform for creating, disseminating and targeting different types of corporate news and announcements.
This is possible because of its ability to create corporate intranet and extranet sites, which are the main meeting point between employees and an organization's business partners, such as suppliers and investors.
Within these portals, companies can build branded pages to communicate their identity and culture or create thematic areas, such as those dedicated to events or welfare conventions.
Another possibility is to give each department its own space where they can put people in direct contact, without background noise or distractions from other departments.
In this case, we are talking about SharePoint's ability to create subsites, i.e., sites with their own ad-hoc content that, however, depend on the overall corporate portal.
With subsites, it is therefore possible to build portals dedicated to specific departments or even specific locations. As a result, a dislocated organization has the opportunity to broadcast communications at both a general and particular level, while also using the native language of each of its locations to create even more accessible and engaging content.
To explore this topic further, we refer you to our article on SharePoint's multilingual and multi-geo capabilities.
However, if creating a departmental site is a hassle to manage the entire internal communication flow, SharePoint allows you to create small showcases where you can display only certain announcements.
We are talking about corporate blogs, which are nothing more than exhibitors of digital newsletters designed and published for specific user groups. These showcases can easily be placed on any page of your sites, so you can highlight communications from your IT and HR departments, to name just a few.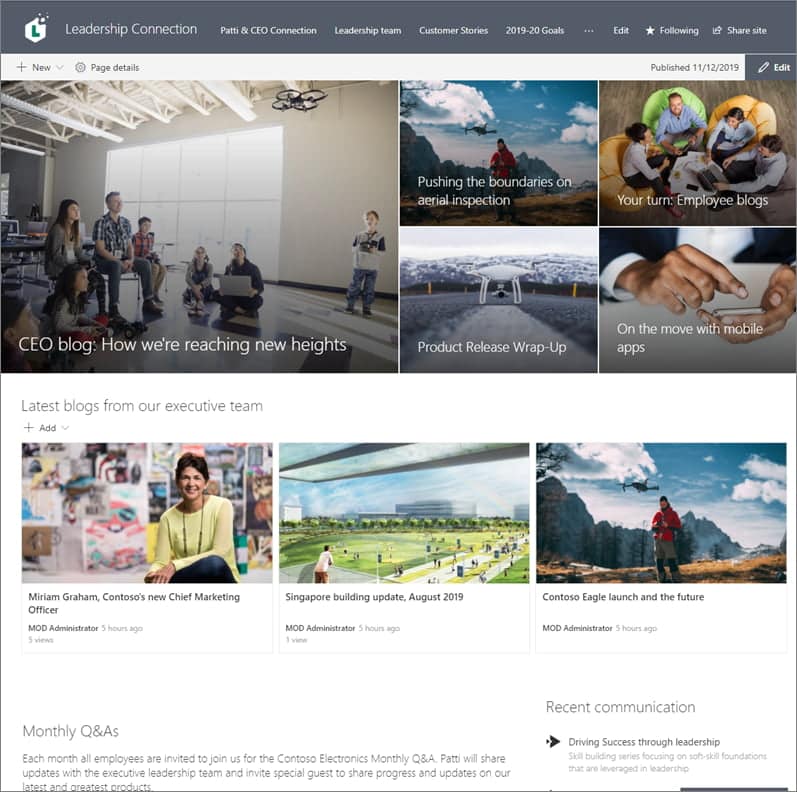 All of this is possible because of the high flexibility of the platform, which will allow you to define and structure not only the content of pages and news, but also the entire site navigation from the users' point of view.
You can then experiment with usability and accessibility factors to provide your audience with the best possible experience, motivating them to adopt the intranet (in the case of employees) as a support for their daily work activities.
The SharePoint intranet can also provide multimedia content such as video courses, tutorials or even podcast series that talk about the most relevant topics revolving around your corporate reality in a matter of minutes.
These categories of content are especially advisable for all those organizations that want to increase user engagement, as well as their interest in keeping up to date with the latest corporate happenings.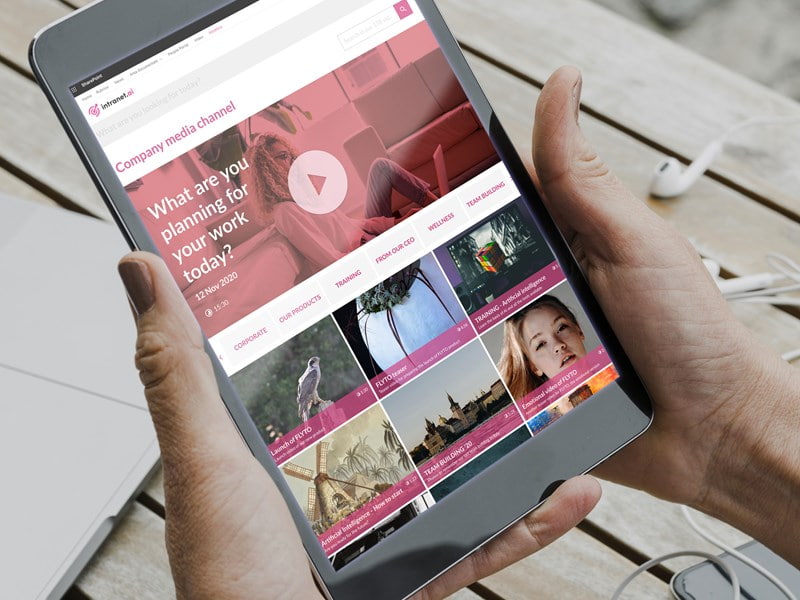 In fact, short videos and audio can become a pleasant companion for all employees' coffee breaks, especially when accompanied by ad-hoc forums on SharePoint, Teams, or Yammer to ignite discussions related to the day's topics.
Finally, integration with Microsoft Stream extends the platform's communication abilities, allowing companies to organize live streaming events and webinars directly from their sites.
In this case, a related good practice is to create a page dedicated to a new event within the intranet, with the goal of providing users with full details about the topics that will be covered, speakers, and date and time of the event.
With Forms, you can include a participation form on the page, which will be used both to send the access link to subscribers and to obtain useful statistics regarding the participation rate. In addition, you can also create a questionnaire, so you can collect all the necessary data to evaluate the success of your initiative.
Subscribe to our newsletter!

You will find:


Short training and update videos on Microsoft 365 news.
Our guides for business digitisation.
In-depth articles on how to improve your intranet by making the most of your Microsoft 365 subscription.

You can always unsubscribe at any time.
4) Mobile support


Let's cut to the chase: every SharePoint page or site is responsive.
This means that all enterprise portals and content created with the Microsoft 365 tool are capable of adapting to any type of mobile device.
But that's not all.
In fact, with the SharePoint Online app you can interact with sites and files, downloading and editing them directly from your smartphone or tablet.
In addition, you can receive alerts so that you will be notified as soon as a new post or document is uploaded to the intranet. By clicking on the notification, you will go directly into the content and can start communicating or collaborating with your teams on the go.
One last thing to say about this: because of the strong integration SharePoint has with all the Microsoft 365 tools, you can interact with files on your corporate sites from the Teams and OneDrive* apps as well.
*The OneDrive app will only allow you to view and edit document files on SharePoint.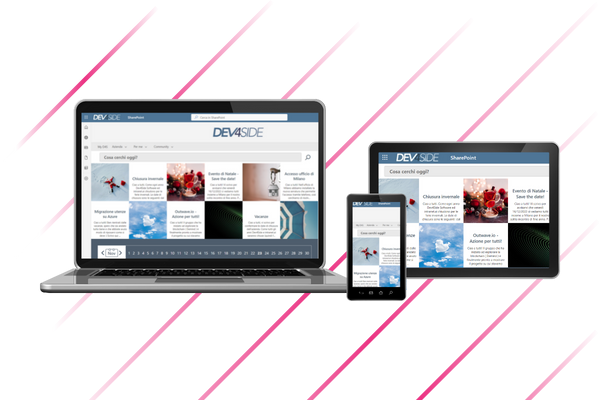 5)

Full-text research
To help users find files and answers to their questions within corporate sites, SharePoint offers a modern content indexing system: full-text search.
Thus, its main feature is the ability to index any file type (even PDF), as long as it contains a text layer.
This means that SharePoint reports as search results for a given keyword, all content that has that word in its title, body of text or metadata.
In addition, the platform can retrieve content across the boundaries of sites, pages and lists by involving other Microsoft 365 tools such as OneDrive in its search activity.
In this way, users will not only be able to get relevant results in seconds, but also, and more importantly, find files found in the apps that make up the digital workplace.
6)

Permission management




We already talked about permissions at the beginning of our journey. However, we think it is important to devote its own little summary space to this topic.
In fact, one of the most interesting aspects of SharePoint for businesses is that it provides maximum security in managing all content, from documents to internal communications and live events.
This is made possible by a hierarchical system of permissions, which are divided into multiple levels and can be assigned to individual users or entire work groups. These can be created within SharePoint sites or in Microsoft 365, from which they can be used in corporate sites.
Creating groups for assigning permissions obviously saves significant time by granting many users the same set of permissions at once.
Interestingly, each SharePoint site automatically includes certain security groups with their own permissions. For example, a team site includes the groups:
Owners holding the permission type "Full Control".

Members, holding the permission type "Edit".

Visitors who have only "Read" permission.
In the case of communication sites, however, the groups that are created by default include those just listed and the following:
Approval Managers, with the "Approve" permission set.

Designers, with permission, set "Design" and "Restricted Access".

Hierarchy managers, with the permission type "Hierarchy management".

Readers, with the permission set of "Restricted Read" or "Restricted Access".
To delve deeper into the different levels of permissions, take a look at the short table we have included in the first item on our list, which is the one about document management.
Going further, a company can modify the security groups on a site to customize the management of the information flowing through it.
To do so, follow these steps:
Click on the settings wheel in the team or communication site.
Open the "Permissions" page.
Click on "Create Group".

Under "Owner", specify the name of the user who will manage the group.

Under "Group Settings," enter the name of the users capable of editing and/or viewing group memberships.

Under "Assign Group Permissions to Site", select the type of permission you want to give the group you are creating.

Click on "Create".
Now, you can make the digitization of activities more secure and effective by adapting it to your company's dynamics.
7) Integrations


So here we are at the last feature on our list and, perhaps, also the most complex one to summarize in a few lines of presentation. But we'll try anyway.
Perhaps what makes the Microsoft 365 tool-based digital work environment so revolutionary is the deep integration that ties the functionality of one application to that of the others.
SharePoint is no exception.
In fact, the platform can extend the functionality of its sites by combining tools such as OneDrive and Teams, as well as Power Platform applications and others.
In the case of Power Platform components, special mention should be made of the following:
Power App, which enables the creation of custom apps.
Power Automate, which allows you to build automation flows.
Power BI, with which you can get dashboards and reports based on data from SharePoint sites and lists.
It is worth noting that these tools can be safely used without having much programming knowledge. On the contrary, they are designed specifically for users who want to digitize their activities in a low-code way.
The result of combining these applications is thus a virtual space with infinite potential, capable of optimizing the management of any business process.
For example, think of repetitive tasks such as requesting time off or approving a new document: thanks to the interaction that can be established between SharePoint, Power Automate, and Microsoft Teams, it is possible to create a fully automated, independent, and pervasive workflow.
Regarding user engagement in the intranet, the integration with Yammer is a game changer.
In fact, you can embed a new or existing conversation within any SharePoint site or page. How?
By using a Yammer-specific web part.
In this way, a company will be able to combine the interaction features typical of social media with the content management features proper to a Web site.
For example, users could ask questions about welfare conventions directly to the HR team in its dedicated area. Or they could start a discussion on the next corporate event page.
In short, once again the limit is your imagination.
What we want to emphasize is the impact your company's digital work environment can have if it is built around the needs and interests of its people.
Do you want a complete, ready-to-use intranet?
"Intranet-in-a-box" is the complete service for your company:
We offer you a branded intranet already integrated with Microsoft 365 and Viva.
We go beyond the limits of a standard corporate site with our 100% customizable features.
We update all components to the latest Microsoft standards.
Simplify internal communication and digitize your business with minimal investment.
Giuseppe Marchi

Microsoft MVP for SharePoint and Microsoft 365 since 2010, Giuseppe founded Dev4Side and intranet.ai with the aim of helping companies to have a simpler and more effective working environment.
He works as a consultant for everything related to digital collaboration, intranet portals and Microsoft cloud platforms.