Company intranet: 20 ideas to grow it in 2021
THE ULTIMATE GUIDE
This is the guide that will help you improve your intranet with 20 innovative ideas.
Firstly, though.
These are not random ideas.
Each of these are the culmination of tried and tested professional experience.
Using them will help you empower multiple aspects of your business.
There are already many national and international companies that swear by them.
You can too.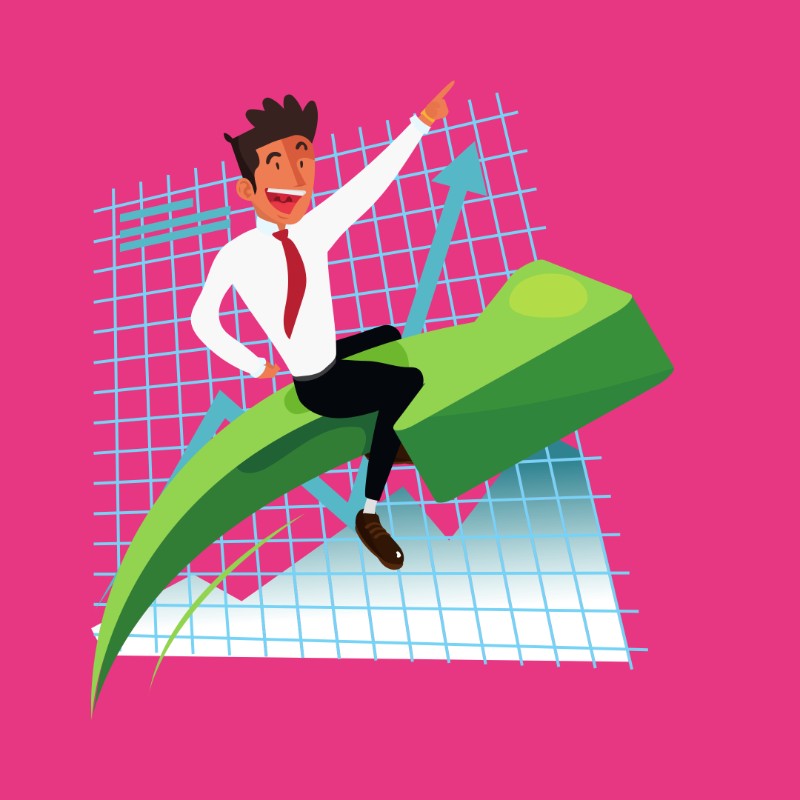 What you will find in this article 
What is an intranet
Which services to the employee you can find in the intranet
Some ideas to increase employee involvement
What a personal space dedicated to the user is for
What is a corporate intranet?
A corporate intranet is a web portal only accessible to people who work in the company.
It is the digital reflection of the company, in line with company expectations, where every employee can find:
• updated communications and news
• work material:
• employee services such as pay slips and reservations
• training
• welfare
• shared workspaces
For anyone who works in the company, it is an intelligent and empowering work tool, capable of increasing performance.
In this guide I will show you what it can do in your company.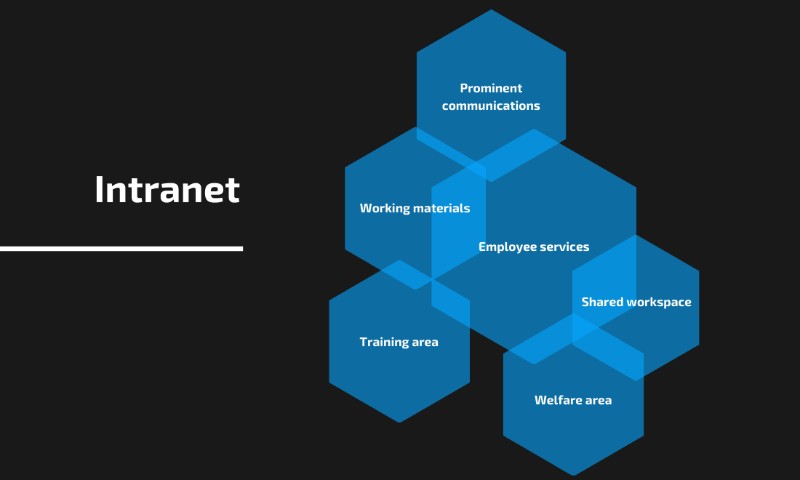 Company intranet: why?
Today, corporate digitization is an unstoppable race that companies can't avoid.
This might not appear so amazing, but it's actually the springboard for growth, what all companies in any market want.
In fact, today, progress and technology go hand-in-hand.
This is why organisations need a tool to take this leap for the best outcomes.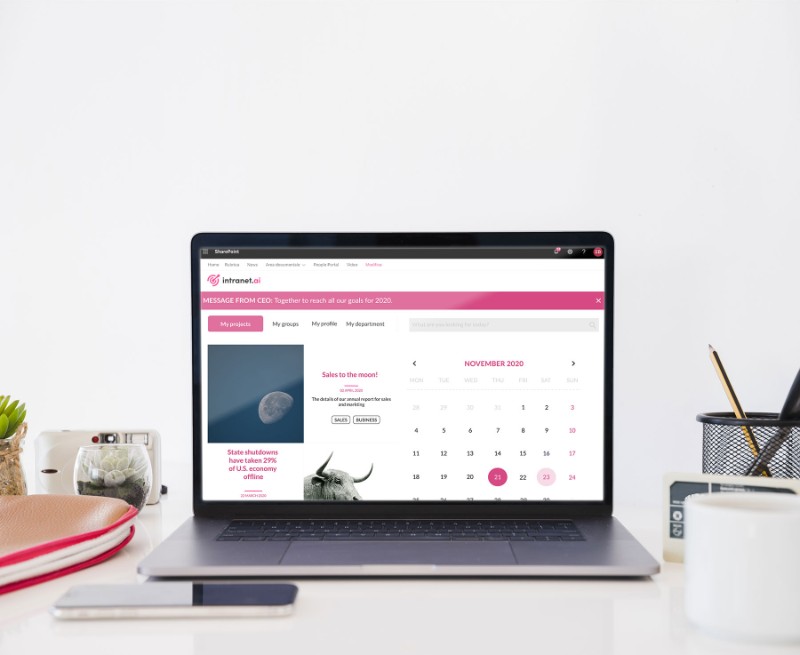 The company intranet is that tool.
If there is an intelligent platform capable of understanding, enhancing and predicting employees' tasks, the benefits of digitisation will reap the benefits.
Employee services
Chapter one
In this first chapter we will see some examples of services that can be offered to employees through the corporate intranet.
- Meeting room booking
- Booking general company spaces
- Requests for holidays, permits, sick-leave
- Quick request, approval and holiday count
- My payslips
- Daily menu
- Company car booking
- Job posting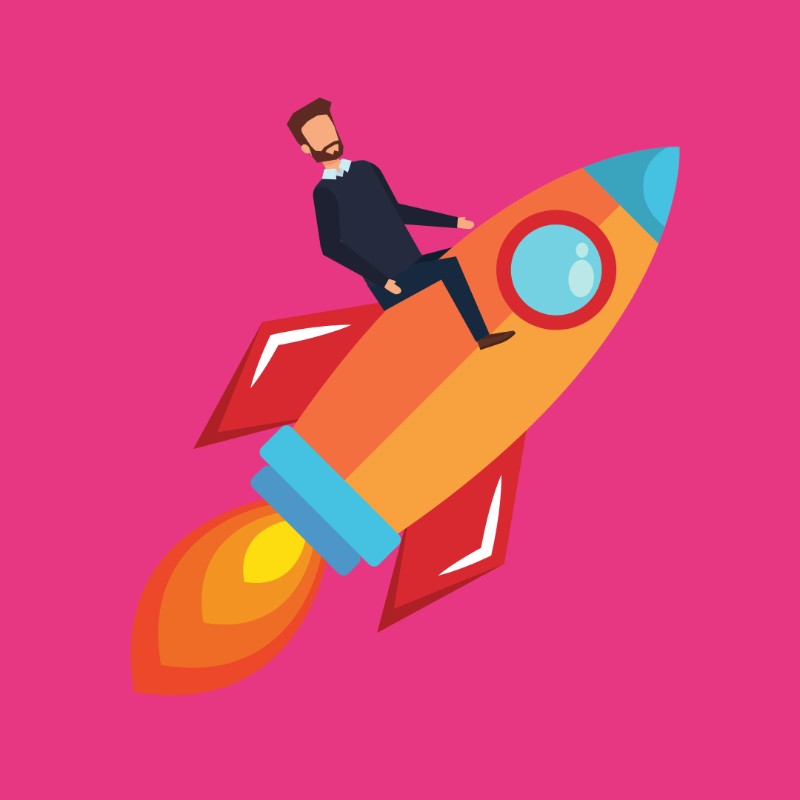 Meeting room booking
Do you need a room to hold your meetings?
You can book it through the company intranet for the day and time that suits you, invite people and send appointment to their agenda.
So your meetings can take place without a hitch when and wherever you want.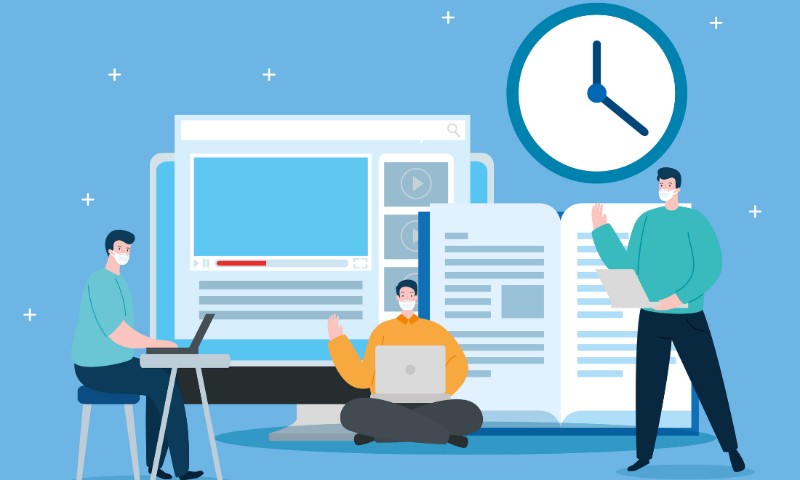 Booking general company spaces
You can also book a car park, desk or other areas through the intranet solutions that may have 'floating' workstations.
Plan your movement in the company.
When you log on to the intranet home page, first thing, you can set automatic suggestions according to the user's last actions, such as the last meeting room or the desk you book for the majority of the month.
The intranet platform will show when the room, desk or resource you are interested in is available again, so you can make a quick reservation.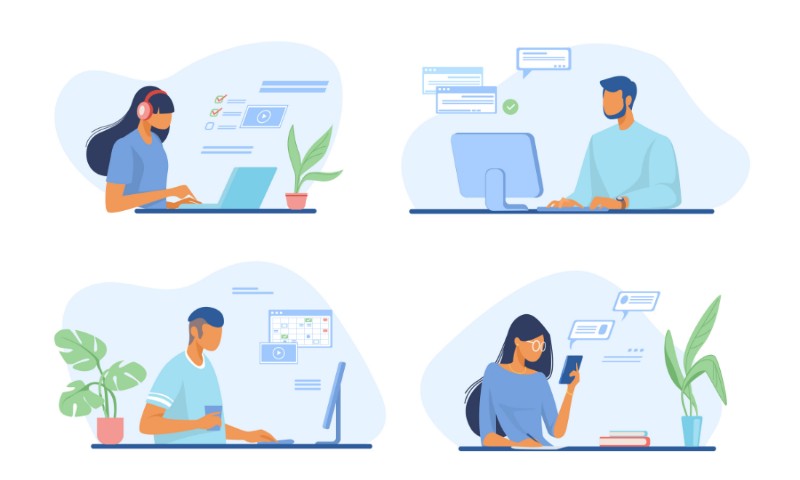 Requests for holidays, permits, sick-leave
For holidays, permits and illnesses, you can use the intranet.
You can offer employees ways to make a request and receive approval from your boss according to the company hierarchy, optimising processes and saving time.
If the company already has specific external applications for these business operations then the intranet is the perfect platform for integration.
It allows you to fill in the request form directly from the portal and shows the status of all past requests.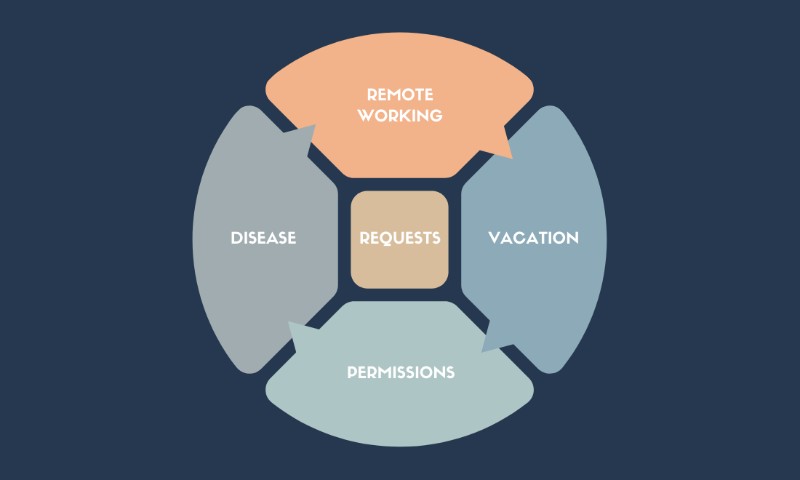 Quick requests and holiday calculation
The company intranet user can access their personal area, where they can request holidays and view hours and days left over in the annual amount.
When the manager logs on to the corporate intranet, they can open a widget for holiday approval and receive real- time notifications of employee requests.
Where the request is not approved, it should be possible to add a related reason.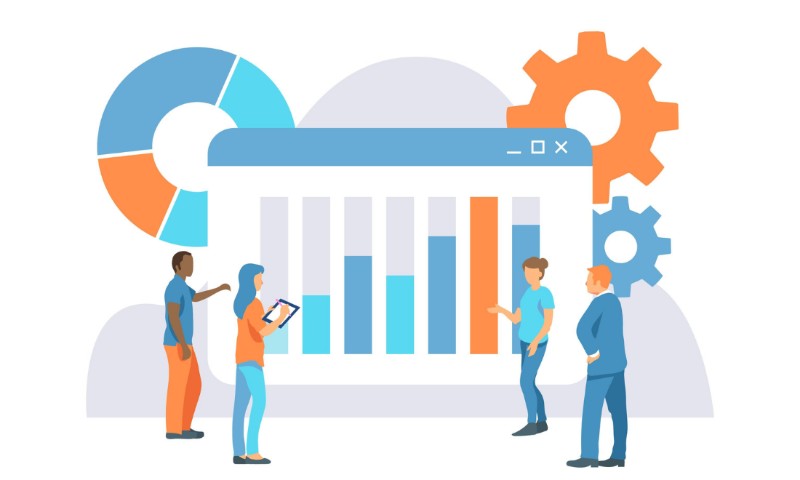 Pay-slips online
You can let employees access their pay slips through the company intranet, with all related history since the start of employment in the company.
If you want to create this employee experience, just remember to take care of security during the process.
You can allow access to payslips after the user has re-entered their credentials, or if they have entered a temporary access code via email or telephone.
This will prevent unwanted access to sensitive company information.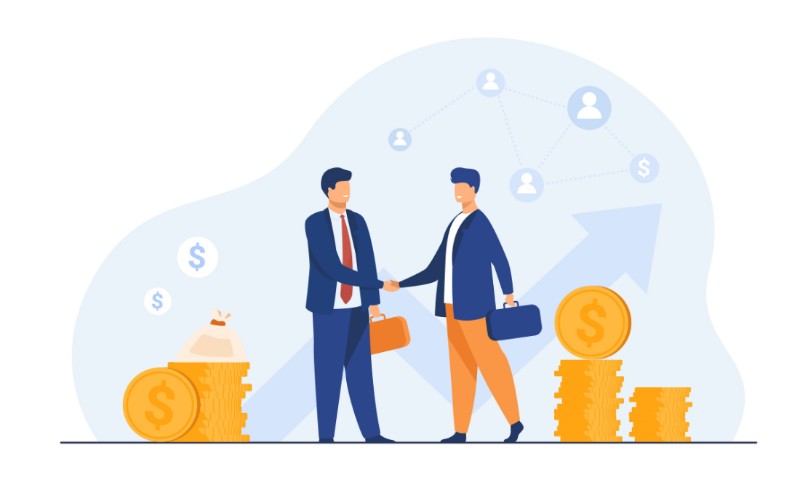 Daily menu
If you have a canteen in the company, you can allow access to the daily menu via the intranet software even before going to lunch. So you can choose what to eat in advance and optimise your daily schedule.
You can also use the take away option. This a great time-saver.
This option is also great if there is no canteen. You can publish the menu of the restaurant closest to the company or book lunch to avoid the queues at peak times.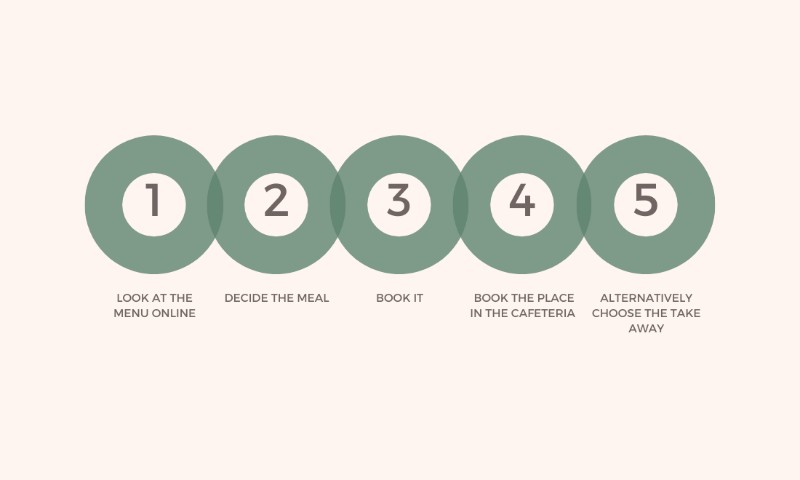 Company car booking
If your company has a service that makes cars available for employee travel, the company intranet can aid sharing.
You can book the car by time and reasons through a car booking form which, if necessary, can be preceded by an approval flow.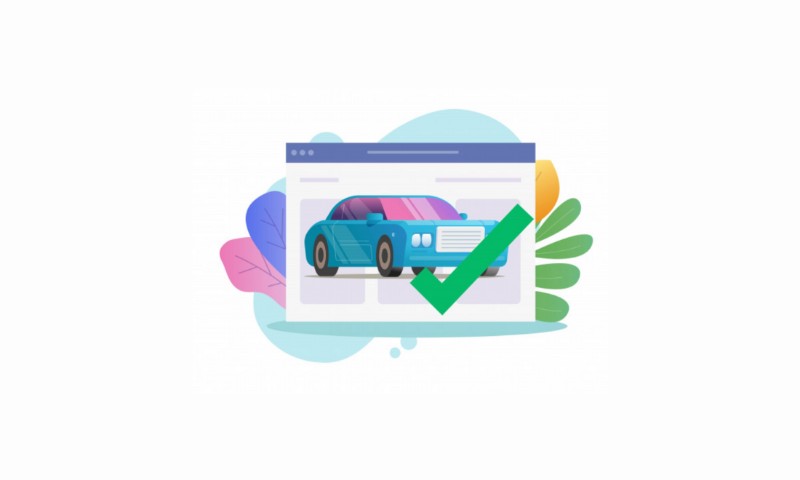 Job posting
All open job positions within the company can be published on the intranet.
This is very useful in large companies, allowing you to check any internal availability, before needing to search for new candidates outside the company.
Every employee always has a list of alternative positions they'd like, application deadlines and the requirements of the new role, just a click away.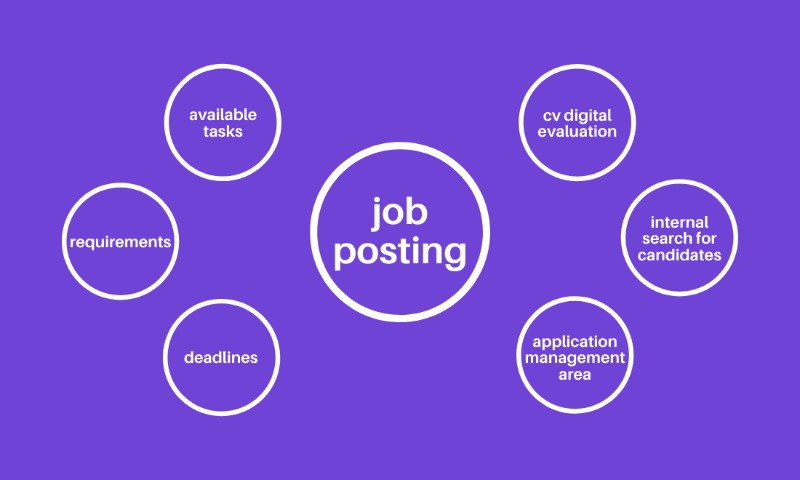 In turn, HR may have an application management area available where they can access colleague profiles who have decided to apply for specific open positions.
You can also have human resources directly access the personal area of all employees, so that they can evaluate the application through a sort of digital resume that colleagues keep up to date.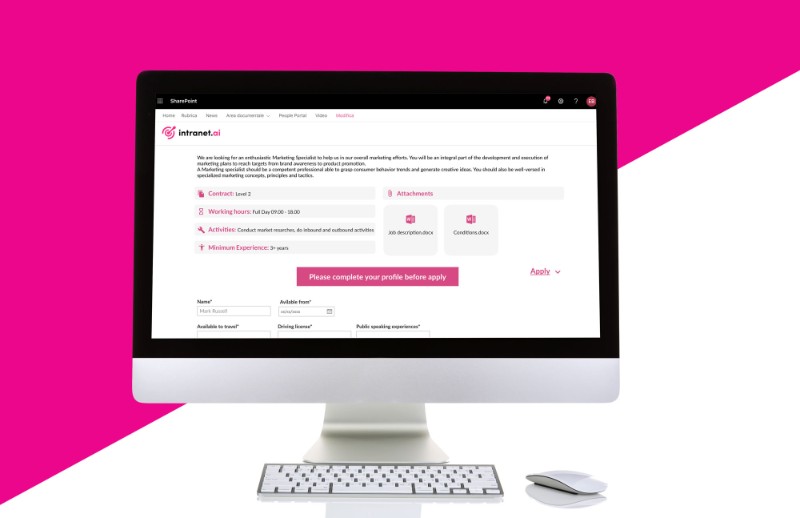 What is intranet.ai?
It's a ready-to-use corporate intranet,
designed to reduce costs and implementation time by providing a highly modern and collaborative digital workplace.

Starting price is 2450€, for a fully-featured intranet

More than 20 App including intelligent search, document management, news, push notifications, and my workplace


100% integrated with SharePoint Online and Microsoft 365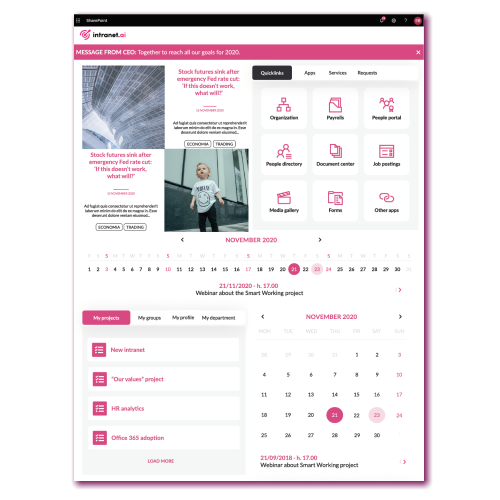 Gamification
Chapter two
In this second chapter with the concept of "Gamification" we want to help you to introduce and implement the intranet in the company.
To do this, we propose ideas that increase engagement through the platform and facilitate learning new information by applying concepts, circumstances or techniques through games.
In this field, the sky is the limit!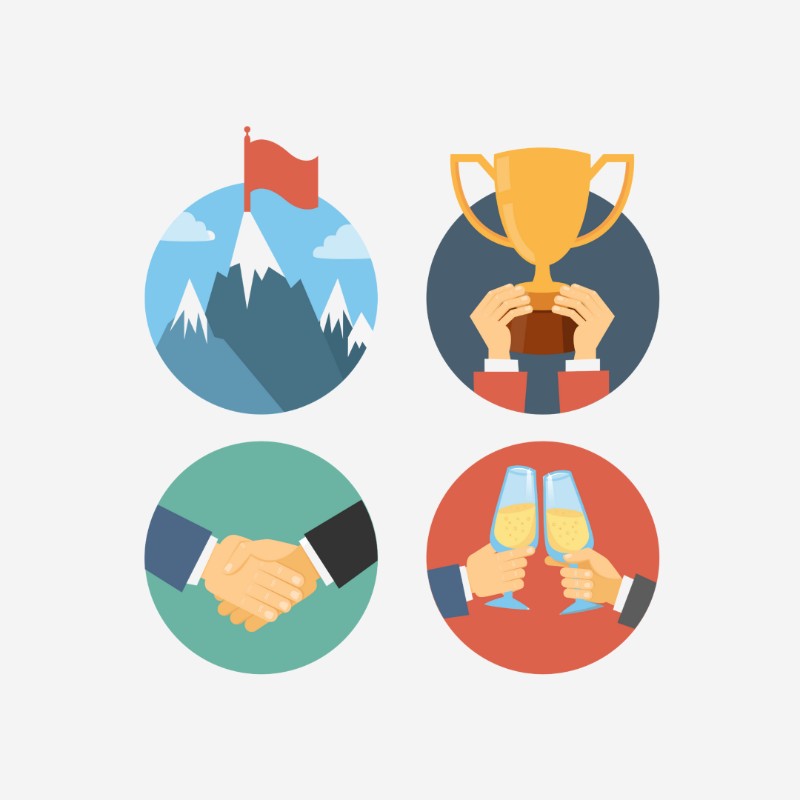 Gamification: definition
From the term "game", gamification is a technique that uses game procedures and structures to achieve specific objectives, in this case corporate.
This tool uses the latest digital media and is able to convey messages of different types, generating a strong active involvement in users in their user experience.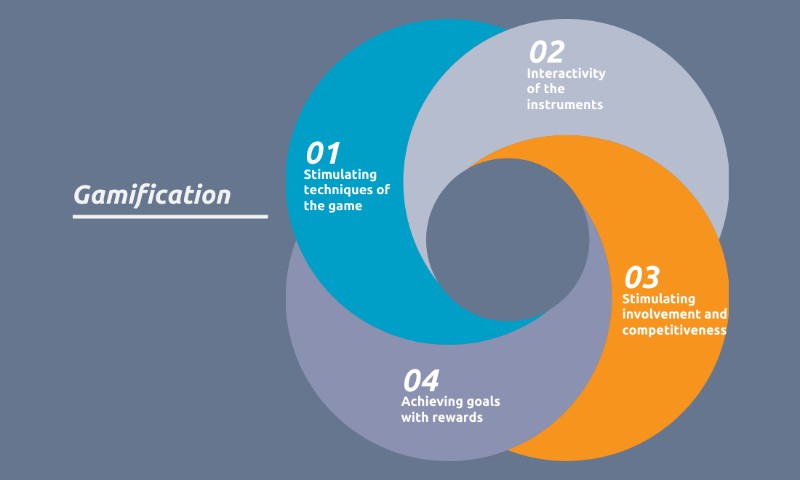 Gamification in the company
Think how hard it is to switch people from daily use of email, which they have been accustomed to for the last 15 working years, to the use of a conversation system like Microsoft Teams.
It's hard work I can assure you.
Think instead how much easier it is if the user opens the intranet and finds a game that indirectly explains how to use Teams in the company in order to get rid of all the problems they had using email for work.
Now think how many users you can land within the intranet if you decide to assign identification badges to people, or rank users who use the new platform more than others.
Think about how you can improve team work in the company, if you allow people to join a group, choose the name of their group and participate to win the competition.
Even corporate values or vision can be conveyed indirectly but much more effectively through the targeted use of gamification in corporate strategy.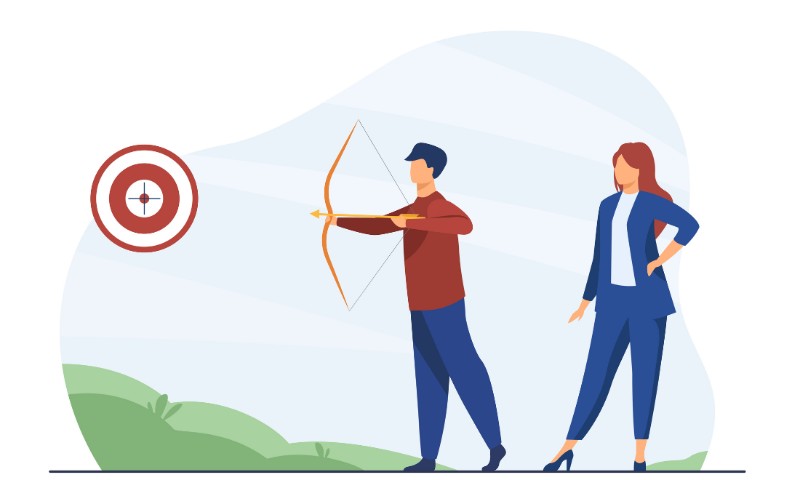 "High five"
Public endorsements can be shared on the intranet which represent positive feedback for a colleague.
You can therefore imagine an area on the home page, where each person can give a virtual high five as an index of appreciation for someone and to share their work in the company.
By doing so, you can have a playful area that will certainly be of interest to everyone in the company.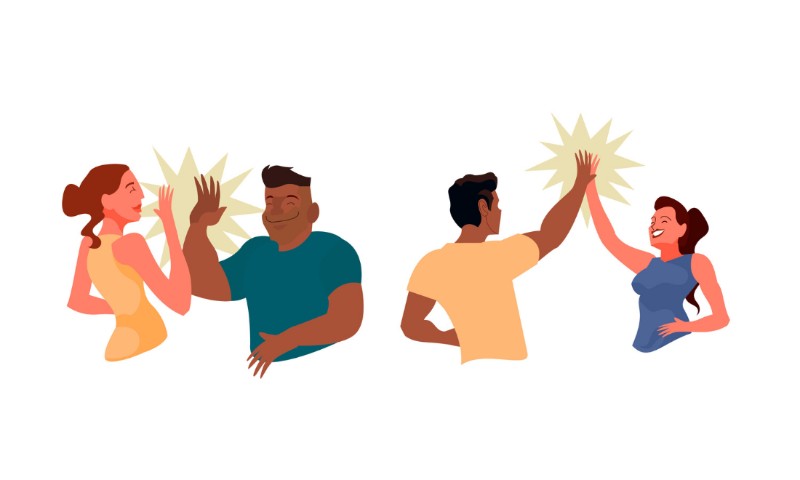 Inspiring ideas
The corporate intranet can be the right place to inspire new ideas in the company.
We have used contests to generate new ideas on intranets, both to identify new services or products for business, and to improve well-being and internal communication within the company.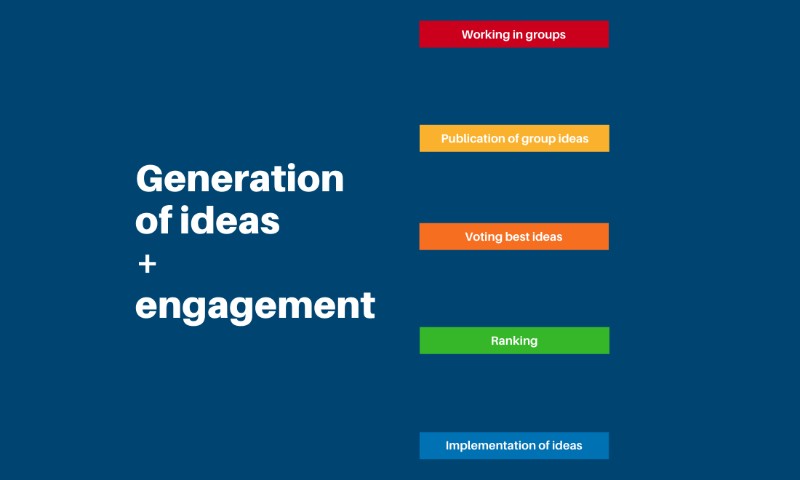 People had to get together in groups which increased interaction and collaboration between colleagues and they were able to think about how to achieve the objectives that the company had set out.
Once ready, the ideas were published, subject to approval, directly on the site and everyone was given the chance to vote for them through likes, increasing visits and general engagement on the intranet.
People were fully engaged when they could see their ideas win the ranking and be implemented by the company.
Who better than those who work in the company every day, to make things better?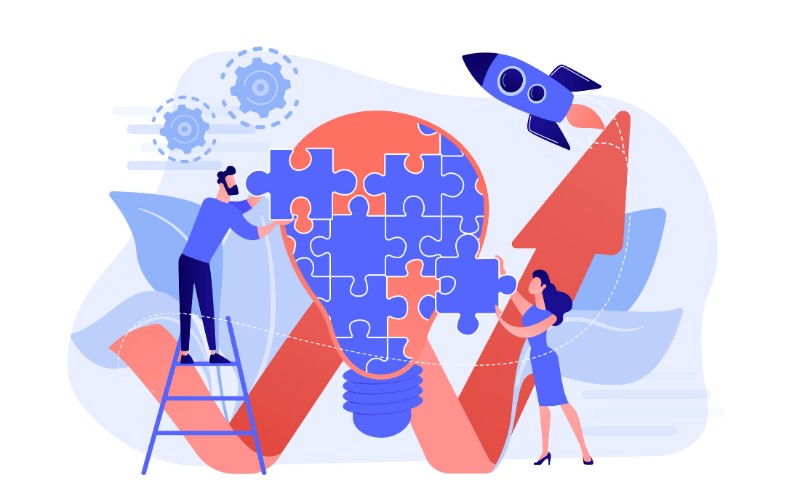 The killer app
A "killer app" is the application that generates visits within the intranet.
Each corporate intranet features must have its own killer app, so as to bring as many colleagues as possible into the site and ensure that, together with the use of the specific application, these people can also get:
• Company news
• be informed of specific initiatives
• intranet possibilities
• in other words, learn more about the contents of the company portal.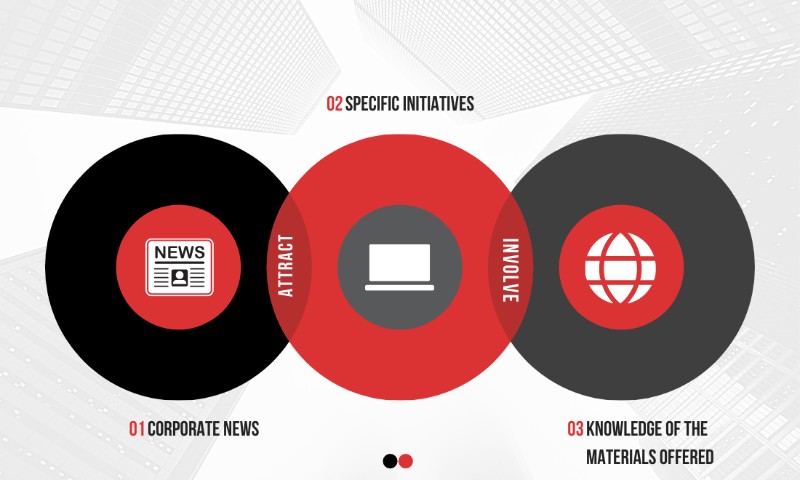 Examples of killer apps are all the employee services in this guide such as access to payslips, which attracts visits from employees at least once a month. This is a great chance for your business to convert an "operational" intranet visit into an "exploratory" one.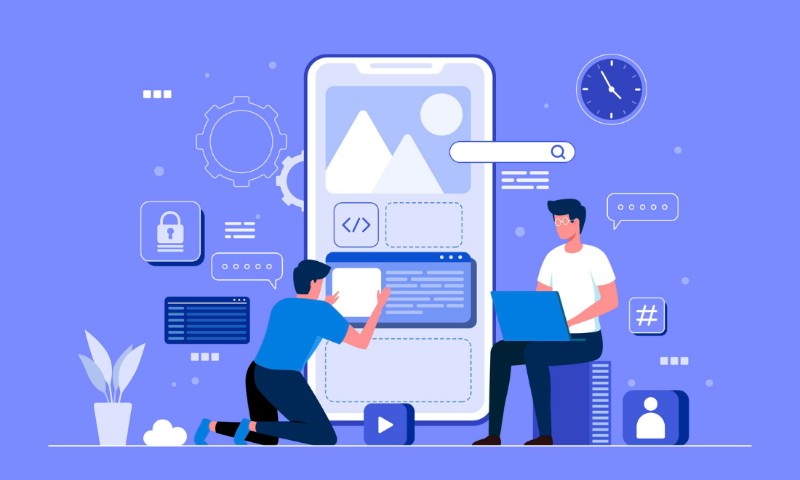 Use of surveys
Surveys are a very useful tool to engage employees, thereby raising employee engagement.
On the one hand, you give people the chance to be heard, to participate in company decisions or give feedback on specific initiatives.
On the other, by publishing the results, give everyone the opportunity to see how the other colleagues think about other infrequent topics which otherwise may give rise to communication issues.
To keep engagement high, always do closed-question surveys to make filling them out easier, and publish the results quickly.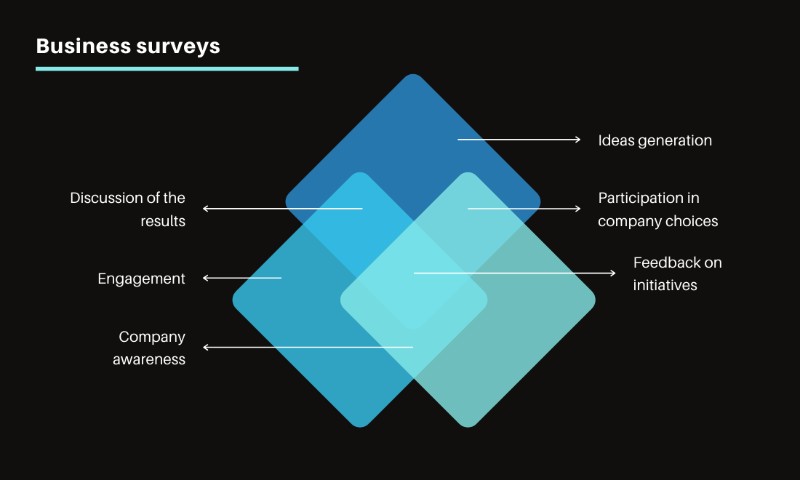 Personal area
The third chapter
Within the intranet, each employee finds their natural space.
A personal area for each user called My Profile, is an essential resource.
It is useful both for viewing personal information and for specific employee services.
It also helps you keep all company user data up-to-date, access company assets information, useful employee tool.
Find out more about what it is and how it helps business processes.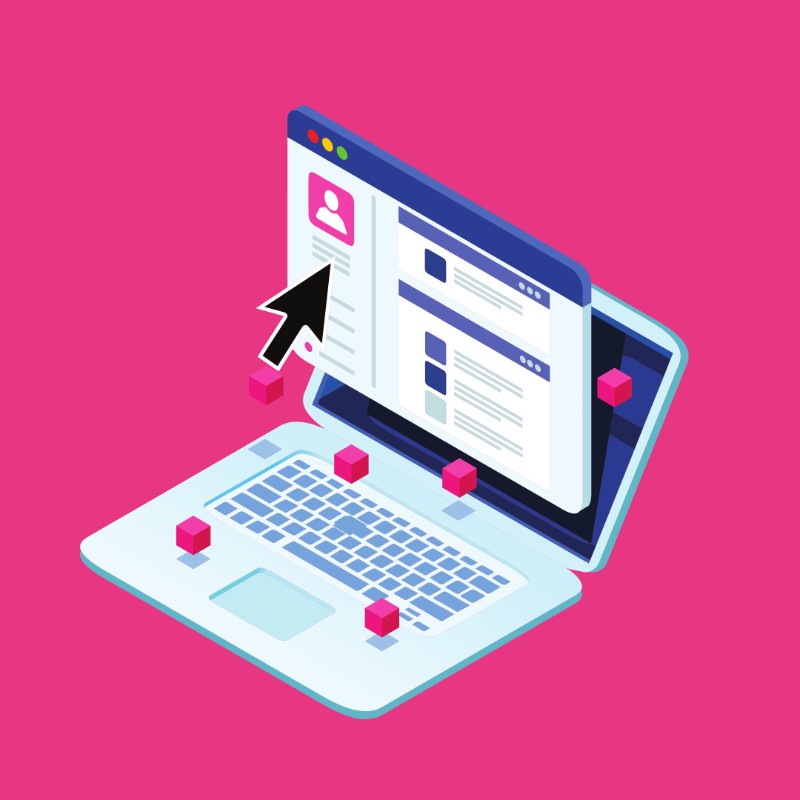 "My profile" area / Personal area
This area has all the user information such as:
• date of recruitment
• role
• the department they belong to
• the information the user himself can enter to present themselves to colleagues such as skills, interests, previous experiences and much more, for a personal digital curriculum.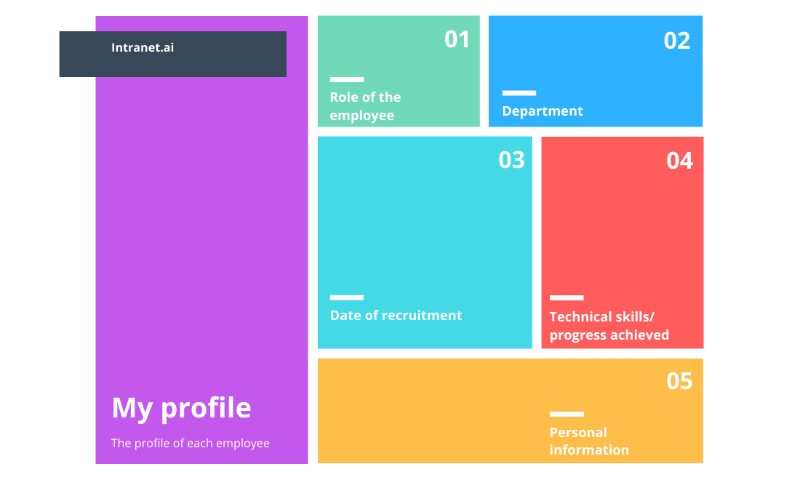 This information, if expressly shared by the user, owner of said data, is very useful to present themselves within the company and for networking.
The result is to build a real company database of employee profiles, especially useful for human resources to get to know colleagues better and to ease internal skills research.
In addition, there can be quick access to services that revolve around the employee, such as access to their paychecks, list of training courses, holiday and leave requests, goals and much more.
Personal data update form
Whenever an employee's personal data changes, a form can be filled in within the company intranet with updated details and viewable by the company.
It's very useful as a direct channel between the employee and human resources, when someone changes residence, banking information, marital status or to compile a list of dependents for example.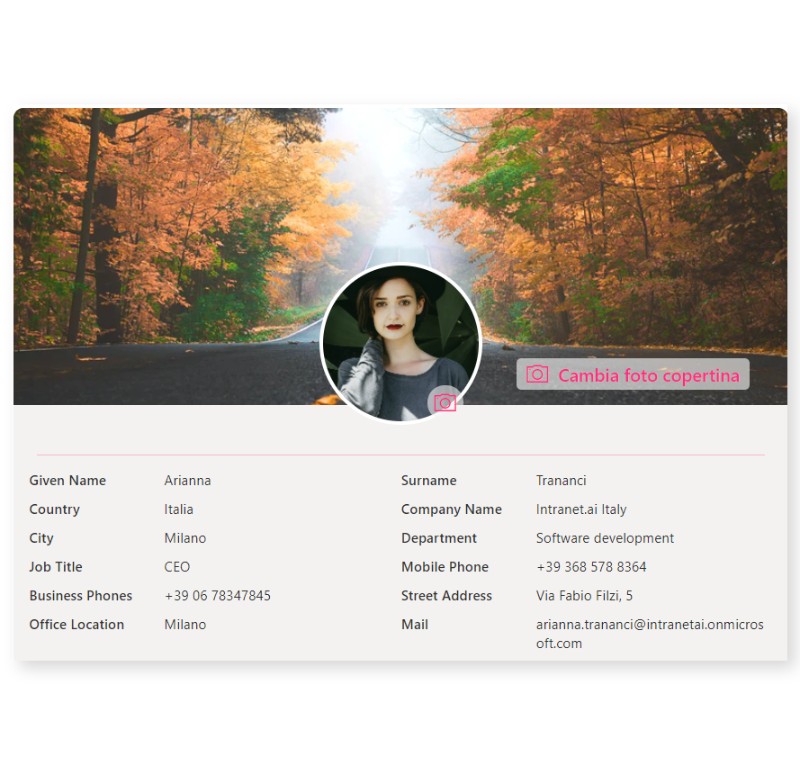 Address book and My Profile
If employees want to get to know each other better, they can choose to enter personal information in the intranet address book in addition to the data that the company holds, which all colleagues can view by clicking on their profile on the company intranet.
This information comes from the "My profile" area and can always be kept updated at any time by the user.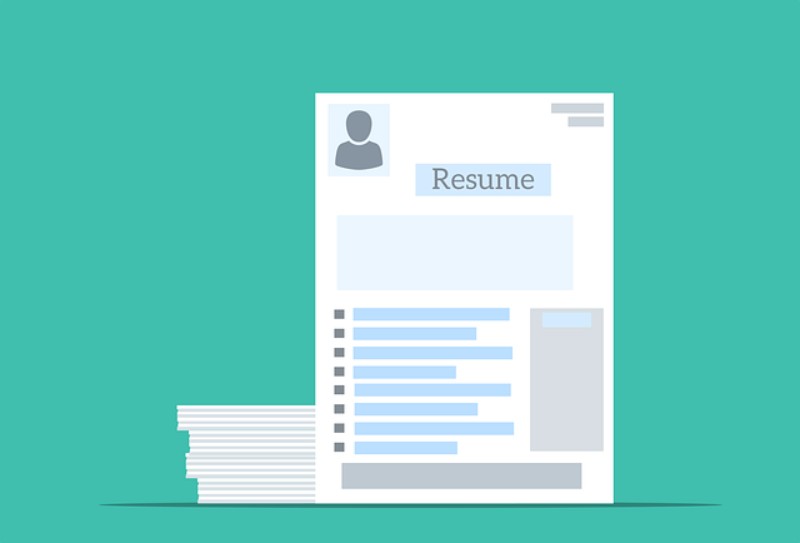 Corporate training
In the user's My profile area, the employee can view all the training courses they've attended and see future ones.
Even if the company already has external LMS platforms, these can be integrated with the intranet so as to offer the worker unique access to content and possibilities.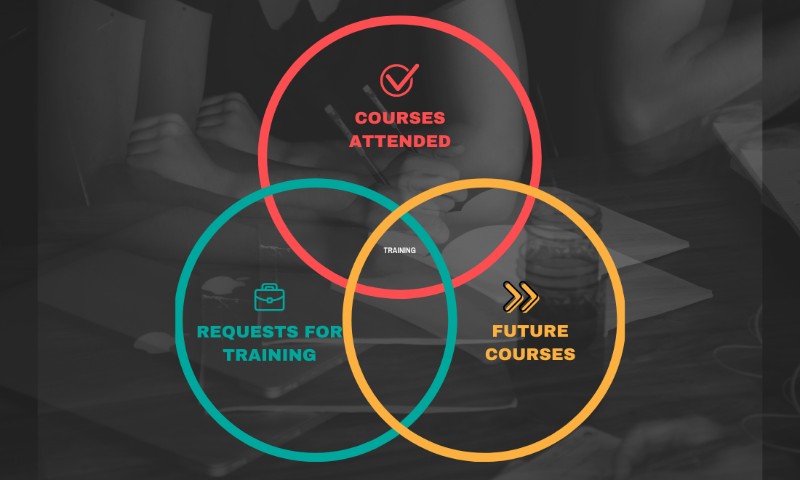 Request for new company training
The employee could request new training courses from human resources or their direct manager directly on the intranet.
The company could provide some alternatives to choose from or leave employees free to choose training depending on their area.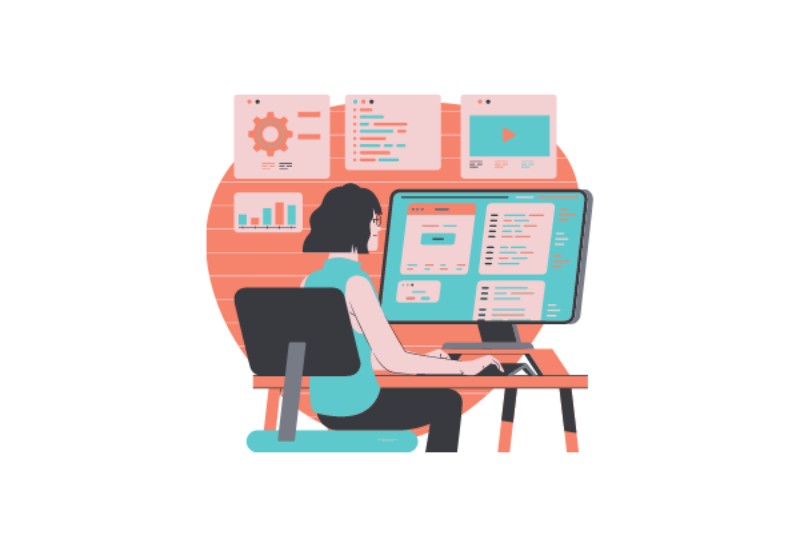 Training site
The corporate intranet features create a single point of access for all the informations and services the company offers and invests in for employee training.
To all intents and purposes, an archive, it would show all past and upcoming webinars. On-demand and live training content.
Each e-learning course with quizzes, videos and documentation, can be accessed in this area of the intranet.
Each training course can be evaluated based on end-user feedback, and training can be easily monitored by those who manage company training.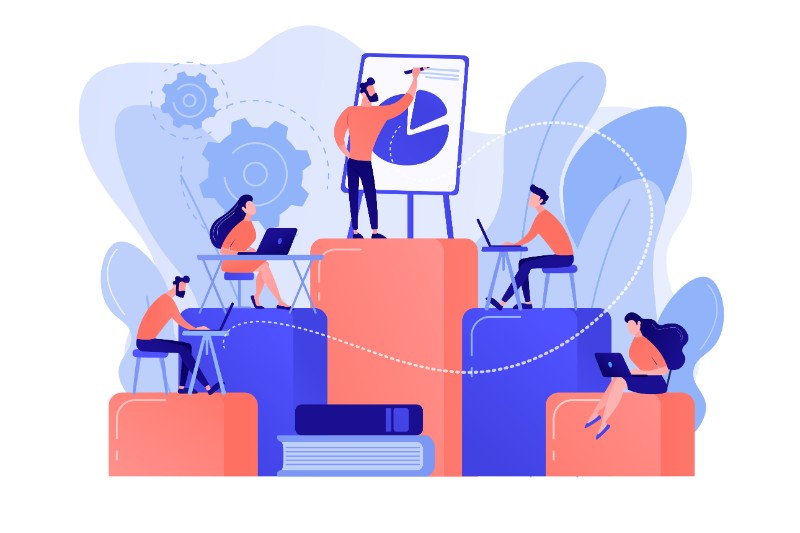 Engaging intranet training
Training via the intranet can be made more engaging.
Employees' request for training content, qualifications, training courses, any feedback that improves training services, can be rewarded by starting a points collection on the intranet aiming at goals with virtual badges.
Milestones and successes can be viewed in My profile area or made public in the company directory.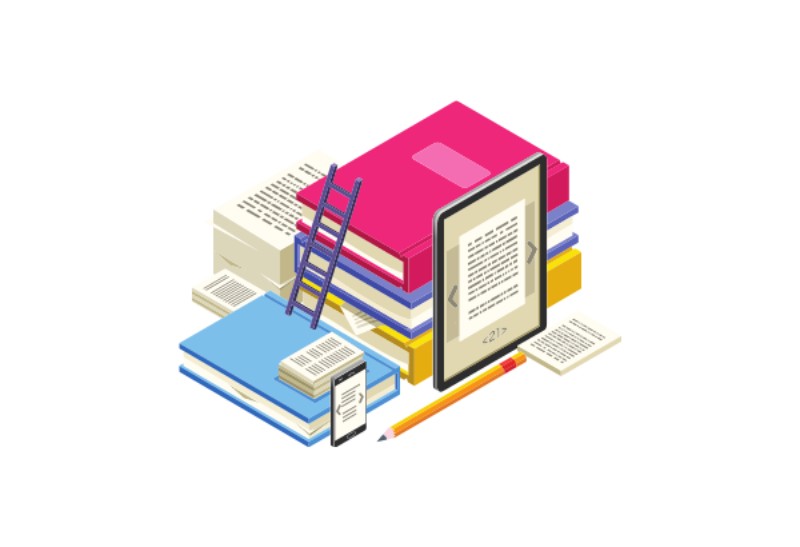 More ideas
Conclusions
The company intranet has endless possibilities with quantifiable and profitable results.
This is why it an essential asset for most companies in order to optimise work, cohesion and internal processes, spread more knowledge and generate common awareness for corporate culture and identity.
Discover all the other ways to promote engagement, monitor trends and grow a network in your company. Reach a new level with the advantages of digitisation.
These 20 ideas are only a part of the huge range of possibilities, discover more than 100 suggestions by our experts.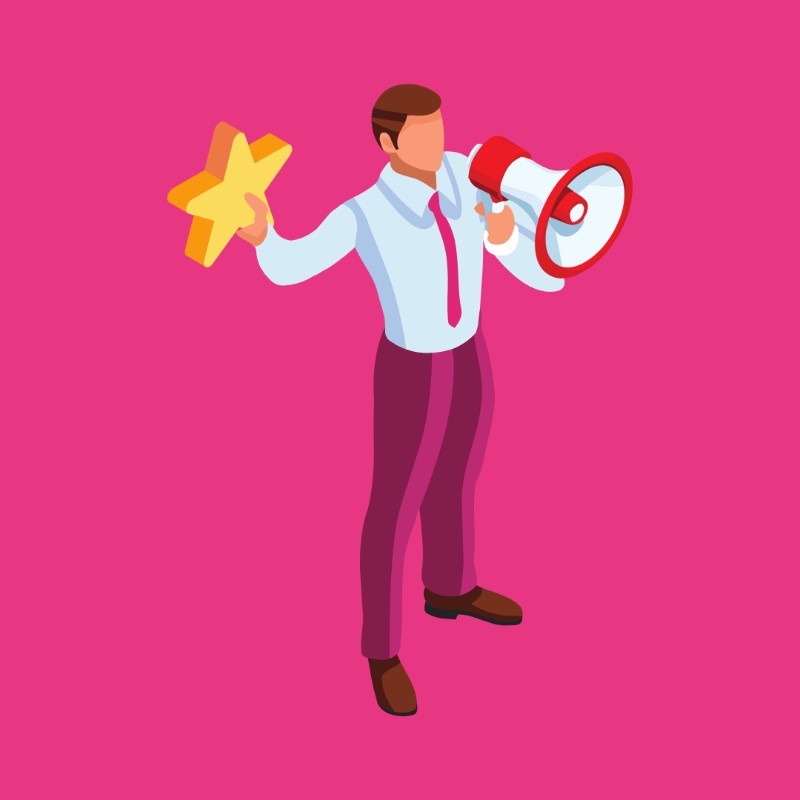 Fill out the form to get your free guide
What you'll discover in the guide
What you'll discover in the guide
You'll find innovative and challenging ideas for making your digital workplace smart in this guide.
Here's a sneak peek at what we've got in store for you:
ideas for internal communication

ideas for employee services

ideas for human resources

ideas for statistics and monitoring

ideas for engagement
Are you ready to find out?
Fill out the form to receive a free copy of the guide!
100+ ideas for your intranet
Giuseppe Marchi
Microsoft MVP for SharePoint and Office 365 (now called Microsoft 365) since 2010, Giuseppe founded Dev4Side and intranet.ai with the aim of helping companies to have a simpler and more effective working environment thanks to Microsoft technologies. He works as a consultant for everything related to collaboration, intranet portals and Microsoft cloud platforms.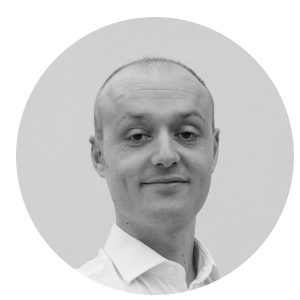 What is intranet.ai?
It's a ready-to-use corporate intranet,
designed to reduce costs and implementation time by providing a highly modern and collaborative digital workplace.

Starting price is 2450€, for a fully-featured intranet

More than 20 App including intelligent search, document management, news, push notifications, and my workplace


100% integrated with SharePoint Online and Microsoft 365