SharePoint Consulting:
Why choose intranet.ai?

Creating a site with SharePoint is simple.
But making it the heart of your digital workplace is not at all.
Here, we explain who the professionals are who can help you.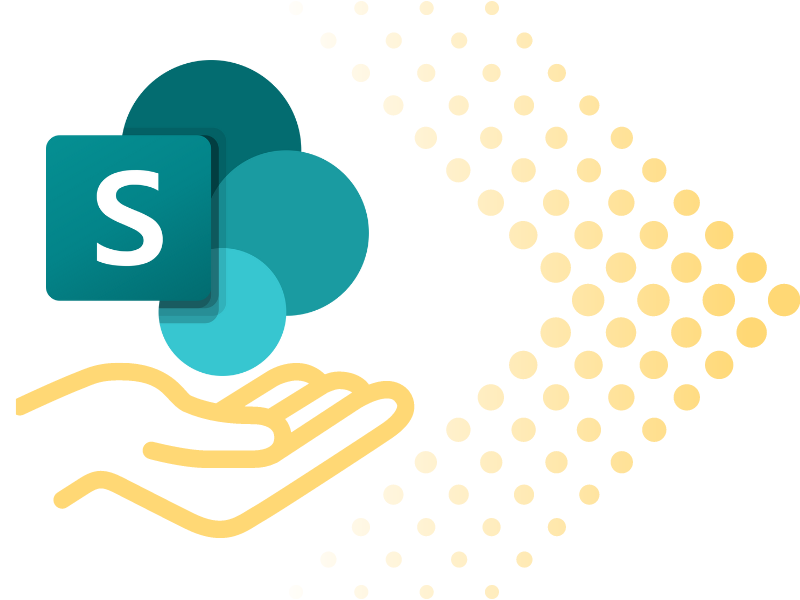 What you will find in this article
Who are Microsoft SharePoint consultants


SharePoint from Microsoft 365 is for building state-of-the-art corporate sites where you can:
organize corporate archives in the Microsoft cloud, collaborating in real-time and from any device with your team;

write and publish targeted news posts and newsletters;

create reserved spaces for employee services;

develop sites and pages dedicated to individual departments or specific initiatives.
To adapt to the diverse needs of each organization, this platform has numerous features, each designed specifically to enable users to accomplish the tasks listed above.
SharePoint can integrate with external products to diversify and expand the capabilities of its sites.
Among these products, we would like to point out Teams, Outlook, Forms, and Planner from the Microsoft 365 suite, Power Platform components, Microsoft Viva modules, and third-party applications such as Twitter, Adobe, and Google.
The possibilities that open up with these integrations are numerous and, consequently, so are the opportunities to be seized by companies that want to improve their productivity and the relationship with their people.
But, as always, you have to know where to put your hands to get the best results.
That's where SharePoint consultants come in.


What is intranet.ai?

It's the ready-to-use SharePoint intranet,
designed to reduce costs and implementation time.


Starting price is 2.450€ for a fully-featured intranet.

More than 25 features, including Intelligent Search, Document Management, Company News, and Teams Push Notifications.

100% integrated with Microsoft 365, Viva, and Power Platform.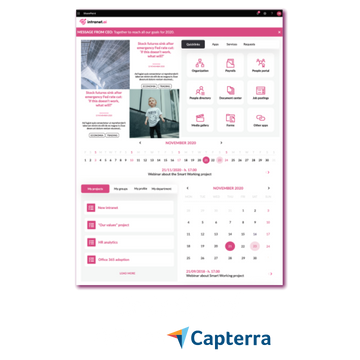 SharePoint consultants are professionals who are trained to teach companies the ABCs of document management and corporate communication using dynamic components such as web parts, lists, and libraries.
In addition to offering advice and guidance for clients' IT departments to follow, consultants manage the architecture, design, development, maintenance, and migration of sites created with SharePoint.
In this way, they can make a substantial contribution to building a digital workplace that is not only functional but also, more importantly, intuitive and easy for users to use.
Indeed, it happens that a product such as an intranet is developed by a company, investing a significant amount of resources, only to be ignored by its audience.
The cause is often poor site navigation or a lack of tools with which to manage one's activities in a digital environment.
An example might be a chaotic employee services page that does not allow users to interact with company resources, perhaps reserving space in the cafeteria or a meeting room.
Or it could be missing the people directory, which is the address book containing names, roles and contacts to find and reach their colleagues in seconds.
To take a less trivial example, however, we might mention the case where your digital work environment provides you with underperforming archives. What does this mean?
Simply put, the libraries you have to use to organize, share, and collaborate on files are yes easy to manage, but they do not help you save time.
To do so, your archives should be integrated with workflows capable of automating:
the archiving of files from Outlook emails;

the request for approval to add or edit a shared document;

the sending of notifications in Teams chats to alert user groups of any updates in project files;

the saving of responses to forms created with Forms;

etc.
In short, an archive in SharePoint is not just a container of information, but an intelligent system that can simplify your daily activities.
But this applies to all components of this platform.
Especially, for web parts.
We don't want to go into details here, but it is important to point out that, if configured and inserted correctly, web parts can make your communication sites data-rich, interactive and dynamic portals.
Let's think about the "News" web part.
You can use this component to show users on your intranet the latest posts published by your organization or one of its departments.
By leveraging its varied filters, this component allows you to target internal communications and thus create newsletter-style showcases to be featured prominently on your pages.
News from global management, on the other hand, can be highlighted on the intranet home page so that your users never miss any important updates.
In short, when your SharePoint sites can't justify the amount of time, energy and money invested in getting them online, consulting may be the solution.
But be careful: this is not always the case.
Let's see why.
SharePoint consulting:
What are the pros and cons for a company


The question to ask at this point is whether you need to pay someone to create a good site with SharePoint.
The answer may vary from case to case, but we think that consultation can clear the air on the fundamental issue: understanding how and when to use individual SharePoint features to give users the best possible experience.
As we mentioned earlier, SharePoint is an extremely flexible platform for being able to digitize a complex set of business activities, and this is possible because of the many features it has.
SharePoint requires deep customization to fit the needs of each organization.
Seeking the help of consultants can therefore be instrumental in creating sites that are useful for people and secure for the information that is exchanged between them daily.
Think again of document libraries.
Should there be friction between SharePoint sites and the external apps from which the documents in their libraries come, there could be leaks of files and sensitive data.
Add in the lack of a robust control system for administrator users, and the result would be the inability to track this leakage in the corporate information network.
In this case, a consultancy could repair, but more importantly prevent serious damage to the document management system, enabling users to share and work on information in an intact and secure working environment.
But that's not all.
Subscribe to our newsletter!

You will find:


Short training and update videos on Microsoft 365 news.
Our guides for business digitisation.
In-depth articles on how to improve your intranet by making the most of your Microsoft 365 subscription.

You can always unsubscribe at any time.

Although SharePoint is a fairly intuitive platform, there may be instances when customization of its components must go through the avenues of programming and code writing.
Experienced consultants have advanced IT knowledge to configure its components themselves or to be able to communicate with the company's team of programmers and coders.
They can then make the difference between experimenting with SharePoint's potential and being able to express it without taking unnecessary risks.
But consulting does not always yield positive results.
This is because the SharePoint consulting profession has become quite attractive in recent years, attracting increasing numbers of people both because of the interest in Microsoft's innovations and the promise of a competitive salary.
As a result, it is difficult for a company to figure out where to turn in a market that is becoming saturated and in which offerings are expensive and limiting.
We use the term "limiting" because most consultants offer services that are fundamental but rather standard compared to the average.
The reason is the lack of strong technical know-how with which to model the platform, expanding its functionality by adding integrations and new components.
Some consultants may not have the experience to anticipate the possible frictions between what SharePoint enables and what needs to be included in a digital workplace to be useful to its users.
So, the problem is rooted in both a knowledge limited to only the basic mechanisms of the platform and a still-green experience to know how to break out of these patterns.
But the market is evolving-unfortunately.
Some SharePoint professionals are beginning to offer more comprehensive consulting services.
We are not among them.
And the reason is very simple.

Because intranet.ai doesn't do consulting
That's right.
We do not do counseling.
Not only that.
We bring to the consulting market a product.
We offer a SharePoint intranet with which companies can digitize in a matter of days and at a reduced cost.
We have developed an intranet that is already equipped with those features that enable people in an organization, whatever its sector or size, to do their business digitally.
With strong customization.
We can extend the basic capabilities of our intranet with the integration of company-specific components.
To do this, our team specializes in developing applications from Microsoft 365, Viva and Power Platform products, to name the most important suites.
In addition, we can count on the technical know-how of Dev4Side, the first software company in Italy to boast excellent skills in the use of Microsoft technologies.
With a portfolio of more than 200 successfully completed development projects and with the title of Microsoft Gold Partner, our sister company gives us the support we need to continue to improve our intranet solution and solve our customers' unique problems.
As a result, the companies that have chosen us have been able to adopt an already operational digital work environment and then expand it with features built just for them.
To learn more about our collaboration with Dev4Side, visit the page dedicated to the features we have developed for our clients.
We must emphasize that our value is not only based on strong vertical competencies.
What allows us to get close to companies and understand their difficulties, as well as the comfort they would like to give their people, is the multicultural nature of our team.
The diversity of perspectives, experiences, and approaches is an unquestionable asset, which has always helped us manage the contingencies inherent in any project.
The ability to listen and the recognized technical know-how enable us to give you much more than ordinary advice.
Our job is to make yours easier, and we are ready to follow up on the performance of your intranet even after go-live, even months or years after the end of our collaboration.
We will help you measure its effectiveness and spread its use among your users.
We will explain to your audience how to use Microsoft's tools and integrated business services.
We will stay in constant contact to evaluate changes in strategy and continue to refine your digital workplace.
By now the message is clear: intranet.ai is not just a product.
It is a relationship.
Do you want a complete, ready-to-use intranet?
"Intranet-in-a-box" is the complete service for your company:
We offer you a branded intranet already integrated with Microsoft 365 and Viva.
We go beyond the limits of a standard corporate site with our 100% customizable features.
We update all components to the latest Microsoft standards.
Simplify internal communication and digitize your business with minimal investment.
Giuseppe Marchi

Microsoft MVP for SharePoint and Microsoft 365 since 2010, Giuseppe founded Dev4Side and intranet.ai with the aim of helping companies to have a simpler and more effective working environment.
He works as a consultant for everything related to digital collaboration, intranet portals and Microsoft cloud platforms.