SharePoint VS OneDrive: What is the difference?
SharePoint and OneDrive are cloud storage systems.
The features that these two Microsoft 365 tools have in common make the line between them thin.
For some users, even nonexistent.
However, there is a basic difference.
Let's find out together what it is.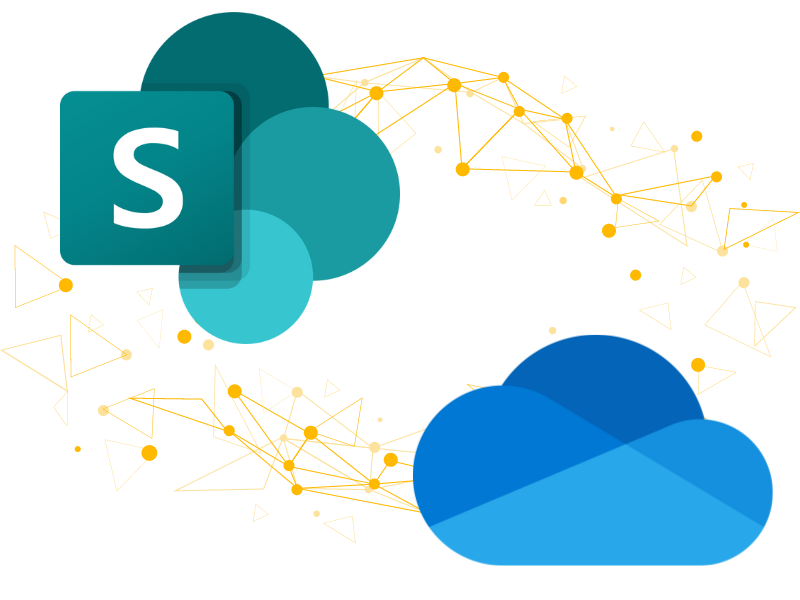 What will you find in this article
What is the difference between SharePoint and OneDrive in Microsoft 365


Microsoft 365 suite enables organizations and professional individuals to access a flexible work environment.
It is easier to manage tasks and projects in this innovative digital space, especially in today's era where most collaboration and communication takes place remotely or in hybrid mode.
However, one of the main challenges for people and companies that decide to move their work within the Microsoft universe is to take advantage of the opportunities it offers, as well as to understand the differences that make its applications different from one another. In other words, unique.
In this article, we will focus on two tools whose functionality is often lumped together, to the point of being considered interchangeable by a not insignificant number of users. But this could not be further from the truth.
We are talking about SharePoint Online and Microsoft OneDrive.


What is intranet.ai?

It's the ready-to-use SharePoint intranet,
designed to reduce costs and implementation time.


Starting price is 2.450€ for a fully-featured intranet.

More than 25 features, including Intelligent Search, Document Management, Company News, and Teams Push Notifications.

100% integrated with Microsoft 365, Viva, and Power Platform.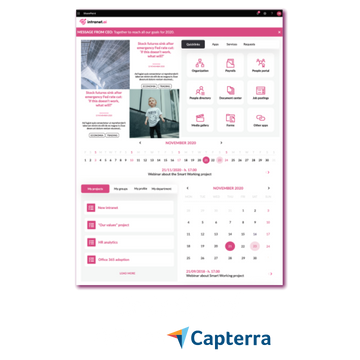 Let's start by saying that both SharePoint and OneDrive are storage systems that allow users to migrate their files and documents to Microsoft's cloud.
This means that users can access media content, documents, photos, and more wherever they are and from any device.
All it takes is to have an internet connection and know the credentials to log into a Microsoft 365 account to bid farewell to having to carry a specific business device with you at all times.
A real revolution, especially for those professionals who could not separate themselves from their desks or were forced to view endless sets of emails and hard copies to edit the same document together with their coworkers.
With the introduction of modern Microsoft archiving systems, remote sharing and collaboration have also become simple, everyday tasks.
Each user can edit files stored in the cloud simultaneously with their team, without fear of losing important information in the process.
Moreover, thanks to the modification history, users who have access to the files can view all their versions. In this way, they can make comparisons between the current state of the document they are collaborating on and any of its previous versions, while also having the ability to restore the latter.
Despite the many similarities, however, there is a substantial difference between these two systems aimed at creating, sharing and storing content.
On the one hand, SharePoint focuses on the management of files and documents by business teams or an even larger audience of users. Consequently, files that are created or uploaded to one of SharePoint's libraries are meant to be edited by a team. Often, these are documents related to specific projects or initiatives.
On the other hand, OneDrive mainly accommodates files that are intended for strictly personal use, that are not ready to be shared, or that need to be sent to a selected number of users. Thus, the company as a whole cannot access the documents in individual users' OneDrive folders without those users giving it the necessary permission.
In short, we could explain the difference separating these two tools with a single word: Collaboration.
For example, you only need to think about the strong relationship between SharePoint team sites and Microsoft Teams groups and channels to understand in a moment how important collaboration and communication are in managing files stored in this platform.
To explore this topic further, we recommend reading our article on the possibilities of integrating SharePoint Online with Microsoft Teams.
It is true: OneDrive also has a special connection with other Microsoft 365 applications. However, we still emphasize that sharing with other users is not the ultimate goal of this tool.
Instead, we could say that centralized ownership of personal files is the purpose of OneDrive, allowing users to manage their content from a single virtual space and accessible from any device. Of course, without affecting the total protection of the data it stores.
In this regard, the OneDrive for Business version - specific for businesses and organizations - offers essentially the same service, but with more advanced file administration configurations.
Another aspect to consider is the fact that only SharePoint is capable of going beyond a single cloud storage function.
Despite its unique document management capabilities, SharePoint also plays a key role as a platform for content creation.
In fact, it is recognized as one of the most effective tools for building team sites - dedicated to collaboration on the files of different business groups - and communication sites, such as intranet or extranet.
Without going into too much detail, it will suffice for you here to know that with SharePoint you can write, publish and disseminate multimedia content, corporate newsletters, employee services, internal communications, events, webinars and much more.
To explore this topic further, we refer you to reading our article on SharePoint Online and its 7 key features.
To summarize what has been said so far, here is a brief table that brings together the common features of the two Microsoft 365-branded products:
SharePoint Online and Microsoft OneDrive
Creates and stores files in the Microsoft cloud.
Features a change history to view, edit or even restore any of the previous versions of a file.
In the following table, however, we present the substantial differences that exist between the two applications:
| | |
| --- | --- |
| SharePoint Online | Microsoft OneDrive |
| Facilitates file management, designed for collaboration among a large user audience. | Supports the management of files intended for personal use or a small number of users. |
| Protects data with different levels of permissions for groups of users. | Ensures data security by allowing access to selected individual users. |
| Enables the creation of Web sites where a myriad of content can be published and disseminated. | Allows to initiate discussions within files, inviting even users without Microsoft 365 accounts into the conversation. |
| Stores files and documents in libraries, which can be organized by folders or by metadata. | Stores files and documents within folders, each linked to a specific Microsoft 365 account (personal or institutional). |
Iscriviti alla nostra newsletter!

Riceverai:

brevi video formativi e di aggiornamento sulle novità di Microsoft 365.
le nostre guide per la digitalizzazione aziendale.
articoli di approfondimento su come migliorare la intranet, sfruttando al massimo le tue licenze Microsoft 365.
Potrai disiscriverti in qualsiasi momento.
How to synchronize SharePoint libraries with OneDrive


OneDrive allows you to synchronize files from your devices with Microsoft's cloud, and vice versa.
In fact, it is possible to use OneDrive as a bridge to connect content in one of the suite's applications, such as SharePoint Online, with one's devices.
In this way, users can access documents stored in SharePoint libraries at any time from their device, even in offline mode.
It only takes a few steps to achieve this.
We list them here:
In the SharePoint site you wish to synchronize with your pc, click on "Synchronize" in the top command bar.

Access Windows Explorer (or Finder, if you are using a Mac).

Click on the folder with the name of the organization to which the synchronized SharePoint site belongs.
Now, you will be able to open, move, edit or delete files from synchronized team or communication site libraries directly from your computer.
Any changes will automatically be brought back to the Microsoft cloud.
If you are working offline, the changes will be automatically saved to the cloud once your device is connected to the Internet again.
In addition, you can choose the SharePoint site libraries to synchronize.
This way, you will be able to access from your computer only the documents and files you are interested in.
To do this, follow these steps:
Click on the OneDrive icon in the command bar at the bottom of your pc.

Click on the settings wheel in the upper right-hand corner.

Enter the app's settings.

Click on "Account".

Select "Choose Folders" to choose the libraries to synchronize.
In case you want to disable synchronization with the entire SharePoint site, you just need to go to step 4 in the list compiled above. Instead of selecting the libraries with "Choose Folders", you need to click on "Stop Sync" next to the site name.
By doing so, the folder containing the SharePoint site files will disappear from Windows Explorer and remain accessible only within Microsoft's cloud.
In just a few moves, you will be able to manage the information and documents you need to accomplish your tasks by easily switching from the cloud environment to personal devices.
Adapt the Microsoft 365 digital workplace to your needs.
Learn how to best combine the features of SharePoint and OneDrive.
Soon, you won't be able to do without them!
Do you want a complete, ready-to-use intranet?
"Intranet-in-a-box" is the complete service for your company:
We offer you a branded intranet already integrated with Microsoft 365 and Viva.
We go beyond the limits of a standard corporate site with our 100% customizable features.
We update all components to the latest Microsoft standards.
Simplify internal communication and digitize your business with minimal investment.
Giuseppe Marchi

Microsoft MVP for SharePoint and Microsoft 365 since 2010, Giuseppe founded Dev4Side and intranet.ai with the aim of helping companies to have a simpler and more effective working environment.
He works as a consultant for everything related to digital collaboration, intranet portals and Microsoft cloud platforms.