Yammer:
the corporate social network

What exactly is Yammer? And why is it that businesses use it so much?
The Microsoft 365 platform is a tool for increasing employee engagement and strengthening the business community.
Organizational growth and evolution are stimulated by sharing, discussions, and comparisons within a dedicated virtual space.
Find out how you can implement it in your company and reap the benefits.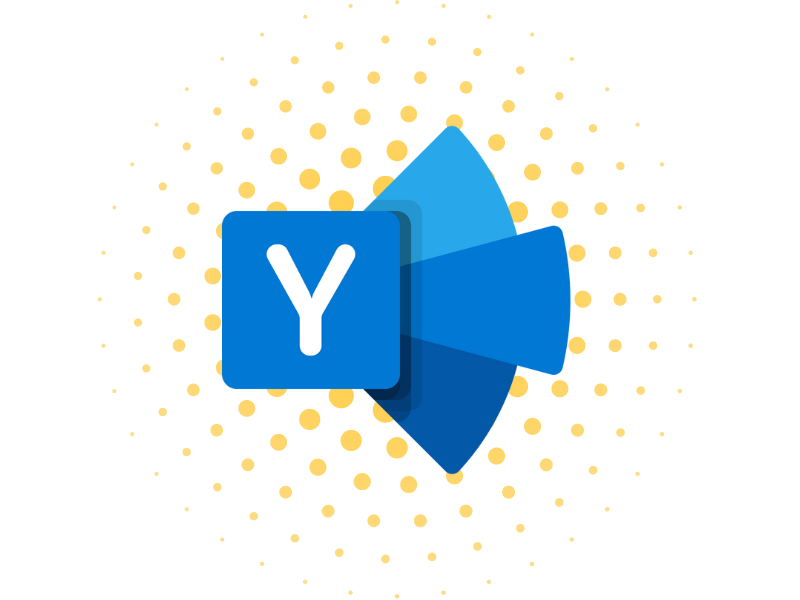 What you will find in this article
What is Microsoft Yammer
How it is integrated with Office 365
Use Yammer as a powerful social interactive
Using Yammer as a business collaboration tool
Microsoft Yammer
Yammer is based on the concept of creating a digital social platform for business customers where they can share company knowledge, ask questions about common procedures or the company environment, and share projects that employees are working on and those that are in the planning stages with their coworkers.
Microsoft Yammer is a virtual meeting room or corporate bulletin board where you can interact with all of your company's employees, ask and answer questions in real-time, and avoid checking an endless stream of emails.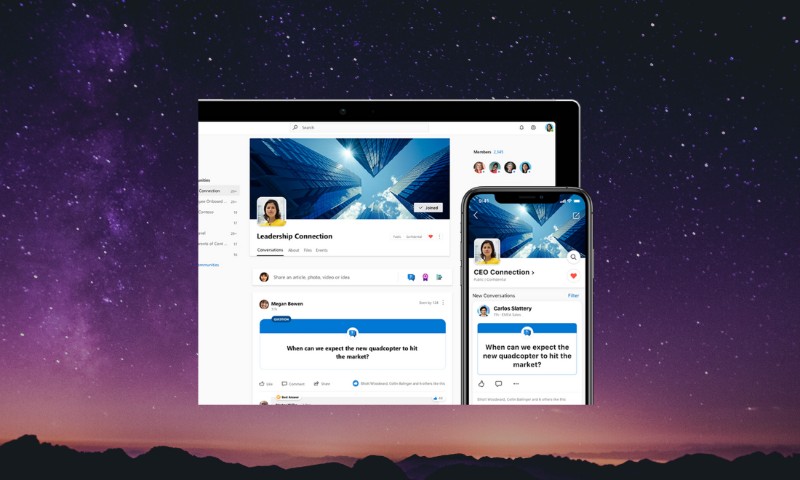 This social network for businesses was created to make collaboration, communication, and information sharing easier within the organization.
You won't need to send a thousand emails and wait for a response to speed up communication and get updates on the progress of work on a specific project.
You only need to look at the company wall or see if any of your coworkers are online to get an answer in a matter of minutes.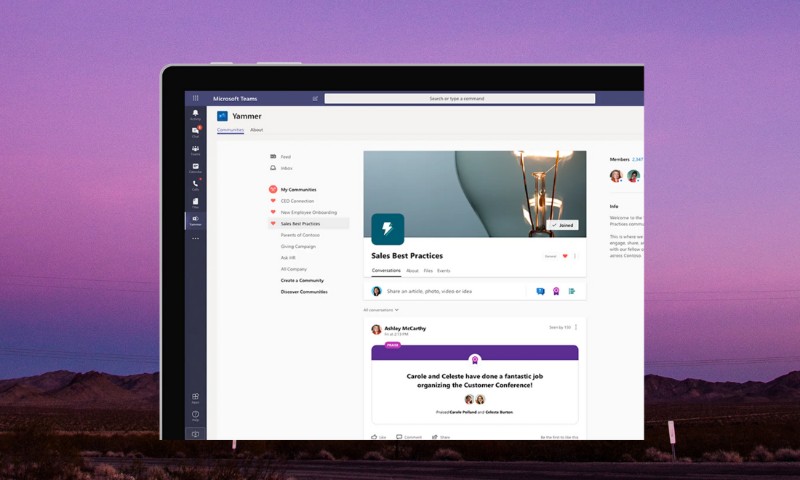 Not only does this app help you be more productive at work, but it also improves communication.
Microsoft encourages its employees to be more innovative and proactive by encouraging them to come up with new ideas. Reading updates or topics from various departments can aid in the employee's transversal training and consolidation of the department to which they belong.
Department leaders and managers can also keep an eye on their Yammer groups and respond to employee doubts and questions. Employees will feel heard, and corporate well-being will rise in tandem with productivity.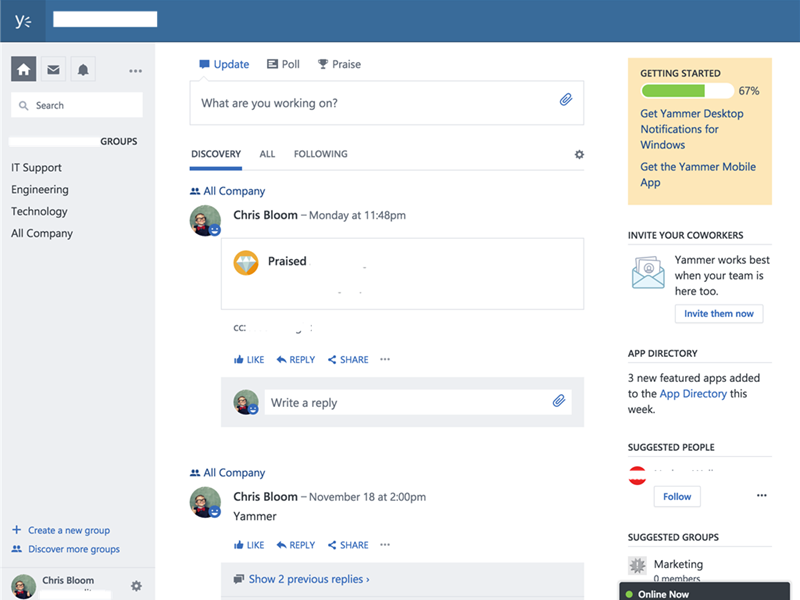 A news feed, similar to Facebook, displays the most recent posts written by colleagues from various departments within the company.
Employees and teams can be assigned to groups that track specific intra-company activities and topics. For quick social feedback, there's no shortage of comments, gifs, jokes, and questions.
Furthermore, a simple and intuitive instant messaging tool would allow them to communicate directly with coworkers and stay in sync at all times.
The benefits of Yammer
Reduce Emails: The average user spends 13 hours per week on email. Yammer drastically lowers this estimate by allowing users to share information in a variety of more intuitive and engaging ways.
Helps you get quick answers: Any doubts you have during your workday can be resolved with a few mouse clicks. The most knowledgeable people will provide the answers.
Create an informal training channel: create interest-based work channels and upload the resources you'll need to access them from any device at any time.
Simplify Live Events: Live events can be hosted by anyone, from executives to front-line employees. For any business topic, meeting events and questions can be conducted on any screen or device.
Allow employees to display internal results: Sharing and publishing employee results has been shown to increase engagement by as much as 84 percent.
Posting worker milestones in Yammer posts can inspire other teams to achieve success.
Important data is unlocked: Images or videos of security training can be quickly shared throughout your organization. Yammer ensures that information reaches managers and employees who can put it to good use.
Employees can use Yammer to provide feedback, solve problems, break up silences, and raise their hands to be heard by leadership and other members.
Microsoft 365 integration: Yammer posts that are relevant to you are delivered directly to your Outlook inbox. Content from Microsoft Teams and SharePoint can also be imported into Yammer.
Greater control: Yammer makes HR and administrators aware of potentially harmful conversations using artificial intelligence and "report this post" features.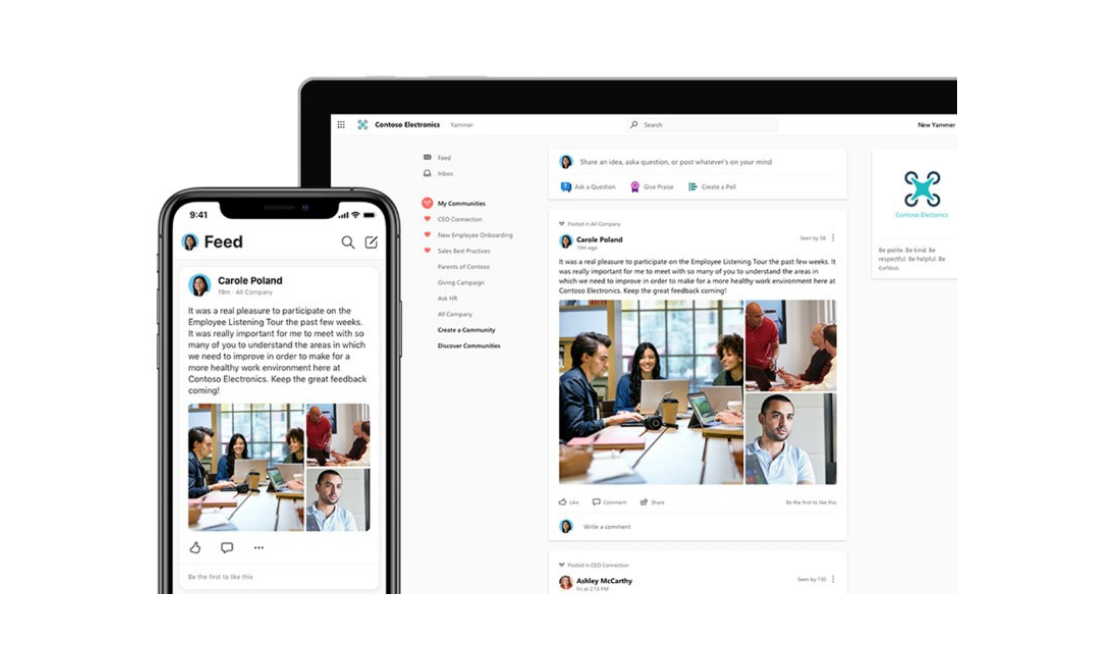 10 Tips about how to use Yammer
Yammer is extremely intuitive, but these tips can help you navigate like a pro. So instead of trial and error, follow these guidelines for a better user experience.
1. Create posts
You are already familiar with this. On Facebook and Twitter, we publish posts to share ideas and express ourselves. In Yammer, you can use posts to ask questions about processes or policies, recognize team members, describe new initiatives, announce product launches, convey other information, and resolve concerns your contacts may be interested in.
2. Ask questions
Yammer allows you to find answers from the business community when you don't know who to ask. When other employees tag other contacts in your post, for example, you might get responses from everyone from an IT professional to the CEO. If multiple answers are displayed, the requester can mark one as the best and pin it to the top.
3. Search for information
Do you need to locate a professional, a company policy, a document, or a piece of information? You're probably aware that Yammer, like Facebook and LinkedIn, has a search feature. The app creates an online home where users can store files, documents, manuals, images, how-to videos, and other useful data. To find colleagues, chats, and important content, use the search bar.
4. Like and comment on posts
Colleagues and even managers can drive engagement by commenting on or liking posts. This way, they can also express recognition that will inspire the business community.
5. Use polls
Did you know that Yammer has a survey feature? All you have to do now is choose a poll and create multiple choice questions and answers. Then you can choose who to send the survey to and when to send it.
6. Praise the team members
You can congratulate a few colleagues on their outstanding work at any time, making the entire corporate group aware that Yammer has a built-in praise mode. Simply type in the name of the colleague, a text, or an image to describe what was done. Then, of course, you can tag the manager or other contacts with tags.
7. View profiles
Yammer is a knowledge-sharing platform. Simply go to their profiles to meet new people and learn more about them. To make the research process easier, everyone can share their skills, titles, and roles.
8. Use the Yammer Communities app
To join the community of your choice, use the Yammer Communities app in Teams.
Yammer communities are a great way for people who are interested in a topic to share their thoughts and questions. Customer groups, CEO connections, new hires, IT, HR, innovation, and security are all suggested communities. You can create a community if you don't find one by searching in Discover Community. At the bottom left of the interface, click Create Community, give it a new name, and add the names of the members you want to invite.
What options do you have?
You can participate in live streaming events, interact with your colleagues on social media, share ads, create polls, and more, among the features available.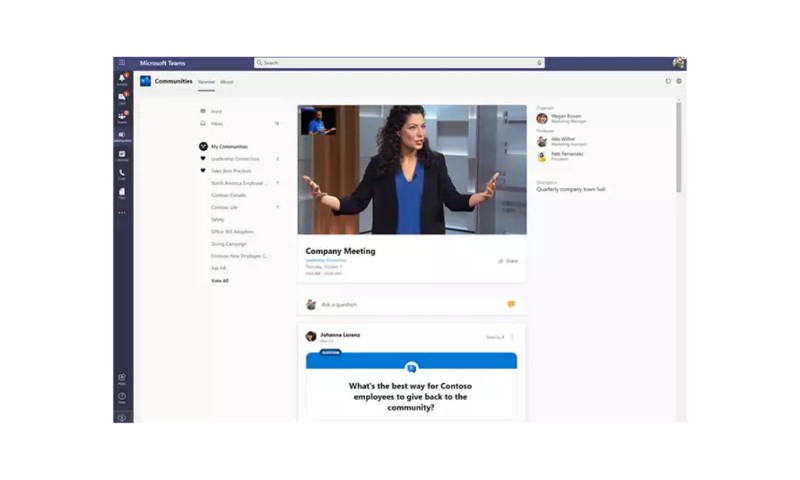 9. Follow the topics
You don't need to keep adding bookmarks to the conversations you want to follow. Instead, just add tags called topics. Click the three dots at the top of the conversation and select Add Topic. You can monitor entire conversations or just parts of them. In the Yammer Topic Center, you will find a trace of all the topics that interest you.
10. Use apps
Yammer is perfect to be used in the mobile version, just like a social network. Around 90% of users perform at least part of their online interactions on a mobile device. Download the mobile app from Play Store or App Store.
Yammer is integrated into Microsoft 365
The deep integration with Microsoft365 and its tools like Teams, SharePoint Online, and Outlook is the most important feature of Yammer.
As seen in the streaming video below, Yammer focuses on communication within the digital enterprise to encourage dialogue between colleagues or between managers and employees, with more socially oriented dynamics than the teams mentioned above.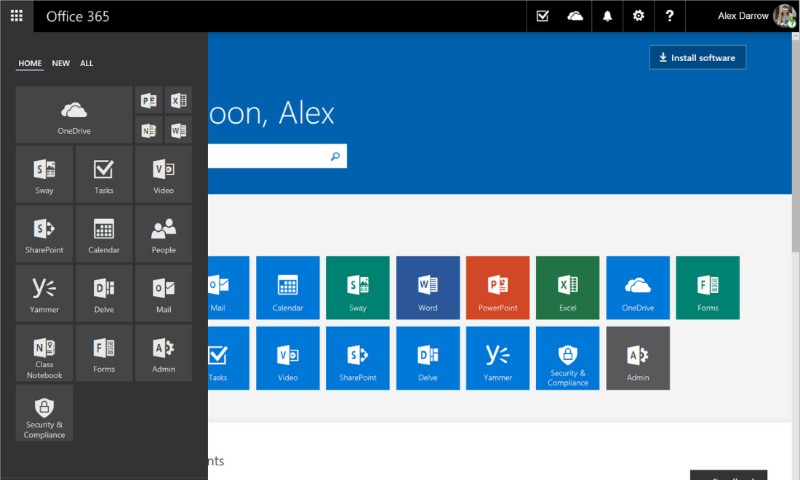 Yammer Login
Any Microsoft 365 business plan includes Yammer (except Microsoft 365 Apps for enterprise).
For $ 8, Office 365 E1 is available per user per month. You can choose between Office 365 E3 ($ 20 per user per month) and Office 365 E5 ($ 35 per user per month) depending on the features your company requires.
To use Yammer, go to your company's intranet and look for it in the application bar.
Once you've made your choice, you can begin browsing the platform and engaging in social interactions.
What is intranet.ai?

It's the ready-to-use SharePoint intranet,
designed to reduce costs and implementation time.


Starting price is 2.450€ for a fully-featured intranet.

More than 25 features, including Intelligent Search, Document Management, Company News, and Teams Push Notifications.

100% integrated with Microsoft 365, Viva, and Power Platform.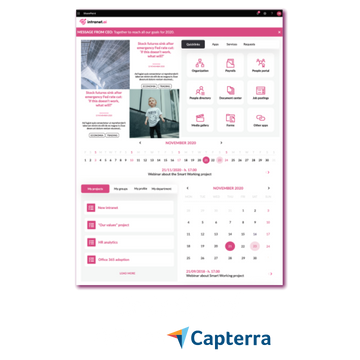 A powerful interactive social
Yammer now has new integrations with Teams, SharePoint, and Outlook, providing an intelligent experience across all devices.
It can be used to broadcast live and on-demand events, with webcam and desktop sharing options simplified.
Unlike many competing applications, Microsoft Yammer was built by incorporating features designed to meet specific needs in response to some of the most frequently received user feedback.
The chat feed is customized for each one based on artificial intelligence to highlight the most important topics, interface customizations based on the company brand, discussion organization that is optimized, and rapid sharing of video messages via the mobile app.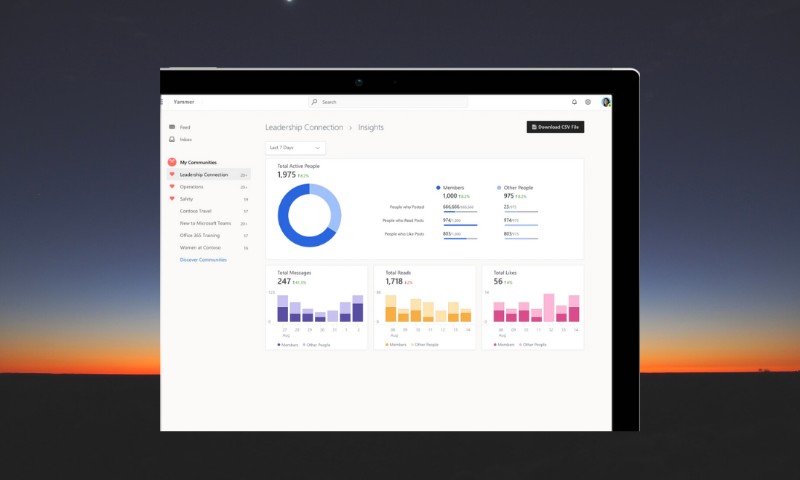 Features for collaborating with Yammer
The functions of a social network are combined with those of a microblogging platform and a collaboration platform for sharing ideas and projects.
However, Yammer has a unique feature: you can only connect with users who share your company's domain's email address (or multiple domains). Then, using Microsoft's cloud services, you create a corporate social network where you can manage confidential documents and new projects.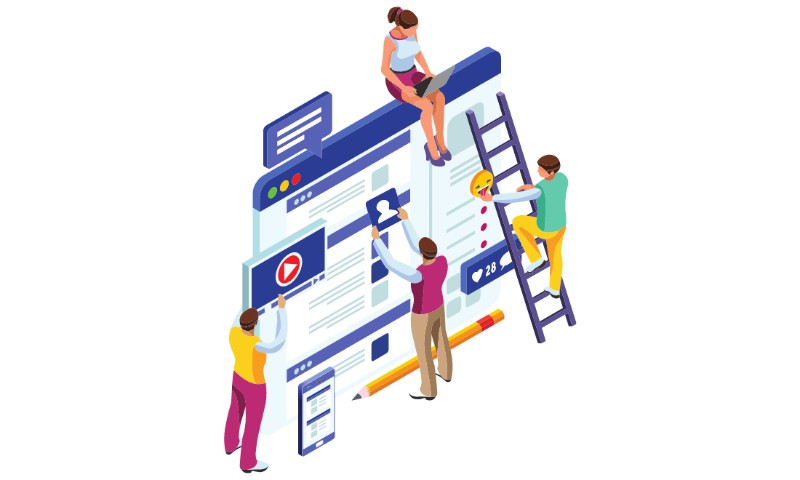 The introduction of a corporate social network initiative requires a strategy to encourage the paradigm shift. The new corporate tools must be included in an adoption plan that considers the culture and objectives of the company.
The challenges Yammer faces to improve collaboration in your digital workplace are:
Collaboration and team growth.

Approach to communication.

Embrace a culture of knowledge sharing.

Work like a network.

Having a shared vision.

Work towards common goals.

Assist with cultural change.

Promote transparency and honesty.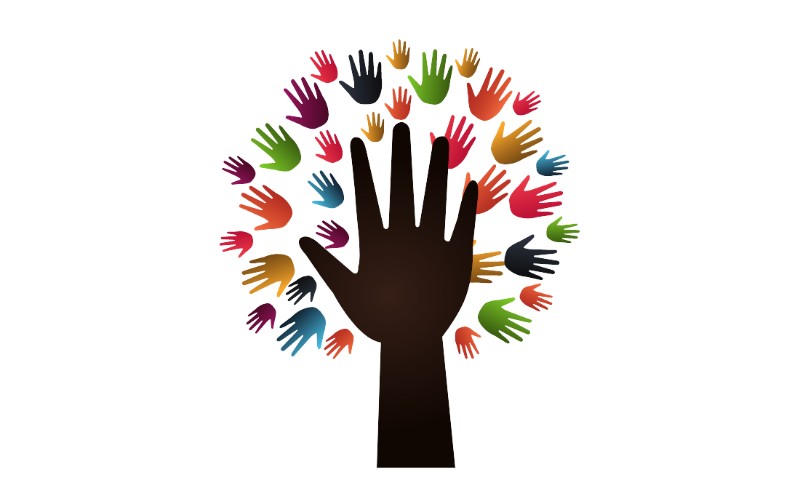 Conclusion
Yammer has a high potential, and the companies that introduced it have significantly improved collaboration, communication, internal relationships, dynamics.
The positive effects are:
quick problem resolution thanks to communication

sharing and inter-company growth of ideas useful for productivity and business development

the birth of new talents

greater employee satisfaction

ease of connection and communication between distant physical places and teamwork

greater sense of involvement and alignment with company objectives.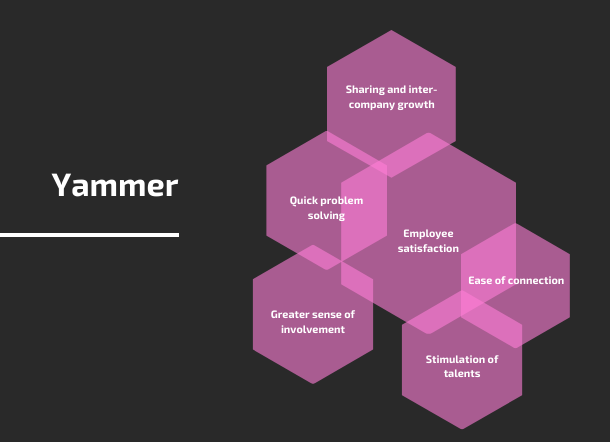 Furthermore, as Microsoft has always stated, updates will never stop.
These benefits have been brought to light as a result of the latter:
Yammer is a part of Office 365's overall governance strategy.

In SharePoint, a complete Yammer web part is possible.

For a digitized, complete, and up-to-date browsing experience, you can use Yammer or the Microsoft Teams collaboration platform.
So, do you see the value Yammer brings to businesses?
Give your business a chance to thrive!
What is intranet.ai?

It's the ready-to-use SharePoint intranet,
designed to reduce costs and implementation time.


Starting price is 2.450€ for a fully-featured intranet.

More than 25 features, including Intelligent Search, Document Management, Company News, and Teams Push Notifications.

100% integrated with Microsoft 365, Viva, and Power Platform.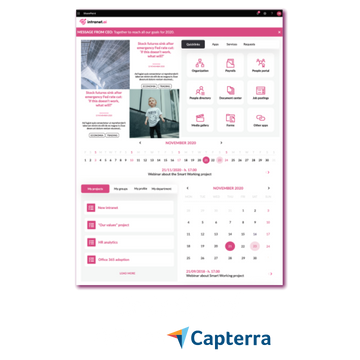 Giuseppe Marchi

Microsoft MVP for SharePoint and Microsoft 365 since 2010, Giuseppe founded Dev4Side and intranet.ai with the aim of helping companies to have a simpler and more effective working environment.
He works as a consultant for everything related to digital collaboration, intranet portals and Microsoft cloud platforms.