Enhance your company's communication with an extranet 
Since the intranet is the digital space reserved for the internal population of the company, the extranet is a software platform used for communications with members outside the organization.
Suppliers, distributors, and customers can interface with the company through a platform that best structures the work processes.
Let's see what you can do with an extranet.
What you will find in this article
What an extranet is and what it is used for in the company
Intranet vs extranet: differences between intranet and extranet

Why should the intranet and the extranet be integrated into companies?

Can Microsoft 365 be the right tool to build an extranet?
What is an extranet?
An extranet is a private network where people inside the company can communicate and connect with external resources in a reserved digital workspace.
As the name itself says, "extra" means any type of contact addressed to a circle of selected users outside the company. They can be customers, suppliers, distributors, sellers, and business partners.
As you might have already guessed, the role of this system is extremely important to allow collaboration. It promotes communication, sharing of information, documents, and the transfer of even large volumes of data between partners and organizations.
Since the platform is on a private computer network, it ensures the security of the content as it is not publicly accessible.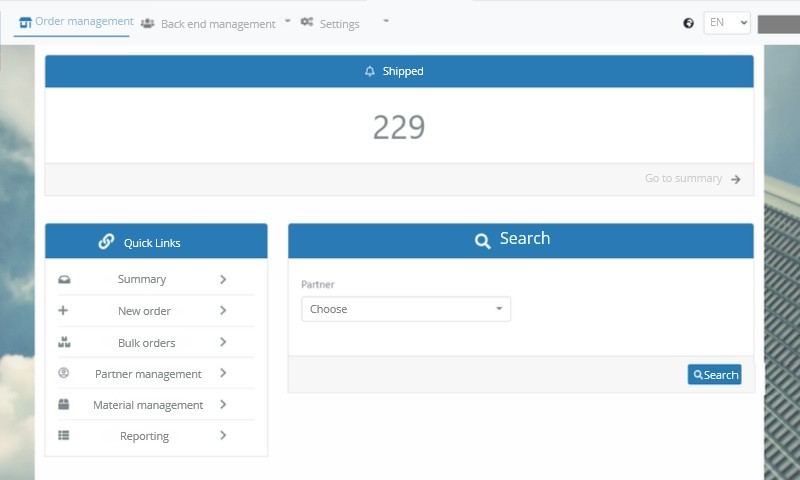 Intranet vs extranet: the differences
The intranet: it is a private business platform reserved only for the people inside the company. It represents a virtual place where employees can find what they need. It houses documents, up-to-date communications, services, training content, and other cutting-edge tools that allow you to structure and centralize workflows. The results? Saving time and money. Through it, the company manages to strengthen the internal business processes by increasing the productivity of employees.
Read more: Intranet: what it is and why it is necessary for your company
All departments within the intranet can interface with each other and generate discussions. Intra-corporate comparisons stimulate growth and increase the sense of belonging to the organization of which you are part.
This digital workspace reflects the company and provides a clear overview of its performance.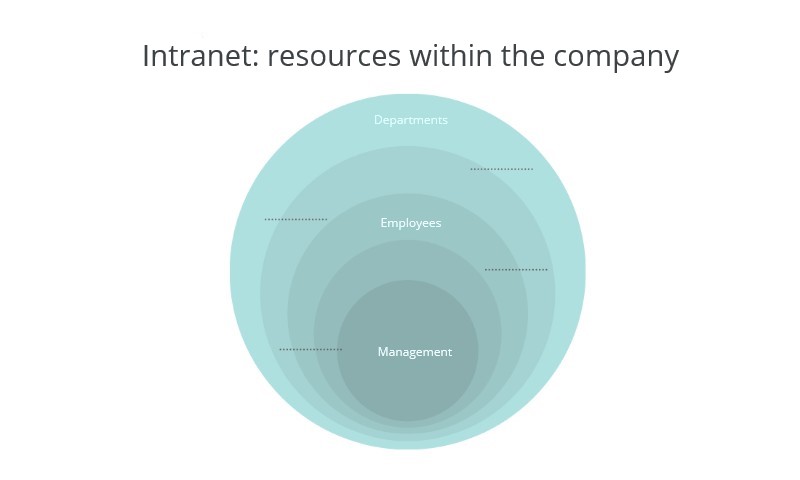 The extranet: employees within the company interface with companies outside the organization. It's a workspace where you can set deals with the distributors or with business partners and automate repetitive processes. An example of this is order and delivery management.
The aspect that companies are most attracted to is precisely the ability to model the platform according to their business needs.
The graph shows you all the possible interactions that the tool allows you to have with all the external resources that contribute to the life of the organization.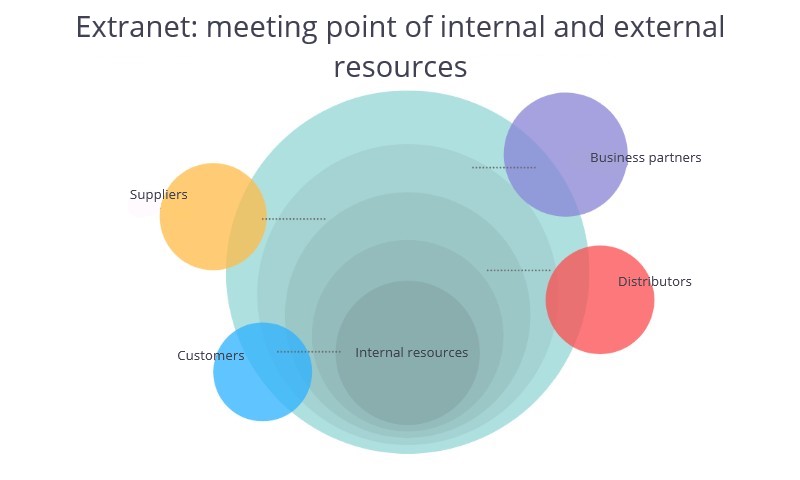 Multiple functions
The software performs a multiplicity of functions, and it is particularly useful when the company needs to deal with customers, suppliers, or partners.
Let's see some of these functions.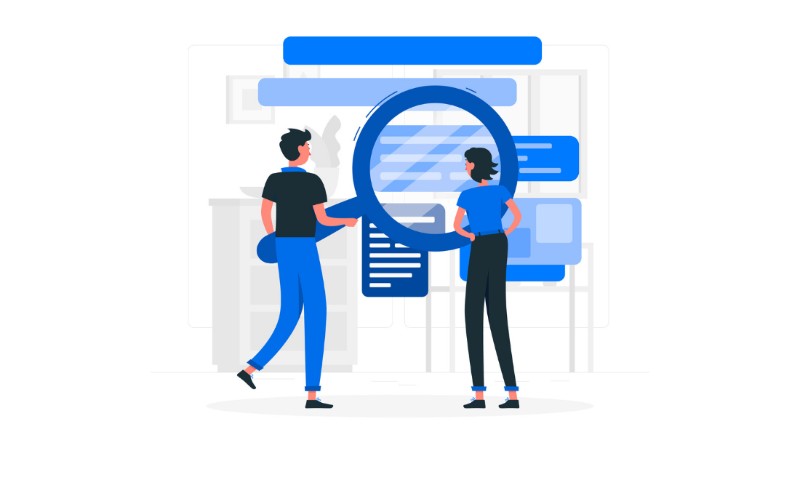 companies relate to each other more easily and collaborate through the common use of programs or apps created for this purpose.
the platform allows the exchange of a large amount of data between business partners. It responds to the need to exchange documents such as order forms, delivery notes, and loading lists. In this way, the company opens and closes its borders with ease, according to its sharing needs. The digital transmission of data also allows a precise and organized storage process.
What is intranet.ai?

It's the ready-to-use SharePoint intranet,
designed to reduce costs and implementation time.


Starting price is 2.450€ for a fully-featured intranet.

More than 25 features, including Intelligent Search, Document Management, Company News, and Teams Push Notifications.

100% integrated with Microsoft 365, Viva, and Power Platform.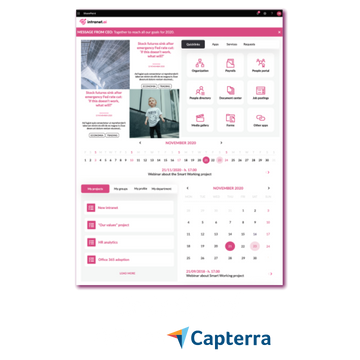 the circulation of information relevant to the selected users is in real-time. Updated and highlighted communications can be made available with a click.
it's an implicit, yet significant concept. The possibility to cooperate among businesses increases and encourages their cooperation.
Data management and organization:
data can be updated and made available to interested users in a very short time, ensuring a high degree of consistency, transparency, and security.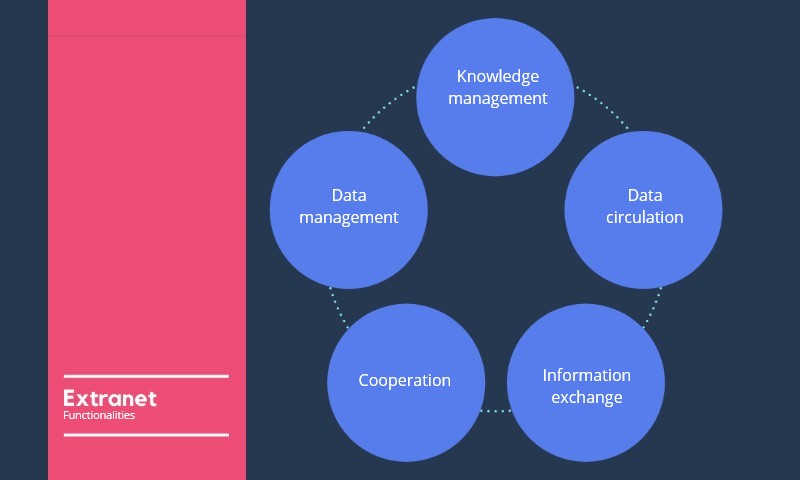 The results are saved time - that would be otherwise lost between email and phone calls - and ease of management.
Moreover, a further advantage of the system is that it performs for the company a kind of quality control on the products and services, correcting any anomalies.
​
What are the benefits of an extranet in a company?
Simplification of business processes
One of the benefits of an extranet is the simplification of frequent and repetitive business processes. The company may need to order regularly from a particular supplier and, to do that, it should resort to email and phone calls. Thanks to the extranet, however, these steps are halved in terms of time and actions.
All orders can be placed via your private network in a secure digital space. Interactions occur safely and in real-time. Invoices are stored together with other information in a single centralized place.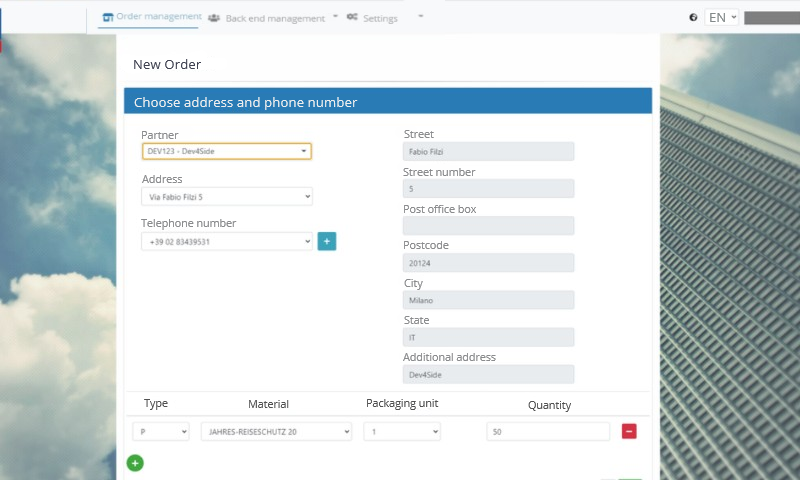 Interactions into an extranet occur in real-time and securely. For example, all information is linked to:
The external user involved in the process
The internal user who manages the process
In addition to storing everything in a common virtual space, you can keep track of all B2B interactions that take place between different companies.
The customer's user experience
In B2B relationships, it is important to focus on customer and partner satisfaction. Using such software helps to cultivate relationships with greater efficiency and fewer obstacles.
One of the main digitized benefits is the accessibility 24 hours a day, 7 days a week, to allow perfect synchrony with customers.
The agents with whom the company comes into contact can ask questions, upload data, and approve ideas or projects at any time. As a consequence, you break down the barriers of time and place.
A safe tool
If well designed, the extranet has the necessary tools to ensure maximum safety.
Emails and other means, which are usually used for transferring documents, do not provide appropriate protection to avoid potential violations that could be disastrous.
One of the objectives is to eliminate these concerns and ensure that sensitive information remains in a protected environment.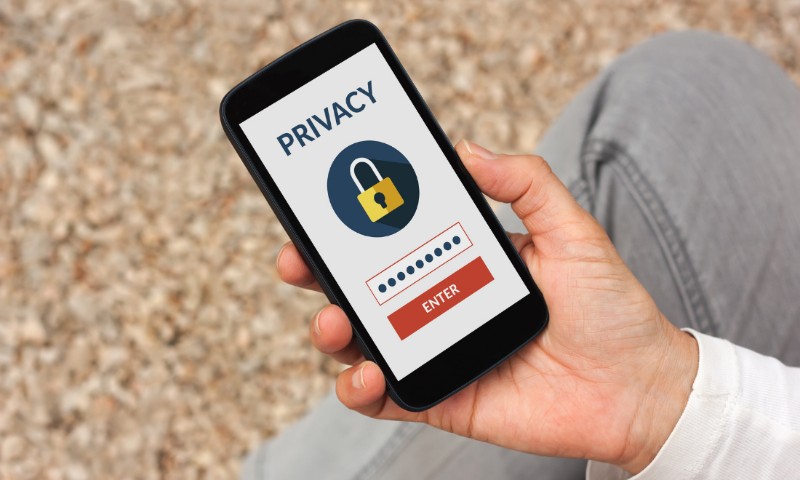 Microsoft 365 - Solutions
If you are looking for software that can guarantee quality and security, surely the market leader Microsoft 365 cannot disappoint your business expectations.
You can start from its intranet service, SharePoint Online, and use a part of it as an extranet.
This approach allows having a single centralized system in which to merge the processes of an intranet and an intranet, without having to maintain and manage separate applications. SharePoint Online, through the permissions, can define which portal is private and which can be opened to external users, after authentication.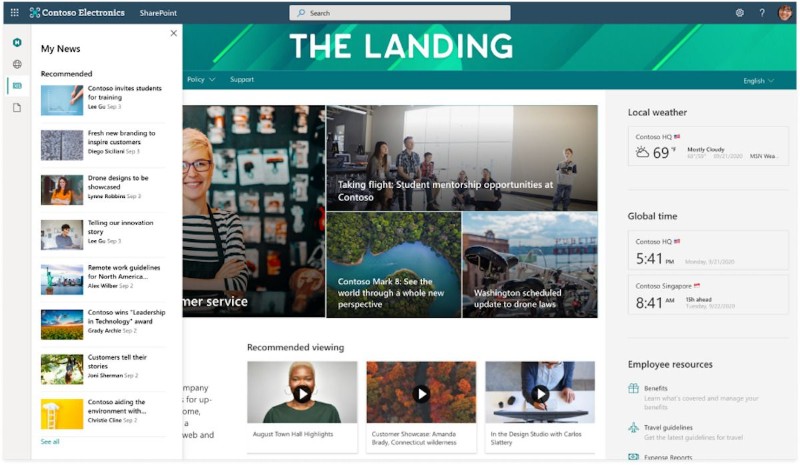 An extranet with intranet.ai
An extranet, ready to use with Microsoft 365?
Intranet.ai can help you create a business extranet portal in no time. Our solution completely adapts to create an external portal, using all the collaborative tools of Microsoft 365
Intranet and extranet in one place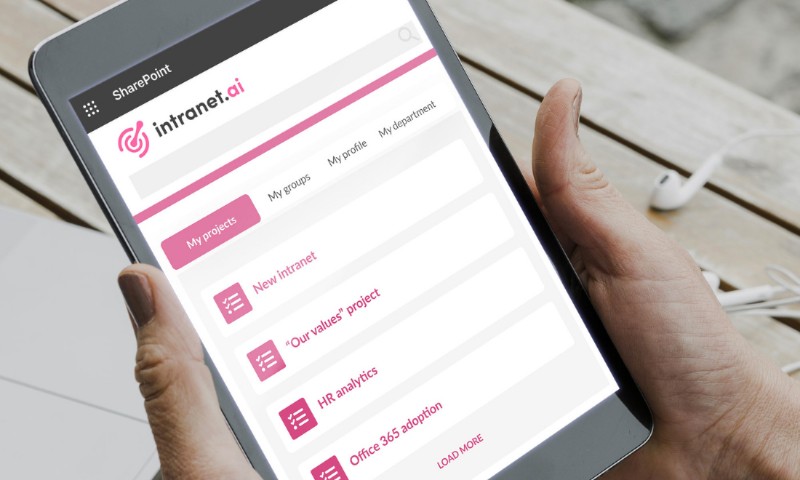 In the past, the intranet and extranet had always been seen as separate entities and applications.
More specific programs were involved for their use and making them communicate and integrate required extra costs that were hardly identified during the analysis of the project.
On the contrary, today, intranet and extranet coexist in harmony in the great modern sphere of intranet software, one of the greatest advances achieved for the professional sector.
The intranet now as a whole contains in a single digital package also the extranet to eliminate problems of communication or integration between the various software.
The aim is to ensure collaboration between internal employees and external stakeholders of the company.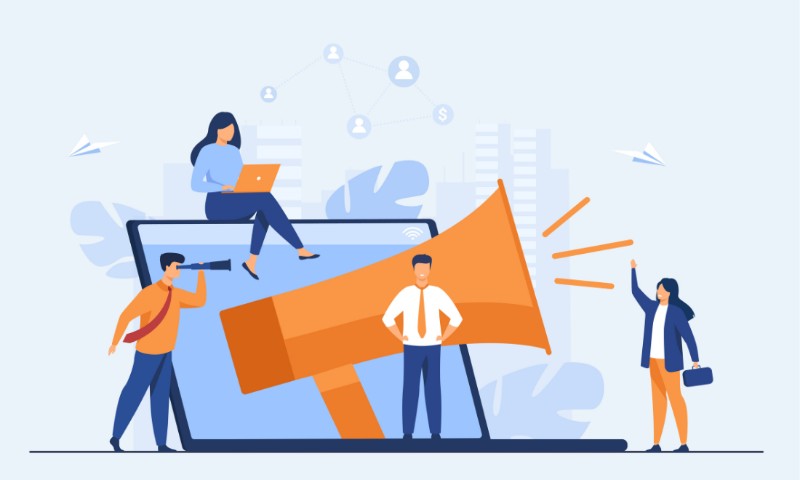 Where the intranet can't go, the extranet begins.
In this way, you can communicate with employees, suppliers, partners, and customers in one digital location, saving time and money.
Within them, digitized processes of all types are embedded and optimized. They can vary from those belonging to the sphere of marketing to those of human resources. The goal is the formation of a digital workspace in which the company can meet a variety of diverse needs.
For this reason, having both intranet and extranet is extremely advantageous, if implemented correctly. You can control both internal and external problems and find state-of-the-art ways to solve them.
What is an Extranet? An easy and secure adoption with intranet.ai!
If you doubt that introducing a new collaborative and innovative software can generate security problems and confusion in employees, do not worry.
These tools are now adopted by hundreds of SMEs and large companies, who have relied on Microsoft 365 to implement safe applications to expose on the internet.
Intranet.ai is a Microsoft Gold Partner with more than 10 years of experience in developing web applications in this field.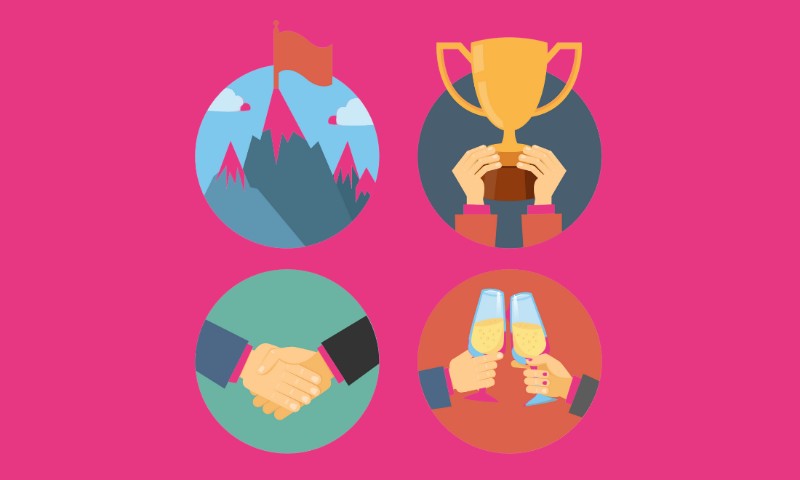 Giuseppe Marchi

Microsoft MVP for SharePoint and Microsoft 365 since 2010, Giuseppe founded Dev4Side and intranet.ai with the aim of helping companies to have a simpler and more effective working environment.
He works as a consultant for everything related to digital collaboration, intranet portals and Microsoft cloud platforms.