Microsoft 365: everything you need to know
Microsoft 365 is the suite that finally brings business apps to the cloud, ensuring that your data is fully protected.
Its features enable you to automate work processes and create a new generation of digital documents, communication flows and ways to interact with your teams.
So let's find out what Microsoft 365 includes and what has changed from Office tools and subscriptions.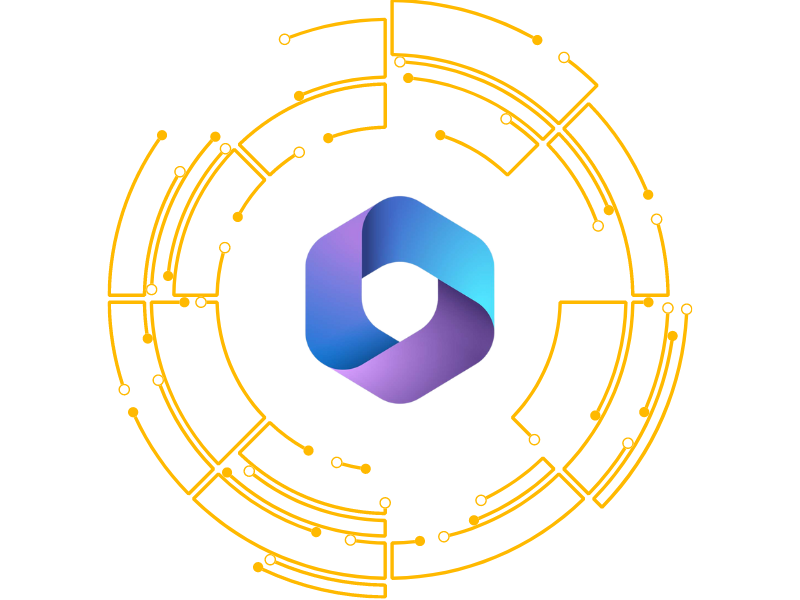 What you will find in this article
Microsoft 365: what is it, how much does it cost, and how does it work


Microsoft 365 represents the evolution of Office 365 in the cloud.
Although it is common to think so, this change is not merely a restyling of the Office suite, but constitutes a real revolution in work, collaboration, and digital communication.
In fact, Microsoft 365 is designed as a system to improve the productivity of people and businesses through intelligent cloud services, advanced security standards, and innovative applications that are constantly being updated.
Speaking of the latter, the suite becomes the hub for Office 365, third-party, Microsoft Power Platform and Microsoft Viva apps.
But before we get into the details of the wide range of features and benefits that make up the Microsoft 365 offering, let's look at what this change brings to the world of Microsoft licensing.
Microsoft Licensing:
How licensing changes from Office 365 to Microsoft 365


First of all, let us emphasize that Office 365 licenses automatically convert to Microsoft 365 licenses. So, there is no need to worry.
To better clarify the transition that has recently taken place, we offer the following diagram:
Office 365 Personal 

= 

Microsoft 365 Personal 

Office 365 Home 

Microsoft 365 Family 

Office 365 Business Essentials 

Microsoft 365 Business Basic 

Office 365 Business Premium 

Microsoft 365 Business Standard 

Microsoft 365 Business 

Microsoft 365 Business Premium 

Office 365 Business 

Microsoft 365 Apps for business 

Office 365 ProPlus 

Microsoft 365 Apps for enterprise 
The following Office 365 plans, however, do not change:
Office 365 E1.

Office 365 E3.

Office 365 E5.
Added to this is the fact that individual Office 365 applications can be purchased with Office 2021 licenses.
In addition, the cost of the Office 365 subscription does not change when switching to Microsoft 365. In fact, as mentioned earlier, each license automatically upgrades, changing its name and making new features available.
Below, we list the current prices to purchase a Microsoft license*:
Microsoft 365 Personal

7 euros per user/month

69 euros per user/month

Microsoft 365 Family

10 euros per user/month

99 euros per user/year

Microsoft 365 Business Basic

5,10 per user/month (annual subscription with automatic renewal)

Microsoft 365 Business Standard

10,50 per user/month (annual subscription with automatic renewal)

Microsoft 365 Business Premium

18,60 euros per user/month (annual subscription with automatic renewal)

Microsoft 365 Apps for business

8,80 euros per user/month (annual subscription with automatic renewal)

Microsoft 365 Apps for enterprise

12,80 euros per user/month (annual subscription with automatic renewal)

Office 365 E1

8,40 euros per user/month (annual subscription with automatic renewal)

Office 365 E3

22,60 euros per user/month (annual subscription with automatic renewal)

Office 365 E5

37,40 euros per user/month (annual subscription with automatic renewal)
*Updated to December 2022
Now that we have seen the different plans available in order to compare licenses and subscription costs between Office 365 and Microsoft 365, it is worth spending a few words on how the new suite works.
What is intranet.ai?

It's the ready-to-use SharePoint intranet,
designed to reduce costs and implementation time.


Starting price is 2.450€ for a fully-featured intranet.

More than 25 features, including Intelligent Search, Document Management, Company News, and Teams Push Notifications.

100% integrated with Microsoft 365, Viva, and Power Platform.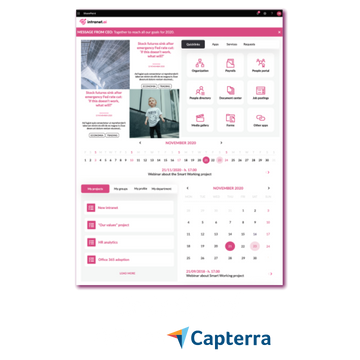 What is
Microsoft 365 for


The Microsoft 365 universe wants to give a major boost to remote work.
To achieve this goal, Microsoft has therefore focused on moving tasks from traditional on-premise software to the cloud.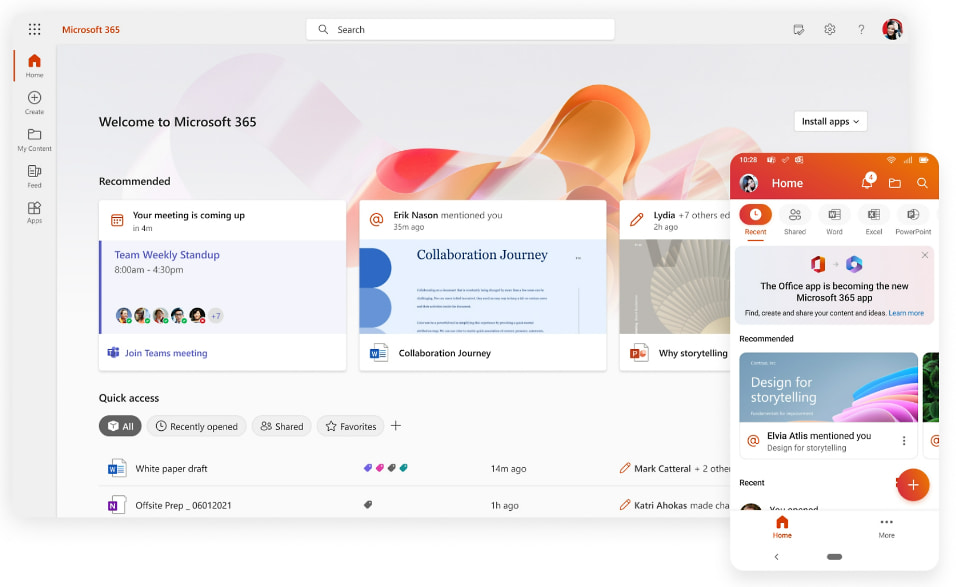 Migrating to the cloud brings a number of benefits for single professionals, as well as small and large businesses.
In fact, with Microsoft 365 it is now possible to:

Access content from any location and device.

Edit files at the same time as other colleagues and associates.

Manage tenant and corporate identities more easily and securely.
Regarding the latter feature, Microsoft's new universe allows members of an organization to share and cooperate on sensitive information with the highest levels of digital security.
It thereby replaces the amount of time and resources invested in protecting on-premise software with an intelligent security system capable of extending throughout the organization, whatever its size, and already enabled within Microsoft Cloud.
The Microsoft 365 security system thus consists of:
Multi-factor user authentication.

Encryption of all files stored or in motion.

Ad-hoc settings against phishing and malware.

Email with spam filters and virus protection.

Multiple levels of authorization to allow viewing, editing or creating files.
The result is comprehensive, automatic protection that is continuously updated to comply with key regulations and the latest standards related to cyber security and online data privacy.
Individuals and companies are thus allowed to focus only on their own activities, which are supported by all the tools that make up the Microsoft 365 offering and, most importantly, by their deep integration.
What's in Microsoft 365


The Microsoft 365 suite includes everything that was once included in Office 365.
So you will find again the good old Word, Excel, PowerPoint and Outlook, to name a few. But you will also find the innovative Microsoft Power Platform and Microsoft Viva solutions.
Specifically, Power Platform encompasses apps developed by Microsoft with the goal of automating business processes. For example, initiating an approval flow whenever a project document is created.
What's new is that repetitive tasks and processes can be automated in low-code mode. This means that you will not need much computer knowledge or code writing skills to digitize your business.
Specifically, Power Platform consists of:


The application for automating business activities and processes.
Among its countless features, we highlight the ability to send automatic reminders to remind of important deadlines, move corporate data between systems according to a schedule, or automate the processing of data from Excel on a local computer.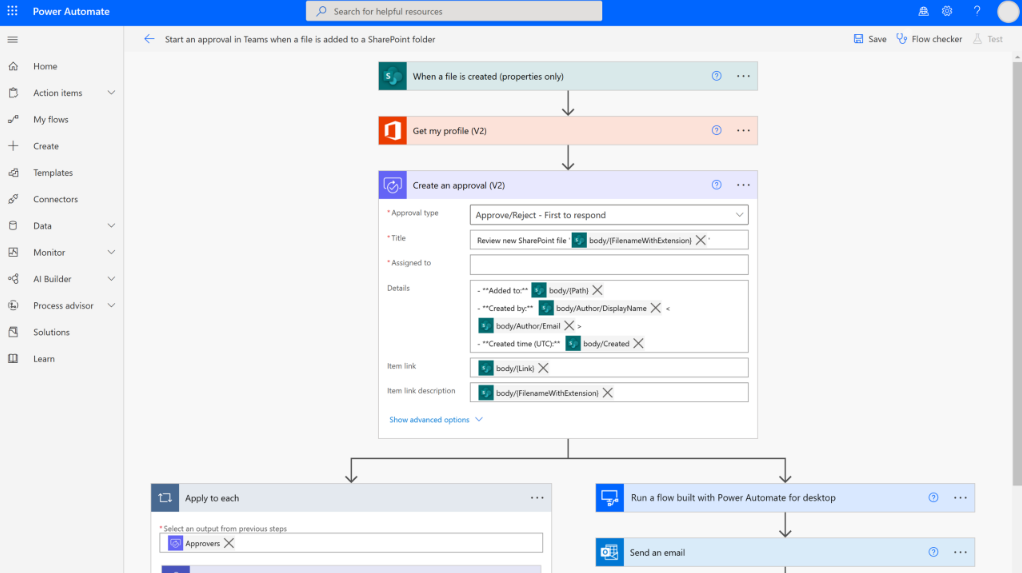 The platform for developing custom apps with responsive design.


The collection of software services, apps and connectors to transform unrelated data sources into a consistent, graphically appealing and interactive report.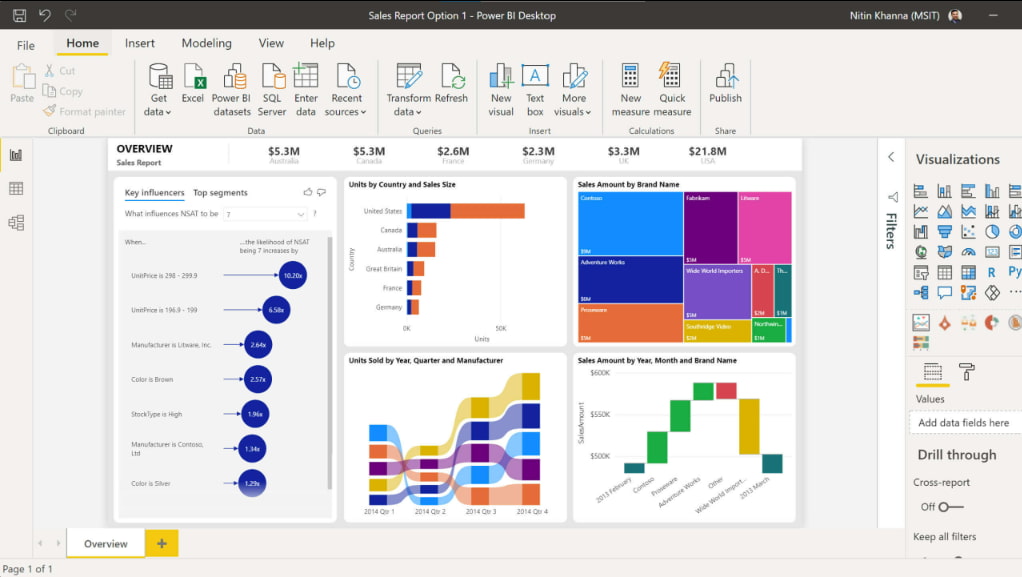 Viva, on the other hand, is the suite that contains additional personal apps for Microsoft Teams.
These apps constitute actual modules that are intended to increase engagement and collaboration among different teams. We briefly introduce them to you below:


The app allows all users to discover the latest company news, the hottest communications and conversations of the moment, and useful tools and resources through customizable quick accesses.
One example? You can enter your SharePoint intranet and access all its content without ever leaving Microsoft Teams.


The app enables the creation of a corporate community, giving users the ability to connect with everyone in their company.
In one space, featuring the real-time communication typical of Teams, everyone will be able to share ideas, ask questions and participate in discussions related to live events and corporate webinars.


The platform that gives users tailored suggestions to learn how to better manage their time, take care of their mental health and keep communication with their teams on.


The module that helps the company keep track of its goals consistently and collaboratively so that it aligns the vision and coordinates the activities of all its people.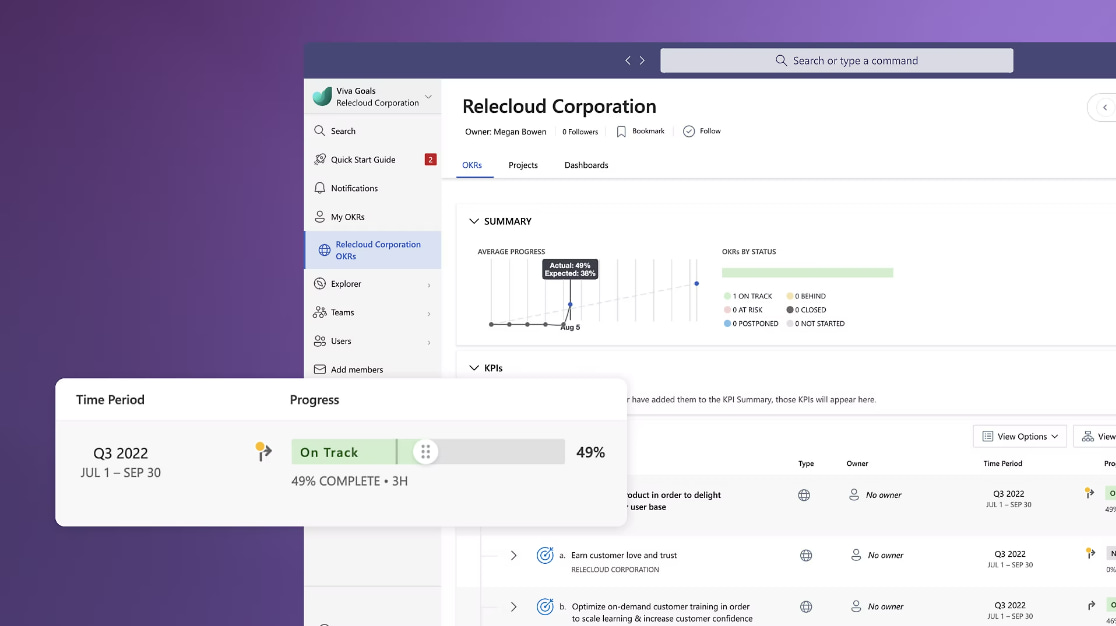 The platform that brings professional training to Teams.
From LinkedIn Learning to Microsoft Learn, via external content providers, users will be able to take a myriad of courses on a wide variety of topics on their own.
But the most important new feature is the introduction of a new learning model: social learning.


The information system that extends the search capabilities of Microsoft Teams.
With AI, your company can disseminate useful information in the form of tabs and topic pages.
In this way, users will be able to search by keywords throughout the integrated Teams space and get fact sheets with short descriptions, quick links, and contact information.


The app salespeople need.
With this modern CRM (customer relationship management) platform, you can forget the hours spent collecting and entering data about customers to focus on pursuing a relationship with them.


From our brief presentation, it is clear that Microsoft Teams plays a key role within the new Microsoft 365 suite.
No surprise.
In fact, you may have heard the term "Teams as a platform".
This definition refers precisely to the new role of the application, which aims to transform from a simple portal for internal communication into an all-round platform capable of handling tasks other than sending chat messages or scheduling video calls.
For example, Teams can be used to create, manage and monitor shared work plans that accommodate all of a team's activities and break them down into well-defined stages of progress.
This is possible because of its integration with Microsoft Planner.
Or, as anticipated earlier, you could connect your Teams to SharePoint to import lists of resources and documents, pages from a site, or all intranet news.
In this way, you can keep useful files and communications handy to organize your work within a single digital space.
To explore this topic further, check out our article on the integration between Microsoft Teams and SharePoint Online.

Subscribe to our newsletter!

You will find:


Short training and update videos on Microsoft 365 news.
Our guides for business digitisation.
In-depth articles on how to improve your intranet by making the most of your Microsoft 365 subscription.

You can always unsubscribe at any time.

To wrap up the overview of the Microsoft 365 suite, we cannot refrain from spending a few words on SharePoint.
In fact, one could say that while Teams is designed to be the heart of the new digital workplace, SharePoint is meant to be the lifeblood that feeds it.
Metaphor aside, we mean to say that SharePoint is the basis for creating, sharing, cataloging, and editing both document and communication content that will then be disseminated and used in its sites and the Teams app.
In terms of enterprise document management, SharePoint provides crucial features such as:
The partitioning into lists of files and master records.

The cataloging with metadata.

User permissions on 9 levels.

Real-time and collaborative edits.

The history containing all versions of a file.
And much more.
On the communication side, however, we find features such as the creation of private sites, in which to spread the culture, updates, services and materials on which your company's life is based.
Within an intranet, in particular, SharePoint allows you to create attractively designed news posts or themed pages dedicated to special initiatives or to specific departments or locations.
To explore this topic further, we recommend reading our article on SharePoint and its 7 key features.
All in all, everything your company needs to digitize, connect with its people or finally achieve those ambitious productivity goals is included in the new Microsoft 365 suite.
Do you want a complete, ready-to-use intranet?
"Intranet-in-a-box" is the complete service for your company: 
We offer you a branded intranet already integrated with Microsoft 365 and Viva. 
We go beyond the limits of a standard corporate site with our 100% customizable features. 
We update all components to the latest Microsoft standards. 
Simplify internal communication and digitize your business with minimal investment. 
Giuseppe Marchi

Microsoft MVP for SharePoint and Microsoft 365 since 2010, Giuseppe founded Dev4Side and intranet.ai with the aim of helping companies to have a simpler and more effective working environment.
He works as a consultant for everything related to digital collaboration, intranet portals and Microsoft cloud platforms.