Microsoft Lists: What it is and 6 new features to track business data

Let's talk about Microsoft Lists, the app that helps you and your team organize their work in the most fluid and efficient way possible.
You'll learn how to use it, what permissions you can apply, the key features, and other interesting facts and hints to help you better understand the platform's benefits.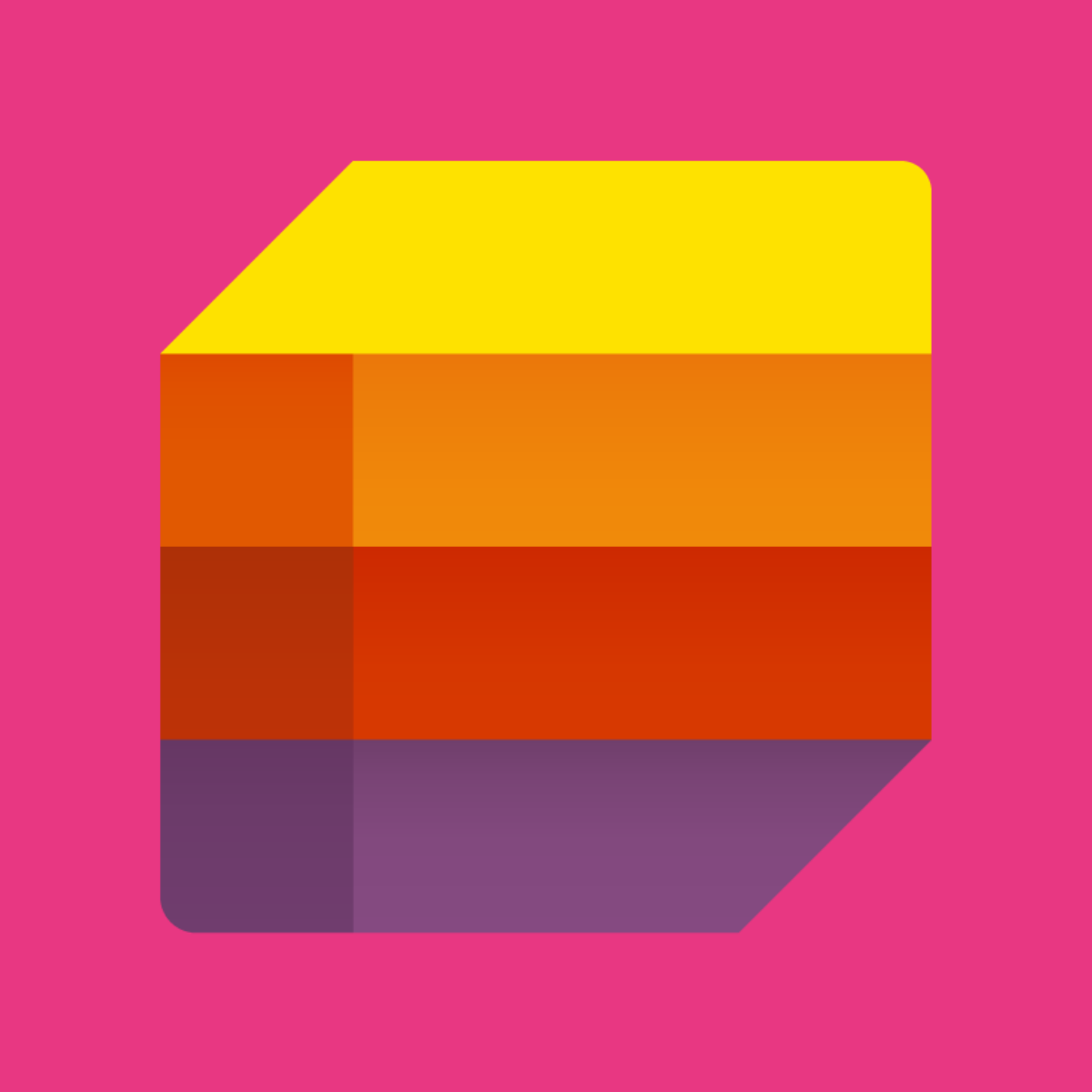 What you will find in this article
What are Microsoft Lists

How do they work

Permissions affecting the app

6 key features you can use at work
Microsoft Lists: the evolution of SharePoint lists
Microsoft Lists is a new app in the Microsoft 365 ecosystem.
It's never been easier to organize your work and collaborate with others on your intranet or within your Teams groups.
Users can now create new lists within the same team or add existing lists from another SharePoint site to which they have access.
Microsoft List was created as an evolution of SharePoint intranet lists, which are widely used by businesses to organize and track internal information. It helps you distribute tasks in intuitive, intelligent, and flexible lists.
This way, you'll have more control over your daily tasks and will always be in touch with your team because you'll be working on the same priorities.
With the Lists app, you can:
create lists for the work routine

keep track of resources and events

manage your inventory

insert chats, groups, and calendars.
These lists are displayed on the SharePoint home page, which compiles all your favorite and recently visited pages into a single page. The page layouts are very similar.
You can find the home Lists by going to the lists section of Office 365. Additionally, by displaying your most recent and favorite sites in the foreground, you will be able to see a list of them. Each view is one-of-a-kind and tailored to your preferences.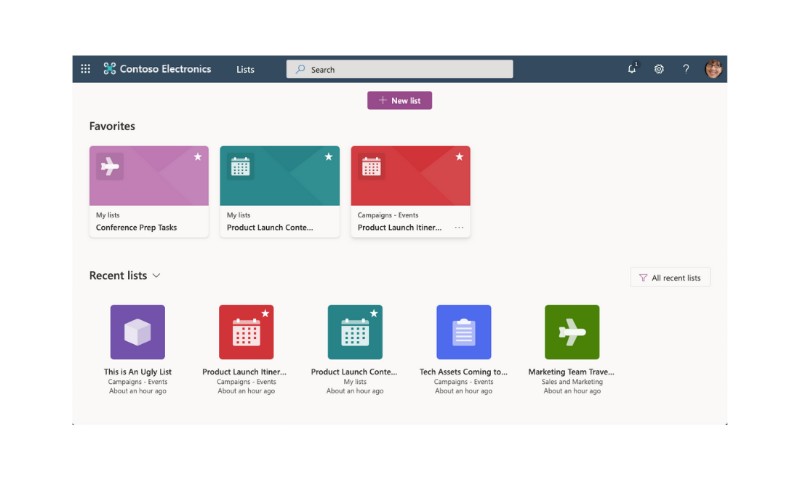 Lists can be found on SharePoint, Teams, and OneDrive for Business, among other places.
Microsoft Lists is a feature of the Teams desktop, web, and mobile clients.
Microsoft Lists: working in a team is easier
People who work in groups frequently use Microsoft Lists.
You can collaborate within your group with lists that use flexible and intuitive views like grids, tabs, and calendars, thanks to this app.

You can also refine each list by adding new columns, defining the choices to be placed in drop-down menus, editing custom views, and sharing links to ensure that MS Lists works best for you and your team.
Lists will not only help you keep track of information, but they will also allow each item to speak for itself in a clear and visual manner.

In a single integrated experience, materials and conversations are kept side by side.
The team maintains constant synchronization even when faced with minor changes.
What is intranet.ai?

It's the ready-to-use SharePoint intranet,
designed to reduce costs and implementation time.


Starting price is 2.450€ for a fully-featured intranet.

More than 25 features, including Intelligent Search, Document Management, Company News, and Teams Push Notifications.

100% integrated with Microsoft 365, Viva, and Power Platform.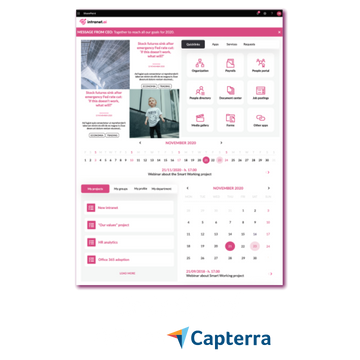 How Microsoft Lists work
Microsoft Lists is a centralized platform for viewing and managing all your individual and group lists.
You'll find all your favorites and most recent ones, as well as ones you've shared directly and those shared with you through a Teams group.
You can choose from four predefined views, or four main views, when creating each list: list, grid, gallery, and calendar.
When you first create a list, the grid is the first page you see.
They primarily consist of rows and columns that can be reordered and configured as desired.
When you need to quickly edit the information in a list, the grid is the best option.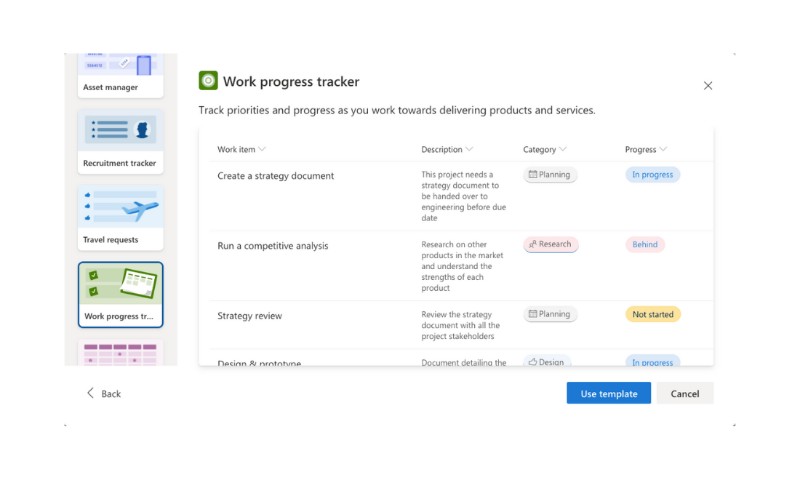 The list is similar to the grid, but it lacks the ability to edit.
The gallery, on the other hand, is ideal for highlighting lists that include images.
When the information in the lists includes dates, the best way to see everything is to use the calendar view.
You can also choose the views that best suit your needs, and you can easily track the progress of your activities thanks to the lists you've created. Finally, you can change an element's background-color: orange indicates that the status is "Under review," while green indicates that the status is "Approved."
When the background, font color, and icons meet certain criteria, they change dynamically.
Use ready-made templates on Microsoft Lists
If you don't have time to create these lists from scratch, don't worry. You can take advantage of ready-made list templates that comply with the organization you belong to.
In fact, on the SharePoint intranet in the Microsoft List, tailor-made models have been designed for specific use cases such as the insertion of new hires, problem monitoring, resource management, itinerary travel management, and much more.
You can start common scenarios with structure, modules, and pre-configured features with one click.
Here are some examples.
Problem Management Template: You can track problems and fix them.
Event Itinerary Template: You can organize all the details of the events.
Patients Model: You can record patient needs and status for healthcare teams to monitor and coordinate care activities.
Loans Model: you can track the status of loan applications.
These templates come with a predefined list structure, form layout, and formatting options for list view and details to allow users to use them quickly.
To confirm that you've chosen the most suitable model, the app first lets you access a preview of what the list will look like, along with some examples of data.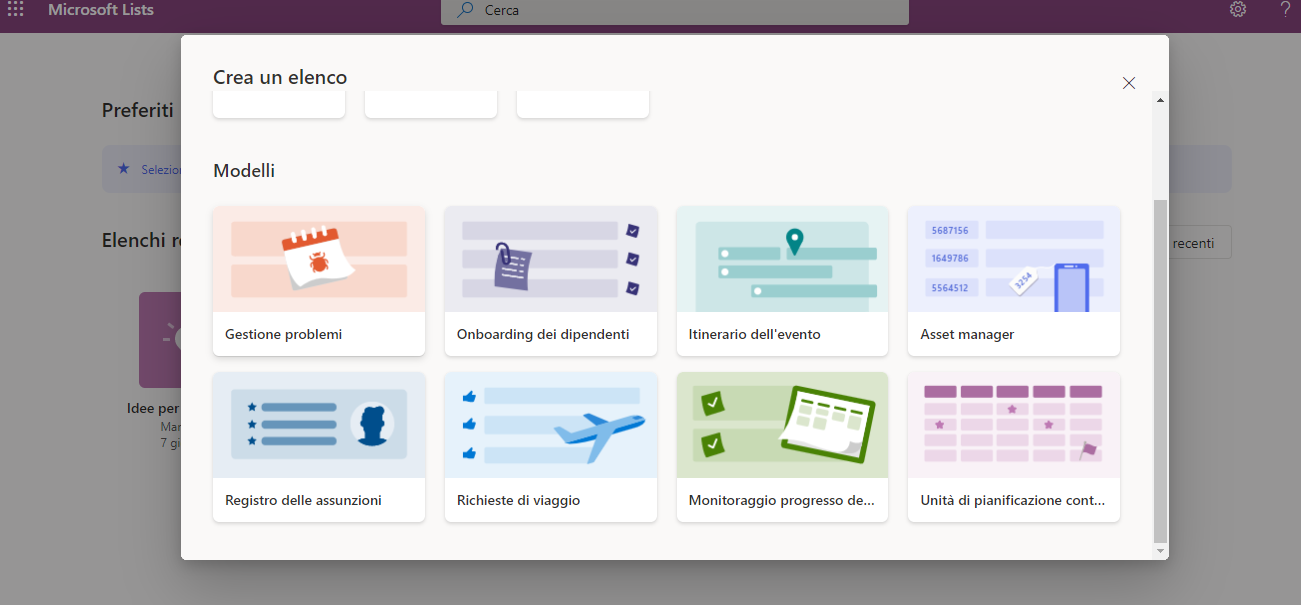 You have all the new formatting items, views, and more to better represent your project information and get back to work once you've chosen your template, whatever it is.
To keep everyone in the loop, you can always use customizable settings, rules, and smart alerts.
To save time, new lists can be created from existing ones while maintaining structure and formatting, or data from Excel tables can be imported to generate them immediately.
Once your list is ready, where do you save it?
You can save a list to any SharePoint site where you have member access, or you can save it to OneDrive for Business as a personal list.
To make any changes easier, your new list will open in full-screen mode. You can see exactly where your list is stored if you look at the URL.
The standard SharePoint list toolbar will appear, allowing you to add a single item, quickly edit it, and send it to Power Platform.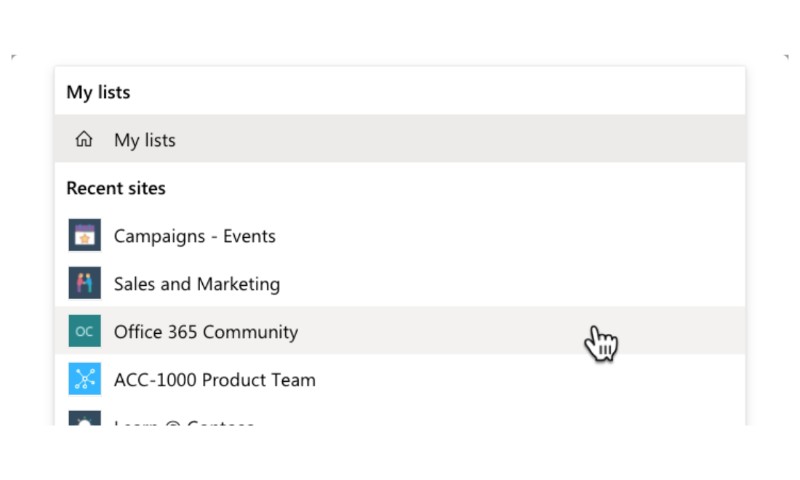 Share information created in Microsoft Lists
Whether the elements of the lists you've created and saved are short or long, complex or simple, it's critical to collaborate and benefit from it.
It is possible to share both personal and team lists owned by members who are members of the team.
You can share a full list with editing permissions or send it with read-only permissions.
If you don't want to share them all, you can choose which elements you want to share and then request a password to gain access to them.
You can also choose whether to allow them to be edited, as well as set an expiration date.
Other members can add comments to the list or individual items after the lists have been shared.
App permissions
Let's take a look at List permissions.
The same settings that apply to SharePoint also apply to Microsoft Lists. As a result, lists inherit permissions from the site to which they belong by default. As previously stated, these permissions give you the ability to choose which actions users can perform, such as whether they can create or edit lists.
On Manage App, you have the option of restricting what users can do on Lists in some cases. If one member of a team, for example, changes the default list view, it affects all team members.
You can restrict list views to only the team owner or specific team members using limitation management.
Enable or disable Lists in your organization
Lists is enabled by default for all Teams users in the organization. However, you can choose to disable or enable the app on the Manage apps page in the Microsoft Teams admin center.
Here are the only two steps you should follow:
In the left panel of the Microsoft Teams admin center, go to Teams apps > Manage apps.

Choose one of the following:
To turn off List for your organization, search for the app, select it and click Lock.

To enable List for your organization, search for the List app, select it and click Allow.
The interactions of Lists: SharePoint, Microsoft Teams, and Planner
Lists interact with SharePoint.
Whenever you fill in a directory, you will view it in the quick start of the homepage – same website. You can also add lists to a SharePoint page as a web part.
In addition to SharePoint, however, there is another great advantage in Lists: its integration with Microsoft Teams. You can add a list as a tab to your Team channel, so you have quick access to all the same information, whether you're using List, SharePoint, or Teams.
Just click + to open the tab library and add a new instance of the Lists app tab to a channel to get started.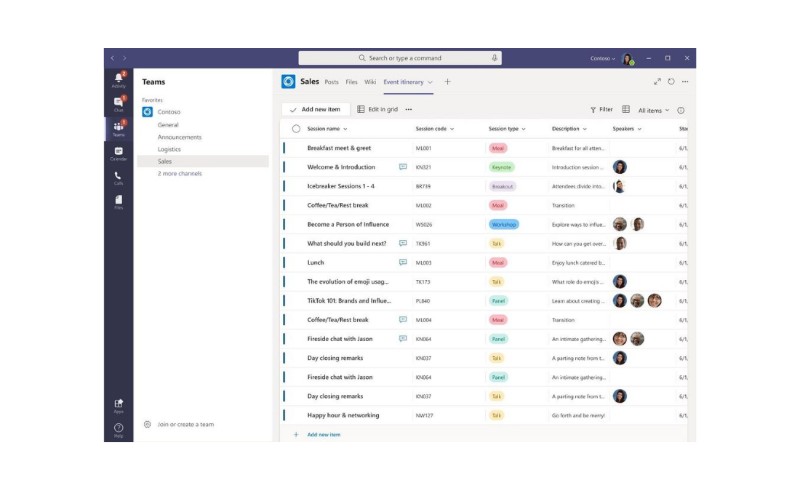 Are you familiar with Planner? It's the Microsoft 365 app, which aids in work planning.
The activities you report can be integrated into the lists, ensuring that you always have complete planning.
The transition from one platform to the next is smooth and seamless.
The goal of Microsoft 365 is to provide users with a unified and digital experience in which all apps interact with one another to give them more control over their work.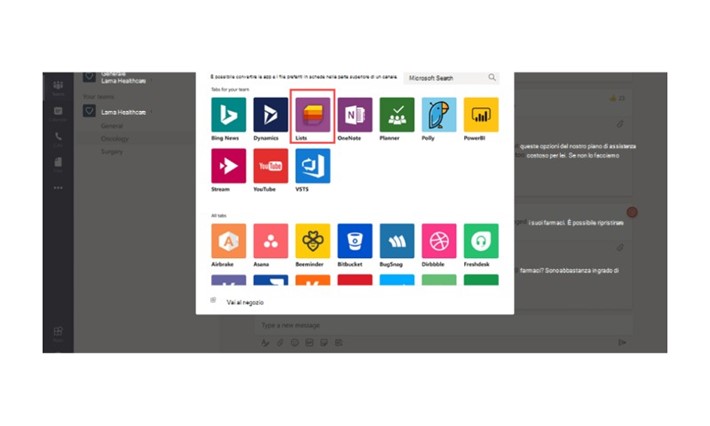 6 useful features of Lists
Content strategy for social media
To organize and manage social media content scheduling, use the Content Scheduler template in lists. For example, you can include all the images you'll be posting, as well as the expiration date, the date you'll be posting, and more.
Create a digital access sheet
You can make an access sheet with lists to save visitor information, an image of their ID, and other information. In a few ways, this can cut down on the time it takes to manage logins and notifications:
When a visitor leaves, you can automatically notify your agent at the front gate so they can check their vehicle.

Save visitor data so that it doesn't have to be collected again on subsequent visits.

Make use of a simple cloud-based registry.
Ticket tracker for customers
Another useful feature of Microsoft Lists is the ability to convert it into a light CRM program for tracking customer tickets using a built-in model.
Assign the responsible customer service agent, include a description of the problem or question, and prioritize and track the entire process.
Management of a project
Let's say you need to keep track of a project's progress but don't need an expensive and complicated project management application. In that case, Lists can easily handle yet another workflow.
Add tasks and deadlines, receive notifications when a task is marked as "completed" or "problem," and use the calendar view to see the entire project timeline.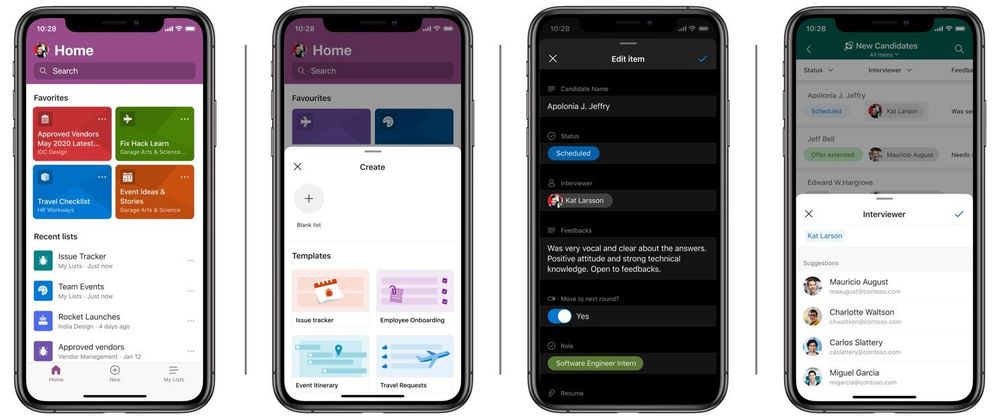 Device resource management
You can easily track corporate devices and important related data. Include all these details in your resource list to save time and eliminate the need to spend hours looking up warranty information or the last service date.
Instead of scrolling down a list of spreadsheet names, a visual grid view makes it even easier to find the items you need at a glance.
Onboarding a new employee or supplier
Lists' onboarding model allows you to keep track of onboarding activities for employees and suppliers. By adding a notification rule, it automatically notifies the party in charge of the next activity.
When a "confidentiality agreement" item is marked as "signed," Lists can notify the HR department that the employee's account access to the cloud has been granted.
Fill out the form to get your free guide
Build and improve your digital workplace with more than 100 features and innovative, engaging and intelligent ideas.
Fill out the form and receive your free guide now!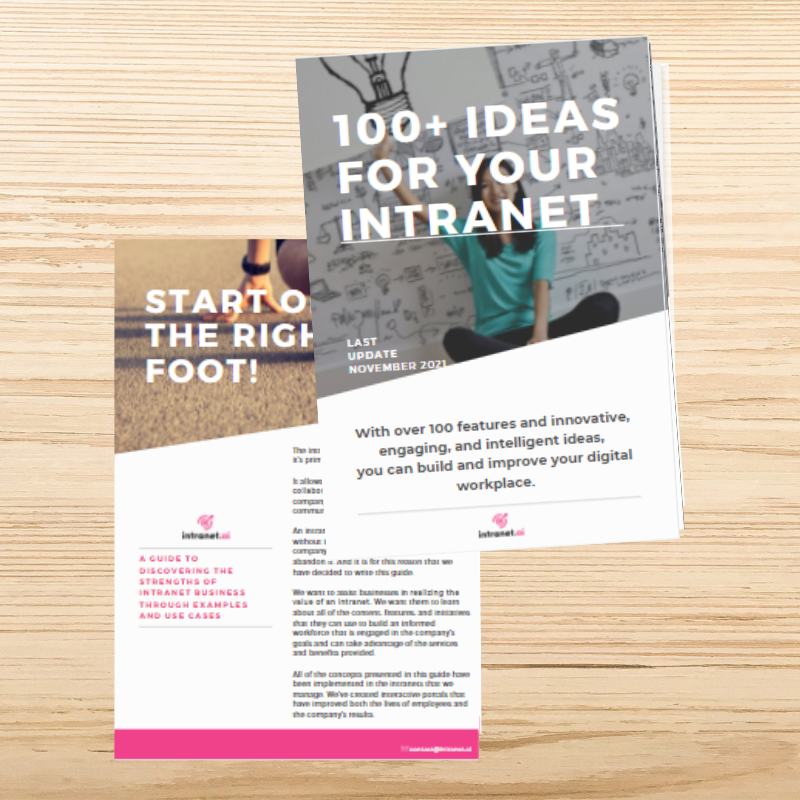 Giuseppe Marchi

Microsoft MVP for SharePoint and Microsoft 365 since 2010, Giuseppe founded Dev4Side and intranet.ai with the aim of helping companies to have a simpler and more effective working environment.
He works as a consultant for everything related to digital collaboration, intranet portals and Microsoft cloud platforms.