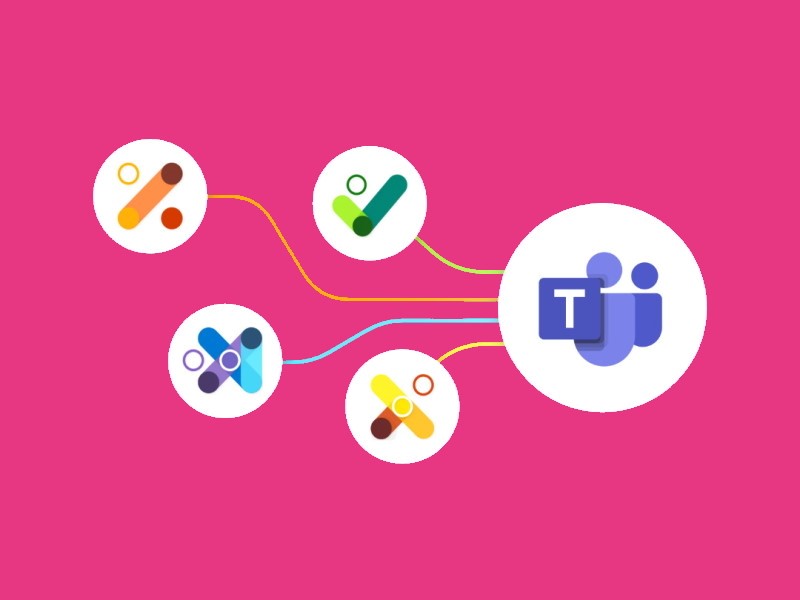 Microsoft Viva: what it is and what its scope
Microsoft has recently released Microsoft Viva, the new digital employee experience platform. 

The new application is divided into 4 items: Viva Connections for conversation, Viva Insights for wellness, Viva Topics for knowledge, and Viva Learning for training.
As a result, tools for employee participation, learning, happiness, recognition, and knowledge sharing are seamlessly integrated into the workflow.

Let's learn more about it.
What you will find in this article
What is Microsoft Viva and how does it work?
What does employee experience mean?
Which are the 6 key elements of the employee experience?
Microsoft Viva Connection components: Microsoft Viva Connection, Microsoft Viva Insights, Microsoft Viva Topics, Microsoft Viva Learning
FAQs regarding the main questions about the product
What is Microsoft Viva, and how does it work?
Microsoft Viva is the new digital employee experience platform from Microsoft.

Seamlessly integrated with the productivity and collaboration tools of Microsoft 365 and specifically of Microsoft Teams, it aims to help everyone in the company team learn and grow through new digital experiences.

The platform can also be customized so that people can integrate their own employee experience solutions. As a result, employees will be able to use them in a more convenient and accessible manner.

We've already mentioned that it's made up of four parts: Viva Connections, Viva Topics, Viva Insights, and Viva Learning.

These enable the company to interact with its employees and provide new functions and content by focusing on four areas: communication and conversation, workplace wellness, knowledge sharing, and training.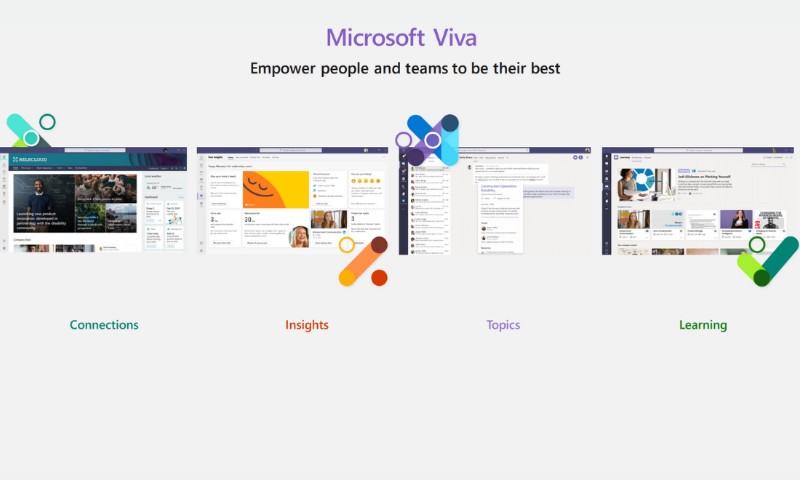 Employee
 Experience 
Employee experience is a growing trend that is widely discussed - especially during the pandemic - and emphasizes the importance of employee care within businesses.

The true assets of businesses are their employees because they drive productivity, progress, and all other business processes.

Also see: Achieve the best employee experience with the intranet
All the tools at the company's disposal, as well as the opportunities for action, training, and services that the company provides to its employees, are considered in the employee experience to ensure that their work experience is the best it can be.

It's now common knowledge that people who feel part of a community - and are engaged - are in a state of well-being that motivates them to perform better. As a result, the company's workforce profitability rises.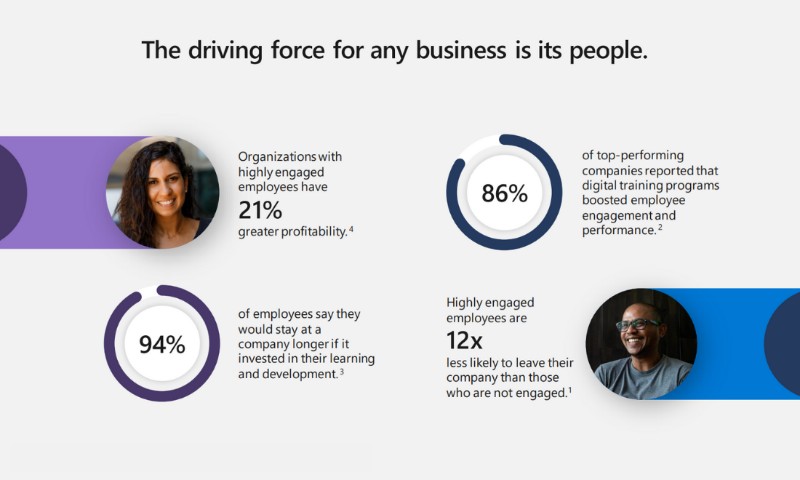 6 Key Employee Experience Elements
For the creation and development of this new platform, Microsoft relied on six key elements: wellbeing, growth, focus, connectivity, purpose, and self-awareness.
Wellbeing: In an organization, a person must find favorable circumstances and have at their disposal a variety of tools that can be useful to them and can help them optimize their work routine.
Growth: People must have the opportunity to grow and learn in every business setting.
Connection: The ability to connect with and share information with coworkers and all other people in the company must be granted to all employees.
Focus: Favoring a focus on activities, i.e., obtaining tools that encourage simple collaboration among coworkers and maximize individual tasks.
Purpose: To provide users with a set of tools that will allow them to see a global and detailed view of the state of their business activities.
Self-awareness: Supplying elements to increase awareness of the dependents' points of strength and weakness.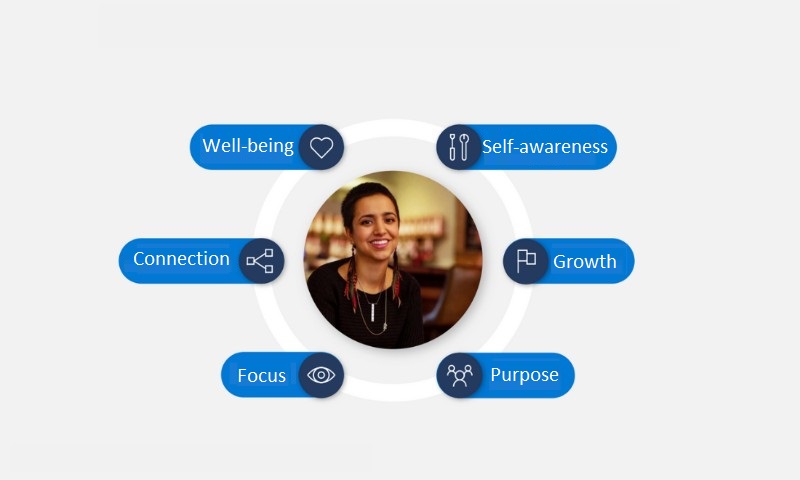 As a result, Microsoft has attempted to improve these aspects with its digital employee experience by proposing, via an integrated intranet in Teams:

Services and functionalities that keep employees informed about the company's activities.

SharePoint tools that make company resources more accessible.

Viva Learning plans for growth, development, and training.

Microsoft Viva's components
Microsoft has paid special attention to the health and well-being of its employees.
Since we now spend most of our time on computers, having features in Teams, the tool on which we work every day, that can alert us if we are working too much is extremely useful.

It's also for better managing our own time and having one-on-one conversations with our coworkers or bosses. For this reason, Microsoft Viva Connections was created to facilitate communication, collaboration, and the growth of the corporate culture.

With Viva Connections, employees can access internal communications and business resources from a single, customizable app on Teams.

Then there's Viva Learning, which was created for personal development and training; it collects all available learning resources in a single work environment.

Viva Topics allows the distribution of knowledge within the company using artificial intelligence tools. File and information exchange becomes easier and more immediate.

Finally, we'll talk about Viva Insights, a company that was founded to visualize and develop the well-being and productivity of employees.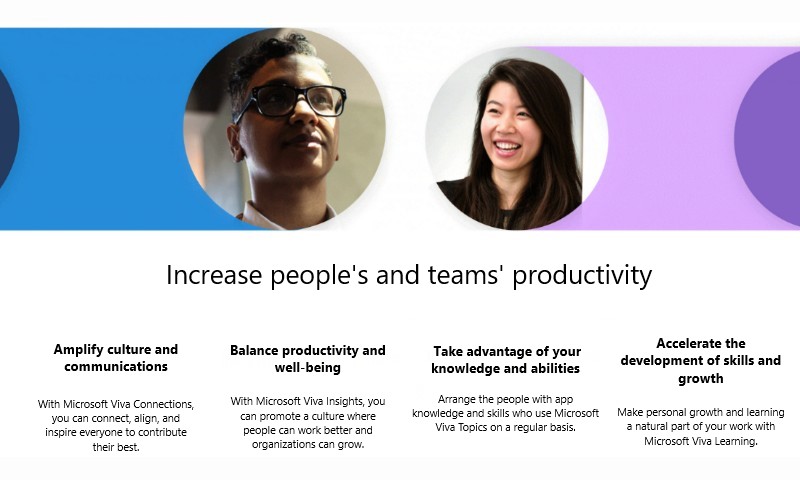 Learn how to use the intranet to implement and enhance employee experience in your company.
Microsoft Viva Connections

 
Many changes in the way people work have occurred in the last year, owing to the global pandemic as well. Businesses have had to adapt to social and economic changes by mobilizing their workforce and providing them with the tools they need to do their jobs.

As work becomes more remote, it becomes more difficult for people to feel connected and participate in business reality. Therefore, it is so important to provide your employees with relevant experience and the opportunity to develop themselves on the job.

We'll see what Viva Connections is and what it does.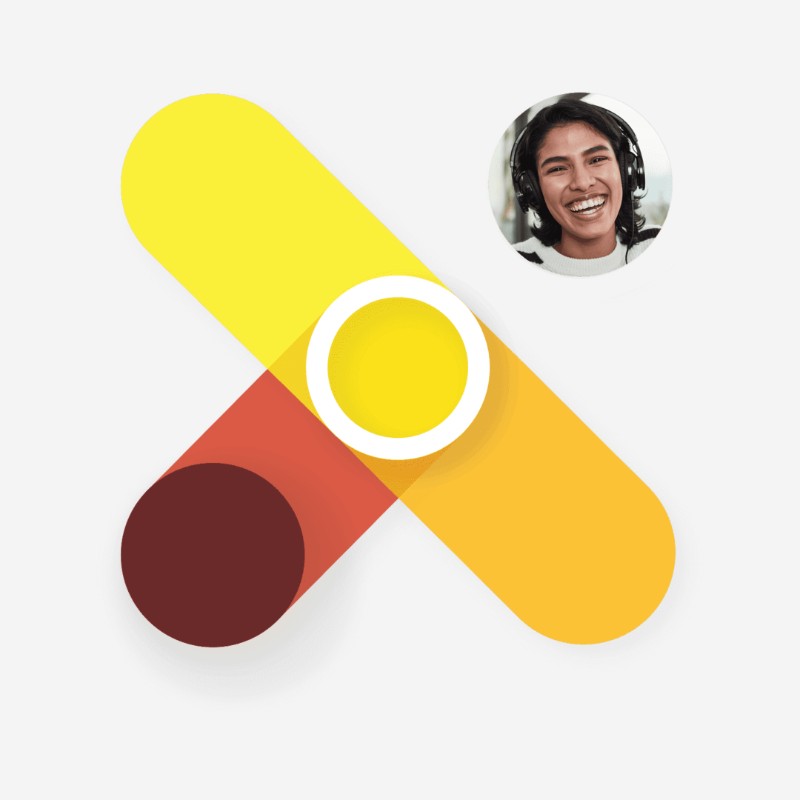 What is Microsoft Viva Connections? 
Viva Connections is your doorway to a modern employee experience. It's integrated into apps and devices that employees use daily, such as Microsoft Teams.

This platform provides users with a unified experience that includes news, conversations, and other business resources.

Viva Connections provides new opportunities for leaders to implement an organizational culture and engage their employees in a motivating work environment. As a result, its goal is to help you establish and maintain strong relationships with your dependents, regardless of where you are.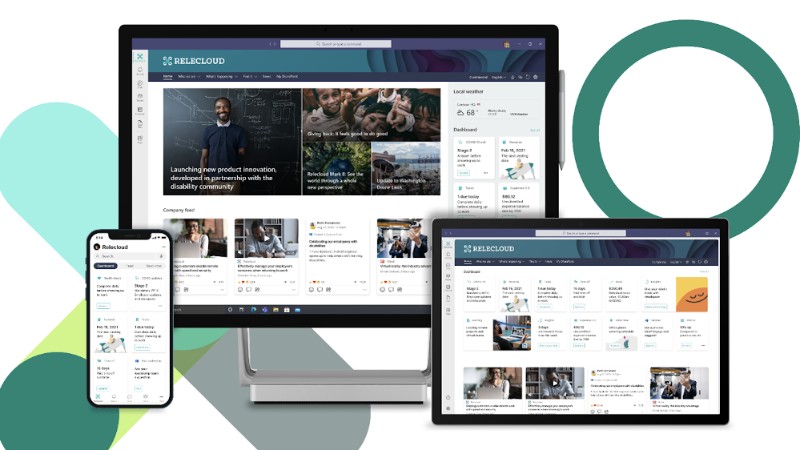 Customized feed
Internal communication is a critical factor to which every company should pay close attention. With such a large number of tools for interaction and information exchange, there is a risk that some content will be lost or will not be found.

To this end, Viva Connections enables people to easily discover and retrieve all the information they require. People have a unique and personalized experience within the feed that the platform provides, and they can contribute to conversations wherever they are.

The feed is also useful because it allows users to publish services from Microsoft 365's most popular apps, such as SharePoint, Yammer, and Stream, on its internal network. But you can also publish any external content you want to make known to your dependents.

The platform also allows employees to easily share feedback with the Yammer community and participate in non-interrupted conversations about announcements and company news.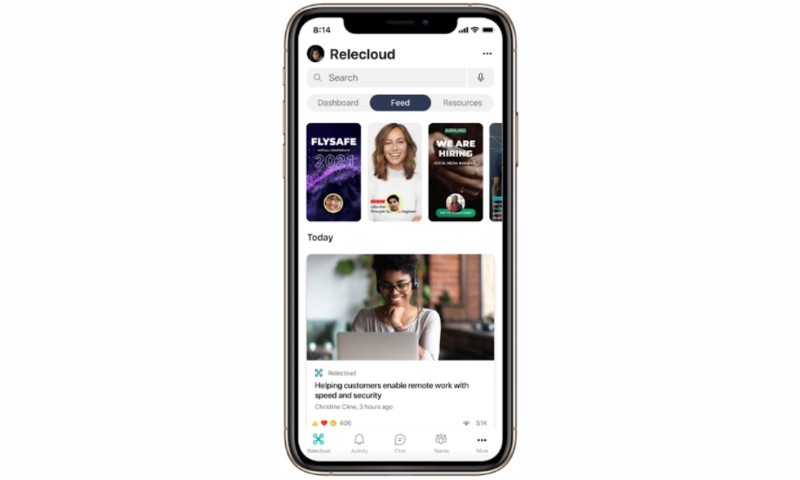 Rapid access
It's available on Teams, as part of Ignite 2021's first announcement, as an icon in the upper right corner that allows you to access your company's intranet. In this case, the intranet should be set up as a SharePoint home site.

The home site is the main site for our SharePoint Online instance, and it can collect news, content, and information from all the sites that are part of the Microsoft 365 subscription.

We can access the intranet directly and quickly thanks to this icon throughout the day's work.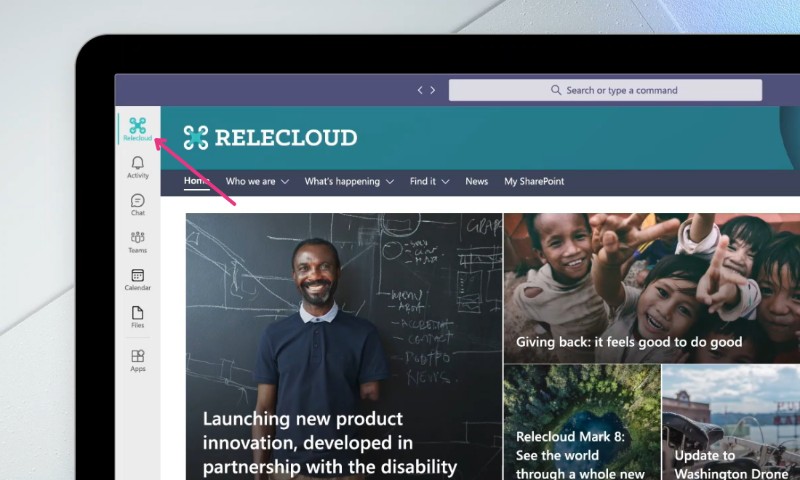 Dashboard
One of the most interesting new features is the dashboard, which is available on Viva Connections within SharePoint Online.

The dashboard is an app/widget that displays content or functionality tailored to the user by the company.
It's a feature tailored to the user and built around them to allow them to stay focused on their work, or, for example, to mention someone to create an engagement or to see how many hours of vacation time they have left.

You can think of the dashboard as a business home designed for employees and built with the goal of serving as a meeting point where everyone can find the business resources they require.

In addition, on the dashboard, you can personalize the resources for different groups of employees (such as first-line employees), whose time-consuming content is solely limited to pauses. As a result, you can configure Viva Connections to provide them with a comprehensive view of everything they require, reducing the amount of time they spend away from their primary activity to the absolute minimum.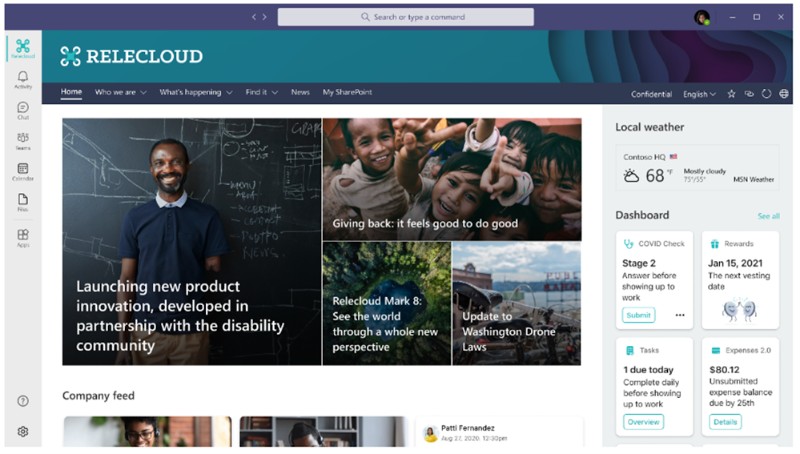 Global navigation
We have a global navigation within the SharePoint Online home site that allows us to move between the contents and sites in our entire Microsoft 365 environment. In this way, you can retrieve the files and information you require without losing anything.
Company feed
The company feed represents the integration of Yammer and SharePoint Online in terms of Yammer conversations, which can be accessed easily via both the intranet and Teams.

This feature can be customized to display content from either the main community or specific communities.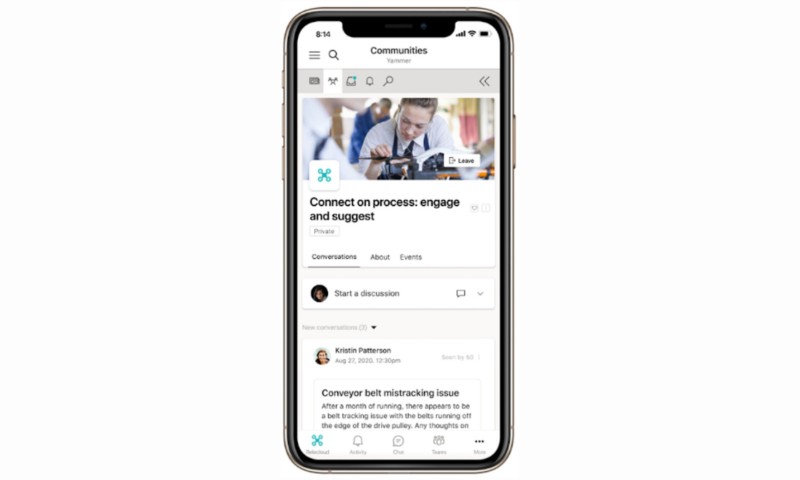 What is intranet.ai?
It's a ready-to-use corporate intranet,
designed to reduce costs and implementation time by providing a highly modern and collaborative digital workplace.

Starting price is 2450€, for a fully-featured intranet

More than 20 Apps including intelligent search, document management, news, push notifications, and my workplace


100% integrated with SharePoint Online and Microsoft 365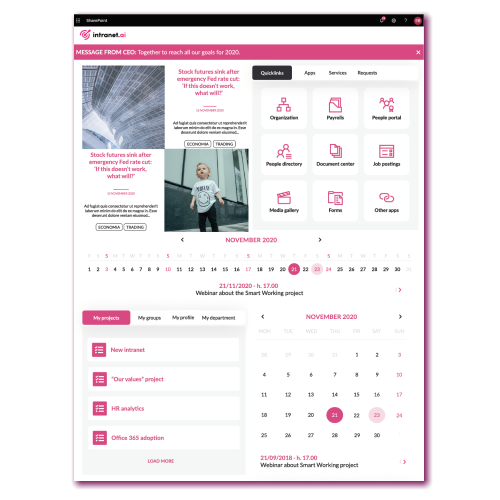 Microsoft Viva Insights
Microsoft Viva Insights focuses on the well-being and productivity of the company's employees.

It provides personalized information to individuals, managers, and leaders that can be used to assist everyone in the organization in growing. Viva Insights will integrate Microsoft Workplace Analytics and Microsoft MyAnalytics in the future, in addition to new product and health experiences.

One of Viva Insights' main goals is to protect people's personal information. Clients can rely on security measures for predefined settings, such as deidentification, aggregation, or privacy, because personal information is only visible to individuals.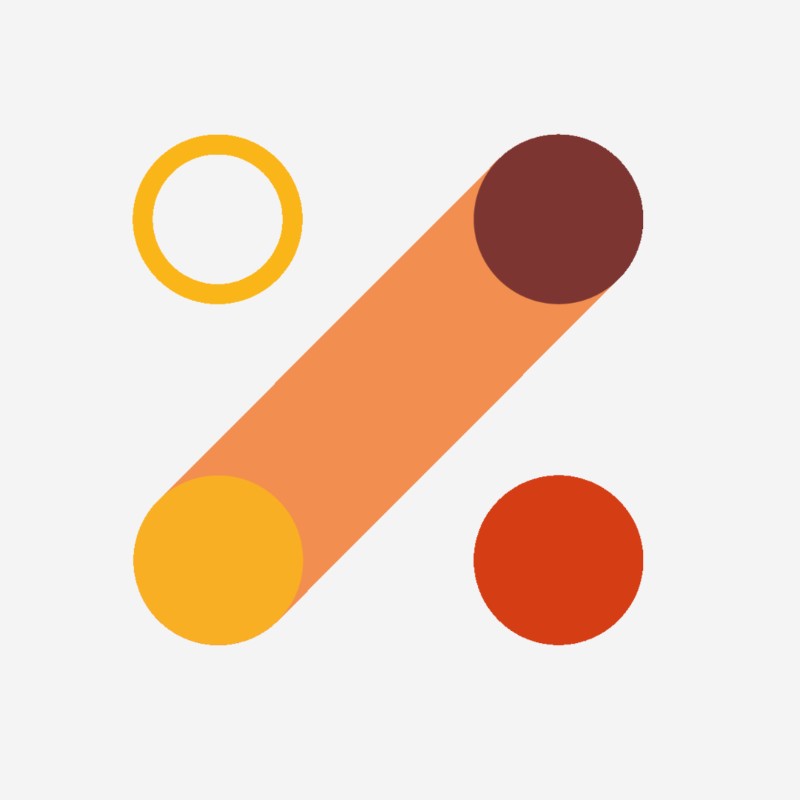 How does Viva Insights work?
Microsoft Viva Insights combines the features of two Microsoft 365 products: MyAnalytics and Workplace Analytics.

These are tools that measure a user's interaction with Microsoft 365 tools in their day-to-day activities. Data that can be used to learn, for example, how many emails are received, how much time a person spends writing emails, and how much time they spend in meetings, is archived.

All these elements are presented in two ways:
Personal insights in which a person can visualize how they are using the platform, manage their schedule, and set aside time to focus on their activities.

Workplace Analytics data that is aggregated to allow managers and leaders to have a high-level view of daily labor productivity.

Viva Insights is available as a Teams app as well as a mobile app, and it has some unique features.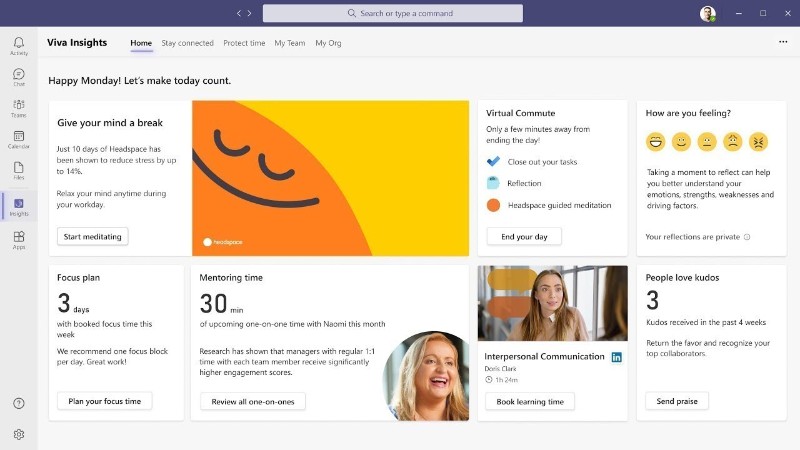 Personal insights
There are three types of people who can interact with data: single users, managers, and leaders.
The insights app, which is already available on Teams, can be added by users.
This app has two functions:
the "stay connected" tab, which allows you to stay in touch with coworkers or subordinates and manage your e-mail and calendar and proposes you to schedule one-on-one meetings with your collaborators in order to keep them informed and avoid feeling isolated, especially given the current situation.

notifications if you haven't received a response to your emails.

Maintaining contact with coworkers helps people in maintaining solid relationships with those who are a part of their network.

The detailed information provided by this app is completely private and is derived from the archiving of Microsoft 365 data such as e-mails, meetings, phone calls, and chats to which the users already have access.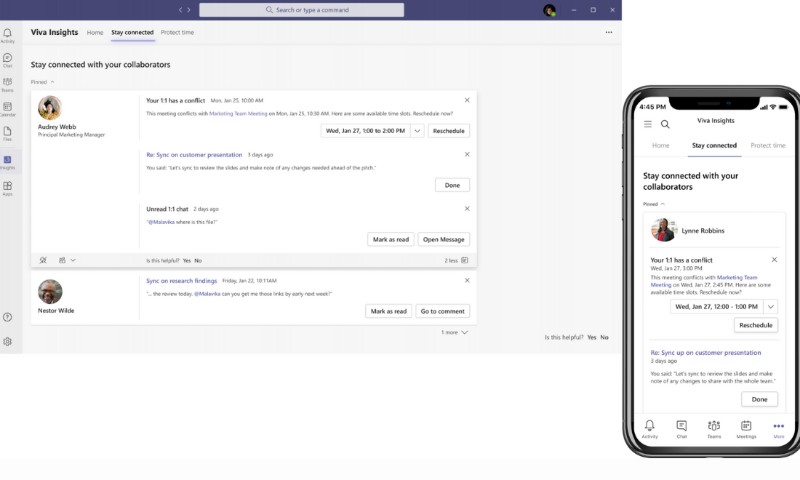 Time-protection feature
Using Microsoft Teams, you can gain access to a dedicated area where Viva Insights offers a few slots within our schedule for us to take some time for ourselves.

The time-protection feature allows users to easily plan their concentration-time so that they can work without interruptions or distractions before the day is overburdened with meetings and tasks.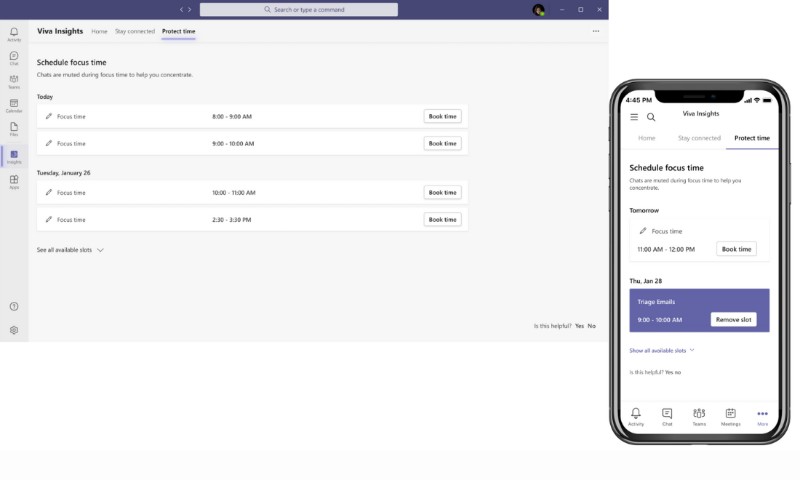 Homepage 
The homepage is the first thing you see when you enter an intranet's interface, and it allows you to perform quick actions that are useful for both interacting with people and managing our daily work activities. For example, you can quickly access tasks, organize focus moments for yourself, or anonymously share information with the company about your well-being in the workplace.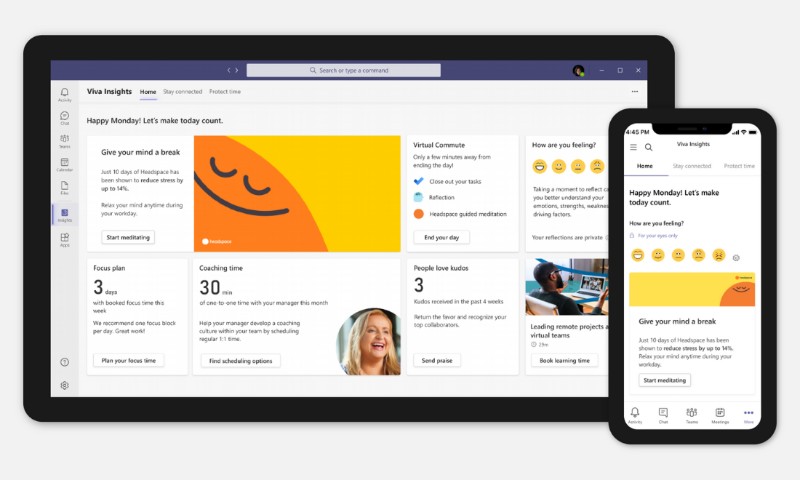 Manager insights
We already mentioned that there are three types of people who can interact with the data provided by MyAnalytics and Workplace Analytics. Managers are among them.

If a manager is granted access to insights and is granted a license, they will be able to access reports to visualize data relevant to their team and direct employees.
Managers can nourish the well-being of their team members by increasing the visibility of their work models. These models depict burnout and stress symptoms in people, such as the inability to attend meetings, having too little time to concentrate, or working outside of the hours set by their employers.

These insights, which are supported and contextualized by research and best practice suggestions, assist managers in identifying the most pressing challenges they face while also supporting employees' diverse work needs and flexibility.

Over time, this experience will be enhanced by opportunities for managers to develop team action plans. Members of the team are given tips and best practices to help them prioritize their health and productivity. Managers can also track how well their teams are progressing toward their objectives over time.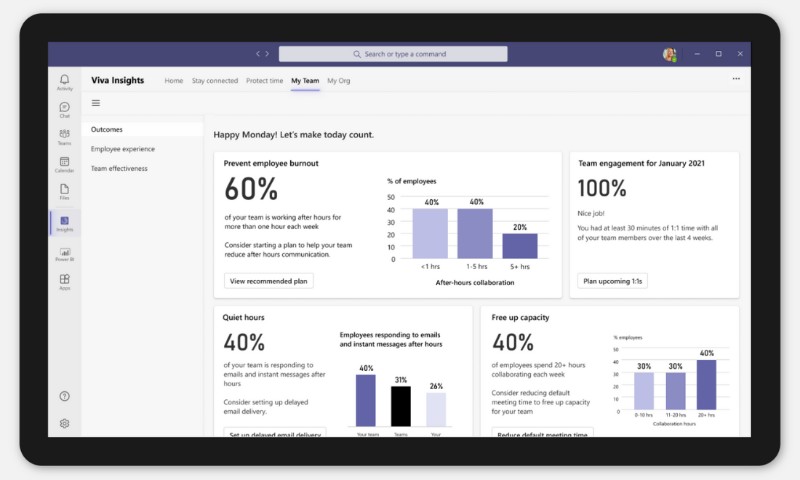 Leader insights
Leaders are those who have visibility across the entire organization. They're interested in seeing how people are engaged, and they're always using the Analytics data that comes from using Microsoft 365.

Meetings can be used, people can be engaged, there can be collaboration in the office, and as a result, intervention actions can be taken.

In Viva Insights, Microsoft also suggests actions that the company can choose to follow or not.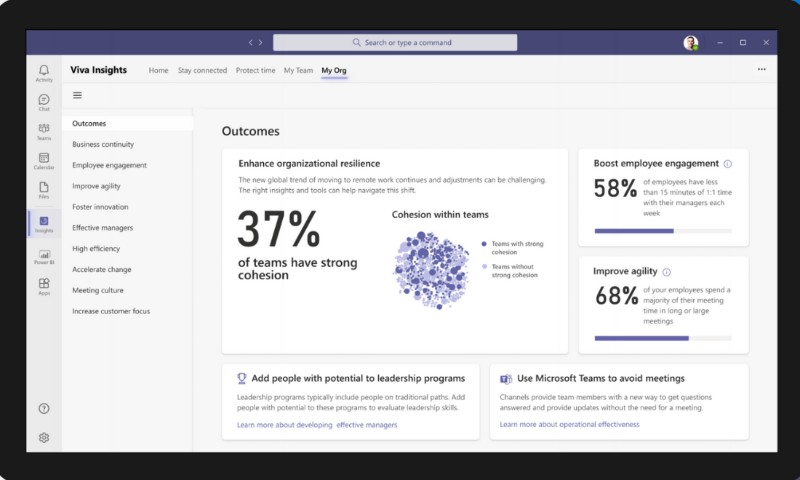 Microsoft Viva
Topics
Microsoft Viva Topics makes use of artificial intelligence to provide people with knowledge about the apps they use every day at work. Organizes content in an automated manner for the creation of secure documents in a continuous flow of work.

This tool allows people to save time by making information retrieval simple and putting knowledge to work.

The goal is to preserve and stimulate knowledge while also reducing interruptions, maximizing people's time, and improving decision-making.

We'll see what we can do in the details.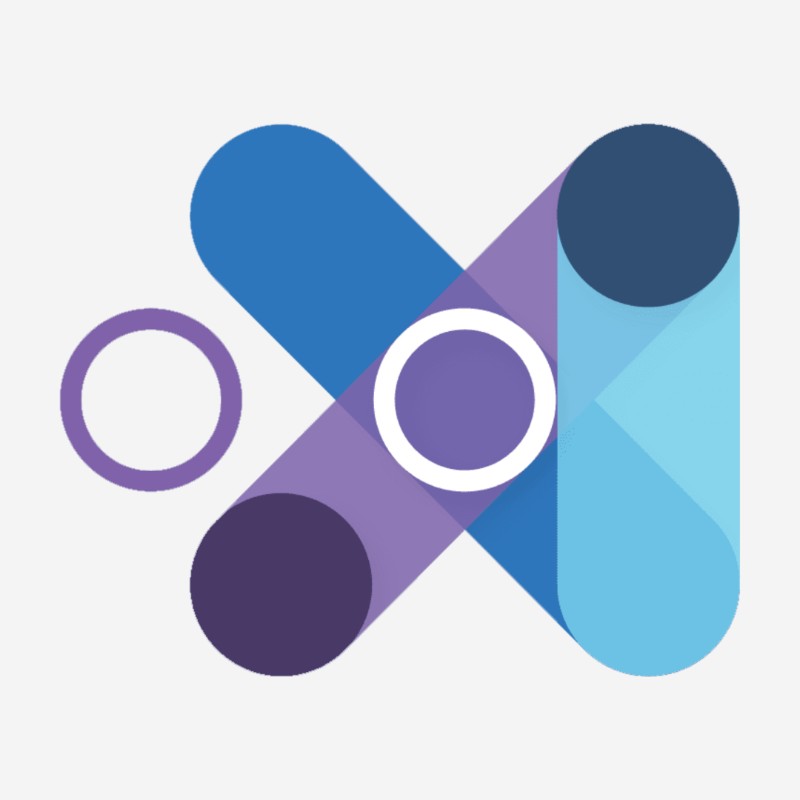 What can Viva Topics be used for?
Viva Topics enables you to define company-wide topics, as well as topics within Microsoft 365 so that artificial intelligence algorithms can automatically retrieve related information.

Topics are then automatically linked to this information so that people can see them when reading or opening an email in Outlook, when opening a news item on their intranet in SharePoint Online, or when working in Teams.

If a topic is recognized in an email, it is underlined once it has been identified within the organization. By clicking on it, you'll be taken to a topic card where you can see all the content and information about the subject.

Documents, Yammer conversations, and, most importantly, experts on specific topics are all examples of content.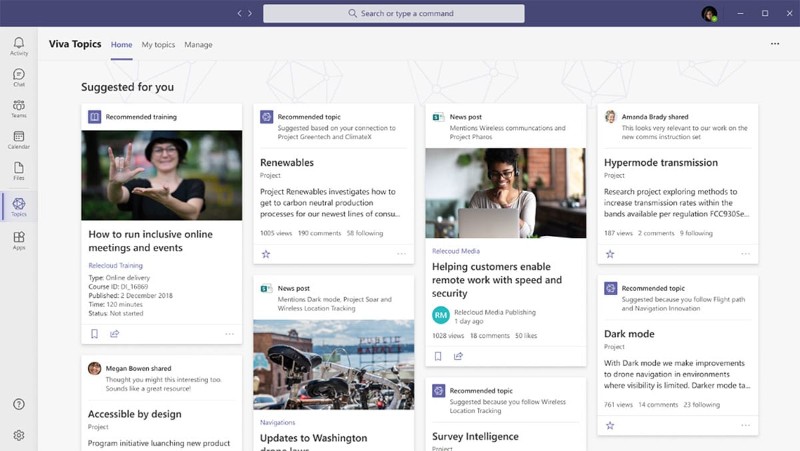 Topic
 card
In Teams, Outlook, and SharePoint Online, a topic card is available in Viva Topics that quickly displays detailed information on a specific topic.

We will, however, speak briefly about the resources recommended and the people considered "experts" in the field.

The suggested resources could be Yammer conversations, content, or intranet sites.

This feature is already available in Outlook and Microsoft Teams, as well as on the SharePoint intranet.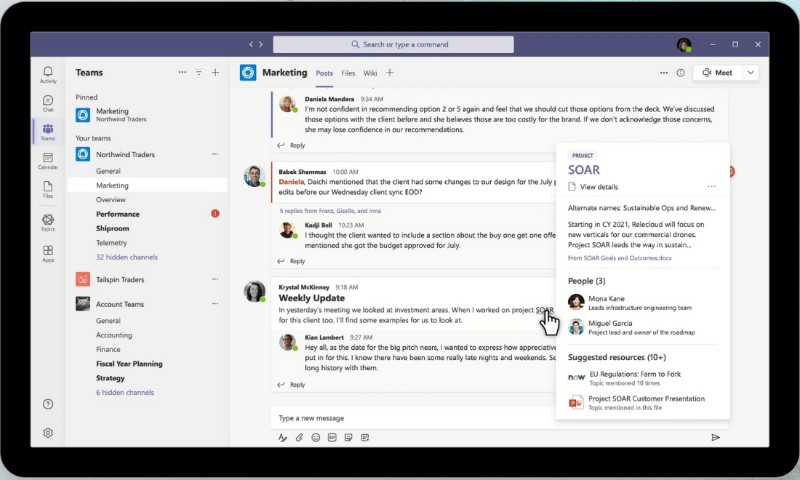 Topic
 page
From the topic card, you'll be taken to a page dedicated to a specific topic. Here users find the information about it in a more comprehensive and thorough manner.

You can see the people, the suggested content, and a map of the topics that shows how the topics are connected to the other topics managed within the organization.

Information about a topic, people, documents, and conversations can all be found in one place on Viva Topics. It becomes easier to share the knowledge that the various people in the company have in this way.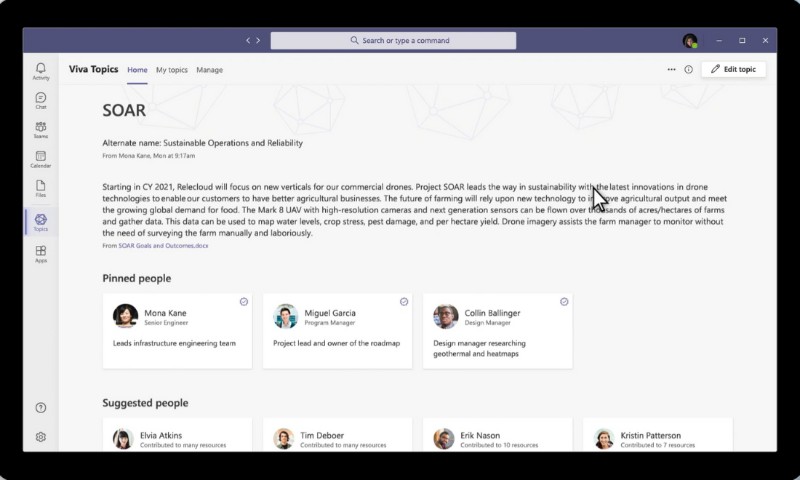 Topics
Map
It's a relationship map between the various topics that exist in an organization, which we can find within each topic page in Teams.

In addition, within the topic page, we have a Yammer integration that allows us to send questions and responses to users on a specific topic in a way that is visible to all.

People can submit a question in such a way that experts on the subject will be notified and will be able to respond. These will then become part of the topic page's content, making them visible to everyone, including those who arrive later.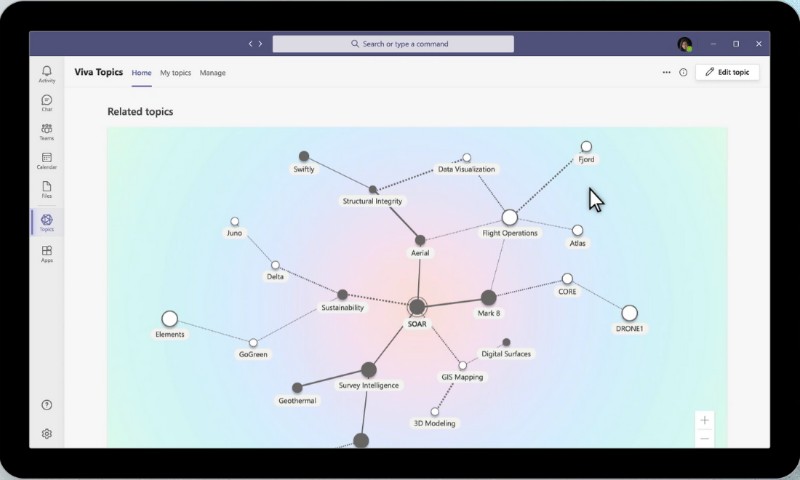 Collaboration
People working within an organization can collaborate on any topic.

There are multiple owners for each topic, and each of them can modify the topic page by adding information and then republishing it using Teams.

These materials are also useful for assisting users in conducting research in relation to a specific topic.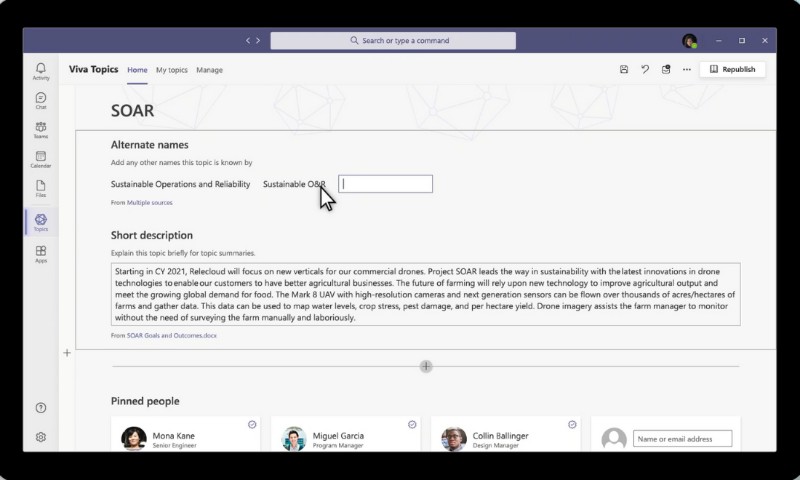 Microsoft Viva Learning
Microsoft Viva Learning is designed to help employees develop skills in their work processes so that they can learn and grow on the job.

How do you do it?

Viva Learning assists people in easily acquiring knowledge by providing the appropriate content at the appropriate time.

Using Viva Learning, it is possible to have a specific app in Teams where people can get training by using Microsoft, third-party content, or company-specific content.

These can, of course, be realized within Teams and shared with workgroups.

Let's find out more.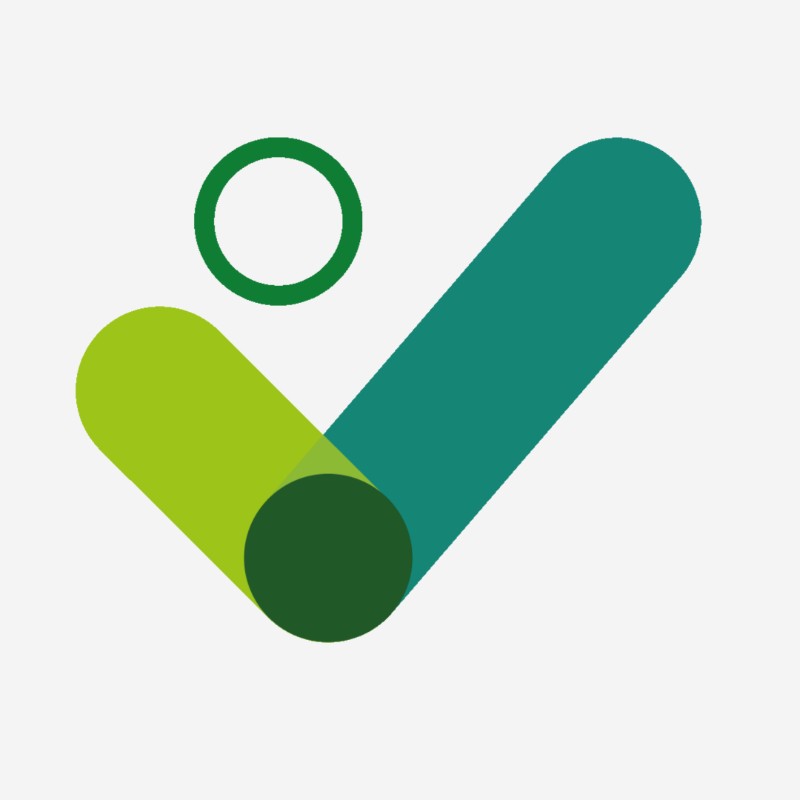 External links
In the first stage, Viva Learning allows you to access content from third parties such as LinkedIn Learning, Microsoft Learn, Coursera, edX, Pluralsight, and Skillsoft.

In addition, it is possible to easily insert personalized business content that can be integrated directly into the platform.
Content includes not only video, which is the most widely used format, but also simple files and documents.
Following that, they will receive all the features that Viva Learning provides to its users. We discuss division, course assignment, and course visualization on single workgroups.

Finally, Cornerstone and SuccessFactors training materials have been incorporated.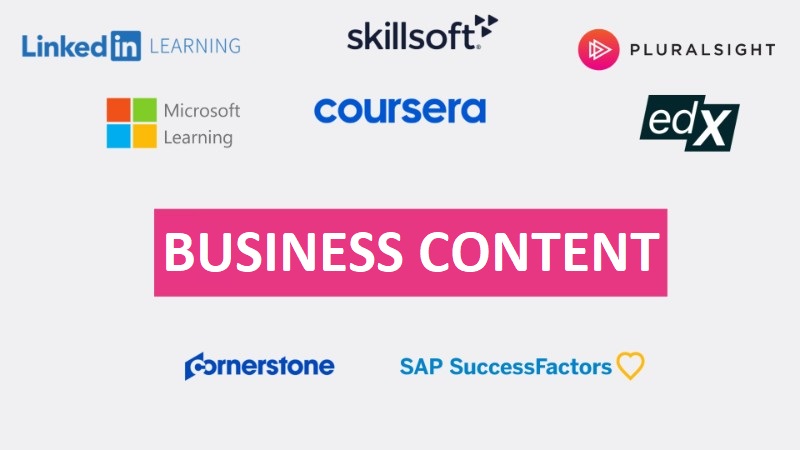 Training opportunities in Team Groups
Viva Learning has been integrated into Microsoft Teams, providing the ability to insert formative content within specific workgroups, allowing people to collaborate and find time to grow their skills.

You can share and distribute training in a chat room, just like you can share other types of content.

Workgroups and individuals can also organize their own learning schedules with more personalized and relevant content to their activities.

When learning is personalized, it improves knowledge acquisition and makes people feel more involved. Viva Learning, in addition to displaying relevant learning through search, displays recommended content in a personalized visualization based on your needs.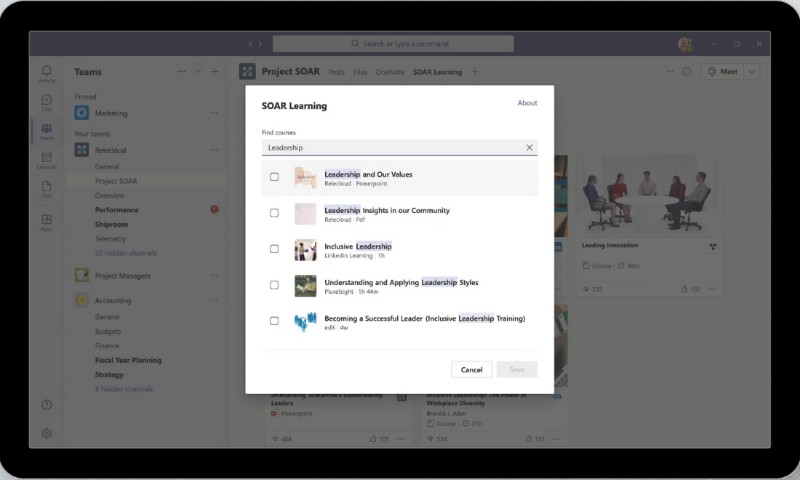 Training management
Within Viva Learning, managers can choose to assign training content to one or more members of their team and track their progress.

The platform also displays the learning tasks that a manager has assigned, when they are due, and the relative state of completion as indicated by the individuals.

Employees can view the learning that has been assigned to them by a manager using Viva Learning or through planned integrations with the major learning management systems, as well as due dates and other important information.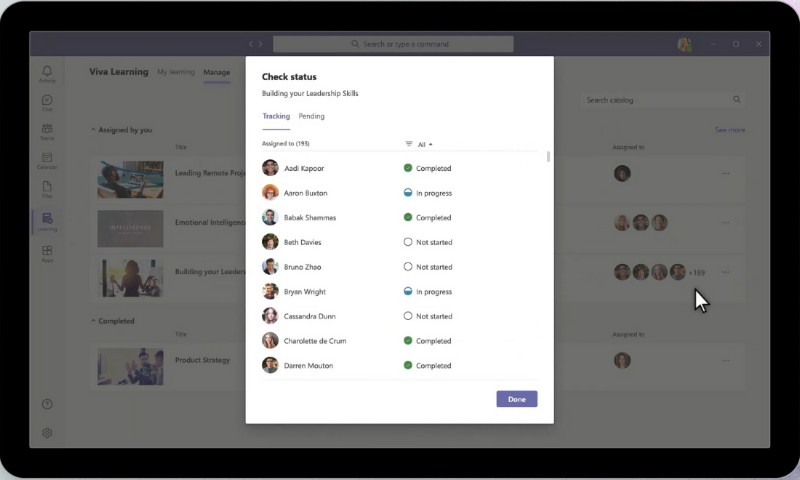 Sharing
With Viva Learning, you can share courses with colleagues via the Teams chat.
One of the most important aspects of corporate culture is knowledge. This functionality enables its dissemination and stimulation throughout the organization.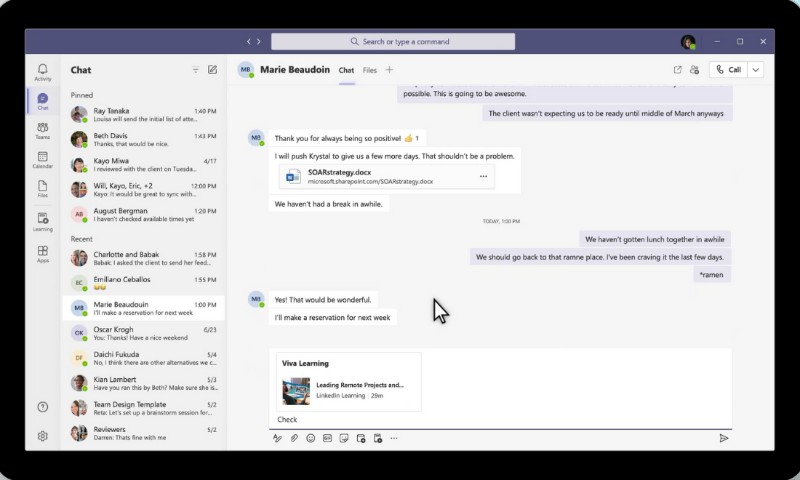 Answers to the questions posed during our webinar 
By subscribing to our newsletter, you will receive invitations to our monthly webinars, where we will demonstrate all the new features of Microsoft 365. Many questions were raised during the Microsoft Viva webinar, which we decided to transcribe here.
Q1 - I apologize for arriving late. Is it possible to access the webinar recording?
A1 - Sure! Some content will be posted on my YouTube channel, but you can also request the registration using the form below.

Q2 - Is Microsoft Viva simply a rebranded version of the tools already available in Microsoft 365?
A2 - No, I wouldn't say that. It definitely makes use of a lot of the tools that are already available in Microsoft 365. First and foremost, it is a product that complements Microsoft Teams. Viva Connections is unmistakably a rebranded version of SharePoint Online Home Sites, albeit with a few additional features. Viva Topics and Viva Learning are brand-new offerings.

Q3 - Can I purchase only Viva Learning?
A3 - Without a doubt, each of the four components of Viva has its own life.

Q4 - Perhaps this has already been stated, but I'm curious how and if GUEST USERS will be able to use some of these features.
A4 - There are currently no details available about guest users. They will be unable to use Viva Topics, Insights, or Learning. The first two require a license, while the third appears to be a very "internal" product.

Q5 - Will the A1 Edu licenses include topics and learning? r just Enterprise licenses?
A5 - There are no new developments regarding Viva Learning licensing. Topics has its own license that is not included in any of the current licenses.

Q6 - I can't find Topics in Microsoft Teams?
A6 - Viva Topics has a separate license, which must be obtained through your retailer or the Microsoft portal.

Q7 - Will there be a SharePoint Syntex registration available later?
A7 - The SharePoint Syntex webinar is scheduled for the 30th of March 2021. To register, see Q1.

Q8 - Should Topics be purchased for all users?
A8 - No, but for all those who want to manage topics, view topic cards, or view topic pages.

Q9 - Where can I find information about a topic other than Outlook?
A9 - The topic card is visible on Teams and will be visible on the SharePoint intranet. It is also possible to view the topic page within Microsoft Teams' "Topics" app.

Q10 - What is the cost of Linkedin Learning?
A10 - You can find the prices here: https://www.linkedin.com/learning/subscription/products

Q11 - Is a certificate of participation given out?
A11 - If the producer of training content that will be integrated into Viva Learning has mechanisms for issuing a certificate of participation, yes; otherwise, I do not believe Viva Learning issues documents at course completion.

Q12 - When will Viva Learning be released?
A12 - While no specific rollout date has been announced, Microsoft has stated that it will be released in the summer of 2021. I recommend that you keep an eye on Microsoft's roadmap at this link: https://www.microsoft.com/it-it/microsoft-365/roadmap

Q13 - Isn't 4 euros per month for an aggregator a little too much?
A13 - For the value it brings to the company, in my opinion, no. Try to calculate the cost of creating a business wiki from scratch.
Q14 - How much does a Viva Insight license cost?
A14 - "Personalization" features are included in M365 licenses. The part for managers and leaders has a separate cost, which is always calculated per user/month. The prices are not publicly available as of today; therefore, I recommend that you contact your CSP or Microsoft.
Q15 - Are there APIs for interacting with topics? Thank you, Peppe!
A15 - Not yet, but they will appear in the second edition of Topics in Estate.
Q16 - Will Viva Learning be compatible with SCORM?
A16 - Good question...There is currently no such information.
Q17 - Can learning take the place of an LMS?
A17 - I believe Microsoft's idea is exactly that.
Q18 - Are Microsoft's training courses only available in English?
A18 - To my knowledge, yes, both for Microsoft Learn and for Linkedin Learning
Q19 - Can you integrate with Teams, our current intranet SharePoint, even if it was created using the old interface?
A19 - In order to use Viva Connections, you must have a SharePoint Online communication site (then the modern interface).
Q20 - How does Viva Learning figure out who is allowed to assign courses?
A20 - Unfortunately, no such information is available at this time.
Q21 - Excellent Peppe! Will you continue to create content on Viva?
A21 - Of course, thank you.
Q22 - When will Viva Learning be available?
A22 - According to the roadmap released at Ignite, Microsoft anticipates a summer 2021 release. I recommend that you keep an eye on the Microsoft roadmap at https://www.microsoft.com/it-it/microsoft-365/roadmap
Q23 - How does Viva Connections handle a group of companies' Office 365 subscriptions?
A23 - Good question, but we can't answer it today because the tool hasn't been released yet. I have an idea, but it needs to be tested.
Q24 - Will the intranet customizations I created still work on Teams?
A24 - It depends on the modifications you've made.
Q25 - What training formats are available for live learning?
A25 - There are currently no details available.
Giuseppe Marchi
Microsoft MVP for SharePoint and Office 365 (now called Microsoft 365) since 2010, Giuseppe founded Dev4Side and intranet.ai with the aim of helping companies to have a simpler and more effective working environment thanks to Microsoft technologies. He works as a consultant for everything related to collaboration, intranet portals and Microsoft cloud platforms.