Microsoft Viva Learning: how to bring enterprise training to Teams
Viva Learning is part of the Microsoft Viva universe.
Its goal is to revolutionize corporate training, making it more accessible, organized and social. How?
Let's find out together!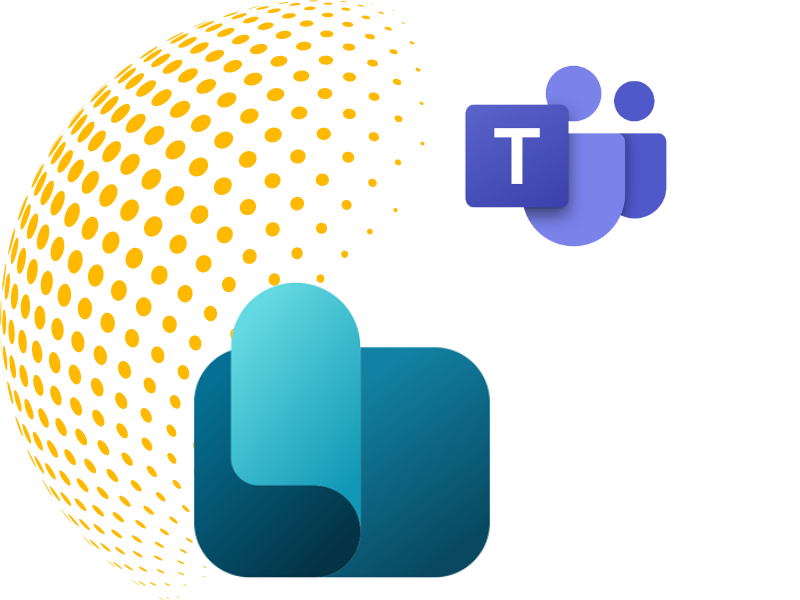 What you will find in this article
What is Microsoft's Viva Learning


Designed to be the digital training hub for companies, Viva Learning represents one of the core modules of the Microsoft Viva suite.
This tool was created to collect and disseminate corporate and non-corporate e-learning content, simplifying employees' professional development within a single platform for work and collaboration.
You have probably already guessed: it is a personal app for Microsoft Teams.
What is intranet.ai?

It's the ready-to-use SharePoint intranet,
designed to reduce costs and implementation time.


Starting price is 2.450€ for a fully-featured intranet.

More than 25 features, including Intelligent Search, Document Management, Company News, and Teams Push Notifications.

100% integrated with Microsoft 365, Viva, and Power Platform.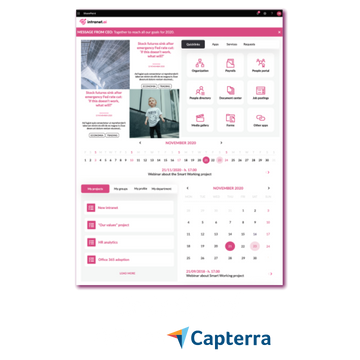 Viva Learning fits within the Teams universe to expand it with its own functionality and leverage the concept of "Teams as a platform".
This string of words refers to the idea, or rather, the philosophy that conceives Microsoft Teams not only as an application for real-time communication - with its famous video calls, chat, and workgroups - but also, and more importantly, as a vessel ready to perform a myriad of additional tasks through integration with Microsoft and third-party tools.
Think of Planner, for example, and the way its relationship with Teams makes it possible to design and manage multiple work plans where corporate teams interact on a daily basis.
Or take the case of SharePoint Online.
Its union with Teams means that users can organize files and documents into repositories specific to their groups and work channels, as well as access content on the corporate intranet without ever going directly into SharePoint.

To explore this topic further, check out our article on the benefits of Microsoft Teams and SharePoint Online integration.
Viva Learning is part of this movement, initiated by the parent company, to revolutionize the digital work environment of companies, in an era where the latter plays an increasingly crucial role in their growth and expansion strategies. But that's not all.
At the heart of this new approach to online work is to improve the user experience, helping them work more productively, and establish a quality relationship with their organization.
So let's see what features make Viva Learning a unique and essential tool for your digital workplace.
What are the main features of Viva Learning


Let us start by saying that your company can incorporate Viva Learning into its digital workplace by purchasing any Microsoft 365 license.
However, we must emphasize that you will only have access to basic functionality with Business or Enterprise licenses.
Therefore, to unlock the full potential of Viva Learning, one of the following types of licenses must be purchased:
Microsoft Viva Learning

, currently at 3.40 euros per user/month.

Microsoft Viva product family, currently at 7.60 euros per user/month.
Now that we have clarified how your company can make use of Viva Learning, let's explore the basic and advanced features of the application for Microsoft Teams.
The basic functionality of Viva Learning


Within your own Teams app, you can enter Viva Learning by clicking on the three dots at the bottom of the side navigation menu.




Once on the home page, Viva Learning will allow you to locate, share and consume a wide range of training content*.
*Remember that your company must first give you permission to use the platform.
With the basic version, you have content available from three categories of providers:


Specifically, about 120 professional courses are offered with a wide range of topics, ranging from topics such as cyber security and video editing to corporate writing and blogging.
To unlock LinkedIn's entire library of 16,000+ online courses, your company must purchase the platform's own license, LinkedIn Premium, for each user it wants to enable.


Microsoft's signature learning portal offers interactive courses to learn how to use its products and services, including Azure, Power Platform and Dynamics.
Its training offerings include 80+ hours of activities in 23 different languages and constantly updated, following the latest in the Microsoft universe.


The Microsoft 365 tool is used to store, organize and share (also) on Viva Learning the online training materials created by your company.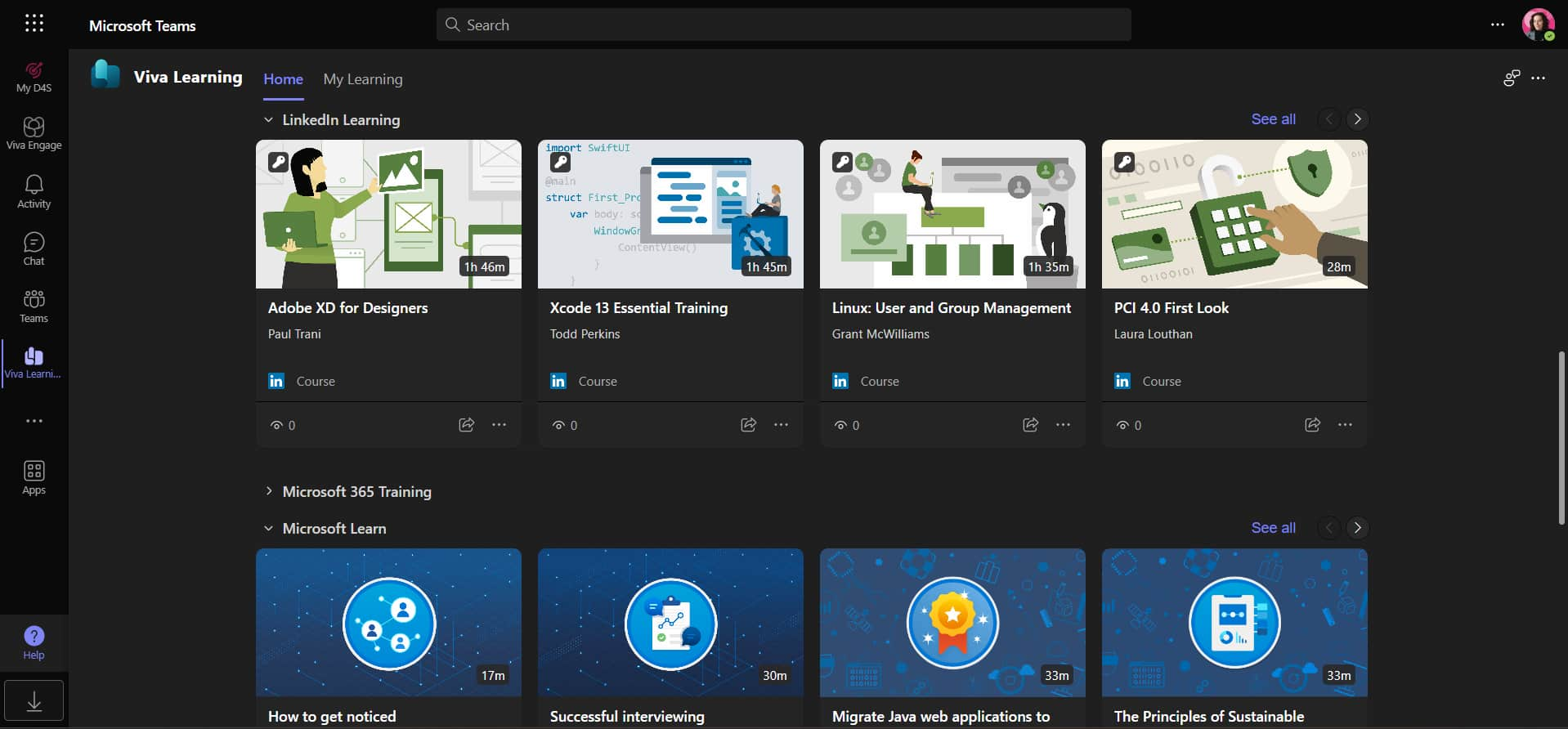 In order to enable sharing by these providers by default, admin users must enable them in Microsoft 365 settings. In fact, it has been announced, but specific management for Microsoft Viva modules is not yet available.
So admins need to go into "Org settings" and then "Viva Learning", where they will need to check the box for the desired providers.
In this way, their content will be displayed and cataloged on the platform's home page.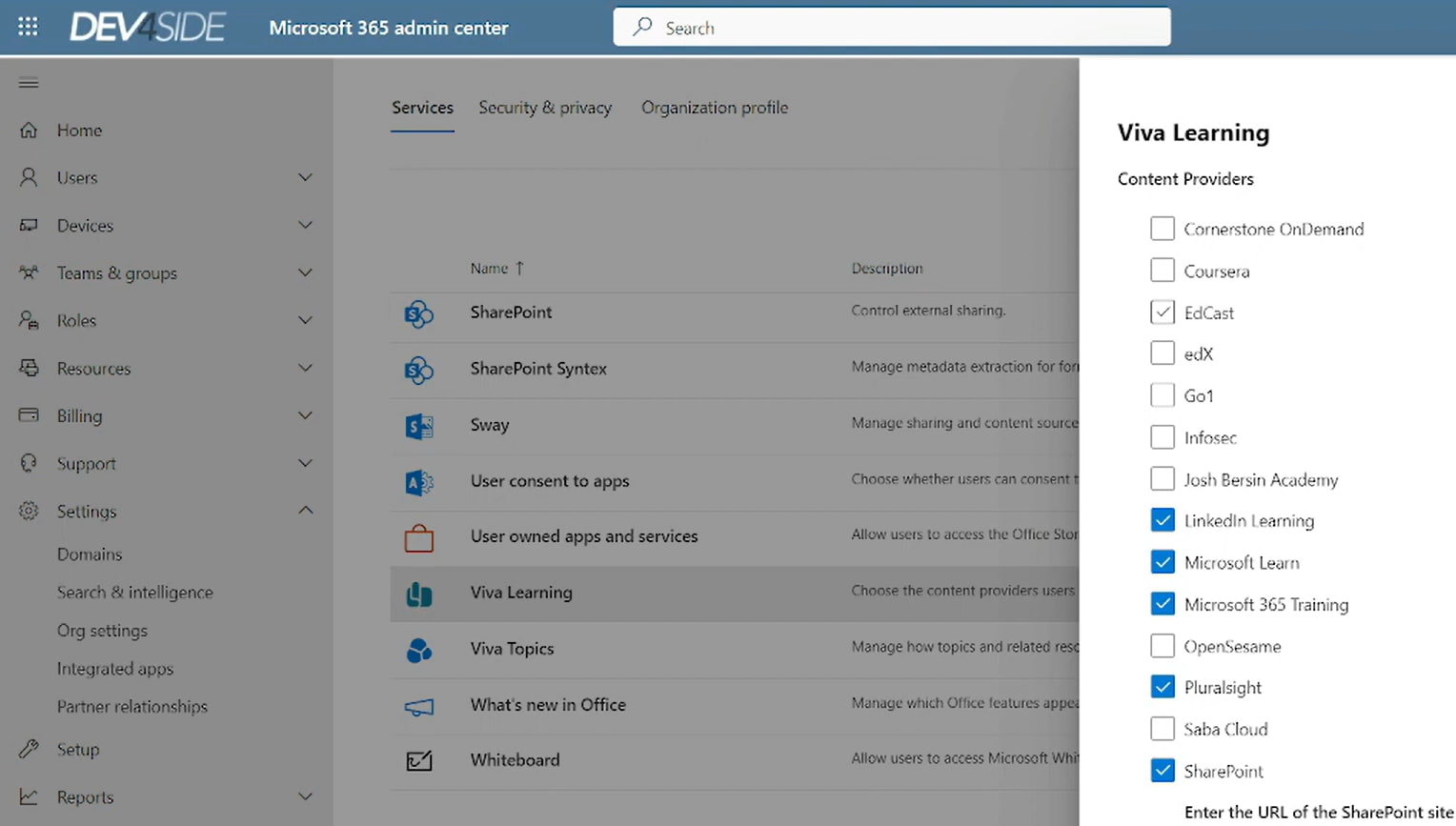 However, special mention must be made of SharePoint.
In order to view content stored in one of its sites, the URL must be entered in the provider enable box.
Once Viva Learning is connected to a SharePoint site, a folder titled "Company Learning Materials" and a list called "Learning App Content Reposit" will be automatically created within it.
These repositories house all content to be shared with the company network through Viva Learning.
Importantly, you can place files and folders from all your SharePoint sites within them.
In addition, you can customize the documents by inserting a link to a cover image or category tags that will be more fully exploited by Viva in the near future.
In fact, searching by content tags will be enhanced so that you can quickly find interesting material for your training throughout the Microsoft Teams space.




It should be remembered, however, that only users with certain permission levels can add and edit content on the SharePoint site linked to Viva Learning. Among the most suitable permissions are either Full Control or Collaboration.
This ensures that corporate training management is not only centralized, but also more secure and organized.
To delve deeper into the topic of permissions on SharePoint, we recommend our article on SharePoint Online and its 7 key features.
Going beyond managing and enabling providers and their content, let's see what features Viva Learning offers to build and share your own training path.
In the interface for each piece of content, from courses to PPT presentations, there are three main commands by default:


With this feature, you have the ability to share a piece of content with your work team or a particular colleague.
To do this, Viva Learning sends in the Teams individual or collective chat a customizable card, which will show the cover image, the title of the course or file, the due date by which to view the content (optional), and a comment from you (also optional).


By clicking on the typical bookmark icon, you can save any content you wish to see later within your personal area, called "My Learning".


This command will be essential in helping you organize training moments in your hectic work weeks.
In fact, adding content to your Teams calendar will allow you to keep track of breaks dedicated to your skill development without getting in the way of calls or other appointments.
In addition, you will receive a notification from the app reminding you to stop the flow of your activities to focus on your personal growth journey.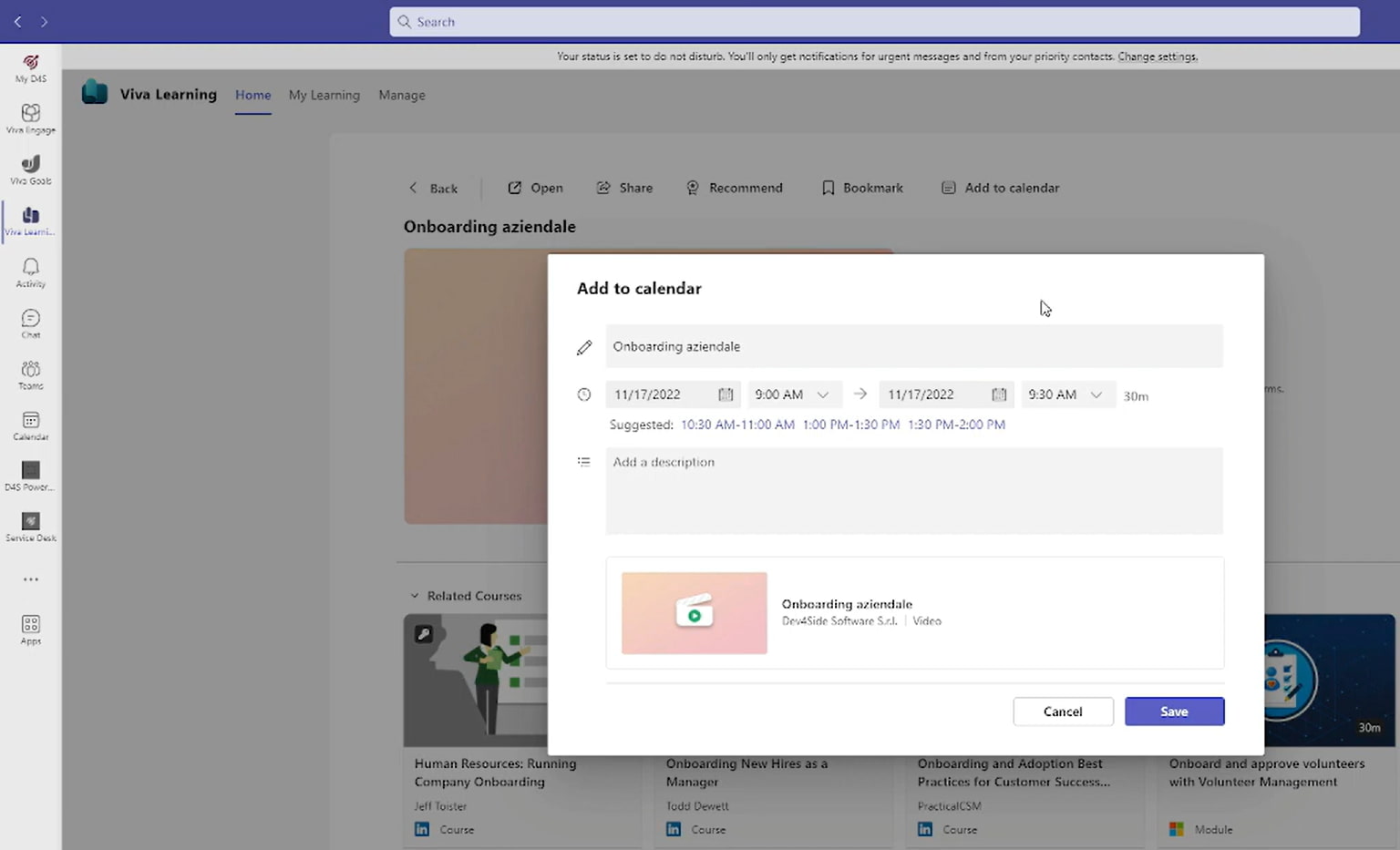 Finally, Viva Learning will always ask you to rate the content you consume on a 5-star scale.
This is an important system for directing users' choice toward the content most loved and valued by the community.

Subscribe to our newsletter!

You will find:


Short training and update videos on Microsoft 365 news.
Our guides for business digitisation.
In-depth articles on how to improve your intranet by making the most of your Microsoft 365 subscription.

You can always unsubscribe at any time.
The advanced features of Viva Learning


As we mentioned, Viva Learning consists of some features that are not available in the generic Microsoft 365 licenses, but are found in the two licenses "Viva Learning" (product-specific) and "Microsoft Viva Product Family" (complete package with the suite's tools).
You may not know, however, what the differences are between the default and advanced versions of Viva Learning.
Starting with content providers, the first advanced feature that is made available to you is the ability to include third-party EMS (E-learning Management System) platforms.
The admin user can then enable the integration of courses from Coursera, Udemy, edX and Pluralsight, to name just a few.
In addition, the full version of Viva Learning can turn into a really useful tool in the hands of project managers.
This is because they can take advantage of two specific commands:


The feature that allows content deemed most useful or important to be highlighted for the entire network of users.


The tab within Viva Learning that allows not only all recommended content to be displayed, but also the status regarding its consumption by the target users.


In this way, the company or individual managers can ensure that their teams have the resources they need to continue to evolve their skills and knowledge by monitoring their progress.
Once again, sending stacks of emails is replaced by an integrated interface with Microsoft 365 and Viva tools to ultimately lead to the digitization of the entire company and its foundational processes.
Social Learning: the new corporate training


We have seen what Viva Learning is and what features it can offer your organization. However, we still haven't said what the goal of this app is.
The integration with Microsoft Teams might lead us to think that its purpose is to make corporate training more dynamic, and more organized within employees' busy agendas.
And that is true, but that would not be the real reason it was designed.
The ultimate goal of Viva Learning is, in fact, to bring companies a new way of doing training.
There is a precise definition to express this concept: social learning.
Social learning, or social learning, is a methodology that is based on three main actions that users must be able to perform in their digital training space:
Access training independently, personalizing their own path.
Share and evaluate the material offered in the platform.
Create and disseminate their own content in the community.
If you take a moment to reflect on the features described so far, you will understand how Microsoft has provided a comprehensive and intuitive app to meet all three criteria of social learning.
Professional learning is no longer a one-size-fits-all path from management to all people in the company.
Viva Learning changes the traditional paradigm and enables all users to motivate each other and take responsibility for their own growth.


Do you want a complete, ready-to-use intranet?
"Intranet-in-a-box" is the complete service for your company:
We offer you a branded intranet already integrated with Microsoft 365 and Viva.
We go beyond the limits of a standard corporate site with our 100% customizable features.
We update all components to the latest Microsoft standards.
Simplify internal communication and digitize your business with minimal investment.
Giuseppe Marchi

Microsoft MVP for SharePoint and Microsoft 365 since 2010, Giuseppe founded Dev4Side and intranet.ai with the aim of helping companies to have a simpler and more effective working environment.
He works as a consultant for everything related to digital collaboration, intranet portals and Microsoft cloud platforms.