SharePoint templates:
How to enhance your brand's digital identity

You've created a page and want to share it with your colleagues as a template?
You need to create a new Sharepoint site but aren't sure where to begin?


What's the difference between a Sharepoint site template and a Sharepoint page template in SharePoint?


We've gathered everything you need to know about using and, more importantly, reusing Sharepoint templates in this article.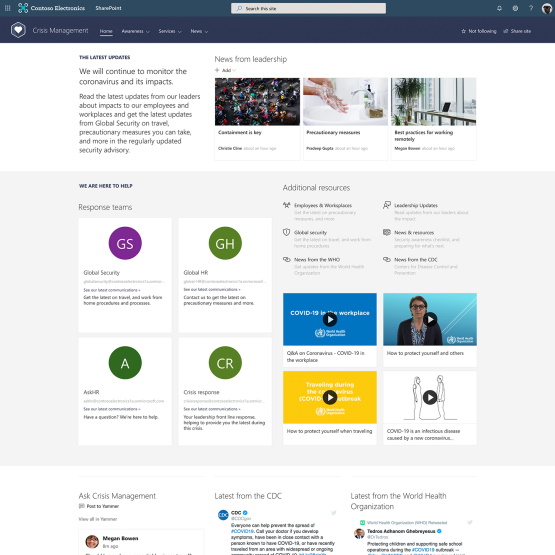 What you will find in this article 
What is a Sharepoint site template, and what are the site templates that are currently available?
What types of page templates are available in Sharepoint Online?
What are the benefits of using Sharepoint to create intranet models?
How to create intranet models
Some best practices to follow when creating intranet templates and pages.
What is a Sharepoint Online site template?
When you create a new site in Sharepoint Online, you can choose from a variety of site templates to help you build a portal with configurations and content tailored to your specific needs. Unlike the on-prem server versions of Sharepoint, it is not possible to create a site using a completely customized template on Sharepoint Online; instead, you must always start with those provided by Microsoft.
You can choose exclusively between these specific models when creating a new top-level site (the parent site of a specific section of your intranet): the Team Site, the Communication Site, or the Hub Site.
Which site templates can be used to create the subsites will be determined by the type of template used to create the parent site.


Is it better to create a Team or Communication site?
It is dependent on the site's intended purpose. If the goal is to create a highly collaborative site with many users publishing content and integration with Microsoft 365 groups, the Team site is unquestionably the best option. Otherwise, if the primary goal is to create a communication portal that will disseminate information and news to a large audience, a Communication site should be chosen. The creation of an intranet, extranet, event page, or specific site for the onboarding of a new employee is a practical example of this case.


What are the new Hub Sites?
The hub sites in Sharepoint were created to allow sites to be linked and organized by project, department, division, and region. They should be viewed as site aggregators because they can:
use the same site navigation and structure across multiple sites;

conduct searches on specific sites and aggregate the results;

collect data from sub-sites such as events, news, or activities.


How do I use a Sharepoint Online Site Template?
Microsoft has introduced many site templates, pre-packaged with specific snippets of content, page layout, and web part, all of which are highly configurable, to simplify and speed up the creation of corporate thematic sites. Starting with a gallery of site templates available in Microsoft 365, the site creator can select and apply the template that best suits their business needs.
Once you've applied the site template, you can make all of the standard customizations that Sharepoint provides. The goal of a site template is not to provide you with an armored site, but to provide you with a starting point that is as close to your requirements as possible.
Let's take a look at all of the different template types available and how to use them.
SharePoint Communication site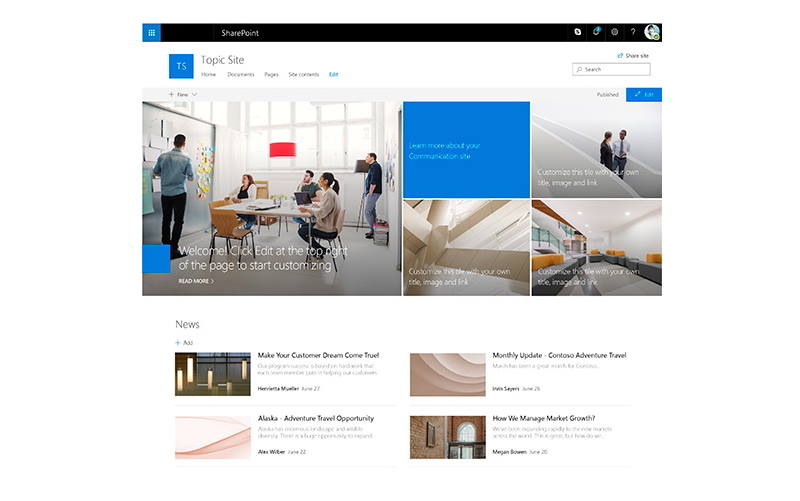 It is the default site for all communication needs, designed to share news, updates, and reports in a visually appealing manner. Those who have been creating sites in Sharepoint for a long time will notice that this is the standard template that has been available for quite some time.
SharePoint Department site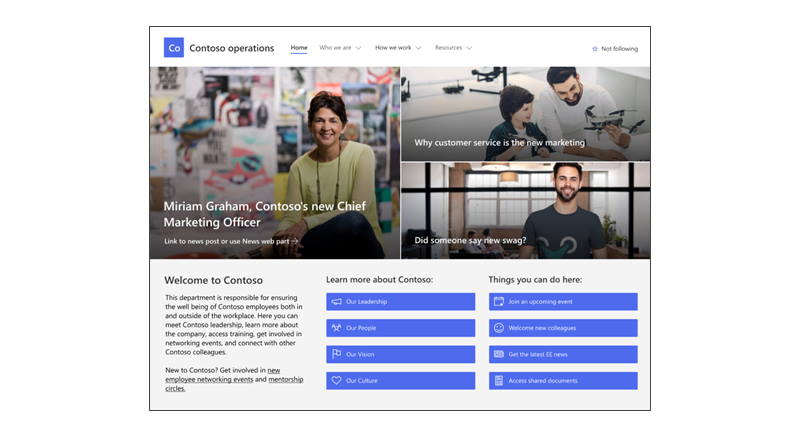 It is designed to create a department site, a geographical area, or a specific division of the organization, as the name implies. The site includes post and news templates that can be easily shared within the company. Instead, the pre-configured web parts are intended to highlight the team and corporate culture of the department for which the site is being built.
Sharepoint Leadership connection site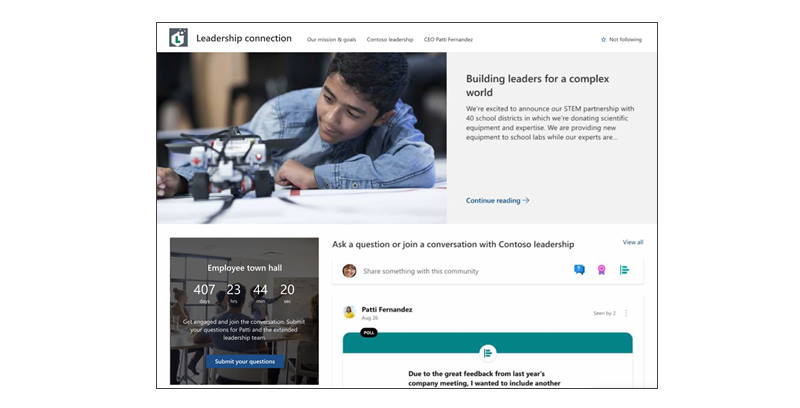 It aims to connect more managers and members of specific teams through events and engaging conversations, and it is community-oriented. As a result, Yammer's Web Conversation Part is also automatically included, allowing content from the company's social network to be included.
What exactly is Yammer? Yammer, the corporate social network, is also worth a look.
Employee Onboarding site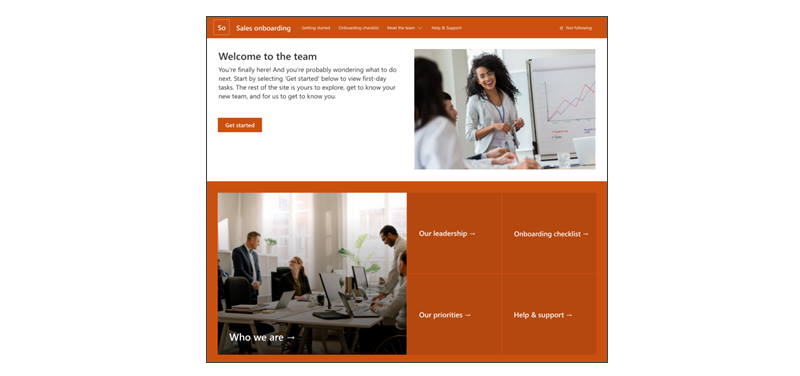 It was created for human resources to introduce a new employee to the company and guide him through the onboarding process. If you're unfamiliar with the term "employee onboarding," we recommend reading our specific article, which covers several aspects of this critical process.
Also see: What is onboarding and how can it be improved in the workplace.
Other communication site templates
Three models are also proposed for the creation of a communication site:
Topic, for sharing news, events, and other types of content quickly;
Showcase, in order to make corporate images available to the public;
Blank (empty site), to create a communication site, starting from a blank page.
What is intranet.ai?

It's the ready-to-use SharePoint intranet,
designed to reduce costs and implementation time.


Starting price is 2.450€ for a fully-featured intranet.

More than 25 features, including Intelligent Search, Document Management, Company News, and Teams Push Notifications.

100% integrated with Microsoft 365, Viva, and Power Platform.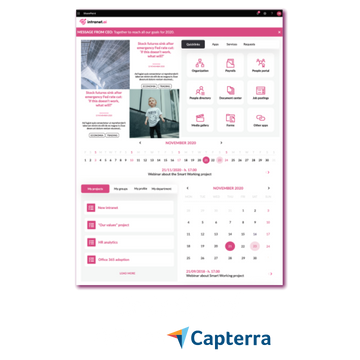 SharePoint Team site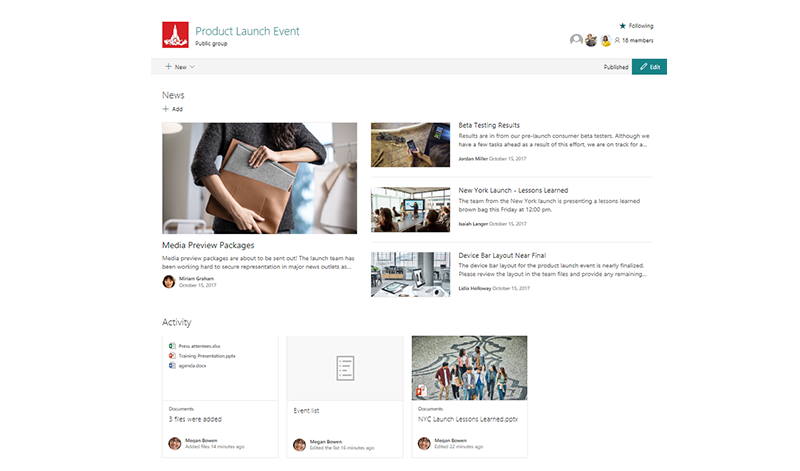 The goal of these sites is to centralize and share resources for users and teams who need to collaborate and store files and information.
It's worth noting that, unlike Collaboration sites, these sites can connect to a Microsoft 365 group in order to propagate specific permissions.
Let's take a look at the subsite templates that are available.
SharePoint Project Management site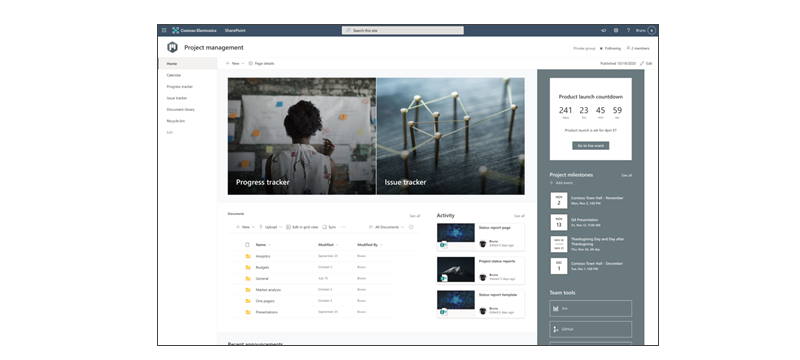 A Sharepoint Team Site template designed for project management creates a space where you can share project updates, write and view meeting notes, and clearly store the project's documents.
Event planning site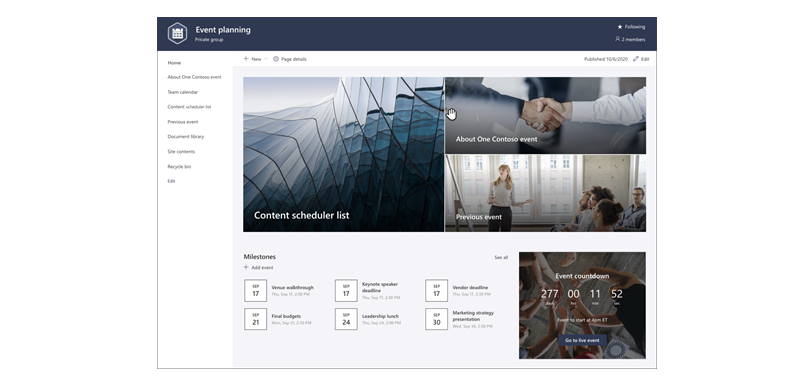 Focused on event planning and coordination, the site's most frequently used deadlines and resources are prominently displayed.
Training, courses and development team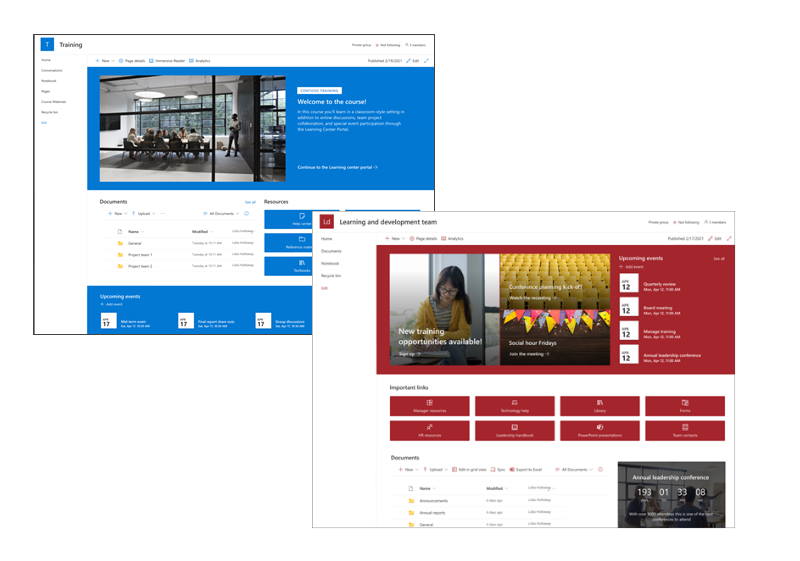 Site models aimed at the professional development and growth of resources and teams. They were created in order to provide a simple interface for accessing the educational content that is available to them.
Check out our Digital Learning!
What is a SharePoint page template?
You've created a page and want to share it with your colleagues as a template?
You need to make a new page but don't want to start from the beginning?
Page templates (SharePoint Page Templates) were created specifically to address this need: they allow you to create an internal gallery where you can draw to reuse layouts and configurations of specific pages.
Using employee onboarding as an example, this feature allows you to create and save a custom page that can be used again and again for new hires. Human resources can then reuse the new employee's presentation page, updating only the new content while maintaining the same layout and web part configuration.
How to make a page using a Page Template? (page template)
If you're using Sharepoint to create your document management platform for the first time, make sure you have permission to create new pages.
When you make a completely new page, you have the option of:
Blank page: it has nothing except the page title.
Basic text: a page with a two-column template focusing on text and providing examples of text formatting.
Visual: a visually appealing model that emphasizes the images that support your text.
To use a Sharepoint template page instead, you must first create and save it.
How do I make a page template for the first time?
Go to the page you want to use as your template's foundation.


Insert or change the web parts and content into the template.


Click the arrow next to "Save" at the top of the page and select "Save as Template" after you've finished creating the page.
How to use a page template
Click Page or Post News at the top of a site or page.


Select your preferred template or the one you'd like to use. Choose Empty if you want to make a new one.


Insert your content, and move or remove web parts as needed.


After you've finished editing, click Save as Draft to save the page.


When you're ready, click Publish or Post News to make your page visible to everyone who has access to your site (for news posts).
Some best practices for what you should know about page templates
A functional intranet requires a simple and essential design that also reflects the corporate brand. However, in our Sharepoint consulting experience, we've seen some intranets that are either overly branded or completely anonymous.
As a result, we've decided to wrap up this article with a few key best practices that you can apply to all of the page templates you want to save in your Sharepoint intranet:
Ensure that your company name and logo are prominently displayed on the home page.


Use corporate colors whenever possible and avoid creating dozens of subsites with different colors.


Make the search function always available and easy to locate.


The navigation should be simple and well-designed, with no unnecessary nesting of important information.


Keep in mind that people are accustomed to scrolling vertically, so don't be afraid to include content below the fold.


Nowadays, almost everyone uses widescreen monitors, and they use the extra space for content that is relevant but not essential.



Remember that participation is the key to the intranet's success. When it makes sense, include interactive elements like image carousels, videos, or surveys.
Fill out the form to get your free guide
Build and improve your digital workplace with more than 100 features and innovative, engaging and intelligent ideas.
Fill out the form and receive your free guide now!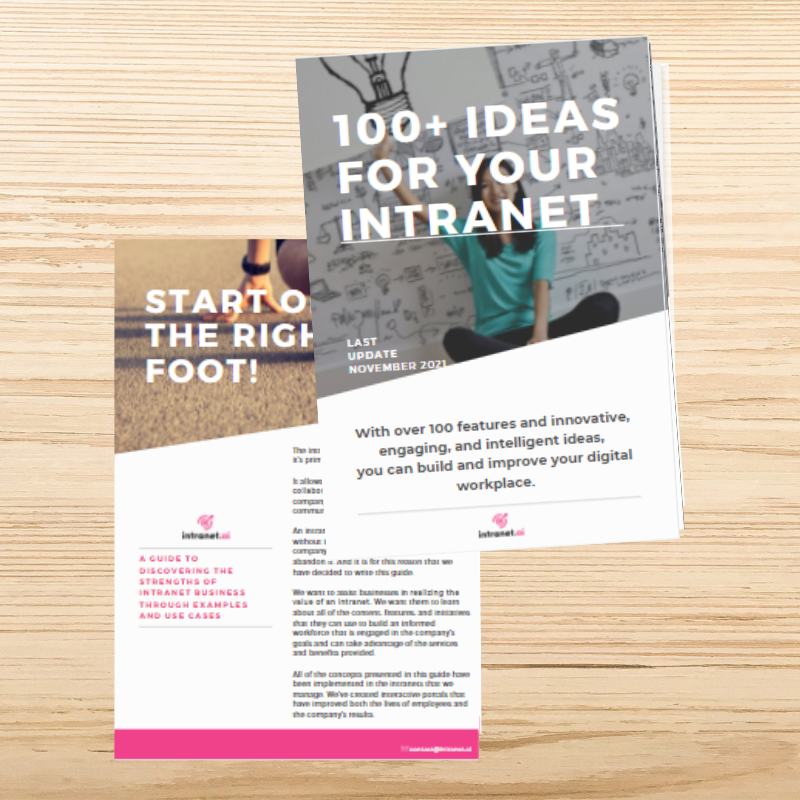 Giuseppe Marchi

Microsoft MVP for SharePoint and Microsoft 365 since 2010, Giuseppe founded Dev4Side and intranet.ai with the aim of helping companies to have a simpler and more effective working environment.
He works as a consultant for everything related to digital collaboration, intranet portals and Microsoft cloud platforms.