YOUR INTRANET RESOURCE
The right digital workspace for your company
By digital workspace we mean the digital work environment of your company.
Knowing how to make the most of its potential allows you to implement employee productivity and the business processes that determine company results.
However, only intranets with certain characteristics can make a quality contribution to the company.
So let's have a look at what an intranet must have to bring success to your company.
What you will find in this article 
The right digital space for employees
Possibility to customize the intranet
A space for the user to create content
Information repository in a single platform
A simplified user interface
A digital workspace was created to help an employee do their job easier.
With a cluttered user interface, they wouldn't be able to smoothly navigate while searching for the content they need.
What is an interface?
Drop-down menus, layouts, buttons, pages, customisations such as the corporate brand, to best represent the corporate culture in your digital workplace.
For a simplified but also complete and functional interface, you need to have:
A relevant and engaging homepage, with personalised news




A list of online users

An easy way to publish, share or create




An intuitive, simple and creative design

Quick links to all intranet functions via a menu or sidebar




Notification alerts for upcoming conversations or activities

A search bar

Customisation options
An intranet is the mirror of the company in a digital environment.
It learns from its users and assists them by predicting their needs. This is why it must have built-in customisation options such as tags for projects and skills, unique profiles, created or related content.
Everything the user needs fits naturally into their digital workspace. The more customisation options there are, the more comfortable the user.


A well-designed digital workspace should have the following:
The homepage should be customised with the links and content used frequently

Feature widgets that contain specific content from different areas of the intranet on the individual employee's homepage.

Allow access only to authorised people where content is sensitive.

Have a widget that allows you to view content closest to the user's needs
Content creation and management
Your digital workspace must be able host the generation and exchange ideas.
The driving force behind a corporate intranet is that it is user-centric and encourages employees through innovative and more effective ways of working.
One of the best ways to do this is to give employees the space and freedom to create content on the corporate intranet.
Employees can express themselves by creating content that is always relevant in their digital workplace.
In addition, thanks to the features that implement collaboration, users can create and manage shared content.
To work, however, the content of an intranet should be:
focused, conceived and managed based on the user

short, concise, engaging and relevant

interactive for the reader (comments, reactions, shares)

consistent with corporate culture and easy to create through a designated platform

keywords for research

intuitively organised within the intranet.
What is intranet.ai?
It's a ready-to-use corporate intranet,
designed to reduce costs and implementation time by providing a highly modern and collaborative digital workplace.

Starting price is 2450€, for a fully-featured intranet

More than 20 App including intelligent search, document management, news, push notifications, and my workplace


100% integrated with SharePoint Online and Microsoft 365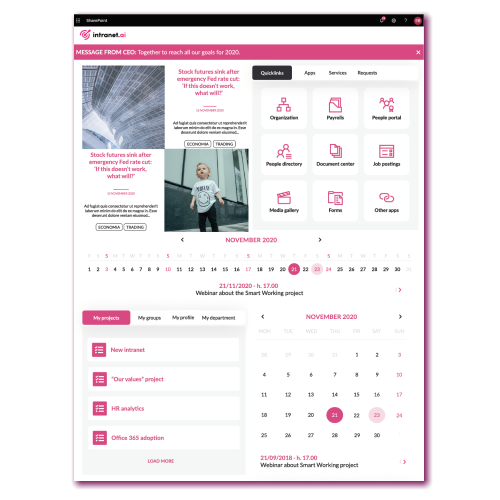 Intelligent Search
One of the benefits of a digital workspace is that all company and employee information is stored on a single platform.
If the search engine is powerful and intuitive, searches are quicker so group members find everything they need to do their job more efficiently.


They can:
carry out searches on the intranet area (documents, files, presentations, profiles, etc.)

 sort the results by listing the most relevant information first

carry out searches in tagged content categories in order to provide the right results

search the employee directory to find people associated with keywords, categories
Stimuli for the employee experience
Employee experience in the digital workspace is amplified, the focus of the intranet.
In addition to continuous engagement input, the user can express their ideas through commenting, feedback and polling options. You can also share and exchange ideas on topics within the company through specific social areas.
In a nutshell, an intranet that works well is one where the employee experience will take a qualitative leap so long as employees have:
a springboard to create their corporate network

a space to create and share files in each department

instant access to the most useful files

complete tools for sharing documents within a single project or a specific initiative

a way to let other colleagues know about new content.
Conclusion
These are the essential features an intranet must have to make your business successful, but in fact, they are just the basics.
We are a team of professionals who have been in the sector for more than 15 years, and we build intranets with the same technology as Microsoft 365 intranet while also adopting artificial intelligence solutions.
A significant amount of engagement and performance tools for the company are added to the digital workspace.


Giuseppe Marchi
Microsoft MVP for SharePoint and Office 365 (now called Microsoft 365) since 2010, Giuseppe founded Dev4Side and intranet.ai with the aim of helping companies to have a simpler and more effective working environment thanks to Microsoft technologies. He works as a consultant for everything related to collaboration, intranet portals and Microsoft cloud platforms.