Improve the employee engagement of your company with a software platform: everything you need to know in 2023
What is employee engagement? What benefits does it bring to companies?
Let's see in this article how to optimize it through advanced strategies and engaging activities.
The intranet is one of the software that strengthens employee engagement, and you will see why, with 6 innovative employee engagement solutions suitable for any company in any market.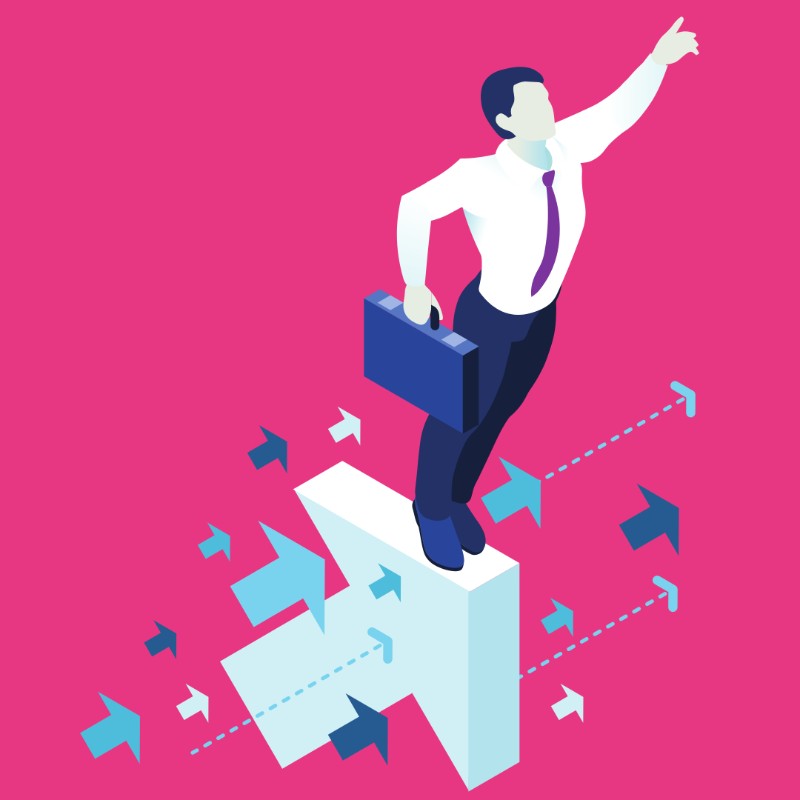 What you will find in this article
What employee engagement is
What are the best employee engagement strategies to improve it?
6 innovative employee engagement solutions with the intranet
What is employee engagement?
Everyone is talking about employee engagement today, but what exactly is it? Employee engagement is the degree of involvement of employees in the structure in which they work. Indeed, the success of a company is no more dictated only by the quality of the strategies of its managers, but also by the engagement of the employees.
Understanding how an employee engagement software platform can improve your company is necessary to create a working environment composed of more stimulated and productive people. Making employees feel relevant to the company allows them to develop more skills than unengaged employees.
The improvement of the working environment and the productivity, that come from the engagement itself, are indirectly reflected also in the company's ability to innovate and in customer satisfaction. Indeed, an engaged person is more motivated to contribute to and increase the company's potential.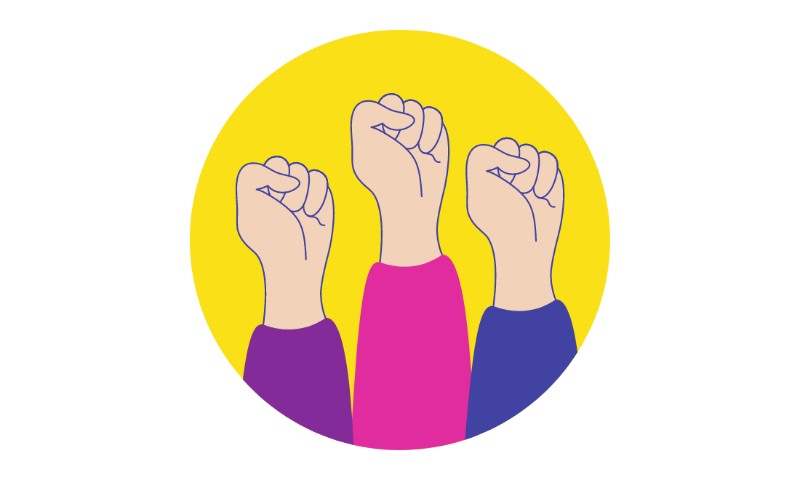 How to improve employee engagement: the best digital solutions
Nowadays, employee engagement software has accelerated dramatically, thanks to the use of digital technologies and tools. Both of them support an innovative working environment with multiple resources that can help the employee in his everyday life.
Such exploitation of digital in the work environment has fostered new organizational systems that stimulate greater collaboration and individual empowerment, by recognizing more the achievement of objectives than the physical presence in the company.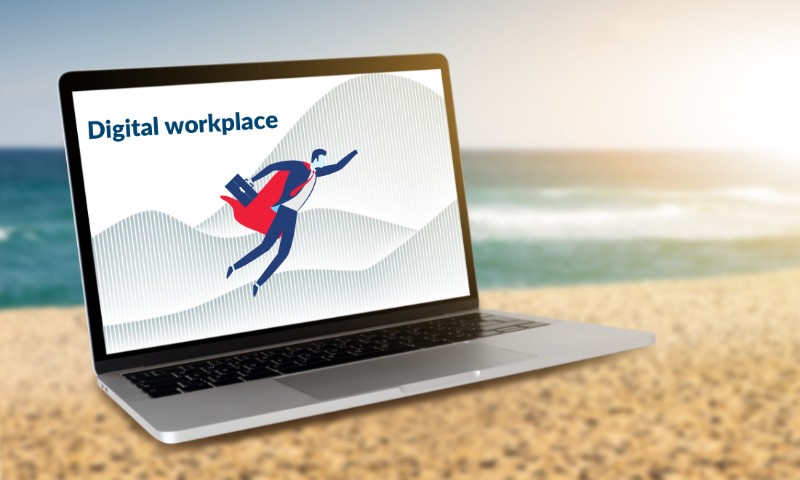 The latest technologies, such as the intranet, have allowed the change of working order mentioned above and, for this reason, companies try to rely on the best digital solutions for the most innovative and effective work transformations.
Platforms that generate a positive digital workplace promote professional growth for workers who have the opportunity to involve them, by pulling out their soft and hard skills to the best.
The intranet was created to revolve around the user, allowing him to share his ideas, visualize and comment on those of others, achieve company goals, and train in an optimal professional environment.
Blogs, wiki, forums, discussion channels, information boards are all elements that spread company knowledge by accelerating innovation processes and employee engagement.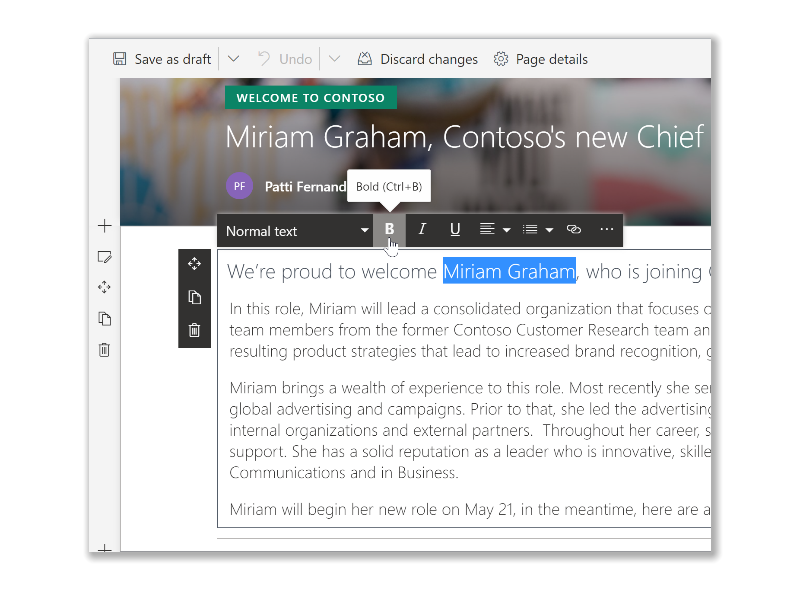 Improving employee engagement through collaboration
Microsoft Teams has shown us that collaboration doesn't stop evolving. Companies need more engaged minds, willing to join together to achieve productivity improvement, and the right employee engagement tools that enhance collaboration are the most attractive solution. The intranet centralizes all the materials that the worker needs in one place and, from there, also their colleagues can find them.
Through real-time chats, instant messages, video calls, and corporate social networks, teams can synchronize, brainstorm, and give rise to perfectly planned and monitored projects with appropriate employee engagement tools and, in the case of intranet.ai, integrated with artificial intelligence.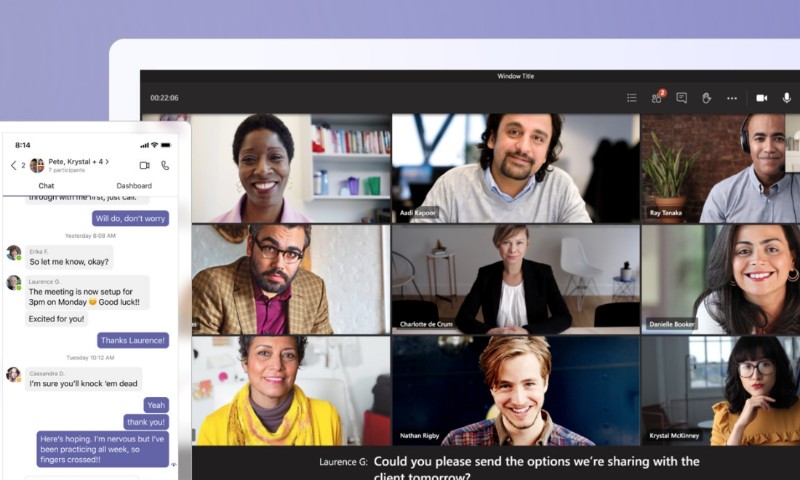 The development of a business community, the ability to find all the necessary work materials, the fluidity of business processes that are generated by platforms such as the intranet have therefore allowed a change of organizational strategies that have transformed the workplace into a fluid customizable environment that replaces the chair and desk.
Regardless of where workers are located, thanks to digitization they can access data and business apps that are time-saving and empowering for engaging and challenging work.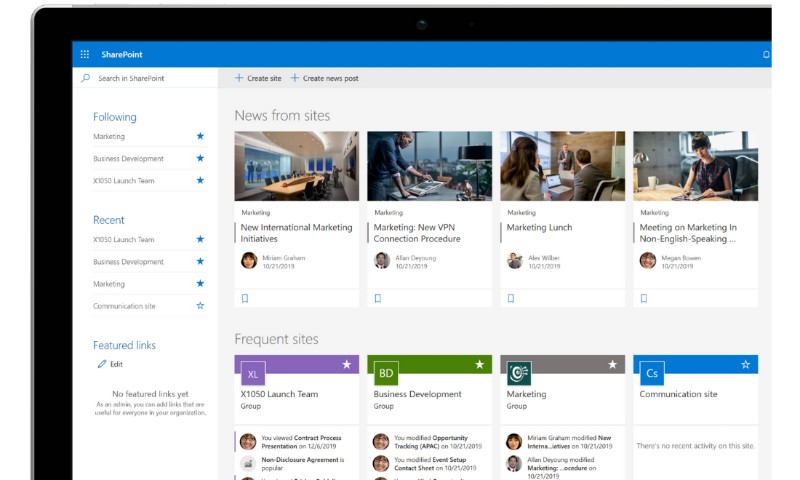 Employee branding
Such innovative environments also create an employee branding around the company, which can attract and retain all those talents who want to grow alongside tools that accompany the user, preceding and resolving his needs. Thus, the companies guarantee a recruited staff, who is attracted by the possibility of evolving into a profitable professional environment. 
Now that you have understood the importance of employee engagement, we want to present 6 innovative employee engagement solutions that our customers, both national and international companies, have implemented through the intranet to strengthen it.
What is intranet.ai?

It's the ready-to-use SharePoint intranet,
designed to reduce costs and implementation time.


Starting price is 2.450€ for a fully-featured intranet.

More than 25 features, including Intelligent Search, Document Management, Company News, and Teams Push Notifications.

100% integrated with Microsoft 365, Viva, and Power Platform.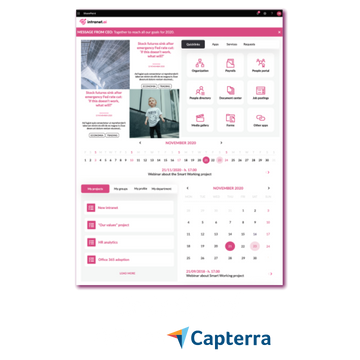 A step back: what is an intranet?
An intranet is a website, which can usually be accessed only by employees of a company, which can publish helpful information and services to the employee.
In an intranet, we can find company news, work documents, information to learn more about the company -such as the company structure, organizational charts, values- or knowledge about colleagues, such as address book, personal pages, and conversation groups.
Read more: Intranet: what is it and why is it necessary for your company
Through the intranet, the company can provide services to the employee and facilitate business processes such as access to their payslips, vacation requests, permissions, and work-from-home permits, expense notes, and everything else.
Here employees can find their benefits and have access to the company welfare's area, where they can find out about all the perks that the company offers them.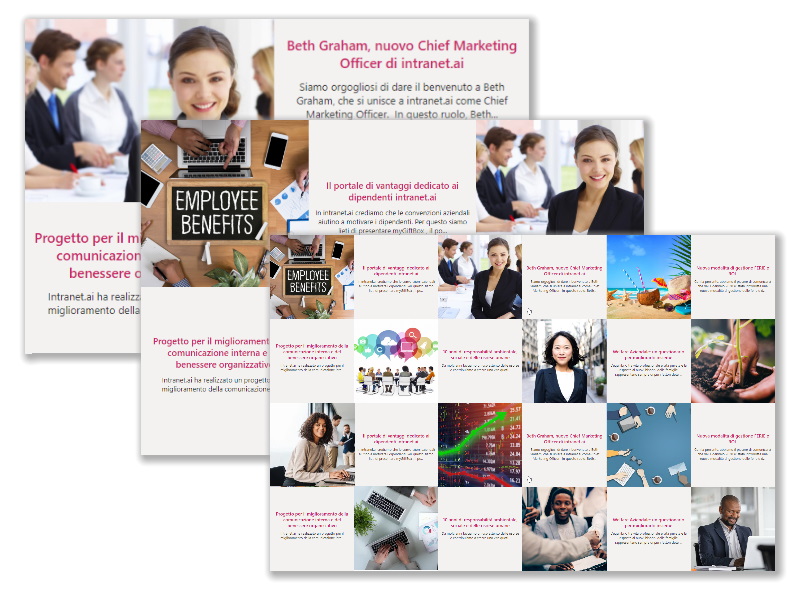 It's the main entrance to your company, comparable to a work tool. Indeed, an intranet is a global means of communication: it can be used to circulate service communications and allow people to know each other, collaborate, and share knowledge in the company.
6 innovative employee engagement solutions with the intranet
1) Social networking
Feedback on the content that employees publish is critical to smooth communication that involves the entire company.
So, you can set up ways to receive feedback on content for every communication published on the intranet.
Indulge yourself from classic likes and comments to feed an honest discussion on the corporate social network, Yammer in the case of intranet.ai integrated with Microsoft 365 and all its tools, to encourage engagement and listening to employees.
You can share corporate news or service news within the company community to echo your internal communications. 
Enterprise social networking is now an established practice, and we recommend exploring it to give a tool for communication, comparison, and sharing of knowledge to employees in the company.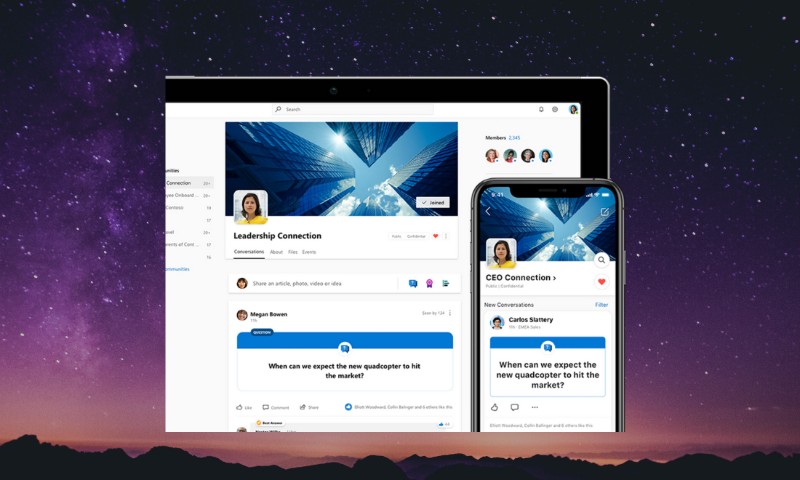 2) Ideas generation: a contest for employee engagement
As we have already said, the intranet is the right way to facilitate the generation of new ideas in the company. 
Therefore, we must look for practical employee engagement solutions to encourage the circulation of ideas and thus stimulate engagement.
One way that we have put on track several times in the intranet that we have managed has been the contests for generating new ideas to identify new services or products for the business to improve the wellness inside the company. 
How do you do these contests?
People had to join a group, thus raising the interaction and collaboration between colleagues. They could all think together about how to achieve the company's goals for an initiative. The goals could be internal, corporate, and business ones.
Once ready, the ideas were published, after approval, directly within the portal. Then, everyone was allowed to vote through the likes, thus raising the intranet's visits and overall engagement.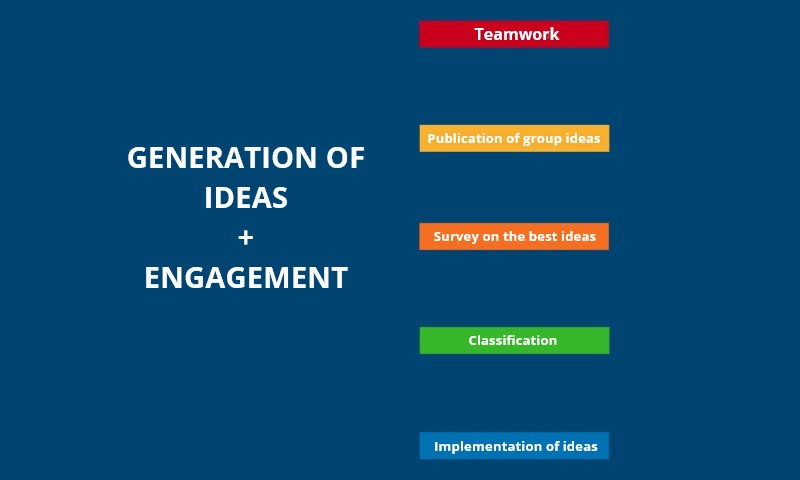 The maximum involvement for people was to see their ideas win the ranking and be put in place by the company.
Who better than those who work every day in the company can propose how to improve things?
3) The killer app
Now let's talk about an app that should be on your employee engagement platform: the killer app.
A "killer app" is the most used application that helps generate visits within the intranet. 
Every intranet must have its killer app to bring as many colleagues as possible into the portal.
It ensures that, together with the use of the specific application, these people can also receive company news, be made aware of particular initiatives or possibilities that the intranet is offering, or, more simply, know better the contents present on the company portal.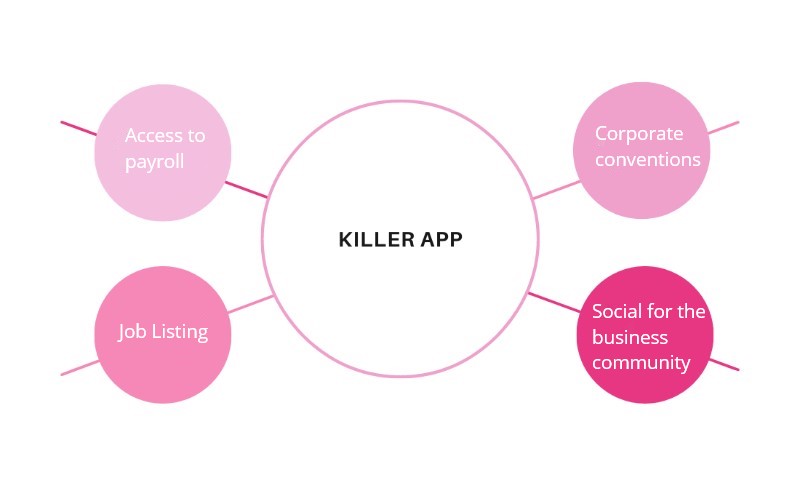 Examples of killer apps are all services that the intranet can offer, like ''access to payslips'' that is visited by all the employees at least once a month.
A bit like in the best marketing techniques, that's your time to convert what is an "operational" visit into an "exploratory" intranet visit to engage with all its employee engagement tools.
4) A blog held by employees and CEO
Blogs are present in the web world and can also be very useful to generate engagement and corporate awareness. For example, you can have a blog held by employees, where informally they can share information or experiences by talking about life in the company.
CEOs can conduct a blog themselves, which usually increases the general interest of the intranet population. Of course, everyone would like to know what does or thinks who runs the company, wouldn't they?
Although the blog is further away from the news format and more user friendly because it is closer to storytelling, it can be used as an employee engagement tool because it can help the CEO to convey his corporate vision, the goals to be achieved and those achieved recently, allowing him to communicate more easily with employees and making them feel more involved.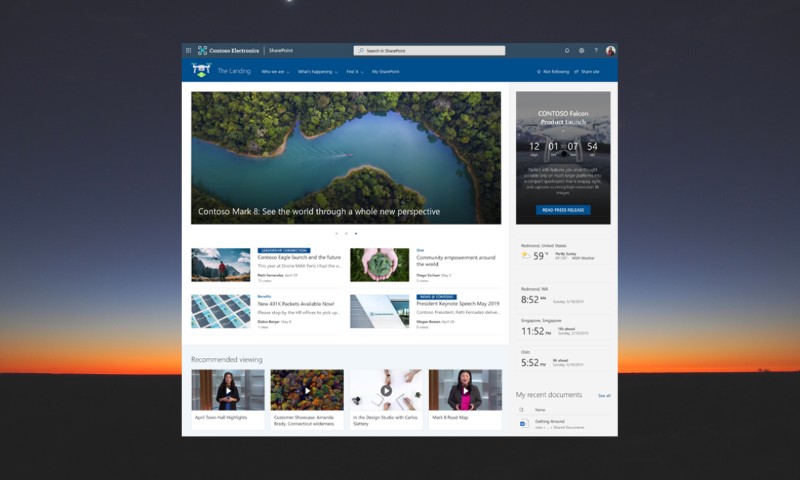 5) Training as an employee engagement activity
Training through the intranet can be made more engaging.
Employees' demand for training content, the achievement of qualifications, training courses, or any feedback that improves the training services can be rewarded and stimulated by the company by starting a point collection on the intranet to achieve objectives, such as the granting of a virtual badge.
Any success of this kind can be viewed on the user's My Profile area or made public in the company section.
Discover our Digital Learning feature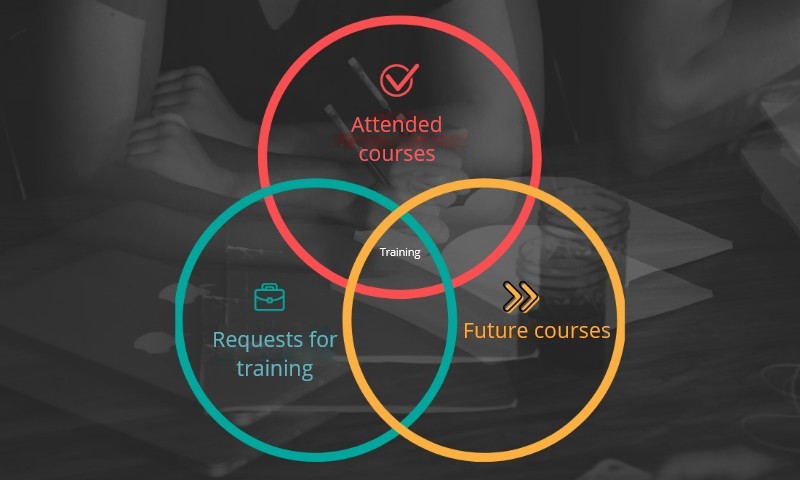 6) Personal profiles to increase engagement
An intranet like intranet.ai allows you to create an intelligent business directory that lets the employees add, in addition to the company information, their one, to boost your company's engagement.
Colleagues can find things in common with each other, such as past experiences, interests, and skills, leading to open discussions, sharing knowledge, and improving well-being in the company.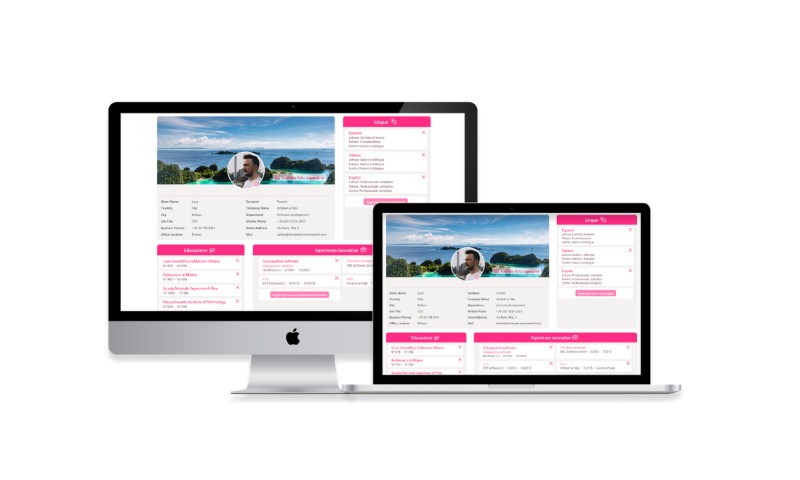 Giuseppe Marchi

Microsoft MVP for SharePoint and Microsoft 365 since 2010, Giuseppe founded Dev4Side and intranet.ai with the aim of helping companies to have a simpler and more effective working environment.
He works as a consultant for everything related to digital collaboration, intranet portals and Microsoft cloud platforms.