Digital workspace: what is it and what are its benefits in 2023
Nowadays, work is increasingly driven by technology and innovation, and businesses must provide their employees with a digital workspace that includes all the tools they require to complete their tasks.
The term "digital workspace" refers to your company's digital work environment.

You could implement employee productivity and business processes that determine the organization's results if you know how to maximize its potential.
Let's take a closer look at what that is and the benefits it provides.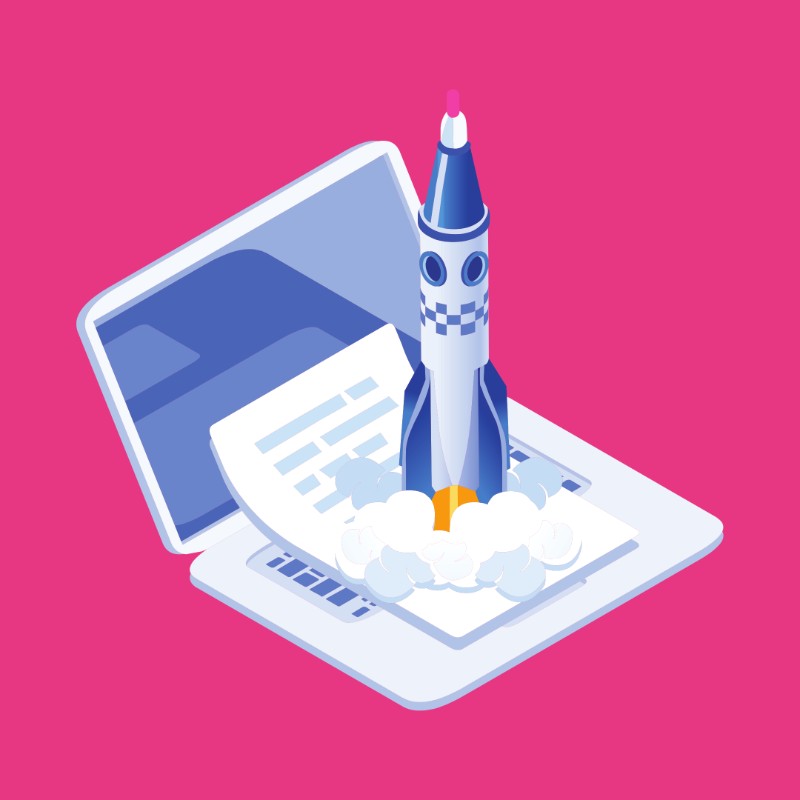 What you will find in this article
What is a digital workspace?

What are the benefits it brings to your business?

How a digital workspace should be

4 key elements of a digital workspace for business success
What is a digital workspace?
A digital workspace is an integrated platform that allows employees to collaborate and work remotely by centrally managing the company's applications, data, and endpoints (e.g., from home).
It enables users to work in the digital workplace by providing an out-of-the-box self-service experience that adapts to the platform, location, and model of the device.
A digital workspace, also known as a virtual workspace, brings all of a user's resources, such as documents, files, and applications, into one place and provides a cloud-based console for IT professionals to manage them.
By simplifying and centralizing the overall management of tools, applications, and devices, the digital workspace aims to provide IT professionals and other users with a unified and secure experience.
Because the data is protected in the data center, the cloud, or on endpoint devices, it also provides secure remote access to the user.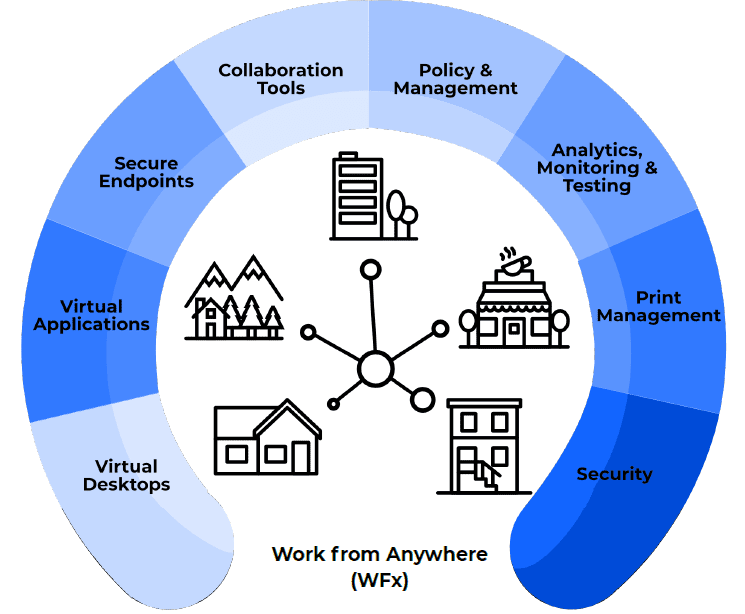 What are the advantages of a digital workspace?
Employees can work wherever and whenever they want, from any device they want, thanks to new technologies and tools designed specifically for digital work.
As a result, workers will have more control over their lives and will be able to distinguish between work and personal life.
Employee productivity is also boosted because of flexibility.
A digital workspace also encourages easier collaboration and more efficient interactions between coworkers. Employees can collaborate on projects no matter where they are by sharing links, data, documents, and images.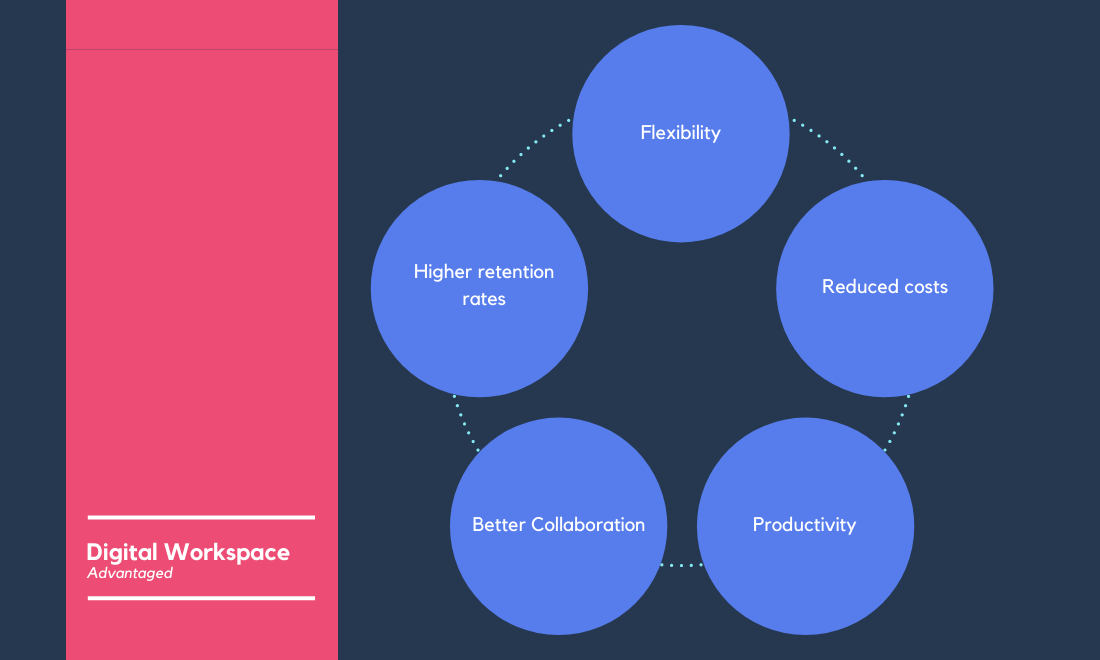 The digital workspace is widely used to improve the employee experience at a company.
Read: Achieve the best employee experience with the intranet
Workers can also trust and respect their superiors and feel respected because of the new space's empowerment. Employee satisfaction rises as a result, and employees are more likely to engage and stay with the company for longer periods of time.
Businesses can benefit from a digital workspace because it eliminates the need for a physical workspace, allowing them to save money and cut costs.
Furthermore, digital workspace technology is compatible with the majority of other business technologies. This allows businesses to improve the embedded software user experience while reducing the number of logins that employees must remember and simplifying system management.
In other words, rather than using multiple applications, one for each duty or target, everything is centralized on a single platform.
​
What features should a digital workspace have
A digital workspace is designed to assist employees in their day-to-day work. They wouldn't be able to smoothly navigate the platform while looking for the content they want if it had a cluttered digital user interface.
But what exactly does the term "interface" imply?
Customizations like the drop-down menu, layout, buttons, pages, and so on, as well as the presence of company branding, are examples of how to best represent your company culture in your digital workspace.
To find a user interface that is simple but also complete and functional, we propose:
An engaging homepage, with the ability to customize the news

A list of all the online users

An easy way to publish, share or create

An intuitive, simple, and creative design

Quick links to all intranet functions via a menu or sidebar

Notification alerts for upcoming conversations or activities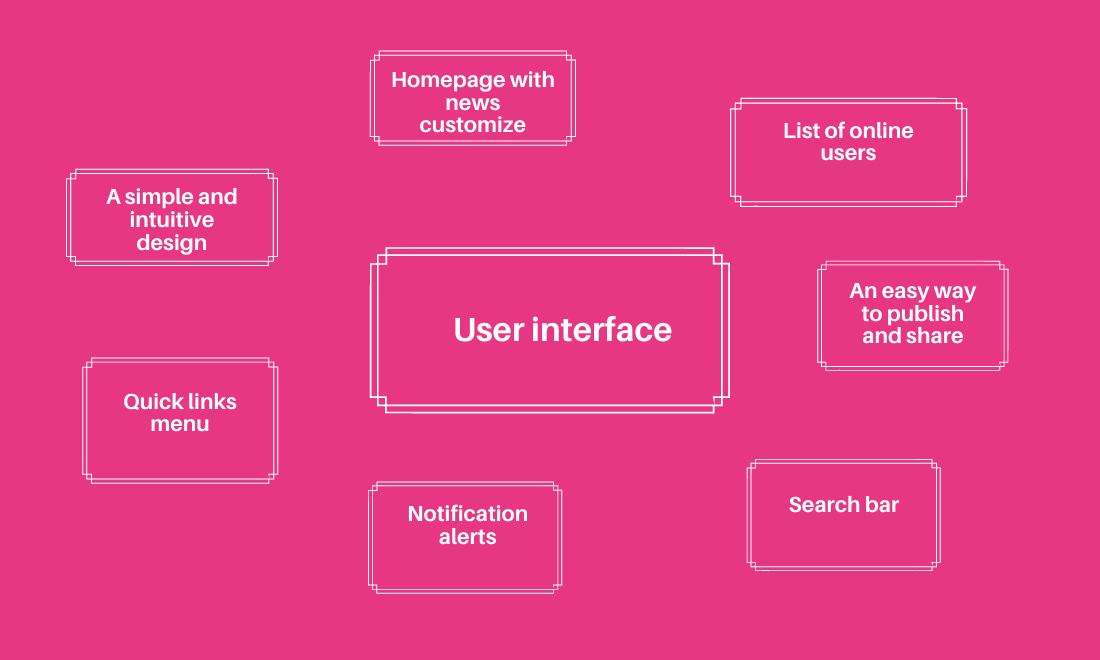 The digital workspace par excellence
We're talking about intranets, and a good one should have all the qualities listed above. The intranet ensures that internal company communication evolves, and there are numerous reasons to pursue an effective internal communication and collaboration strategy.
To begin, establishing an active communication network with all employees entails encouraging employee commitment and sharing of corporate values.
Sharing corporate content, such as strategic plans, goals, and issues, fosters a sense of belonging and increases employee engagement.
In fact, technological advancements enable you to create more effective collaboration platforms.
Employees will always be informed about the following topics at the company level:
future goals

internal strategies

important events and deadlines

the company goals

corporate values
Customization options
The intranet serves as a digital reflection of the company.
It learns from users and anticipates their needs, allowing it to accompany them in their daily work.
It must have built-in customization features, such as projects and skill tags, unique profiles, and created or related content, to accomplish this.
The user's digital workspace should naturally fit everything they need to see. Users will find it easier to find what they are looking for if there are more customization options available.
As a result, a well-designed digital workspace should include the following features:
The homepage must be able to be customized with the most frequently used links and features based on the user's requirements.

Have feature widgets on each employee's homepage that contain specific content from various areas of the intranet.

Only authorized people are allowed access to sensitive content.

Create a widget that allows you to see the most relevant content based on the user's requirements.​
What is intranet.ai?

It's the ready-to-use SharePoint intranet,
designed to reduce costs and implementation time.


Starting price is 2.450€ for a fully-featured intranet.

More than 25 features, including Intelligent Search, Document Management, Company News, and Teams Push Notifications.

100% integrated with Microsoft 365, Viva, and Power Platform.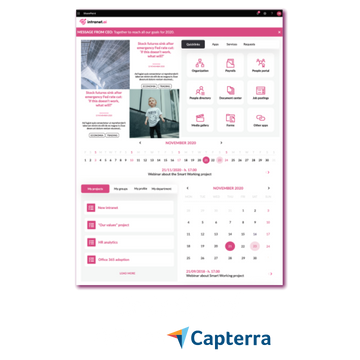 Content creation and management
The digital workspace must serve as a hub for the generation and dissemination of ideas.
The corporate intranet's driving force is that it is user-centric, encouraging employees to use innovative and more effective digital methods of working.
Giving employees the space and freedom to create content on the corporate intranet is one of the best ways to accomplish this.
Employees will be able to express themselves and create content that is always relevant to their digital workplace in this manner. Users can also create and manage shared content using the collaboration feature.
An intranet's content should be as follows for work purposes:
focused, conceived, and managed on user habits

short, concise, engaging, and relevant

interactive for the reader (comments, reactions, shares)

consistent with the corporate culture and easy to create through a designated platform

keywords to search

intuitively organized within the intranet.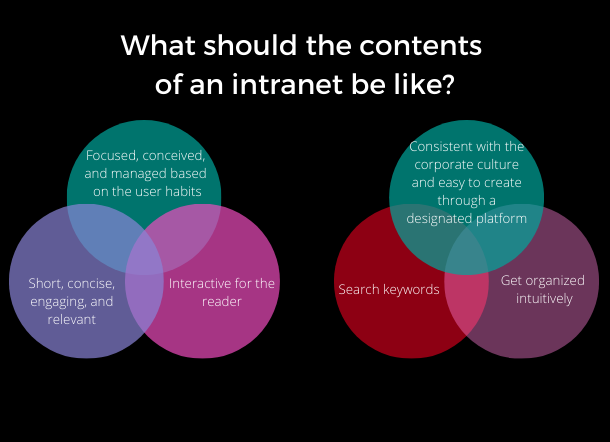 Smart search
Another benefit of a digital workspace is the ability to store all company and employee data on a single platform.
Searches are quick and help employees find everything they need to do their jobs even more efficiently if the search engine is powerful and intuitive.
Users will be able to do the following:
carry out searches throughout the intranet area (documents, files, presentations, profiles, etc.)

sort the results by listing the most relevant information first

carry out searches among the categories that have been "tagged" in the contents, to provide great results

search the employee directory to find people associated with keywords, categories, or skills.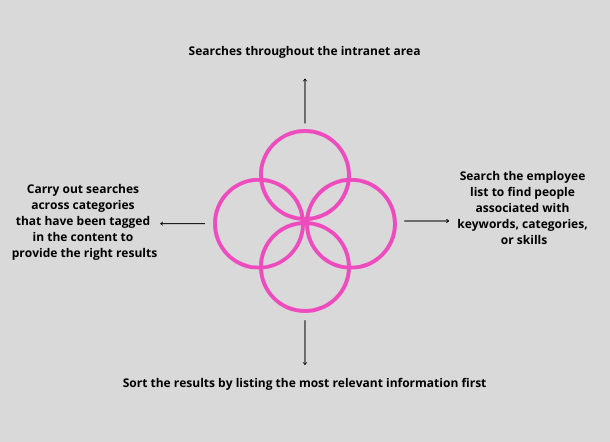 Stimuli for the employee experience
Employees' experience in the digital workspace is amplified, and it is the portal's center of gravity.
In addition to continuous engagement input, the user can express himself through comment, feedback, and polling options.
Special social areas can also be used to expand the possibility of sharing and exchanging ideas on internal company topics.
In a nutshell, we can say that in a well-functioning intranet, employee engagement will skyrocket because employees will have:
a springboard to create their corporate network

a space to create and share files in each department

immediate access to the most useful files

tools for sharing digital documents within a single project or a specific initiative

a way to let other colleagues know about the new content.
​
4 essential components of a productive digital workspace
1) When cloud computing and mobile computing are used together, the risk of data security increases.
As a result, digital workspaces must implement technologies and procedures to ensure data security in the cloud while also making it accessible to more devices.
2) The digital workspace should include a diverse set of scalable business applications.
Every application should aid in the execution of business processes.
Knowledge management and collaboration platforms, in particular, are critical because they allow users to store documents in a central location and collaborate in real time.
3) Users should be able to access corporate applications from any location and at any time.
4) A successful digital workspace must also be compatible, allowing employees to access corporate applications from any internet-connected device.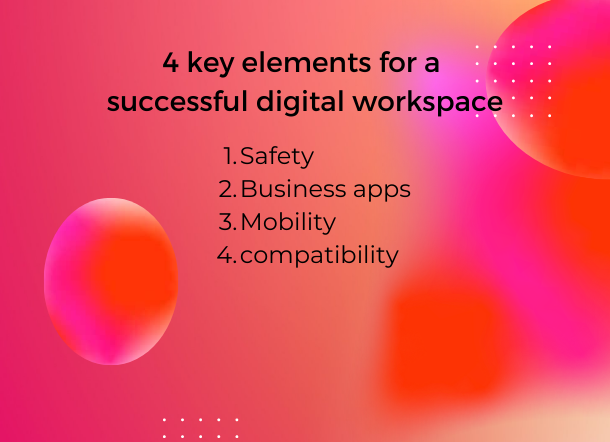 Conclusion
We could affirm that a digital workspace gives you many benefits, including:
safety

higher productivity

improved collaboration

cost savings

flexibility
More and more companies are realizing the enormous potential of the digital workspace, which, through the combination of technologies and quality workspaces, stimulates creativity and commitment among employees and guarantees the achievement of success.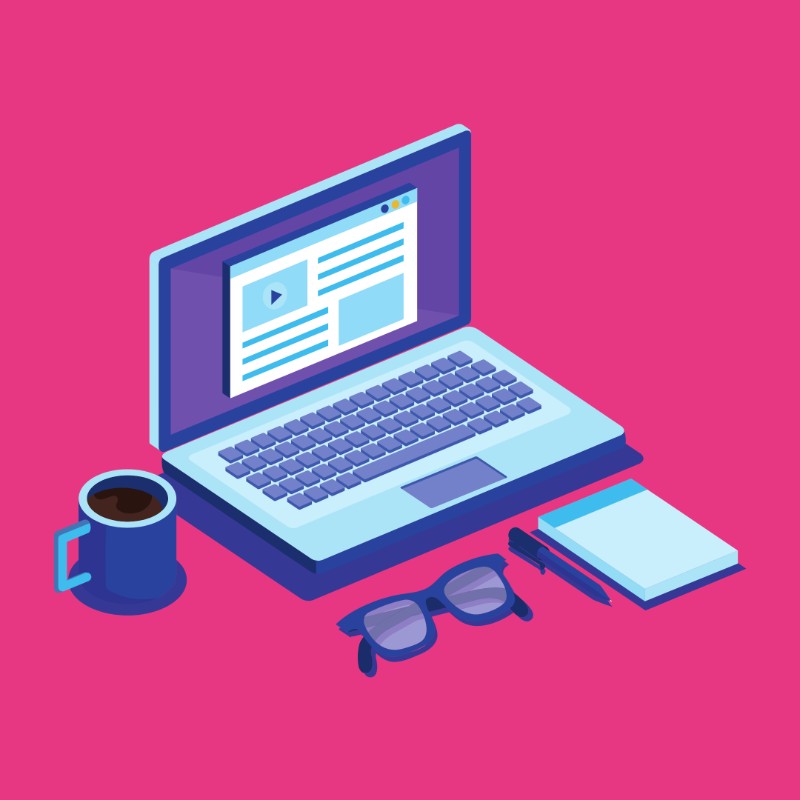 Giuseppe Marchi

Microsoft MVP for SharePoint and Microsoft 365 since 2010, Giuseppe founded Dev4Side and intranet.ai with the aim of helping companies to have a simpler and more effective working environment.
He works as a consultant for everything related to digital collaboration, intranet portals and Microsoft cloud platforms.