Have you created a page and want to give it to your colleagues as a template?Need to create a new page but don't know how to get started?
Find out how to use SharePoint templates!
After creating a SharePoint intranet template for a page, others can view it and choose it from the Templates gallery to use it as a starting point for pages.
Once created, they can make changes to their page without changing the original template.
Also, if the page template is changed later, a page already created from that template will not change.
What you will find in this article 
What are sharepoint page templates
Why create intranet models with sharepoint
How to create intranet models
Some best practices to follow for your intranet model
What is a SharePoint page template?
Before you start working with SharePoint page templates, it helps to understand what they are.
SharePoint templates are templates, pre-built solutions, designed for your particular business needs.
You can use these page templates to create and customise your SharePoint site.
The template is a way to manage the features and customisations of a site and manage them from a gallery.
SharePoint intranet templates are used to provide solution templates to other websites or to coordinate the layout of the company's sites.
If you are creating a new site or working on developing a corporate intranet with SharePoint, you need to use a custom template for all the various content.
Intranet templates for your platform are features that allow you to create solutions and share them with colleagues and managers.
You can manage the customisation of your team's sites with web solutions and then open it with other applications. Using them to customise a company site is one solution. Convenient and practical.
SharePoint templates help you bring your ideas to life.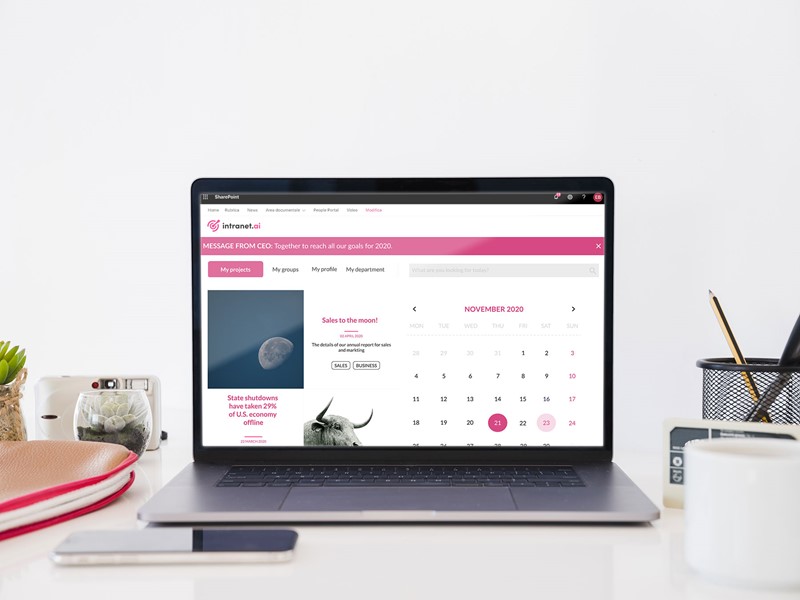 Do you want more SharePoint templates for your intranet?
Check out our collection of intranet themes and SharePoint templates.


What are the benefits of intranet templates with SharePoint?
Using the Microsoft SharePoint application, you have a guaranteed advantage in creating intranet templates for project management.
Immediate solutions: s

ave and activate your favorite template in the solutions gallery and allow your colleagues to create new pages using that template. By selecting the template, anyone can create a new page with the same components, structure and content as the template you created.

Consistency: the layout of the intranet and the UX will be the same on all pages.
Availability: you can store your personalised page on your intranet. You can create and edit the pages you want on any device, wherever you are.
How to create your intranet templates
If this is your first time using Microsoft 365 Sharepoint (formerly Office 365) to build your document management platform, you need to know the standard SharePoint view.
SharePoint Online is made up of pages and you can create them if you have the right permissions on the site.
When you start creating a new page, you can choose:
Blank page: only has the page title.
Basic text: page with a basic two-column template with an emphasis on text and examples of text formatting.
Visual: Visually attractive template with a focus on images that complement your text.
How to create a template
Open the page you want to use as the basis for your template. Add or edit the web parts and content you want to put in the template.

Once the page creation is complete, click the arrow next to Save at the top of the page and select Save as template.
How to use a page template
At the top of a site or page, choose Page or Post News.

Choose your favourite template or one you want to use. If you want to create a new one, choose Blank.

Add your content. Add, move or remove web parts.

When finished editing, save the page by clicking Save as draft.

When you're ready to make your page visible to everyone who has access to your site, click Publish or Publish News (for news posts).



SharePoint templates are an essential resource when you need to create a uniform corporate intranet that reflects specific needs.
When designing a SharePoint Online site that is meant to solve problems, make sure you know all the templates available.
It is often much easier to start with a template that already has a few of the features we need than to develop everything from scratch.
Some sharepoint template best practices
A fluid and intuitive design is essential for the intranet and yet it is often over or under-branded, so we will give you some important best practices for your intranet home page template:
Make sure the name and logo are clear on the home page

Keep the corporate colours

Make research accessible and easy

Navigation must be clear and well designed

Access to in-depth content in tools and apps

People are used to seeing vertical scrolling, so don't be afraid to add below the fold content

Most of us have widescreen monitors, use that space for relevant content

Don't forget engagement, the key to intranet success, so add interactive components such as surveys and videos
Are you ready to transition to a 4.0 workplace?
Request the intranet.ai demo now! Find out now how we can help you create your next smart intranet in Office 365!


Marcella Lombardini
Sharepoint Online expert and our Project Manager, she coordinates and develops intranet and digital workplaces projects for customers who choose to adopt intranet.ai.