What you will find in this article
What CMS intranet means
Use cases to use a CMS intranet in the company
12 essential features to choose a good CMS intranet in 2022
Why is Sharepoint the best software to implement an Intranet with CMS functionality?
Alternative software to create an intranet
What is the CMS intranet?
The acronym CMS Intranet refers to the content management system within intranets. Thus, the term CMS indicates precisely a Content Management System, which is applied to create a corporate intranet.
Before we proceed, then let's take a step back.
What is the intranet?
The intranet is a private company website in which employees find all the materials they need: from company information and news to procedures and tools for an exemplary work process.
You can use it to manage business knowledge and strengthen the vision and the corporate mission through blogs, forums, chats, feedback, and other tools aimed to sharing and collaborating.
All communications can be traced in a single portal, thus facilitating the circulation and transmission of information. Simply put, employees don't need a thousand different technologies to share documents and keep themselves in sync.
And returning to the concept of Intranet CMS, it is precisely a web application which provides tools designed to publish contents that can be used by the browser in a simple way (without requiring technical skills).
If you have been able to create content for a website without having to write HTML code, you have used the features of Content Management that the application has made available to you.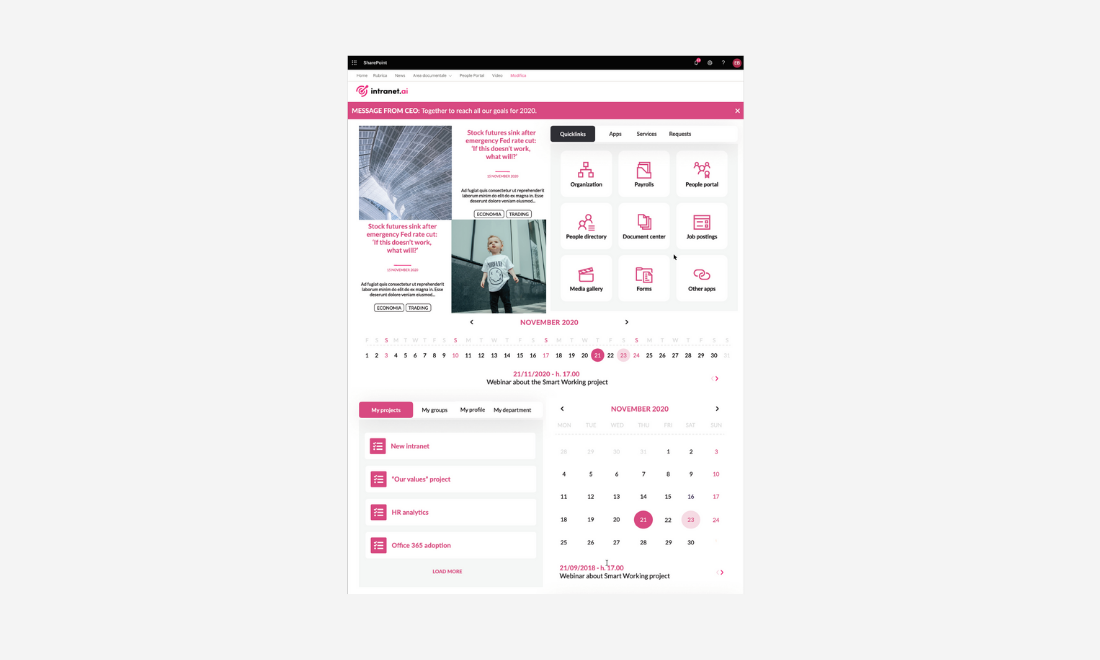 What to do with intranet CMS software?
We will skip -for the moment- the technological aspect (which we will see at the bottom of the article). Instead, let's see in concrete, with some use cases, what you can achieve with an intranet CMS software and how you can use it to improve your company's internal processes.
Corporate portal
If you intend to create an intranet, your goal will be to create a platform specifically designed for employees. Within it, people will need to find news, communications, and events in evidence, to find company benefits and the contacts of their colleagues.
Each person can access their private area and find their payslips, personal records, promotions, awards, certifications, refresher courses, and so on, providing the company with an entire database to monitor important personnel information for the company.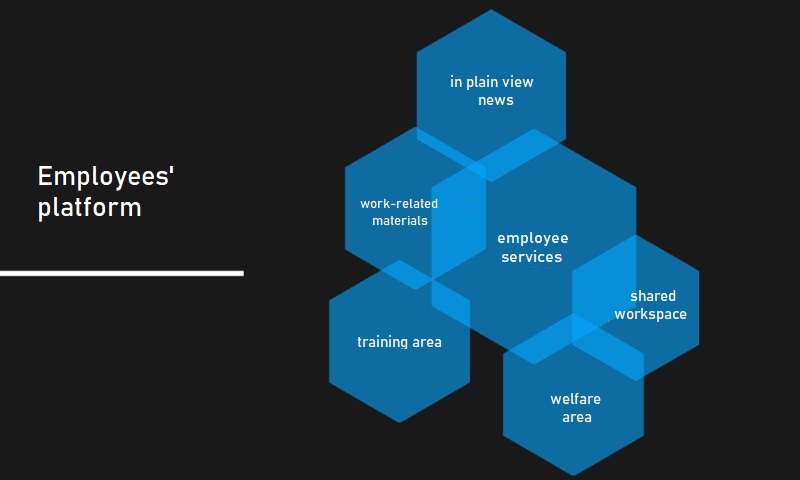 Intranet CMS for employee onboarding
We are well aware that introducing recruits into the new organization is a crucial moment for developing positive and lasting attitudes. The intranet is the tool that, in the hands of the new employee, allows him to explore the new working environment:
appreciate the company's values and mission

know his colleagues and chat with them

establish his network

find the tools he needs for his work routine.
A good platform that can best support employee onboarding will have engaging content such as organizational charts, calendars, training videos, and documentation.
Do you want to optimize onboarding processes in your company?
This article gives you what you're looking for: "Onboarding in the company: how to implement it in 2022".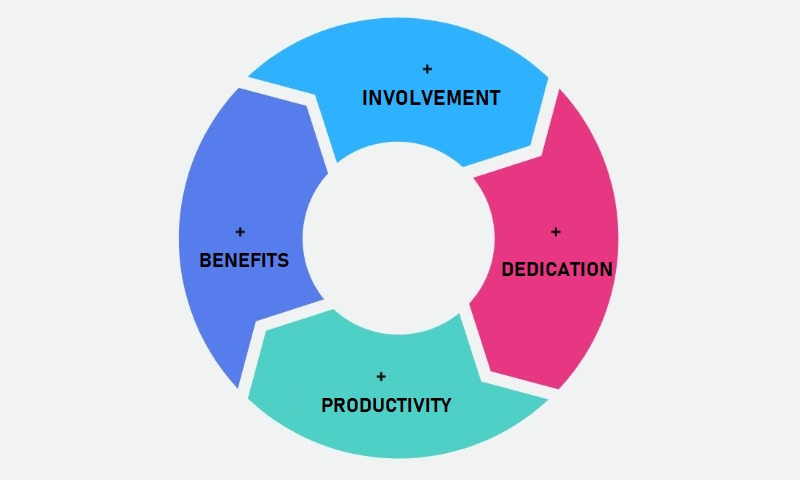 Use the intranet for executives
In addition to focusing on employees, the intranet also involves the management part. In fact, it is essential that both the management and the executive part of the company are aligned in a consolidated view of data that monitor the progress of the activities.
Having everything in one place, managers can keep an eye on workflows, including approvals for each project and awards at the end.
There will be no need for multiple separate systems in which it is easy to get lost. The intranet portals for the executive and management parts of the company allow managers to have a clear overview with the possibility of going down to the smallest detail.
In addition, intranet.ai has seen how the creation of blogs held by CEOs within the intranet can ensure greater involvement and interest by employees.
Within the portal, managers and CEOs can make acknowledgments, specify objectives on a timely basis, keep employees updated on the company's evolutionary life and so on.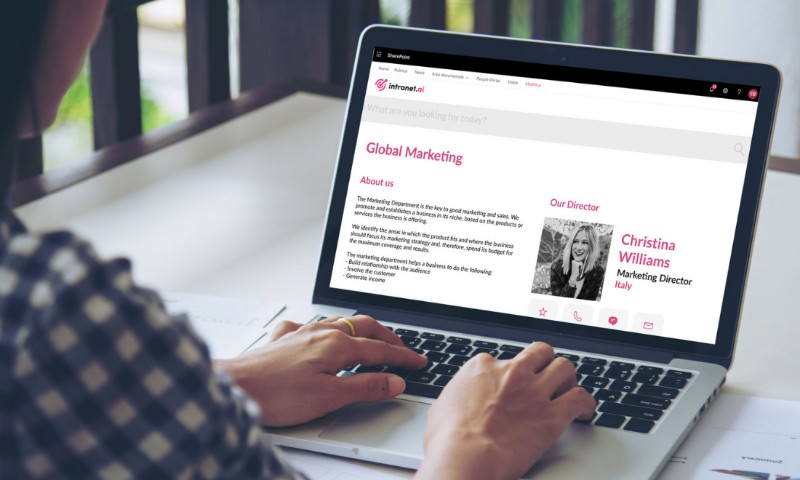 Collaboration
A good intranet CMS is a set of social elements, tools, and shared workspace. The goal is to allow an exciting collaboration between different departments and offices, even if they are located in various global locations, both remotely and in the presence.
The generated continuous interaction leads to greater employee participation in business life, more excellent employee experience, and employee engagement.
The advantages of a working collaboration bring:
a reduction in costs
better intra-departmental and inter-departmental relations
promotion of standard work practices and procedures in which the transmission and comparison of knowledge are stimulated
greater transparency in the organization
Recent studies indicate that companies that focus more on collaboration are twice as likely to be profitable than competitors and twice as likely to outperform them.
Create a portal for training
An intranet CMS portal may reserve a section dedicated to the training of its users. Videos, e-learning materials, online refresher courses are perfectly placed on the platform.
In addition, a good cms intranet application can also be a valid alternative to expensive LMS (Learning Management System) tools when the main objective is to centralize the resources needed for training in the company.
Discover our Company Media and Digital Learning features
Use portal for corporate network and engagement
Employee engagement brings better results in the life of the company.
The intranet lives around the employee, providing him with all the means he needs to amplify the sense of belonging to the company.
In addition to keeping the employee connected continuously to the organization through corporate news, alerts, communications, or intra-corporate discussions, it can also increase the measures of his network by making him communicate easily with colleagues.
Every employee is included in a classic telephone book through which you can find personal information such as his contacts, interests, past experiences, technical skills, and whatnot.
People in the company can establish a more solid corporate network and benefit from an increasingly fluid communication that involves them in the business life of every day.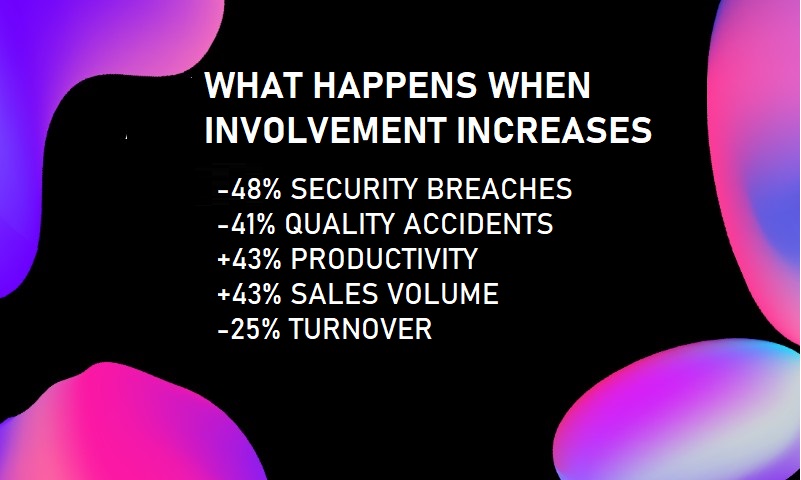 Use the portal to collect work materials
In a good intranet CMS, you can insert -as already mentioned- company communications and the necessary documents for everyday work such as:
templates

brochure

typical business procedures

information that helps the company to synchronize with the employee and vice versa.
It is also possible to publish, for each department, all the needed material to strengthen the company structure, mission, values, and identity, which are necessary to involve workers.
At the base of the conservation of all the contents, the intranet helps the company guarantee good knowledge management for the consolidation of the business knowledge behind every job activity and process of communication.
Check our article on how to make good knowledge management in the company.
In addition, an intranet content management system gives your company the proper means to monitor the content that circulates.
These tools allow you to save all the search queries that are used by end-users and display, for each one, if results have been returned or not.
This metric is critical. Even if only one user searches for content and does not find it with specific keywords, those who manage intranet materials can ensure that the following search returns results by modifying the contents of the intranet.
Among all the contents, you have the opportunity to understand which ones are the most useful and highlight them on the home page or facilitate navigation.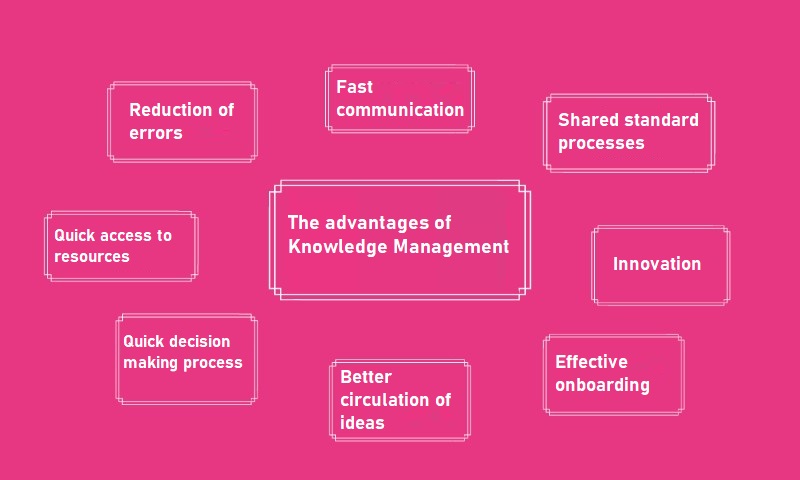 Use intranet CMS to improve internal communication
The original intranet was created to optimize internal communication in the company.
With a sound, digitized intranet system, circulation and information management processes become more streamlined and guarantee good reception from the whole company.
Within your intranet portal, you can make various types of communications and manage them easily: for example, there could be news about the company itself, its results, or its specific initiatives.
These are usually called "corporate news".
There is also a news service, which typically has content related to daily life in the company: closing days, important deadlines, changes in canteen schedules or transport, etc.
All employees will always be synchronized with the company's pace, and the content that circulates will be well placed without getting lost in the great flow of information of the organization.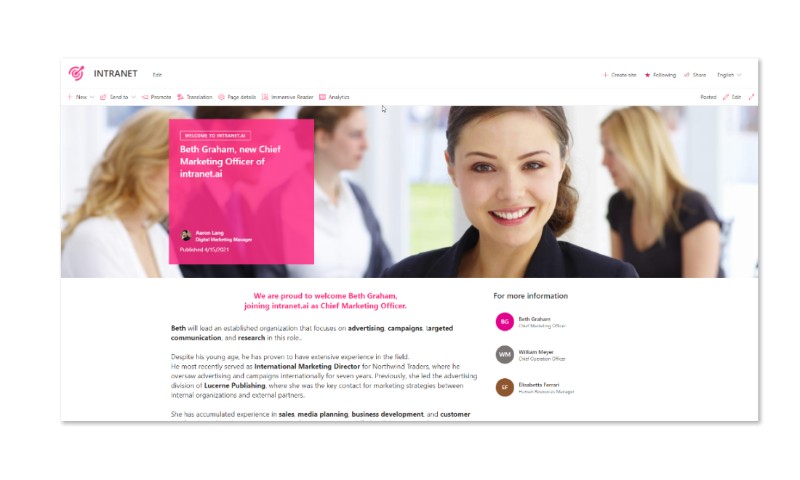 This is possible thanks to tools such as push notifications and news targeting, as in the case of intranet.ai.
Let's start with push notifications.
When there is a lot of content, the user can get confused and risk losing pieces of content along the way.
However, thanks to the push notification mechanism, this does not happen. Instead, you can send corporate news and service communications directly to the employee's workstation through these notifications.
What's the upside here?
The employee does not have to search the digital platform for the content he needs with the risk that something important might escape him, but the content itself reaches him, making sure he is always in step with the company.
As for the targeting of news: assigning tags to each information means labeling it by topic.
It is already possible to imagine how this digitized tool can improve the management and retrieval of content. For example, communication is easily targeted, and it is also easier to search for contacts or keep up to date with the information coming from the company.
Within the area of corporate news or service news, you can post the "cloud tag" to see which are the most used tags in the company.
Through the use of artificial intelligence, such as the one used by intranet.ai, you can also automate assigning tags to content to facilitate the creation of content in the intranet and their reception by users themselves.
Check out our Company News to optimize business communication on your intranet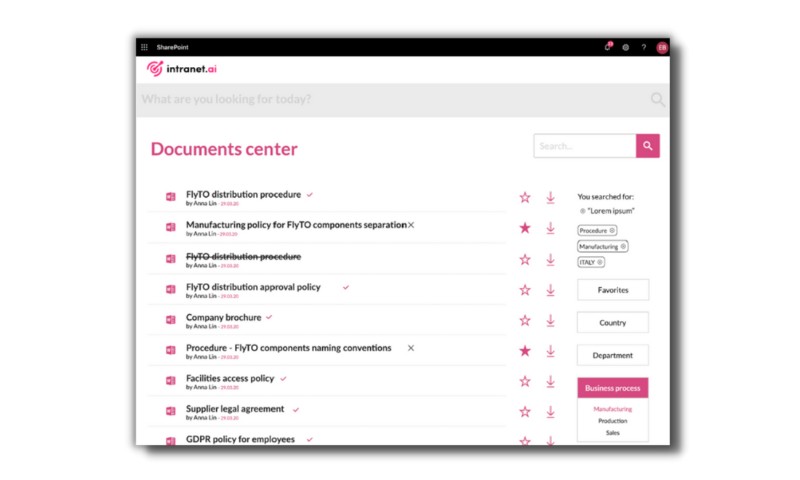 What is intranet.ai?

It's the ready-to-use SharePoint intranet,
designed to reduce costs and implementation time.


Starting price is 2.450€ for a fully-featured intranet.

More than 25 features, including Intelligent Search, Document Management, Company News, and Teams Push Notifications.

100% integrated with Microsoft 365, Viva, and Power Platform.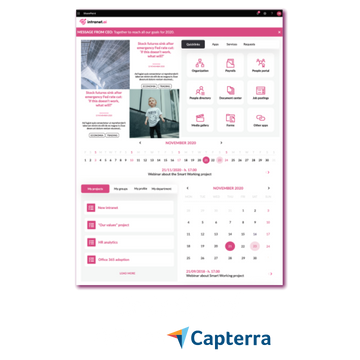 How to choose the right intranet platform?
Here are 12 features that an intranet platform must-have.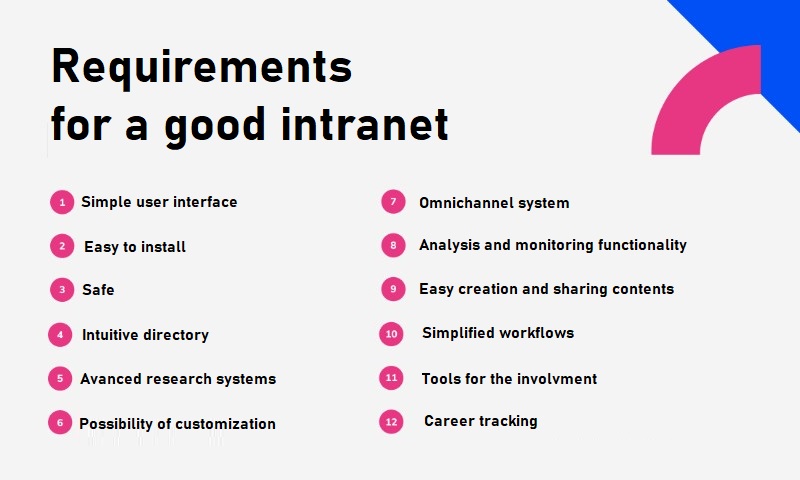 Simple-to-use user interfaces: users must be able to move around the platform simply and intuitively. Immediate use and smooth navigation will encourage users to take advantage of the intranet. Training for the help of this tool will be virtually nil.
Easy to install: the best intranet CMS should not require much technical assistance for their configuration. The average user also, in this case, must be able to make it work without too much difficulty.
Beware of security: since the intranet will represent an extensive database containing valuable information for the company in a single point, none of them must escape, and its protection must be guaranteed. It is not worth making compromises in this area. The intranet was created to be an internal private platform and must remain as such.
Choose an intranet with an intuitive directory: a well-functioning and intuitive directory gathers within it essential details such as the information of each employee, photos, their skills, their roles, and superiors. This makes it easier for both the internal search and connecting and staying up to date with others.
Choose an intranet CMS with a good, advanced search engine. In this way, you provide your employees with cutting-edge search tools that allow them to halve the time they spend searching for helpful information, the time, time they can invest in faster and more effective actions. Researches can show how much money a year companies lose for the difficulty and the consequent loss of employees' time to look for the functional materials.
It must have the possibility of customization: this allows you to adjust the intranet according to the needs of individual employees. Each information is filtered by the user, thus ensuring the person's immediate retrieval of valuable information. Any content shown to him will be closely related to his position, function, and role.

The omnichannel aims to allow access to the intranet from employees' devices without necessarily being seated at the desk. So, you can ensure that the employee works flexibly and completes their activities regardless of location. In addition, having the intranet always at his disposal ensures that he can access the digital reflection of the company and find all the tools he needs.

Aim at an easy system for creating and publishing content: employees and those who manage the intranet must publish and share the content of interest without having technical skills.
Aim at the inclusion of simplified workflows: this ensures that the content is approved promptly and also ensures that the content maintains its coherence.
Use tools for involvement and participation: dedicated sections in the intranet to sharing, recognition, comments, and evaluation of employees. Such functions give voice to employees and consequently generate satisfaction in the working environment. As a result, everyone will feel free to express himself and listen to the opinion of others.
Career Tracking: A good intranet CMS must-have tools to promote job opportunities and share suggestions for achieving its goals within organizations. You can also keep webinars for career advancement and professional development. In the case of intranet.ai, our job posting component also allows you to alert employees when there are open positions to optimize internal recruitment processes.
Analytics and Monitoring Capabilities: Monitoring the platform's performance allows you to make all the improvements you need to attract users and offer them what they're looking for.
Did you know that...
Intranet.ai implements all of these points?
The most used software choice for a CMS intranet
Now hundreds of software solutions can be used to create an intranet with the most common features of a CMS: you can range from free and open source solutions up to those paid.
In the technological choice, however, other important considerations must be made, which go well beyond the simple functionality.
Intranets are collaborative tools that must be 100% integrated with all the main work tools of employees, such as the application of the Office package, corporate mail, messaging and video call tools, and so on. Only in this way is it possible to provide a transversal digital experience without managing all the necessary integrations in the company.
And on this front, Microsoft 365 has become the standard for both SMEs and large companies, including its solution Sharepoint Online, the result of almost 20 years of development (the first version of the product was called Sharepoint 2003).
To give you an idea of how much Microsoft SharePoint is currently used as CMS intranet, Microsoft itself published in April 2022 its usage data of the platform:
200 Million Users Per Month Use Sharepoint Online
100 Petabytes of new data are uploaded per month within Sharepoint Online
Sharepoint Online
The advantages of web portals made with Sharepoint boast the extreme integration of all Microsoft tools and multiple customization capabilities, which can meet the most varied needs of different business sectors.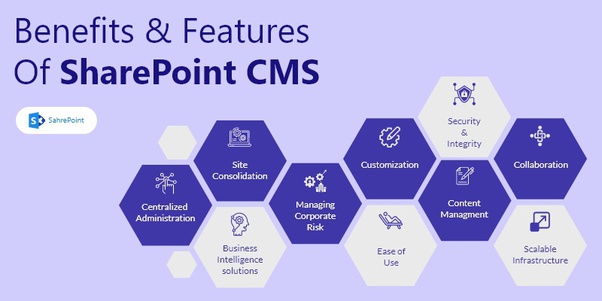 The platform was one of the first systems designed to create corporate intranets to connect people and allow sharing and communication in the same company.
Concerning the specific features of CMS for intranets, Sharepoint Online:
is extremely easy to use

has consistent navigation in the sites and sub-sites

allows easy corporate branding

facilitates faster development for business application creation

it prepares different resource libraries, with the possibility to associate different types of metadata

prepare types of content that can be shared and reused in the subsites
Sharepoint Online is used in software-as-service mode and is included in Microsoft 365 subscription.
To learn more about this tool, read Sharepoint and its 7 key features in 2022.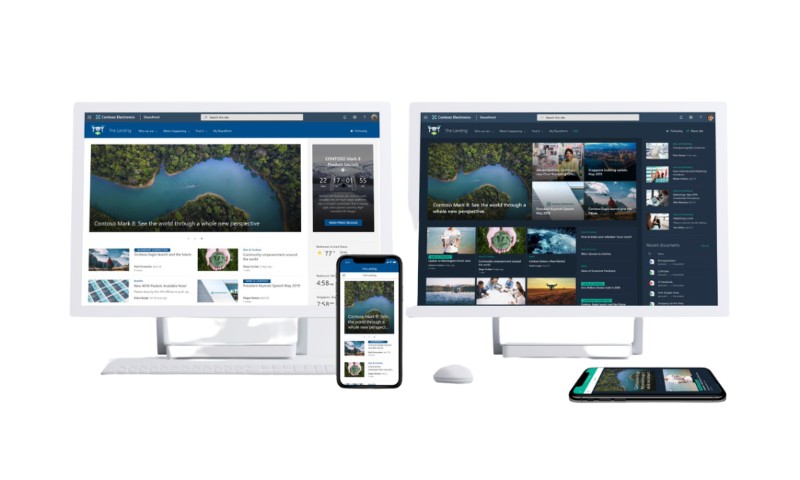 Other software alternatives to create an intranet CMS
If Microsoft 365 and Sharepoint are not options you can take in the company, here's a complete list of all the other solutions we've collected. But it's up to you to look for more detailed information to find out which might be the most compatible for your specific case.
In your choice, do not forget this fundamental consideration.
The intranet that you realize and that will become vital lymph for your company's internal information must also be supported correctly by figures that can configure it and ensure its reliability. Therefore, when choosing an intranet software, always consider the technology partner that can give you the proper support in the implementation.
Here is our list:
Drupal, WordPress, Joomla: are free solutions designed to create websites with CMS features.  They could be the right solution for a simple internal website.
Alfresco is an enterprise content management, licensed Community Edition and Enterprise, but is disconnected from the entire enterprise ecosystem.
Liferay is an all-in-one platform for web portals (sites, eCommerce, CRM) that can be customized to build an intranet. Pay attention to the complexity that you will carry behind this solution, typical of solutions a bit 'all do.
Atlassin was born as a tool for collaboration between developers, but can also be implemented to create internal base knowledge.
Dotnetnuke defines itself as the CMS of companies and is one of the longest-running software of the group. Born as a CMS website, it is proposed as a valid solution also to create intranets.
Umbraco is one of the most flexible CMS solutions to create websites and internal portals. But be careful that this maximum flexibility requires technical skills and basic knowledge of HTML to be able to manage and make the most of the software to create your intranet.
Giuseppe Marchi

Microsoft MVP for SharePoint and Microsoft 365 since 2010, Giuseppe founded Dev4Side and intranet.ai with the aim of helping companies to have a simpler and more effective working environment.
He works as a consultant for everything related to digital collaboration, intranet portals and Microsoft cloud platforms.