SharePoint Sync:
How to synchronize SharePoint libraries

From local folders to the servers on which enterprise apps operate, we explain how to synchronize the data collected in your SharePoint Online sites.
We will look together at the steps to follow, the products to use, and the benefits and issues behind this delicate operation.
Enjoy your reading!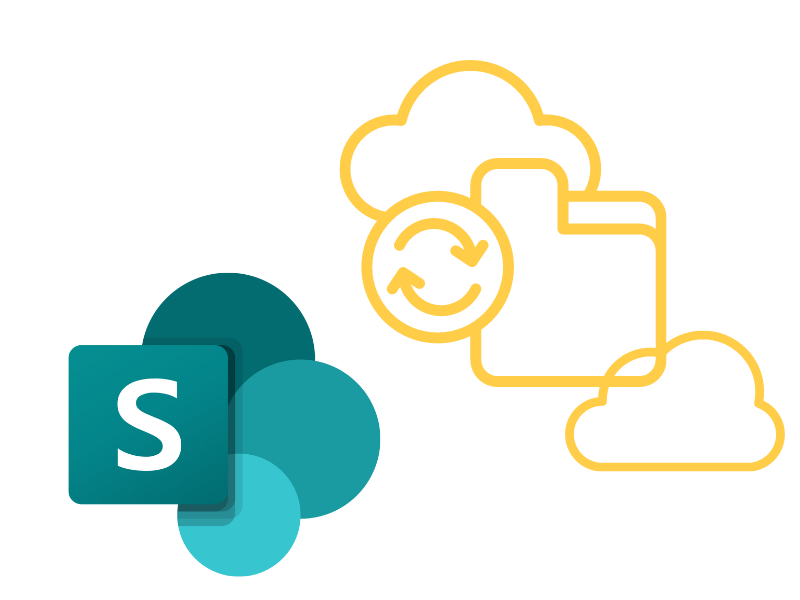 What will you find in this article
Synchronizing SharePoint:
What does it mean?


SharePoint is the Microsoft 365 platform designed to manage corporate communications, services and archives.
Therefore, it represents a state-of-the-art system for producing and disseminating news, initiatives and events on the one hand, and for organizing the documents, information and data underlying the activities of a company and its people on the other.
This is possible thanks to web parts, the components that host useful content and functionality for users, and lists and libraries, which are nothing more than the receptacles where work files are collected, stored, shared and even created.
If you are curious about what web parts are and how they work, this is not the article for you.
Here, we will be exploring SharePoint libraries and sites, but from a very particular perspective.
We will look at one of the key features of this platform-not just its own, actually-that makes it one of the best content and document management tools.
We're talking about synchronization.
Follow us to learn the details.


What is intranet.ai?

It's the ready-to-use SharePoint intranet,
designed to reduce costs and implementation time.


Starting price is 2.450€ for a fully-featured intranet.

More than 25 features, including Intelligent Search, Document Management, Company News, and Teams Push Notifications.

100% integrated with Microsoft 365, Viva, and Power Platform.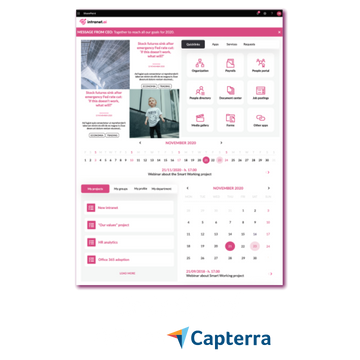 Let's start with the basics.
Synchronizing data stored in a SharePoint list or library means creating a copy capable of updating automatically.
In other words, the data is cloned to a specific location, such as a OneDrive folder, so that it can be edited from any device and without the need for an Internet connection.
In fact, once you have entered information offline, the system will bring the changes back to SharePoint as soon as you are connected again.
So it seems that the benefits are already substantial, but wait until you know the rest.
By synchronizing your documents, you will be able to collaborate on them with your team members in real time.
This is because the files are collected in a SharePoint site's library, thus becoming accessible to its audience of users.
However, the platform allows you to customize access to individual content or entire libraries with a multi-level permission system.
In this way, you can decide which of the users on your team, site, or even outside the corporate network will have the right to view and/or edit the shared information.
Of course, privacy configurations will be carried over to all synchronized locations.
You may now wonder what is the mechanism on which this feature, so beneficial to individual professionals as well as entire organizations, is based.
The answer is OneDrive.
And no, it is not a paradox.
SharePoint and OneDrive, though they represent two distinct platforms, share common ground. The same one that unites the products of the Microsoft universe, enabling them to communicate and interact uniquely and profoundly.
This common denominator is OneDrive's synchronization functionality.

SharePoint and OneDrive sync functionality


When you synchronize a folder on your computer with SharePoint, you are synchronizing it with Microsoft OneDrive.
The reason lies in the very essence of OneDrive, which is that it is the connecting bridge between a data source and a cloud platform such as SharePoint Online.
This means that synchronization between a SharePoint library and your local folder or an enterprise server must go through OneDrive to take place.
However, OneDrive-based synchronization is not equivalent to SharePoint synchronization with OneDrive.
But we will elaborate on this topic in the next chapter.
The important point to make is that it is impossible to synchronize SharePoint with any data source without OneDrive, since OneDrive is what makes the transfer of information to Microsoft's cloud possible.
It is no coincidence that these two products are often found together in Microsoft 365 licenses, although there are exceptions (Business Basic, for example, does not include SharePoint).
The two platforms are designed to interact with each other, allowing users to exchange private information to and from any device with maximum security.
In fact, they share not only the same authorization system, but also and especially the cyber-security protocols that have always characterized the parent company's offerings.
We wanted to mention these details to be able to draw a line of demarcation with third-party products, which aspire to replace OneDrive in its relationship with SharePoint.
Among the main competitors, we could mention SharePoint Workspace, Syncplicity, and SkySync.
Although they are still cloud synchronization solutions, these independent products lack the compatibility that binds products belonging to the Microsoft universe together.
This compatibility translates both into a guarantee of security, as we mentioned a few lines ago, and into the opportunities that result from their integration.
In our case, OneDrive allows you to manage the synchronization of data stored in SharePoint in five different ways:


Two-way synchronization.
Data between SharePoint and a location are updated in both directions.
Therefore, it does not matter the origin of the changes-they will be transferred automatically to the linked environment.


One-way synchronization.
Changes are transferred only from a specific source point, such as a SharePoint library, to another location, such as a server or folder.
The user can decide whether to synchronize new or updated data, or to completely overwrite existing data.


Selective synchronization.
This mode makes it possible for the user to choose individual lists or libraries to be synchronized, avoiding cloning the entire range of content present in a SharePoint site.


Synchronization on demand.
Synchronization occurs only when necessary.
For example, the system might initiate synchronization the moment a certain file is accessed or when a certain application is opened.


Offline synchronization.
This option makes synchronized data available even without an internet connection.


Finally, we would like to close this topic by dwelling on an important issue for businesses or professionals who have moved their operations to a Microsoft-centric digital work environment.
Using OneDrive to bring their data to the cloud not only brings some natural benefits such as:
real-time sharing, on any device and asynchronous;

encrypted storage accessible only to authorized users, both internal and external to the organization;

the customization of how data can be synchronized;

the selection of content to be cloned and updated automatically;
but also opportunities particular to the Microsoft environment itself.
As mentioned earlier, OneDrive allows for improved integration between products in the 365 suite precisely by synchronizing their data, thus creating a flow of information capable of connecting them.
Let's take the example of Microsoft Teams.
When you create a group on Teams, you will notice that a library is automatically created in SharePoint dedicated to the files and media content shared by the team.
By now it is clear: data synchronization between the two platforms is based on OneDrive.
So, if you are using a third-party product, you now know what you are missing.
How to synchronize SharePoint with OneDrive


After delving into what it means to synchronize data, what the benefits of doing so are, and why it pays to use OneDrive to accomplish it, let's see how you can establish a connection between this platform and one of your sites, repositories, or SharePoint content.
So let's start with the steps to follow:
Enter the SharePoint site that contains the documents you are interested in.

Enter the library that houses those documents.

Click on "Synchronize," on the top navigation bar. If you have already installed the OneDrive app, the window to configure synchronization will open. Otherwise, you will be redirected to the page from which you can download the app.

Indicate the OneDrive folder to synchronize in the window that will have opened. Obviously, the folder can be one of those already in your account or a new one, created on the spot.

Click on "Synchronize" again to confirm the settings.
The operation will then be started, at the end of which the OneDrive folder you indicate will contain a complete clone of your SharePoint library.
Any changes you make to one will be automatically transferred to the other if you have chosen the bidirectional synchronization option-and you can safely work, share and collaborate on your department or project files anywhere and in any condition.
In other words, goodbye office desk.
There is, however, a "but" in this landscape.
Synchronization is not always a hitch-free process.
Here are some of the problems you may face:


If your pc memory or your chosen OneDrive folder is full (or both are, unfortunately), synchronization may stop before you have cloned your entire library.
The same may happen in case your connection is unstable.


Some titles, perhaps containing special characters, may cause errors when synchronizing the files they name.
It is therefore advisable to check the documents in the library before starting the operation, possibly changing their names, to avoid having to repair damage at the end.
We suggest that you pay equal attention to the format, as excessive document size could also lead to suboptimal results.


With proper care, you will have no difficulty.
However, if not, you can always contact Microsoft for technical assistance.
Our team is among those at your disposal.
Although we know you won't need it: OneDrive is quite reliable.

Subscribe to our newsletter!

You will find:


Short training and update videos on Microsoft 365 news.
Our guides for business digitisation.
In-depth articles on how to improve your intranet by making the most of your Microsoft 365 subscription.

You can always unsubscribe at any time.
How to synchronize SharePoint with a local folder on your pc


This brings us to the second case of synchronization that users are most interested in.
Synchronizing SharePoint with a local folder means cloning content from one location to another so that you can both work on documents even without a connection and protect your most important files.
SharePoint libraries are in fact archives in Microsoft's cloud.
As a result, they dissociate your files from the devices you use to create, edit and share them, thus keeping them safe from failure and physical damage to your work computers.
But how do you go about establishing this connection?
Here's the answer:
Enter the SharePoint site and then the library of your interest. If the documents to be synchronized are in the cloud, go directly to the next step. If, on the other hand, the documents to be synchronized originate in the local folder, first create the library that will accommodate them.

Click on "Synchronize," in the top navigation bar. If you have already installed the OneDrive app, the window to configure synchronization will open. Otherwise, you will be redirected to the page from which you can download it.

Indicate the folder to synchronize with the library in the window that will have opened.

Click on "Synchronize" again.
You should have had no problems completing the entire operation, but we refer you to reading the previous chapter to learn about the possible reason behind the cloning errors you may notice.
Or, you could read it anyway to know what contingencies to expect and then how to organize the synchronization to prevent any damage.
That said, let's continue with the third and final example.
How to synchronize SharePoint with a server


Synchronization between SharePoint and a server is particularly useful for companies that use customized, corporate information-based applications or services.
An example is an accounting application based on customer and supplier data.
If this data is stored in SharePoint, it becomes essential to establish a connection between the platform library and the server from which the app takes the information, so that users can work with constantly updated data.
Before we look together at how to implement this type of synchronization, we want to make a small premise.
To relate SharePoint to an enterprise server, you need the appropriate OneDrive client (a.k.a. "server synchronization client").
This does not mean that you have to buy a separate license, since this service is included in the Microsoft licenses that give access to OneDrive and SharePoint.
You will therefore need to take care that your license includes both platforms.
If it does, you can proceed as follows:
Access the server on which your business app is based.

Install the OneDrive client to synchronize your server and open it.

Click on "Add Library" and indicate precisely the library you want to connect.

Indicate the location the library will occupy on the server. Here, we recommend that you choose a location with enough storage space to accommodate all your data, otherwise you risk compromising the operation.

Click on "Synchronize."
When finished, the server will present the same files and folders as your library, updated for any changes made by you or other users on SharePoint.
How to end a SharePoint library's synchronization


Let's come to the end of our brief, but hopefully comprehensive, overview and see how to go about ending the synchronization of your data.
Indeed, we have seen how to connect the information you collect on your corporate sites with a OneDrive folder, a local folder or a server to get constantly updated archives, no matter what location or device you are working with.
However, you may need to terminate synchronization for several reasons.
For example, when the site needs to be restructured or when the library needs to be deleted, perhaps because the project for which it was created has ended and you need to free up storage space for the next one.
Whatever the motivation, the procedures to be followed remain the same.
So let's start with our first case and see what steps you need to keep in mind to desynchronize your SharePoint library with OneDrive.
We list them for you below:
Open the OneDrive app.

Enter the "Synchronization Settings" section.

Select the library of your interest.

Click on "Stop synchronization."
From now on, the OneDrive folder that housed your library documents will disappear from your computer's resources and, as a result, you will only be able to update or permanently delete that data from SharePoint.
Let's move on to how to desynchronize the library with a local folder.
Unlike the previous case, to break the connection between SharePoint and a local folder on your computer, you need to use the SharePoint synchronization application.
You will not have to go far to find it, since you can download it directly from your library.
After that, follow these steps:
Open the SharePoint synchronization app.

Select the library of your interest.

Click on "Delete," next to the local folder that corresponds to the selected library.
After a few seconds, the synchronization between the folder and library will be canceled.
The result will be that documents will be accessible from both locations, but the changes made will no longer be transmitted from one to the other.
Finally, the third and last case concerns the desynchronization of a library with a server.
Without getting lost in the preamble, here is what you need to do:
Open the SharePoint synchronization app.

Select the library of your interest.

Go to "Synchronization settings."

Choose the "Suspend synchronization" option.
You will then be able to decide whether to pause the synchronization to resume it in the future or to remove the library from the server and close the issue for good.

Need help managing your SharePoint sites?

We have more than 80 hands to lend you to:
Assign the right permissions to users.

Create the best processes to manage the life of your digital documents.

Optimize space and data storage arrangements.

Ensure the security of shared information.

Develop custom web parts and graphics for your business.
Giuseppe Marchi

Microsoft MVP for SharePoint and Microsoft 365 since 2010, Giuseppe founded Dev4Side and intranet.ai with the aim of helping companies to have a simpler and more effective working environment.
He works as a consultant for everything related to digital collaboration, intranet portals and Microsoft cloud platforms.