YOUR INTRANET RESOURCE
Intranet collaboration tools for your company
The intranet is made up of people; these people are the employees of the company.
Promoting their collaboration means helping them do their jobs better and more effectively, providing them with all the content and tools they need to feel a productive part of the company.
Let's see how the intranet implements this aspect.


What you will find in this article 
The tools that the intranet offers for employees for collaboration
Building internal communication and effective collaboration
Teams or Yammer to communicate and collaborate
Push notifications to keep communication active
The intranet user is a participant
The idea that an intranet is a tool managed only in a top-down way, therefore only by the top management who produce content and send it to the rest of the employees, is wrong.
The corporate intranet is a community platform. The corporate intranet is collaboration and sharing.
Employees need to collaborate, both with each other and grow with the intranet.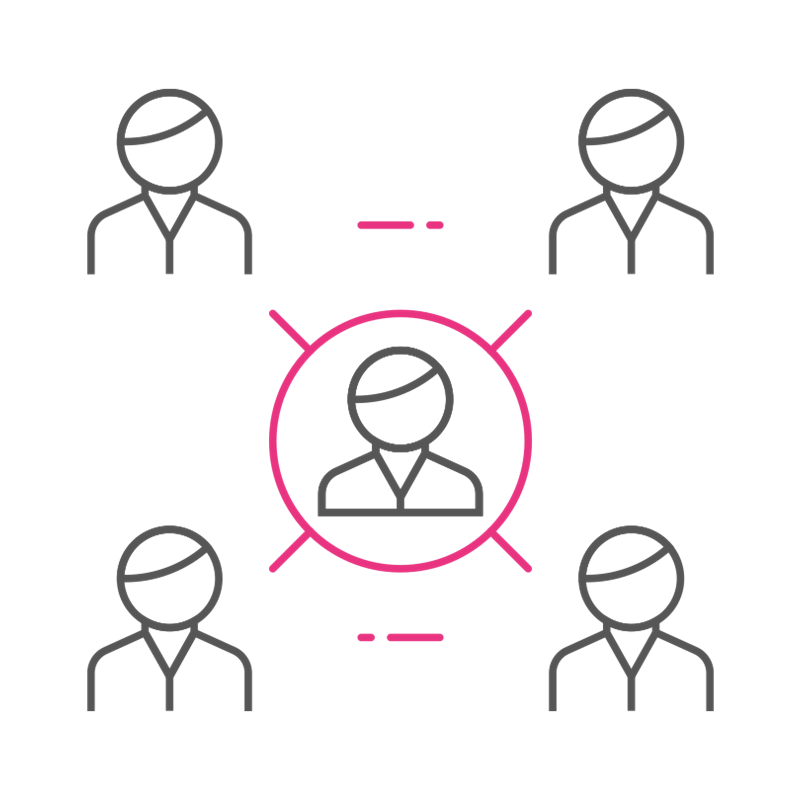 Bottom up intranet
It is therefore essential that every intelligent intranet has virtual spaces in which the individual employee has the chance to express themselves and immediately collaborate with others.
Such a bottom-up intranet promotes free expression and increases employee engagement.
The advantages of collaboration with the intranet
There are many reasons for building an effective internal communication and collaboration strategy.
First of all, creating an active communication network with all employees means stimulating commitment and the sharing of corporate values. Sharing business information, such as strategic plans, goals or issues, creates a sense of belonging that enhances the company's engagement.
The technology for exchanging messages and chats in real time allow you to create increasingly effective collaboration platforms.
For effective collaboration in the company level, employees must always be informed about:
future objectives

internal strategies

important events and deadlines

corporate mission

company values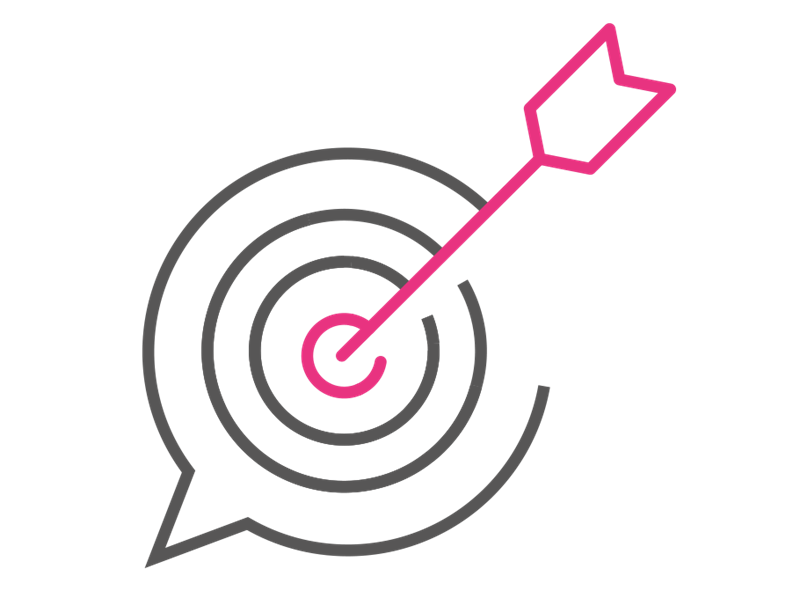 Improve collaboration
To create satisfying experiences for users, you need to focus on their needs, which means understanding how to create the best workflow for their collaboration.
The goal is to make management and communication easy by creating a digital work environment, control activities, access information, all through a single tool.

If the intranet is equipped with the right tools and applications for employees' daily work, the intranet becomes a rewarding experience that increases productivity and satisfaction with clear results.
How can employees communicate and collaborate with these values?
Intranet.ai helps you implement the communication and collaboration of your corporate intranet thanks to My workplace, Microsoft Teams, or using a corporate social network such as Yammer.
Through these tools you can allow users to send messages and communicate in real time, share files and all kinds of information and receive push notifications.
What is intranet.ai?
It's a ready-to-use corporate intranet,
designed to reduce costs and implementation time by providing a highly modern and collaborative digital workplace.

Starting price is 2450€, for a fully-featured intranet

More than 20 App including intelligent search, document management, news, push notifications, and my workplace


100% integrated with SharePoint Online and Microsoft 365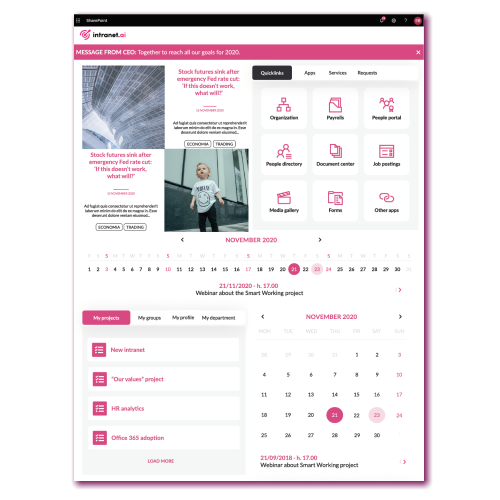 My workplace
To simplify workflow management, intranet.ai offers My workplace.
What is it?
A space on your intranet for your work, activities and projects.
At a glance, you have all the personal projects you are working on or group activities you are collaborating on.
Exploit the potential of Microsoft Teams to allow users to collaborate efficiently.
 
Microsoft Teams
The site will allow you to communicate in real time, share files and have a single point where you can find all the wealth of information relating to a project, a department or a group of people.
Be it videos, files, documents, reports, everything can be securely shared between collaboration groups.

Push Notifications
Push notifications are messages that appear on the mobile device screen even when you are not using an app.
Whenever users produce content and post it to a section of the intranet, your employees will receive a notification that will allow them to stay up to date on what is happening in their company.
 
A constantly active communication channel
Larger companies, with departments and offices in other countries, use this technology to establish an active communication channel between employees wherever they are.
Push notifications are used to share company values or for information relevant to their projects. In addition, they are also an essential business tool that keeps employees up to date on important messages or calls from colleagues and customers.
One solution to also consider is OOB notifications available through Yammer communities and Teams groups.
Do you want to build your digital workplace?
Our professionals in the field have been ready to help you for more than 15 years.
With 10% of the time and 10% of the budget you can build your smart digital workplace.
Giuseppe Marchi
Microsoft MVP for SharePoint and Office 365 (now called Microsoft 365) since 2010, Giuseppe founded Dev4Side and intranet.ai with the aim of helping companies to have a simpler and more effective working environment thanks to Microsoft technologies. He works as a consultant for everything related to collaboration, intranet portals and Microsoft cloud platforms.