Intranet, an invaluable value for your company
Being part of a community means talking about specific topics, getting cues from others' ideas which leads to self improvement.
The intranet starts from the concept of community, amplifying and applying it in a business environment.
So let's see how it contributes to corporate positivity.
What you will find in this article 
Which is the value of the intranet for your company
Why use the intranet for knowledge sharing
How the intranet gives voice to people
Why the intranet is useful to improve the climate and the corporate identity
From the concept of community to the intranet
Specific communities let you access information, tap into ideas and discuss activities with a specific theme.
Companies can take advantage of this too. In fact, everyone in the company is in the same field.
Even with different skills, different positions and roles, they all work to achieve the same goals, sell the same products or deliver the same services.
Sharing is Caring
The strong point is that everyone knows what they do and this is an invaluable for any company and should be made the most of.
Giving people the opportunity to discuss, exchange ideas and generate them inevitably encourages positivity in the company.
Everyone enjoys the chance to share their knowledge with others to improve each other and get results. As a result, a value chain is triggered.
Benefits for workers and customers
Giving a voice to employees allows you to solve any problems present in the company earlier and considerably reduces the risk of having unhappy people in the workplace.
Furthermore, the advantages are not only to be seen from the perspective of the worker but also from the customer.
What is intranet.ai?
It's a ready-to-use corporate intranet,
designed to reduce costs and implementation time by providing a highly modern and collaborative digital workplace.

Starting price is 2450€, for a fully-featured intranet

More than 20 App including intelligent search, document management, news, push notifications, and my workplace


100% integrated with SharePoint Online and Microsoft 365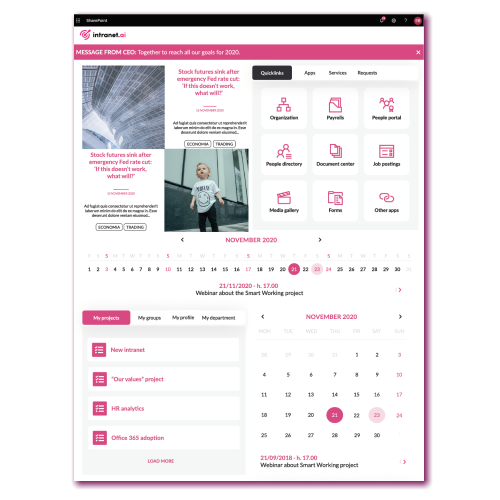 Generate awareness
The continuous dialogue with people who are in close contact with customers allows you to find the appropriate information to meet their needs and therefore understand which service to provide before the competition, and how to go about it.
A precise awareness of what is being done and for whom spreads throughout the company.
Who better than those who work there every day to spread this information?Intranet allows all companies to access these advantages. It's a perfect tool to give people a voice.
Creating discussion groups on the intranet or through any digital workplace Microsoft 365 tool, can be set up with a few clicks.
For something so uncomplicated, the value they bring to a company is very high.
Improve engagement and business climate
In addition, the intranet is a resource that has the potential to improve corporate climate and identity.
People who can have their say or can easily find information for their work from others, obviously feel more engaged than those who work alone.
As they improve in their work, it goes without saying that in addition to business productivity, the positivity of the business climate also increases.
Just think about how a person whose idea has been posted on the intranet, discussed and actually implemented can feel part of the company project.
Think of how this resonates among colleagues.
The intranet is the perfect place to create inspiring environments. It is the perfect place to share information and knowledge within the company.
Do you really want to miss this opportunity?
Do you want to try the advantages of the intranet?
We have been a professional team in the industry for over 15 years.
Our goal is to help you build an intelligent intranet tailored to your company.
Find out how we do it.
Giuseppe Marchi
Microsoft MVP for SharePoint and Office 365 (now called Microsoft 365) since 2010, Giuseppe founded Dev4Side and intranet.ai with the aim of helping companies to have a simpler and more effective working environment thanks to Microsoft technologies. He works as a consultant for everything related to collaboration, intranet portals and Microsoft cloud platforms.