Hr Site
The intranet is the digital space that offers innovative tools to improve the work in all the company departments. HR is no exception.
In this article, we see how human resources can use the intranet to facilitate daily processes.
What you will find in this article 
How HR can use the intranet for business processes
3 procedures for the presentation of new recruits
How to monitor the well-being of employees
Job posting 
HR and working remotely
A job like human resources, intrinsic to communication and contact, could appear limited if carried out remotely on a laptop.
Actually the platform, if built with the right tools, makes HR more innovative and capable performing tasks, effectively and faster.
Let's see how.
Welcome site
A new and functional aspect is the presentation of newcomers in 3 interactive and engaging ways.
1) Welcome announcement on the intranet.
Some companies add their photo, role and description of where they come from and what their skills are.
Others make more use of the intranet by publishing an interview with the new entry with their photo. This will make it easier for colleagues to be recognised both physically and in online meetings by the rest of the intranet population.

2) The second way: use Yammer
This mode allows you to take advantage of Yammer, the company's social network.
One of the things we propose is to get a HR person to create a post that introduces the new colleague to their corporate community.
The post can mention the person, report their experience and introduce them to groups of their interest within the social network.

3) Interactive mode
The third mode is more interactive, new and visual. It involves creating a live event where a human resources person or future boss of a new colleague starts interviewing the new person in a kind of double interview.
This is where an interviewer not only interviews the interviewee but the roles are also reversed.
Self reviews
From the intranet, human resources can monitor the well-being of employees, automatically requesting a periodic self-assessment on a quarterly or half-yearly basis.
These reviews are used to retrieve feedback from the employee through progress percentages or satisfaction stars, with the aim of facilitating the completion of the feedback form which keeps tabs on staff morale.
The intranet becomes a real HR portal where Human Resources can not only ask for feedback on colleagues and bosses, but also allow users to make anonymous reports in the company through a specific form.
This is the "whistleblowing" topic, obligatory in certain companies.
What is intranet.ai?
It's a ready-to-use corporate intranet,
designed to reduce costs and implementation time by providing a highly modern and collaborative digital workplace.

Starting price is 2450€, for a fully-featured intranet

More than 20 App including intelligent search, document management, news, push notifications, and my workplace


100% integrated with SharePoint Online and Microsoft 365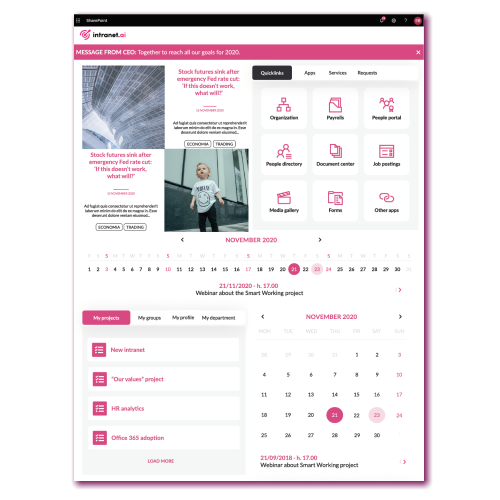 Job posting
All open job positions within the company can be published on the intranet. This is a very useful practice in large companies, which allows you to check any internal availability, before starting a search for new candidates outside the company.
Every employee always has a list of job change possibilities, the relative deadlines for presenting themselves and the requirements of the new role just a click away.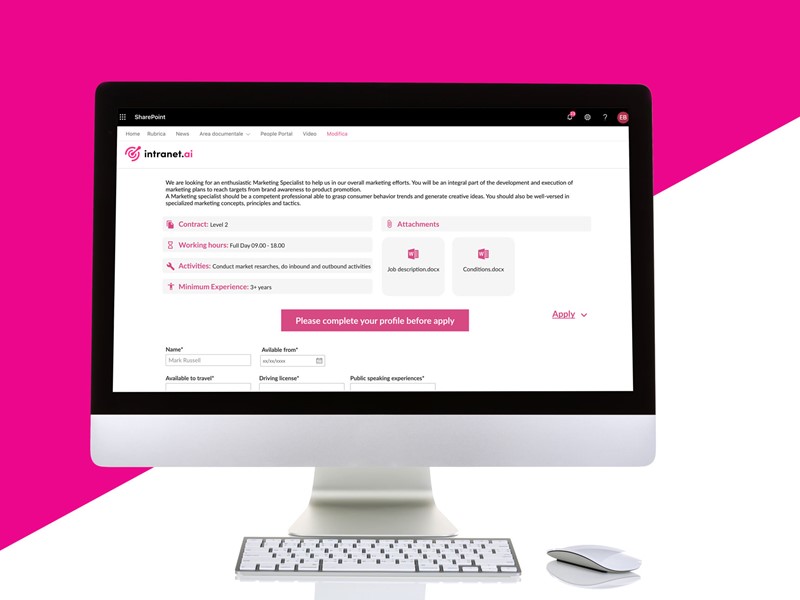 In turn, HR may have an application management area available where they can access profiles of all colleagues who have decided to apply for specific open positions.
They can directly access the personal area of all employees to evaluate the application through a sort of digital curriculum that colleagues keep up to date.
Discover our job posting system
Post open positions on your intranet and make them visible to all departments.

Employees will be notified automatically.

HRs can view candidates for each open position, evaluate people accessing information, and monitor engagement.

Filter the results of My profile according to your needs, find the perfect candidate in your company and directly check the candidate's profile from their personal page.
View annual goals
Through the user's personal area for the user, the intranet can help monitor company and personal year- to-year objectives.
Whether qualitative or quantitative, once assigned by leaders and confirmed by human resources, they can appear in every employee's personal area, clarifying the points to focus on throughout the year.
In addition, it may be useful to have people enter information on activities underway or already carried out, so as to offer your direct manager and HR a clearer and up-to-date view on the progress of objectives.
It is true that there are many performance management platforms on the market, but having a single point to access company information, services and also keep an eye on the trend of their annual goals is definitely a plus.
Do you want more ideas to use in your digital workplace?
We have prepared a free guide with over 100 ideas to use for the intranet that you can find by clicking here.
Miro Radenovic
Microsoft certified and Azure advocate, Miro founded Dev4Side and intranet.ai helping to create a performing software company with high expertise on Microsoft's collaboration and cloud technologies. Work as the CTO for our integrated intranet solutions and manage projects with our corporate clients.